It is one thing to toot your own horn, but something else when some speaks for you. Following are unedited testimonials of some of our past clients, many of whom will vouch for us.
I am a Singaporean and was on a trek to Jangothang Base Camp in late April 2013. By chance, I met your Mr Pema Gyeltshen leading a trekking group heading towards Jangothang Base Camp.
Very unfortunately, my two feet developed very bad blisters. Through my guide, Pema learnt about my adverse feet condition. That first night in Jangothang Base Camp, Pema appeared at our tent with a first-aid kit.
Like a professional medic, he attended to the wounds on my two sore feet. On the morning of the day before he left with his group, he made another surprise visit to our campsite to find out about my feet condition. Again he changed the dressing before he departed with his group. He even gave my guide some medicated plaster and bandages in case I needed them.
I write to highlight that you have in your company an extra-ordinary guide. Mr Pema Gyeltshen did not even know me, but yet unconditionally attended to my most dire medical needs voluntarily. His sincere care and concern over a stranger like me truly display the self-less, kind and friendly attitude of your Bhutanese. To me, he is a model of a tourist guide in your Bhutan tourist industry.
Please convey my sincere thanks and appreciation to Mr Pema Gyeltshen. I am indeed very touched by his action and grateful for his help.
Kwok T
Singapore
TID 598 Bhutan Festival & Sikkim Tour (March 22nd to April 7th 2013)
Dear Ugen,
Jim and I have traveled to 106 countries. The Bhutan Festival & Sikkim tour we booked through you was fantastic and ranks as one of our favorites. It was truly a journey of discovery.
The small group size (9 pax) was manageable and made for a more personal experience.
We were pleasantly surprised with the quality and abundance of food along with the choice of accommodations. All were more than we had expected.
Penjor, our Bhutan guide, was one of the most considerate, caring guides we have ever met. He handled everything so smoothly and efficiently from personally seeing that we were settled in our rooms, calling ahead from the bus about our meals, to freeing us from a road jam in the mountains. He went above and beyond what was expected. He is a gem!!
Nema, our India guide, was a great disappointment. He was very aloof and cold. Although he traveled in our vehicle every day, he never talked to anyone unless someone asked him a question.
Moreover he was at times very impatient and rude. For example, because he walked very fast, he had a habit of explaining things before all the members of our group caught up to him. When I asked him to repeat what he had said, he snappishly said "Well, you weren't listening were you?"
I was very offended and told him I couldn't possibly have heard him since he began talking before our half of the group had even gotten close to him.
Additionally, he always appeared in a hurry to leave the group at the door of each hotel and never stayed to make sure that we were all checked in. In fact, the two English ladies on our tour had a problem with their room at one stop and no one could locate Nema. Even the hotel desk could not reach him and had to call the India office to get a message to him to return to the hotel and help correct their room situation.
And unlike Penjor, Nema never called the hotels during the day to make sure the correct number of single and double rooms were available. Neither did he call ahead to check on lunches, which resulted in our showing up at one location to find that no meal had been prepared for us. This resulted in a long delay before we could eat while the restaurant began cooking for us. This is inexcusable.
Except for Nema, the tour of India was was wonderful. And the Mayfair Hotel was a luxurious way to end the tour!!
Thank you again for the opportunity to experience your beautiful country and the pageantry of the Paro Festival!
All the best,
Carol and J
915 Talbot Avenue
I believe it is important that all members of a tour get the same treatment. It is only fair. Several times, on my recent Drukyul Walking Tour, I found myself in rooms that were by far a lower standard or location than other members of my group. It does not seem equitable when I paid extra for a single supplement. If a hotel cannot accommodate all members with equivalent accommodation, another accommodation should be found. People should either get money back for lower standard rooms without views or the poorer rooms should be systematically distributed so no one is having to pay extra for much, much less. It just is not fair. That said, when I did share my discontent, WindHorse staff were very quick to accommodate and put me in a lovely, different hotel to make up for the quality of the room I was given in Paro and the end of our tour. I was very grateful to them for that. I would not hesitate to recommend Wind Horse. Our guide, Namgay and our driver, Yamraj, were both wonderful to travel with. They are excellent at what they do, accommodating and consistently pleasant. Drukyul Walking Tour Sept 24- Oct 7, 2012 with extension of Nepal (Kathmandu, Nagarkot & Namo Buddha).
Dear John, Thank you for your email with review about the trip. I apologize for any inconveniences faced during your travels. It is fact that some hotels in Bhutan have smaller and often inferior single rooms. Even among the single rooms there may be disparity and not done purposely, especially during the peak tourists season, when rooms are in shortage.Our future single traveller will be aware of it. In the same group journey, it is not practical to use two separate hotels and although we book many rooms in advance, the hotels confirm to us only late in the time and by then, they are not able to allocate enough rooms and we land up having to choose the one that gives us sufficient rooms. Such issues occur during the festival period, when everyone wants to come to Bhutan and it is not just with Wind Horse, but with every travel company. We regret any inconveniences and hope to make up, if you visit with us again. Ugen- Management
John M
Oakland, CA
A magical vacation, extremely well planned and organised by Windhorse, with perfect logistics, excellent guides/drivers and a wonderful caring atmosphere - our guide Leki Dorji was delightful, knowldgeable, kind and extremely hospitable. Thank you Katalin & Jeremy - Kolkata-Darjeeling-Bhutan & Nepal
Jeremy S & Katalin T
Purley, Surrey U.K
John & Susan Pvt. Tour (Oct. 17-Oct.30,2011)

Dear Ugen,
We had a very good trip and were pleased with how well it all worked. If there was anything negative, I think it's that we believe it could have been a couple days shorter. But that may be at least partly personal and reflect the fact that we had been in Bhutan for a couple weeks prior, so it was a very long trip for us, about 5 weeks in all.
Our guide in Kathmandu was fine. He did seem to be in a hurry much of the time and was often some distance ahead of us, but he was a nice man.
Our guide in Tibet, Tenzin, was terrific. He was knowledgeable in the culture and history, friendly, always positive, cheerful and smiling, flexible and full of suggestions, and looking for ways to make the trip better for us. He really was great and you should use him as often as you can. The driver, Dawa, was also good, although he spoke little English so we did not obviously get to know him well. The food was good, Tenzin did a good job of picking restaurants, and at our request took us to a couple places where we were probably the only non-Tibetans to frequent in years, a nice treat. Hotel accommodations were okay, generally what we expected -- spartan, and not very clean by US standards, but adequate. Again, Tenzin looked after us and made sure we were well taken care of.
So we had a good trip, and we thank you for your assistance and for the arrangements.

John L
Iowa, USA
Sara & Tom Pvt Tour Nepal Bhutan 28 May-6 June 2011.

Hi Ugen,
I have posted already on your facebook page and will do the other 2 later today or
tomorrow.
First of all thank you so much for making all the arrangements. Our trip was so
spectacular and we really loved everythings, especially the people we met and
the countryside. Our guide Leki Dorji and the Driver Pema Loday were extremel
professional,knowledgeable and pleasure to spend time with. Nothing was too much
trouble for them and we really felt that we had a flexible and totally customised tour even though on the whole,we follow the pre-set itinerary. Things that we were able to add included a visit to a school which was super in Phobjikha Valley and watching an archery tournament in Paro(amazing!).Several highlight to mention: Tiger's Nest which is I am sure everyone has as a
highlight. We had perfect weather for our hike and didn't find it too difficult apart from the breathing! We took our time and got some incredible photos. Also we were invited to Leki's home for drinks and dinner. This was the most gracious gasture by him and we felt honored to be invited. I have visited 63 countries in the world and never once invited to our guide's home. In fact I have to say thatboth Tom and I felt honored to have visited Bhutan, the countryside is spectacular but more importantly overall aura of country is really calming and transfixing.
Specifically here are my comments on the hotels. All four were good. The rooms
were clean and had everything we needed.We were welcomed into each one,given tea and received really good service in each one. We weren't expecting TVs in our room,but did have them in 3/4 and it was good thing as I could watch tennis after dinner. Internet worked well in Paro and Thimphu but was not available at Dewachen and didn't function in Wangdue, although one of staff let me use her computer which was connected-so kind.
We ate well everywhere we went. We had a good selection of dishes with every meal
and Tom enjoyed sampling the local beers even though that were very strong one.
We had a couple of bottles of wine over the course of the week and found the
pricing to be reasonable (about1200 Nu. per bottle)
We had an opportunity to witness Puja at Gangtey Palace and after talking with
owner, a nice friendly man, we were able to take some photos too.We also drove
by the procesion of the monastic body moving from Punakha to Thimpu which was
great to see.
Also, we felt that our trip was good value for money. As you predicted, we
didn't buy too much but wished we had sampled some of the bakeries before we did
(discovered them in Paro at the end of our tour).
Of course I wished we could have been in Bhutan for one of the festivals. But
work schedules did not allow it. It would have been great to see some
Traditional dancing-but I understand that this is not just done for tourists. If
it ever could be, I would have certainly paid extra for the experience.
In Kathmandu we had a really great guide for our full day tour and saw all the
sight with him. Of the 4 airport transfers, 3 went without a hitch and we had
the same smiling driver each time. On june 6 when we flew in from paro there was
no one to meet us and so I called the number you had provided and eventually an
hour later someone showed up. It was no big deal as we had nothing scheduled that
day and the man in the office did apologize-Just thought I' d mention it.
So once again, thank you for making all the arrangements. Everything went extremely smoothly, we never had to wait for anything and we saw all and more
that we wanted to in Bhutan. It was a real priviledge to visit your country.
Please rely our thanks to all that worked on our tour including those behind the
scenes. You have a great organisation and I will not hesitate to recommend Wind
Horse to friends and colleagues.
If there is any more feedback you 'd like, I am happy to supply.
Best wishes
Sara C,www.talkingpointusa.com
Sara C
Chicago, IL 60607,USA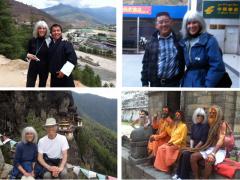 Kuzuzangpo Ugen, Your message of April 24th was waiting when we returned home to Vancouver; I did not have my computer with me so did not get your email en route. I want to thank you for all the fine arrangements you made for us at every step of the way. All went smoothly, and as you had advised us about "bare minimum" hotels after Shigatse, we were prepared with sleeping bags, etc. Thought you might enjoy seeing a few images of the adventure, including some faces that might be familiar to you. Again, thank you so much for a job well done. Warm regards, Pamela
Pamela & Kenneth tour of Tibet, Nepal, Bhutan & India from April 17 - May 10, 2011.
Pamela P
Vancouver, Canada
Well, we are home, slowly getting over our jet lag..and we want to thak you for arranging a memorable trip. We have so many unusual memories and"pictures" in our minds. Ugen--Santosh may have told you that our flight to Kathmandu on Air India was cancelled so we missed our first day with our kids. I wonder if we can get a refund for that night from the Crowne Plaza? (Deva from High Asia Travels suggested that I write you) I do want to tell you how wonderful, kind, considerate and helpful Santosh was to us during a very difficult, frustrating and anxious time. The people from Air India were so incompetent, inefficient and disorganized that we were going crazy and then he intervened to help us. We are very appreciative.

Re our trip we have a few comments.. The Radisson in Dehli wasa terrific also the Crowne Plaza and the Shangri-La (and the Fishtail Lodge where we stayed when we returned early fro Jomsom). The Rhino residency was disappointing and The "Jomson Mountain Resort" was awful. I had made it clear to you that I wanted to be assured that all places we stayed at would be heated and those 2 were not. With the hot water bottles in our beds and the space heaters in our rooms at Jomsom we were able to sleep comfortably...butg the hotel was freezing and none of the common areas were heated (the manager placed a space heater under our family table) We were very uncomfortable and angry and were happy to leave early. There was a smell of leaking fuel near our rooms and the manager basicaslly lied...WE had no hot water for our stay and we left early because mainly we were concerned that if the planes didn't fly on the day we were due to leave it would wreck the rest of our plans and reservations. Indeed, the day after we arrived tghe airport was closed due to high winds and we were told that at that time of year it wasn't such a rare occurrence. So our wonderful guide Sujan Rai made arrangements for us to return by jeep via the jarring but beautiful rocky road to Pokhara. Perhaps later in the season the Jomson hotel would be more tolerable...but no hot water!! After all, we were not trekking!

Perhaps deva has filled you in more

Our tour in Dehli was excellent and we all enjoyed...the Hotel Imperial was needless to say incredible..and we found our guide (Mukais) to be superb.

So again, except for some glitches, we had a memorable trip...Thank you...we'll be in touch further. Aaron D.
Dr. Aaron D
Highland Park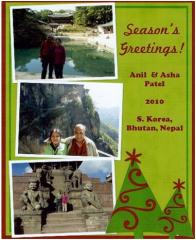 Nepal, Bhutan Tour 17-26 Oct, 2010

Dear Ugen,

We had a great trip to Bhutan thanks to you. We enjoyed South Korea, Nepal & India too, all totaling 2 months tour. With best regards, Anil & Asha Patel in Seattle
Dr. Anilbhai P
Seattle, WA
Drukyul Walking Tour with Jampay Festival : Oct 17 2010 - Oct 30 2010

Ugen, my wife Carolyn and I arrived safely home last night on our Cathay Pacific non-stop flight from Hong Kong, after a wonderful 45-day trip to Nepal, Bhutan, Bangkok and Siem Reap, Cambodia. I wanted to send you a note immediately to let you know that all of our arrangements worked out perfectly, regarding flights, tours, hotels, guides, visas and the myriad other details that helped to make it such a wonderful experience for the both of us. I sincerely appreciate your patience with me as we made all of our arrangements together. That time and effort ensured that the trip was perfect in every respect. I have 90 pages of notes in my diary.

We knew going in that it would not be an easy trip and it challenged us both physically and mentally but it was a trip that we will remember for the rest of our lives. I was very pleased with the hotel choices and the arrangements in both Nepal and Bhutan were just what we were looking for. Your agent in Nepal was excellent. We both felt completely safe and well cared for throughout. We enjoyed Kathmandu and the temple visits there. Although the climbing, impacted by the altitude, was strenuous at times for us and Carolyn felt the change in water and food during the first few days, our guides were very sensitive to both our needs and to how we were handling the trip. The routing for the Everest view trek was perfect! We thought that Tengboche at 4,000 metres was amazing as we sat for 2 hours at dawn in the monastery, watching and listening to the prayer service of the monks. This was the beginning of a festival and the service was a special one, complete with "yellow hats" being worn by them at one point during the service. The accommodation there was the most basic of the trip but the impact of the monks at prayer and seeing Everest in the sun as we came out made it very special indeed.

The internal flights in Nepal worked well and the weather cooperated. Our stay in the remote village at a Ghurka home was totally unique and the warmth of the welcome that we received from the villagers was exceptional. Being also able to stay at Fishtail lodge and to climb up to the viewpoint to see the sunrise on "Fishtail" was another highlight. Our room looked out on the lake and up to the mountain and we could see it clearly when we came back down for breakfast. We also enjoyed our stay very much at the Rhino Residency Resort. Our guide there was also very good. Everywhere we went, people were eager to be of help, exactly on time and wonderfully supportive. We had a great time.

Bhutan worked out very well. The "A" and "B" groups interacted and we enjoyed each other's company. The bus for our group of 7 was very spacious and comfortable and our driver was excellent. We always felt completely safe and his driving skills were amazing. Our guide was very good as well. I particularly enjoyed seeing the restored Tower at Trongsa and bought the outstanding book published late last year to bring home. It is a beautiful souvenir. I also bought a Dorje (diamond sceptre) and bell at the festival at Bumthang as another very meaningful souvenir. We were very sorry to hear of the fire there the night after we left and saw the convoy on the road, with the King's father, (K4), the Queen mother and a cabinet minister going to lend aid. The climb up to Tiger's Nest Monastery was another major highlight of the trip. The weather that day was absolutely perfect with a clear blue sky and an ideal temperature. It was a truly gorgeous day and an incredible experience. The only suggestion that I could make re Bhutan is to ensure that your clients take lots of U.S. dollars with them. With our time in Nepal, I did not have as many as I would have liked and with no ATM's or ability to get cash advances on a credit card I had to watch what I spent.

After leaving Nepal and Bhutan, our trips to both Bangkok and Siem Reap continued to be very special. We stayed on the river at a very small hotel in Bangkok (the Arun Residence) at the tip of the Royal Island and it was magical. Our deck looked directly across at Wat Arun and we could sit and enjoy it in the moonlight! We were 2 minutes from Wat Pho! Our accommodations in Siem Reap were also perfect at a small hotel (Pavillon d'Orient) with outstanding service and touring the Angkor ruins was another major highlight of our trip. We stayed at the Bangkok Novatel Airport hotel the last night - that hotel and the airport are outstanding.

All in all, a very special trip with enough memories to last a lifetime. We are now adjusting to the time change and will soon begin to sort out our photos of which there are hundreds.

Ugen, I wanted you to know how much we enjoyed working with you and Windhorse. Thanks again for all of your help with setting this up, p.s. I found one more souvenir in Bhutan - a copy of a printer's block, that is used to make/print prayer flags. This one has a "Wind Horse" with the bag of jewels on its back. Another unique souvenir that will always remind me of your company, our trip and the prayer flags of Bhutan. k Sincerely, Ken and Carolyn Whiteside.
Ken and Carolyn Whiteside
Toronto, Canada
Himalayan Kingdoms for Desmond & Levin Private : Oct 04 2010 to Oct 18 2010

Dear Ugen, We just got back from our wonderful trip. Your organization was perfect - everything went well, as we expected. Our guides were all very good; knowledgeable, helpful, and responsive to our wishes. Our favorite by far was Dawa in Tibet; he was just outstanding in his desire to educate us about his country and to make our stay there as pleasant and interesting as possible. Above all, he is a wonderful human being whom we were proud to call our friend after just a few days with him.I also want to commend the drivers whose excellent driving skills made us feel safe on the winding roads. The hotels were fine; we especially liked the Dhood Gu Hotel in Lhasa because of its great location in the old city. If anyone asks you for a recommendation, please feel free to give them my e-mail address. I'll be happy to talk to anyone about our great trip - I have lots of good memories. Thank you for organizing a most interesting and enjoyable experience. Tashi Delek.
Jutta Levin
New Jersy, USA
Ugen, This is just a quick email to thank you one more time for the great support and wonderful itinerary you had put together for us. Maximo and I had an amazing time and we shall remember throughout our life!!



Best Regards, Michele - Tibet, Nepal & Bhutan Private trip Sept 2010.
Michele A.
London, UK