It is one thing to toot your own horn, but something else when some speaks for you. Following are unedited testimonials of some of our past clients, many of whom will vouch for us.
Dear Anand, Thank you for your request of a review for our tour with Wind horse that Tracy put together with you for us.First up the tour leaders were wonderful. Special thanks to Neyma in who took care of us in Tibet.
He took me and another friend to Lhasa hospital the day after we arrived and organized a consultation with a Doctor as we were so ill. My husband came too and helped us, we were so grateful to Neyma for this. (We had bad flu and altitude sickness). We were very grateful for the treatment we received and how Neyma went out of his way to help us.
We were surprised with so many of us being affected by altitude sickness as we had been in many areas in Peru with no ill effects.Then Neyma cared for us so well all the way through to Nepal, yet he took us to many monasteries, stupas palaces and places of interest as well.Our accommodation was fine and the food was good. Especially as a lot of the time we weren't hungry. The lunch stops with soups were especially good.
It was good to talk to Neyma as he had much knowledge, we found him very interesting.And we loved that he was a Tibetan Opera singer, as well as a monk, making our visit even more interesting! Our bus driver there was very good too.
Our Nepalese guide did very well to inform us so much about Nepal in a very short time.He managed the difficult walk across the landslide as best he could. We found it fascinating that out of the chaotic traffic people really can get to where they want to go! We were glad to be in the bus with a good driver!
I enjoyed doing some shopping for pashminas there and would have liked more time.I enjoyed the artists making the mandalas, fascinating work and so exact.The Yak and Yeti hotel we voted the best!
Our guide Yonten in Bhutan was very good, and we really admire the driver (?Mr Gotyre) and Yonten for their handling of the traffic hold ups by the road workers, they managed the situation very well. Our driver there was excellent. Again, Yonten got everyone to see most things, although some of us stayed back towards the end as we couldn't have walked and kept up.I found the artist's school, the sculpture school and the weaving schools really interesting.
I was amazed by the women weaving at another center for the Queen, their work was perfect each time the shuttle passed through, never a mistake anywhere in their work. The patterns so complicated, especially as they were working with silk. I really enjoyed watching them.I would have liked some shopping time to buy some woven products!The visit to the Hospital museum was very interesting.The archery caught everyone's attention! Our accommodation was very good and we were looked after by the staff with food and being able to stay back.We were really well looked after.
I think the only comment Alan and I had was that perhaps there was too much emphasis on Bhuddism as it became confusing when going from one monastery to another, each with different aspects of Buddhism.
Perhaps we could have visited the main monasteries or stupas every second day, interspersed with visits to other areas.Some ideas have been mentioned below.
We would have liked an afternoon to just walk around in the main shopping area (of Lhasa or Thimpu) and meet up later. Perhaps we could have had contact with a farmer and his yaks and cows, to get a closer look at them.Or even to watch the process of making incense, using the different herbs.
However, overall we feel very lucky to have had the guides and drivers we did on our journey and the people in the hotels, as they all really helped and informed us as well as taking us to many places we could never have known about. They were very thoughtful, especially with illness. We enjoyed our journey very much.

Posted on Dec. 31, 69
Eve & Alan Lowson
Australia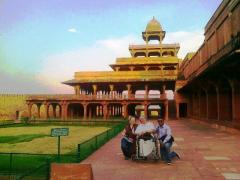 Petrie's India,Nepal & Bhutan Private Tour. TID -753 (Sep 13 - Oct 03, 2014
Dear Anand and team, Namaste! Thank you for your follow up message! My apologies for the delay in response. It would be my pleasure to provide feedback and any endorsements that would be useful to you in future planning and for promotional purposes in bringing on new guests.
This trip was truly remarkable, and my mother-in-law and I had the experience of a lifetime. It is with reluctance that we are making our transition back into life now in the US again, because we enjoyed our time abroad so very much, and because we still dearly miss the people, and the sights, sounds and tastes of these amazing countries!
The India portion of the trip was our favorite time, and we learned so very much. We were particularly impressed with Gaurav Goyal as our guide, as you know, and couldn't recommend him enough. He made us feel like family during our stay and went out of his way to ensure that my mother-in-law in particular felt comfortable and cared for. Unfortunately, she had developed an issue with her back during the trip that she is still recovering from, which has been making walking all the more difficult for her. This, regrettably, was the reason for cutting the time in Bhutan short. I had very much been looking forward to hiking those last couple of days, but just did not feel good about leaving her behind in the hotel in order to do that. Back in Delhi, we were able to take in a few more activities that she and I could enjoy together. But not only Gaurav - all of the guides, and the drivers as well - went above and beyond to assist her every opportunity that they could, in every area we visited. Thank you so very much for all the kindness and thoughtfulness!
Our hotels were all very nice facilities, and we found ourselves continually pleased with the arrangements. Our favorite places to stay were the The Hans in Delhi, the properties in Jaipur and Agra, and Club Himalaya Nagarkot. Again, thank you!
We have so many pictures and video from our travels! I put together a YouTube video - which you are most welcome to view and/or share, if you would like - of just one day of sightseeing in Delhi, and I am actively in the process of making more, one from each segment of our trip:
As soon as I get the opportunity, I do also plan to add some comments to TripAdvisor about your company and the various places we saw and where we stayed. In the meanwhile, if you have any further questions for me, or if there is anything else I might do for you, please don't hesitate to let me know.
Posted on Dec. 31, 69
Marie P
West Chicago,Illinois, 60185, United States
Dear mr. Jambay
I'm home since a week now, and finally I found some time to send this email, in order to say thank you for your services and for your patience and assistance with my needs. Everything with the program went smooth and my trip and what your agency and you have done was above my expectations.
Kencho, your guide, and your driver (sorry, I don't remember his name) were invaluable in their help. They stayed beside me when needed but never forced me to do anything I don't wanted to. This is extremely important in my opinion; I'm a seasoned traveler; I've been in many countries in the word and sometime guides and drivers try to push you to do something for their profit or to work less and this is extremely annoying.
Kencho is really a good guy. He's not only a good guide, very informative, but he's also acted like a friend, dispensing good advices on what to do and were to go, without being pushy. Please say thank you again to him for me. I can't imagine a better guide and a better travel mate. I hope for him and for the driver good luck for anything they hope for their life and their families
Bhutan is a wonderful country, its colture and its people will forever sit in my heart in my mind. May be in the far future I'll be back with my wife and for sure I'll use your services again. In the meantime let me know if I can do something for you: will a review on Tripadvisor (where I've posted many reviews and so I'm credited) help you?
Posted on Dec. 31, 69
Mr. Fabrizio F
Tornaco, Italy
TID 8584 - Haa & Juniper Ridge Trek (Aug 11 to Aug 22, 2014)
Hello Anan,
Thank you for your comforting email in inviting me to provide feedback on my Bhutan experience.
The trip was a huge success for me, and at the centre of it there was Wind Horse Travel. From the moment I got in touch with Jambay and Ugen to discuss my itinerary, I instinctively knew that the trip would be nothing but special.
Teamed with knowledgeable guide Yonten and dependable driver Tshering, my Bhutan journey began with a great excitement. What really impressed me was the punctuality and professionalism of the pair, which stayed consistent until the very last day of the trip.
Every monumental sites I visited, Yonten was excited to tell me all related stories and histories, in as much details as I wanted them to be. Yonten always invited me to ask any questions and he was delighted to answer them when I had any. On the other hand, Tshering was always polite and pleasant to deal with. He ensured that the Wind Horse Travel ride was the shiniest of all at all times. Needless to say, his driving skills were unmatched for- safety and smoothness above all else.
A pleasant surprise was when I found out that Wind Horse Travel had arranged a five-star hotel accommodation for me in Punakha- the stay was really nice and I very much appreciated the extra consideration that Ugen and Jambay have given for my special Bhutan trip. Also, I really enjoyed my stay at the Gayul Guest House, where I got to make friends with the host Lhapsel and his cute niece Karmaniya. Lhapsel even made momos for me after he found out that momos are one of my favorite foods. What a beautiful place it was, I really wish I can visit it again in future.
Then came the trekking experience, which was the highlight of my trip. I met the A-team trekking crew, which was made up of the best members that I could have ever wished for. Wangda the cook made food that was tastier than any of the hotels that I visited in Bhutan; the assistance cook Dorji took care of all uneasy jobs throughout the travel; and the horseman Wangdi was unforgettable for his charisma and skills in controlling the horses, and for his comforting presence throughout the trip. Then there was Yonten, who guided and supported me throughout the whole trekking experience, and this was also the time that I got to meet the other members of Wind Horse Travel, the two Pemas and Sonam.
Begun with climbing a small monastery located in the middle of the Haa Valley Mountains, my heart was pumping with each step I took forward. As difficult as the trail proved to be, my spirit was being cleansed with fresh air and immaculate scenery surrounding me. The first day of trekking was very challenging and by the end of it I even felt that I was experiencing some mild altitude sickness. However, it was all good after having some nice warm milk tea followed by delicious dinner at a military soldier's lodge in the middle of mountains. The warm fire pit we had in the room was definitely a bonus.
Then came the second day, when the other Wind Horse Travel guides joined the group at the top of the Chelula path. The day turned challenging when the weather started to rain. We climbed through the jungle following Wangda the cook who led the way with machete in his hand. At times we had to jump from rocks, and at some point on this day I stopped caring about my socks and shoes getting soaked in the rain. It was a wild experience. However, with the bigger group came greater fun at the camp site, especially with some Ara (Local Homemade Liquor) that Sonam and Yonten had brought for me to the trip.
The third day of trekking was good and we were all lucky to see sunlight for the most part of the day. The hike was moderate compared to the two previous days, until we reached the camp site where a cow farmer had already occupied the space. We decided to continue on to do the 4th day's hike, which turned the day into another challenging journey. After 9 hrs of total hiking, we arrived at the airplane signal transmitting site, where the two residents greeted us and provided shelter. We had our last supper together and enjoyed the rest of the night (except Yonten, who got a moth trapped in his ear during the night).
The fact that I was the first taker ever on the Haa Valley-Juniper trek was definitely very special for me. Although some of the paths were hard to spot due to heavy fogs, the trekking crew really ensured the safety and wellness of me. Yes, the trekking was physically challenging, especially for the first two days of the hike; and yes, the rain made the trail very muddy which created difficult challenges at times. However, the fact that I was able to really see the untouched nature was priceless, and the fact that there was no sign of pollution - like garbage on the trail - was also a huge bonus for me. I would say that any moderately fit person in between 15 and 45 years of age can handle the trail no problem, although the speed may have to vary depending on each person's physical conditions. One suggestion I have is to confirm the usability of the camp site ahead of the time, to avoid any unexpectedness like the one I experienced. It was not a big deal for me, but the 9 hrs of hike did feel quite tiring especially near the end of it. I need to highlight again that the trekking crew that accompanied me was truly a gem, and I truly appreciate all the excellent and hard work that they did for me.
Last destination of the trip was Paro, and it definitely topped my expectations at an entirely different level. Hanging out with my new friends from trekking trip - Pema, Sonam in addition to Yonten and Tshering - was the main aspect that made the Paro experience extra special. I played Bhutanese darts and hung out with them in Pema's restaurant and at his place, which are activities that I will always miss here in Canada. Oh and Yonten and I climbed the Tiger's Nest in 64 minutes and 66 minutes, respectively, which is a new record set to be challenged by future Wind Horse Travel guides and guests.
The Bhutan trip was definitely one of the best trips that I experienced in my life. I truly feel like I've met real friends (or even more, brothers) while I was in Bhutan. The experience was so special to me that I am honestly considering to re-visit as soon as I could afford the trip again.
Thank you very much for your the excellent service that your company has provided to me. I sincerely command the team that you have established. Without you guys, my Bhutan experience would have never been the same.
If there is anything I can be of help at any time, please don't hesitate to contact me.
Posted on Sep. 10, 14
Scot S. J
Toronto, Ontario, Canada
Dear Anand,
It all seems to have happened a long time ago, as we are in Phuket packing for our long trip home to Chicago later today (via BKK and NRT). Our two days with Yeshi were wonderful; we can't say enough good things about his service as our guide. Also, Dawa was a wonderful driver, but, of course, we spent much less time with him. Because our Bhutan trip was cut short, we had the opportunity to visit Kathmandu for two days, which also was very nice. The bottom line is that our trip turned out quite well, even though we missed seeing the Puhanka area. As for blame, I agree that a large part belongs on the ministry of tourism, which at first refused to grant me an extension, then relented, but refused to authorize my itinerary. I do think that you should have been aware of these issues, but I certainly understand how you were caught in the changing rules. Be assured that I will not be writing any unfavorable reviews; you handled the situation as well as could possibly be expected by refunding my payment for the two days that I could not tour. Other than the visa snafu, everything else went smoothly.
Best regards,
Posted on Oct. 22, 14
Rebel A.C.
Chicago, USA.
Dear Anand,
We really enjoyed the trip and organization despite the fact that my husband got sick the second day we arrived.
Within the highest positive experiences are flexibility of the the itinerary and the way our trip was promptly rearrange when we missed the flight. I also have to mention our guide a - un-bothering personality and great knowledge about the country, traditions and Buddhism.
Scenery/sightseeing was covered well. As for the suggestions - it would have been nice to see local culture - dancing/singing, maybe some performances. We spotted some kind of the dancing in the hotel in the last night, but only the last 5 min.
Hopefully my feedback will be useful. Thanks again for the great time we had in Bhutan.
with best regards,
Posted on Oct. 22, 14
Petain Rd,Singapore.
Dear Anand,
The trip with Windhorse was excellent. You did a phenomenal job organizing the whole trip and everything ran incredibly smoothly. Namgay was an excellent guide, always courteous, polite and informative.
I would highly recommend your services to friends and family visiting Bhutan.
If you would like me to write up a review of Windhorse online somewhere, please let me know.
Best,
Posted on Dec. 31, 69
Alexander G
Encino, California, USA
Dear Anand,
I think the trip exceeded my expectations, but it may have been more the case because of the beauty of Bhutan. Actually, Yeshi and the driver were great traveling companions and were able to accommodate my requests. I did not get a chance to go to Punakha as the road was blocked but we came up with a good alternative. The level of the hotels varied from 3 to 5 star. The Paro hotel Tamsay was of inferior quality compared to the others Druk and Zhiwa Ling. Probably more consistency in the hotel quality (excluding the premium hotels) would improve the experience. As a note, the food at Zhiwa Ling was way overpriced for the quality. Otherwise, I enjoyed the food elsewhere.
I had no issues with the trip and have no complaints and thoroughly enjoyed the trip and hope to return to Bhutan again.
Posted on Oct. 22, 14
Taka J
New York,10009, USA
Ugen,
I am writing to let you know that Robert, Isaac and I were very pleased with the arrangements Wind Horse Tours made for our trip. With eight legs, seven internal flights and the road trips, there was always someone waiting for us at each destination. We were well taken care of by all of our guides and drivers. We feel honored to have met and trekked with Lakpa Sherpa and his crew. The trek was longer and tougher than we thought, and we were not acclimated, but we went at our own pace and were proud to make it to Lomanthang. To have made the return trip in three days we felt was unrealistic, and Lakpa got us a ride part way. The trek, and the entire trip was an incredible adventure.
Seeing the Dalai Lama in Ladakh was an unexpected bonus. Kashmir was a rare treat, more so due to the hospitality and time taken by Shafi and his people to make sure we got to go everywhere that we wanted safely and efficiently. We didn't expect much beyond r&r and cold beer in Goa, but a local innkeeper arranged drivers and gave them specific orders where to take us, what not to bother with and what to charge us, so we saw quite a bit and had wonderful seafood.
With a complicated itinerary in a challenging part of the world, Windhorse made it work for us. Our thanks to you and your people. We will strongly recommend your services to anyone travelling to South Asia.
Posted on Oct. 22, 14
Thomas P
Youngstown,New York,USA
TID 8520 Glimpses of Bhutan (May 05 - May 10,2014)
We just got back home from our full trip so I apologize for the delay. We had a great time in Bhutan and Namgay did an excellent job as our guide. He set up an extra hike for us that was really fun.
As we've talked about our trip we have a really positive opinion of your company and Bhutan. Our only real negative experience was the amount and condition of the stray dogs. I realize that problem is largely out of your control but anything that can be done to help the situation would be worthwhile.
Posted on Oct. 22, 14
Brett H
Santa Monica, California, USA
Dear Windhorse team,
I recently travelled to Bhutan with yourselves and was lucky enough to have Kinley as our tour guide. I wanted to express to you as a company my great thanks for the tour and how well it was run and set up and in particular the professionalism of Kinley Tenzin and our driver. My trip to Bhutan has been a dream for a long time and I was lucky enough to finally get a two week break in my dairy that allowed me to plan it. I came directly to your company less than a month prior to my journey and from the start find the process smooth and easy and well managed. I was very keen to work with a locally based company not only as this was far cheaper than western based companies that added on high margins but I also wanted to support a local company.
The trip was well planned, the car of a high standard, all chosen accommodation was good, everything was taken care of and we achieved everything we planned. As with many travellers I fell in love with your country, its people and the beauty of both but my particular thanks and praise goes to Kinley. When you have a guide for an intense period like the trip provided the relationship and the personality of the guide will make or break the trip, Kinley is an Ambassador for Windhorse who ensured that everything ran smoothly, had great knowledge a passion for his job and his country and faith and I genuinely enjoyed spending time with him.
I view it as a blessing in my life to have been able to share the journey with such a beautiful soul.
I would be more than happy to write you a reference/quote on your website and please do praise Kinley for being himself!
Thanks for a very grateful,
Posted on Oct. 22, 14
James O
Thorparch Road London. UK
TID 775 Grand Cultural Tour with Bumthang Owl Trek
Hello Jambay,
Sorry for this tardy email. We've been busy catching up after our trip.
We'd like to start by saying our visit to Bhutan was a wonderful experience. The countryside and the people were lovely and Windhorse, Yeshi and Tshering did a very good job of keeping us on track, entertained and fed. Our trek was a particular highlight. The time and effort which went into planning that amazing trip was awe inspiring. Your office handled all of our various financial issues (overpayment, cancelled flight) very impressively and communication was always timely . Thank you for all of that.
We can think of three things that may be helpful to you in the future;
1) On the day of our arrival we were greeted by our temporary guide, Yonten. Our flight arrived rather late (fourish) to do any tours as many things close between four and five. I think that new arrivals are either excited or exhausted. We were excited. We wish Yonten had suggested a walk or some other introduction to our exotic new environment and if we were tired we could have said no. Instead he assumed that we must be tired and dropped us at our hotel. Yes, we could have pushed for a walk but we didn't which was our fault. Maybe we just look too old!
2) On the fateful "cancelled flight" day (day 2) we felt a bit adrift. Yonten had given us his phone number in case there was any difficulty with the flight. Initially the flight was merely delayed an hour so we waited. When it was delayed again and there was some thought that it might eventually be cancelled we decided that we should contact Yonten. Another party nearby who were traveling with their guide were discussing their alternatives and we weren't sure what ours were. We do not travel with a phone (perhaps this is rare) so we had to borrow one from an airline employee to make the call. Yonten did not seem to be nearby so we waited for him to arrive. It might make sense for the guide to be checking the flight status so they can be close by when decisions need to be made. We know that in a situation like ours the guide can't sit in the departure lounge since they are not flying.
Once Yonten arrived he was very accommodating and offered us several options. We wanted to be in Bumthang for our trek two days later so the overnight drive was our best option. Our driver did a spectacular job getting us across the country to Trongsa in fog, rain, mist and dark without a complaint. He is to be commended. We realize that neither Yonten nor the driver had anticipated their extended time with us and they remained pleasant and helpful through the whole experience.
3) This falls into the "wish" category. One of the wonderful things about Bhutan is it's seeming remoteness. It would be nice if there were some additional lodging choices to reflect this fact. Although most of our accommodations were fine, there were a few that felt too large and overrun with bus tours. Those traveling in small groups might like the choice of a guesthouse or something more intimate. It seemed that rather early in the planning phase we were already booked into our hotels and we could not suggest other places. I know booking quickly must be important if you are traveling in high season but we weren't. Having the choice of smaller, more intimate places would be greatly appreciated. Do they exist? Perhaps not.
We hope these don't sound too much like complaints because they really aren't. We had a lovely trip and hope to return to Bhutan at some point in the future.
All the best.
Posted on Jul. 07, 14
Woodman Way, Newburyport Massachusetts, USA
Amy L.J & Roger T.B
Find Your Trip