It is one thing to toot your own horn, but something else when some speaks for you. Following are unedited testimonials of some of our past clients, many of whom will vouch for us.
TID 781 Bhutan Festival & Sikkim Tour (3 to 14 Oct,2014)
Dear Anand:
Thanks for your email looking for comments about my trip recently to Bhutan.
It was a thoroughly enjoyable trip and made doubly so by Sonam's (Pelden) professional ability to guide us. He paid attention to all members and I was amazed at his knowledge of Buddhism and the life of the Bhutanese. Despite the road conditions as well I had great confidence in Arun's ability to get us safely through any potential dangerous situations.
Some feedback:
At some point in the tour I, and the other members, felt overwhelmed with visiting monasteries so our request to visit a farmhouse was arranged by Sonam the next day. Speaking for myself, I certainly felt it was a good addition to the tour. While I am travelling I do enjoy visiting local people so often a school or a hospital is on my agenda. Perhaps that could be considered in the future.
As a vegetarian, I was certainly able to find sufficient on the buffet table, although perhaps it was very carbohydrate-laden with rice, potatoes and noodles together. As a rule, western tourists would eat only one of those at a sitting.
In addition, our guide in Sikkim and West Bengal, Nima, was equally knowledgeable and professional in his care of the group. He was able to help me connect with a Darjeeling hospital through his niece so that I could visit the newborns and their mums.
I chose Wind Horse, partly on the recommendation of friends who had previously taken one of your tours, but price was certainly a factor. However, I certainly didn't feel that, because yours were cheaper than other companies, I received inferior service. So, thanks to all concerned at Wind Horse and I wish you success in the future.
Regards,

Posted on Nov. 26, 14
Rosemary J
crescent Vernon,CANADA
Window to Bhutan TID 8541 ( 17 to 23 Oct,2014)
Hi Jambay
Hope you are well.We just wanted to touch base to say how delighted we were with our tour of Bhutan through Windhorse.Sonam was the ultimate professional: well organised, a great communicator, flexible, very knowledgeable. And most importantly to us, fun! We have traveled extensively over the years, and he was by far, the most impressiveGuide we have ever had the pleasure of touring with. Sanger was also to be commended for his excellent driving skills. His car was always neat and tidy and both Sonam and Sangar were always well presented.
We were sad to leave magical Bhutan - an amazing country with wonderful people. Thanks for all of your help organising the initial stages of our trip.We will certainly be recommending Windhorse to all of our friends and family.
Warmest regards
Posted on Nov. 26, 14
Nerissa and Kellie
Gordon Avenue, Victoria, Australia
Snow Leopard Trek TID 760 ( 3 - 17 Oct,2014)
Hello Anand,
Thank you so much for setting up a great experience for my husband and me. We had a spectacular time!
Our guide, Karma was really knowledgeable, helpful, and, best of all, funny! He was also very gentle and didn't push us. He understood what all our limitations were and encouraged us to do our best. He was very personable and that helped us enjoy the experience more!
One thing that we think Windhorse can improve on is making sure that everyone knows what each person's food restrictions are. On a few occasions, we felt that the cook did not know or had forgotten that we had a vegetarian in the group and that my husband, Varun, could not eat dairy or fried food. For example, one of our lunches was pizza, cheese momos, and fried potatoes. After trekking all morning, it was upsetting that there were no food options for him. During this time, we mentioned to Karma that he could not eat anything from this meal and even though he informed the cook, nothing was done to fix the situation.
The food in general was decent. We really enjoyed the soups! It was perfect for the cold evenings. For three dinners during the trek, the soup had meat in it and the vegetarian in the group could not enjoy it, so please make sure this option is available for everyone. It is really the perfect thing to start dinner with.
Thank you again and we hope that we can work with Windhorse in the future.
Posted on Nov. 26, 14
Brinda & Varun P
Nguyen Du, Ho Chi Minh City.
TID 8586 Glimpses of Bhutan (19 Oct to 24 Oct,2014)
Dear Wind Horse Staff,
I would like to thank all the Wind Horse staff for arranging a wonderful visit to the Kingdom of Bhutan.
Although I have traveled extensively this was my first time to Bhutan. Having no experience in your country I did not know where to start. Fortunately through a series of questions Wind Horse was able to determine my area of interests and developed a tour that was customized to my desires. The length of the tour, and the locations we visited were arranged to meet my specific interests. This was very important to me as I was not interested in package tours that meet someone else's needs. The six days in October allowed for a detailed visit to three different regions. On a future visit I would like to take more time and explore further to the east.
Through a couple of detailed emails I was provided with helpful information. What to bring, what to wear, visa arrangements, contact information, a packing checklist and numerous other general suggestions all helped to make this a trouble free visit. The pre-payment procedures, visa support, hotel check in and so many other details all were taken care of with extreme professionalism.
Kinley Wangmo, my tour guide, was great. Her knowledge of Bhutan and the sites we visited made all the difference. Every day she was on time, willing to make adjustments when required, and her knowledge of Bhutan culture was a big part in making this a successful visit. From the moment she picked me up in Paro until I was dropped off for departure she was on-top of every detail. Her personal experiences in parts of Bhutan outside the capital city were most interesting and I thank her for sharing them with me. Please tell Kinley kuzuzangpo for me and thank her for all her assistance.
Bhutan is a wonderful country and a "once in a lifetime" place to visit.I would like to wish all of the Wind Horse staff the very best in the future.
Posted on Nov. 26, 14
Mr James Arthur H
Chicago, Illinois,60601 USA
Abpve The Clouds (Jhomolari & Laya Trek) from 4 Oct to 24 Oct
Hi
I have safely returned from Bhutan via Thailand and am still basking in the afterglow from our wonderful experience in Bhutan with Wind Horse. Karma, Sonam, Tenzen and Rinzen were wonderful to be with and we so appreciated the opportunity to meet Jambay and Ugen at Gasa. The Wind Horse customer service was suburb and we were very impressed with the immediate response we received by email and phone. The only recommendation that we all felt necessary was for your guides to have access to solar power to re-charge their phones or have access to a satellite phone for emergency purposes. On several occasions we had to supply solar power and then we found out there was no reliable way for emergency contact if Karma's personal phone was down.
Would you please forward the refund check of $495 to the home addresses for both Janet and I? Our US mailing address is listed below.
Thank you again for a lovely experience, and I would be more than happy to serve as a reference for this trek
Posted on Nov. 26, 14
Ms Joy M.R. & Janet D
Plymouth, Minnesota, USA
TID 8538 Bhutan Dragon Festival (4 Oct - 15 Oct,2014)
Dear Anand,
Thanks for your email below. I do like to write a few words regarding this trip :
- overall, I find it good in terms of introducing the tourists to the Bhutanese culture.
- I guess due to the geographical locations of the different villages, we do have to spend quite a number of hours driving on the road.
- I was just s bit upset that there was a sudden change in one of hotels we we were going to stay (From this Meri resort to YT hotel), though I had to admit the hospitality of the hotel owner did make the whole 2-night stay worthwhile
- at the end, I do want to write a few compliments for Sonam, our guide. He had always been very considerate, supportive and caring. I wouldn't have made it to the Tiger's nest without his support along the hike. Really appreciated. He is really an asset to your company. You may regret it if you lose him to another agency.
Hope these comments help. Thanks
Posted on Nov. 26, 14
Ms Angelina C. M. L
Fairway Garden, Homantin, Kowloong
TID 8538 Bhutan Dragon Festival (4 Oct - 15 Oct,2014)
Overall, the trip was quite nice. We didn't like the change in accommodations for the first 2 nights. I suppose it was a little like a bed and breakfast, but it was a bit uncomfortable to have to share the apartment with somebody that we didn't know. We did get the master bedroom, so that was at least better than it was for the single person, but still we had to be pretty much fully dressed to come out of our bedroom. We had a tub in the bathroom, but it was so dirty that we would have needed some heavy duty cleaners to even use it.
You were definitely right about restroom facilities and food quality on the trip. In the Mountain resort, the bathroom floor was wet all the time around the toilet and even sitting on the toilet, my ankles were getting sprayed constantly. The food was very repetitive at every meal.
On the bright side, everything we saw was wonderful. Sonam, our guide was fantastic. He was quite knowledgeable about the history and culture and very observant to help any of us who needed anything. I am diabetic and was having some really high blood sugars from the types of food that we had because it was so high in carbohydrates. When he saw, how I had started limiting my food, he asked me what would help and arranged to have hard boiled eggs at our meals to help me eat more protein. Others, also started to look forward to the eggs and enjoyed them. I, also, was breathing quite heavily at the altitude, when we went up hills. On the first day we went on a hike, he told me that he would suggest that I use the horse option at Tiger's Nest. I told him that I had intended to but had read on the Internet that they weren't always safe because the horses walked on the edge of the cliff and that one man had even fallen 40 feet. He told me that he would lead my horse so that I would be safe. He really went the extra mile to make sure that everyone who had any needs was taken care of.
The other young guide that was with us, Kenchup (not sure how to spell his name) was also very nice and tried to help anybody who needed anything. The driver's were great. They were safe and personable. They would stop for any pictures that we wanted along the way.
I'm happy that we were able to visit a country than is so unique. The people of Bhutan were welcoming and friendly. We met some lovely Bhutanese.
Liked the Takin excursion, as well as other animal stops to take pics of monkeys and yak. Enjoyed the festivals, hikes, and temples. The giant Buddha is beautiful. Also, the markets were good.
Posted on Nov. 26, 14
Mrs Sandra B
Schertz, Texas, USA
Window to Bhutan, TID 8605, (7 Oct – 13 Oct, 2014)
Hello Anand,
Yes, we did indeed complete our trip, the last part being a visit to Bhutan and what a trip is was, absolutely fabulous. From the moment we stepped off the plane in Paro and got greeted by our guide Kencho and our driver Pema the trip was wondrous. You have a beautiful country in Bhutan and both Kencho and Pema were excellent in their guidance of showing us a small part of it. Please tell them we arrived home safely after a very long journey, still full of memories of the beautiful site they showed us and guided us thru and still fighting jetlag,
Kadrinchey to you all for making this a trip of a lifetime
Posted on Oct. 22, 14
Bridget L & Melanie G
Baltimore, Maryland,21223 USA
Three Himalayan Kingdom TID 780 Sept 25 – Oct08, 2014
Thanks to Wind Horse for arranging such an incredible trip! We had a great group of people and wonderful guides and drivers who went out of their way to accommodate our needs. I enjoyed everything...the hotels, the food, the people, and the unique character of each country we visited. We were very lucky to have had beautiful weather. As Dianne mentioned, it would have been nice to have had a copy of your Thimphu Festival Description paper as we were a bit lost at the event. I appreciated the school visit and the home meal that allowed us to interact with local people. Bhutan in particular is a beautiful country to which I would like to return in the future.
Cheer
Posted on Oct. 23, 14
Ellen V
Elk Grove, California 95624 USA
Three Himalayas Kingdom, TID 780, Sept 25 – Oct 08, 2014
We had wonderful guides who went out of their way to see to our every need.One thing that I would really have appreciated would have been the Festival information that we discovered on your website when we returned. This information listed all of the dances included in the Festival and explained their meaning. It would have been so helpful to our understanding of the beautiful spectacle, if we had had a printout available to us when we were in attendance.
I especially appreciated the opportunity to have a meal with a Bhutanese family. They were so warm and hospitable. It was a very special occasion.Thanks to all at Wind Horse for making this a trip of a lifetime.
Sincerely,
Posted on Oct. 23, 14
Ms Dianne S
Orinda,California, 94563 USA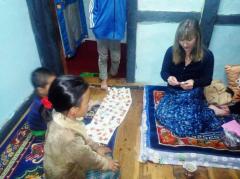 Three Himalayan Kingdom TID 780, (Sept 25 to Oct 08,2014)
Dear Anand,
It was a pleasure to provide initial comments on our tour by phone and I am happy to expand upon them in writing. I found the Three Himalayan Kingdom tour to be a truly fascinating experience. Visiting Tibet, Nepal, and Bhutan on the same trip highlighted the cultural and religious similarities as well as the distinct differences between these regional neighbors. For me the real highlight of the trip was Bhutan and I quickly realized after we arrived from Nepal that the Bhutan portion of the trip was going to be too short for me (though I know that some in our group found it to be the right of time for them). It was a bit of a trade-off for adding Tibet and Nepal to the trip; in retrospect, I would have added some days to the Bhutan portion so that I could see more of the country.
In such an enchanting country, where every view could be a postcard and the people are so kind and generous, it is difficult to single out particular experiences as highlights of the trip. There are the obvious ones, such as the Thimpu Tsechu and the hike to Taktsang Monastery, but the moments that stand out for me are the interactions with local people, like the lovely housekeeping girls at the Druk Hotel who made sure that I had tied my kira correctly, the funny conversations with the owner of the guesthouse in Punakha (which ended with me in the kitchen teaching him how to make guacamole with his outstanding avocados), the visit to the primary school near Paro where we distributed some supplies to the students, and our farewell dinner at the home of a welcoming family. Not only was the farmhouse meal the best that we had in Bhutan, but upon learning of my fondness for Bhutanese chilies and particularly for ema datshi, they generously gave me a big bag of dried chilies as well as seeds so I can try to grow them at home. And it was great fun reviving my origami skills and playing with the charming children of the house after dinner.
Of course we could not have had these experiences or appreciated the beautiful dzongs, festivals, and temples without an excellent guide. Kuenzang was exceedingly patient, accommodating, and informative. His knowledge of the religious and cultural traditions was essential for our understanding of the places and people that we visited. Most importantly, I believe we all enjoyed spending time with him. He has an engaging personality that is a perfect fit for the guide profession. I also cannot praise enough our wonderful driver. Not only did he expertly navigate the tricky roads with seeming ease, particularly the construction on the Thimpu-Punakha route, but he kept the cleanest bus around and was always there with a helping hand and a smile.
Finally, I cannot fail to thank Jambay, Ugen, and all of the Windhorse staff for their efforts to organize the trip itself. Their excellent planning, timely updates, and helpful pre-trip information ensured that we were well prepared for the trip and that tour itself was problem-free.
In short, I cannot properly express in words how much I enjoyed my introduction to Bhutan. I call it an introduction because I am already planning to return so that I can see more of the country and learn more about the culture and the people. Kind regards,
Posted on Nov. 26, 14
Ms Jennifer M V
California,95624, USA
Dear Anand, Thank you for your request of a review for our tour with Wind horse that Tracy put together with you for us.First up the tour leaders were wonderful. Special thanks to Neyma in who took care of us in Tibet.
He took me and another friend to Lhasa hospital the day after we arrived and organized a consultation with a Doctor as we were so ill. My husband came too and helped us, we were so grateful to Neyma for this. (We had bad flu and altitude sickness). We were very grateful for the treatment we received and how Neyma went out of his way to help us.
We were surprised with so many of us being affected by altitude sickness as we had been in many areas in Peru with no ill effects.Then Neyma cared for us so well all the way through to Nepal, yet he took us to many monasteries, stupas palaces and places of interest as well.Our accommodation was fine and the food was good. Especially as a lot of the time we weren't hungry. The lunch stops with soups were especially good.
It was good to talk to Neyma as he had much knowledge, we found him very interesting.And we loved that he was a Tibetan Opera singer, as well as a monk, making our visit even more interesting! Our bus driver there was very good too.
Our Nepalese guide did very well to inform us so much about Nepal in a very short time.He managed the difficult walk across the landslide as best he could. We found it fascinating that out of the chaotic traffic people really can get to where they want to go! We were glad to be in the bus with a good driver!
I enjoyed doing some shopping for pashminas there and would have liked more time.I enjoyed the artists making the mandalas, fascinating work and so exact.The Yak and Yeti hotel we voted the best!
Our guide Yonten in Bhutan was very good, and we really admire the driver (?Mr Gotyre) and Yonten for their handling of the traffic hold ups by the road workers, they managed the situation very well. Our driver there was excellent. Again, Yonten got everyone to see most things, although some of us stayed back towards the end as we couldn't have walked and kept up.I found the artist's school, the sculpture school and the weaving schools really interesting.
I was amazed by the women weaving at another center for the Queen, their work was perfect each time the shuttle passed through, never a mistake anywhere in their work. The patterns so complicated, especially as they were working with silk. I really enjoyed watching them.I would have liked some shopping time to buy some woven products!The visit to the Hospital museum was very interesting.The archery caught everyone's attention! Our accommodation was very good and we were looked after by the staff with food and being able to stay back.We were really well looked after.
I think the only comment Alan and I had was that perhaps there was too much emphasis on Bhuddism as it became confusing when going from one monastery to another, each with different aspects of Buddhism.
Perhaps we could have visited the main monasteries or stupas every second day, interspersed with visits to other areas.Some ideas have been mentioned below.
We would have liked an afternoon to just walk around in the main shopping area (of Lhasa or Thimpu) and meet up later. Perhaps we could have had contact with a farmer and his yaks and cows, to get a closer look at them.Or even to watch the process of making incense, using the different herbs.
However, overall we feel very lucky to have had the guides and drivers we did on our journey and the people in the hotels, as they all really helped and informed us as well as taking us to many places we could never have known about. They were very thoughtful, especially with illness. We enjoyed our journey very much.

Posted on Dec. 31, 69
Eve & Alan Lowson
Australia
Find Your Trip