Above The Clouds Trek
Chomolhari Laya Gasa trekking
Despite the opening up of a number of new trekking possibilities in Bhutan, the long-established route from Chomolhari across to Laya, (which we like to call it Above the Clouds)will always rank as one of Bhutan's finest treks. The reason for this is not hard to find. It offers a great variety of trekking conditions; from picturesque farmland and forest to a breathtakingly beautiful lunar landscape, dwarfed by immense glistening peaks, abundant wildlife, including blue sheep, Takin, a wide variety of birds and the elusive snow leopard. Numerous isolated Dzongs and scattered settlements, including the outlandish village of Laya, provide a great deal of cultural interest's en route.
Although long and challenging, as the trek that traces a loop along Bhutan's northwestern border with Tibet, this is probably the most aesthetically beautiful of any trek in Himalayas.
At Wind Horse we are proud to have taken at least 2 private trips each year for the last 10 years. Join us on this trek, and we promise you that you will have ever lasting memory of this special trek
At a Glance
Trek Duration: 15 including 3 rest days
Total Duration: 23 days
Max. Elevation: 5,005m at Sincela pass between Robluthang and Limithang
Max. Campsite: 4,220m at Shomulthang. Average Campsite elevation is around 4,000m
Trek Difficulty
Moderately strenuous. From our experience, we have found that after first few days of trekking, one is as fit as pro and so anyone with some trekking experience can do it.
Seasons
Best to start trek from late March till mid May or from Sept till mid October
Trip Costs
Cost is provided on the number of participants and dates of travel. For groups of 3 or more, the average cost is around $180 per night.
Highlights
Abundant wildlife such as Blue Sheep & Takin in addition to other bird and mamals. Remote villages of Yaksa, Lingshi, Chebisa, Goyul, Laya and Gasa. Reach and diverse vegetation and mountainscapes.
Day 1: Arrive in Paro and transfer to hotel.
Day 2: Acclimatize and explore the valley.
Day 3: Hike to Takstang and return to Paro.
Day 4: Drive to Drukgyel Dzong (2580m) and start trek for Shana which is easy 4-5hr trek. Overnight in camp2850m.
Day 5: Steady ascent following Paro river valley upstream with chances of wildlife sightings. Camp at Soi Thangthaka at 3610m.
Day 6: Break above the tree line to Chomolhari Base Camp area (4050m).
Day 7: A free day in open yak-pastures for exploration in Jangothang.
Day 8: Ascend to rocky Nyelela pass (4870m) and descend to Lingshi campsite (4010m)
Day 9: Short day trek of about 4-5hrs to Chebisa village (3,880m)
Day 10: Cross the Gobula pass (4440m) with spectacular views and descend to Shomulthang at 4220m.
Day 11: Climb over Jharila pass (4750m), with views of Mt Gangchenta and descend to the Tserijathang valley with herds of wild Takin and camp at Robluthang (4160m)
Day 12: Cross the Sinche la pass (5005m) into Lemithang (4140m).
Day 13 & 14: From Limthang it is around 4-5 hour trek to Laya (3840m).
We spend one extra day to rest and visit Laya, one of the highest village in Bhutan.
Days 15, 16 & 17: From Laya descend to Koena (3050m) and then next day trek to Gasa Dzong(2770m). On day 17, visit Gasa town/village and make a short descent of around 2 hours to the hot springs – Gasa Tsachu (2240m) where we spend the afternoon for laze, soaking in comfortable natural hot springs.
Day 18: After 4 hours of trek, we reach a feeder road head at Goen Damji village with terraced rice fields at 2430m. Meet the transport and drive for about 4 hours to Punakha. Overnight in hotel Meri Phuensum or similar.
Day 19: In Punakha, one day for rest and another for exploration.
Day 20 & 21: Visit interesting attractions in Thimphu. Overnight in hotel
Day 22: Departure.
"I feel like I had stepped into a fairytale; is so pure and lovely! Our guide, Dorji, was a wonderful guide and all crew on the trek were excellent. Our driver,Jigme, was also excellent and we miss them all very much!!!"

— Pamela S. PA
Included:
* Bhutan royalties, Visa fees.
* Accommodation in listed hotels or similar during the tours and in tents during the trek.
* All meals including evening tea throughout the trip.
* During the trek: fully organized trek with Tents, Thermal Pads, Blow pillow, Hot-water bag, Pressured Altitude Bag (Gamow or PAC for emergencies, Pack animals to carry luggage and additional riding pony for emergency riding. Basic Medical Kit. Trekking Guide, Cook and assistants. All meals, beverages and snacks.
Not Included:
* Flights in and out of Bhutan.
* Personal trekking gears such as sleeping bag, clothing, shoes etc.
* Sleeping bags are available for rental
Trip Map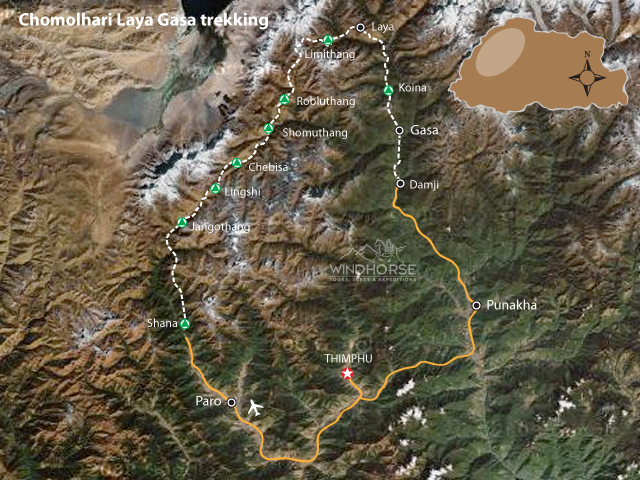 Trip photos