Annapurna Basecamp Trekking
13 Days
Annapurna Sanctuary Trek (Rapid) Trek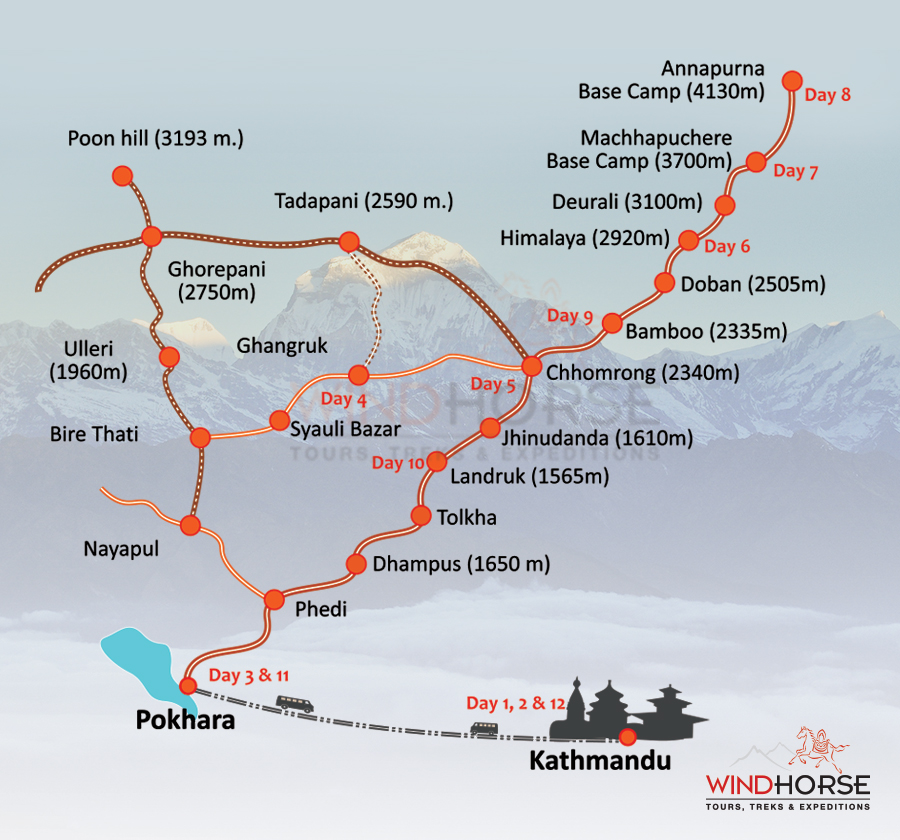 Trip Grade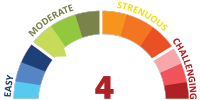 Trip Price From US$ 1390 | See Details
Trip AccommodationHotels in the cities, choice of guesthouse accommodation or camping in the mountain. See Details
Group SizeMinimum 2 Pax.
MealsBrekfast in the cities and full board in the mountain.
RouteKathmandu- Pokhara- Birethati- Ghandruk- Chomrong- Himalaya- Machhapuchre Base Camp- Annapurna Base Camp- Bamboo- Landruk- Pothana- Dhampus- Pokhara- Kathmandu.
Trip TypeModerate trekking and culture tour
Trip SeasonsAutumn (Mid September till mid December) Spring ( Mid Feb to Mid May)
Best MonthsJanuary, February, March, April, May, June, July, August, September, October, November, December
Trip highlights
Seven hour scenic drive to Pokhara with scenic view that offers greenery, rivers, villages, farms and beautiful mountain scenarios.
Experience and explore the Base camp of Annapurna (8091m), 10th highest mountain in the world
Close up rewarding view of Mt Fishtail and Annapurna I, Annapurna III, Annapurna South, Gandharvachuli from Machhapuchre Base Camp & ABC
Explore gorgeous springs, waterfalls and Modi river in Annapurna region of Nepal
Beautiful lush green forest, rice field terraces and farmhouses.
Friendly Gurung people, culture, tradition, living style and their warm hospitality
Annapurna Base Camp trek is also known as Annapurna Sanctuary trek in Annapurna region of Nepal. Annapurna Base Camp trekking is designed to those trekkers who want do straight to the Annapurna Base Camp in short duration. Annapurna Base Camp Trek starts from Kathmandu valley with half day sightseeing and trek preparation in the afternoon then next day you have option to drive or fly to Pokhara which is the second largest city of Nepal located at the base of well known Annapurna Mountain in Nepal. Annapurna (8091m) is the 10th highest mountain in the world and one of the popular trekking destination in Nepal. Annapurna Base Camp Trekking is very good and easy trekking in Nepal.
The Annapurna Sanctuary trek offers you the Close up rewarding view of Mt Fishtail and Annapurna I, Annapurna III, Annapurna South, Dhaulagiri, Manasalu, Gandharvachuli, wonderful mountain atmosphere with magnificent views of surrounding peaks, relaxing hot springs, lush forest, greenery, rivers, villages, farm lands and beautiful mountain scenarios, fun-loving Gurung mountain village communities, and many more wonderful extension options if you have more time. Autumn (Sept to Nov) and Spring (March to May) are the best seasons for the Annapurna Base Camp Trek and the trek begins in Pokhara, one of the second largest city of Nepal further goes through Ghandruk, Chomrong, Himalaya,Machhapuchre Base Camp, ABC, Bamboo, Landruk and ends in Pokhara.
Outline Itinerary
Day 1: Arrival in Kathmandu (1,300m)Upon arrival at the airport, meet and transfer to the hotel. In the afternoon, you have an option to be escorted stroll around Thamel and the local streets of Kathmandu. Welcome dinner in the evening with a typical Nepali cultural program.
Overnight at hotel in Kathmandu.
Day 2: Kathmandu Sightseeing and trek PreparationAfter breakfast, start sightseeing covering the UNESCO World Heritage sites in Kathmandu, which are Kathmandu Durbar Square and Swyambhunath Stupa.  Kathmandu Durbar Square area holds the palaces of the medieval Kings who ruled over the Kathmandu Kingdom. Swayambhu meaning the "the self-existent" is popular among the foreigners as Monkey Temple owing to the large number of monkey population residing in this area. It is said that Swayambunath Stupa is more than 2,000 years old, and it symbolizes knowledge. The painted eyes on all four sides symbolize the all-seeing power of Buddha. It is an important Buddhist place where pilgrims from all over the world come. In the afternoon you will get short briefing and discussion regarding your trek.
Overnight at Hotel in Kathmandu
Day 3: Drive Kathmandu to Pokhara (910m) 6hrsEarly morning after breakfast, drive to Pokhara from Kathmandu (208km) via Prithvi Highway, takes 6hrs approximately (option to fly from Kathmandu to Pokhara, takes extra cost). Along the way we will stop in scenic spots, for lunch and to get fresh as well, en-route we see more about countryside of Nepal that offers greenery, rivers, local villages, farm lands and beautiful mountain scenarios. In the evening, you have option to stroll around the Phewa Lake and local market in Pokhara.
Overnight at hotel in Pokhara.
Day 4: Pokhara To Ghandruk (1940m) via Birethati (1025m) 1.5hrs drive and 5-6hrs hikingIn the morning after breakfast, drive Pokhara to Birethati via Pokhara Baglung Highway (45km), takes about 1.5hrs. From Birethati start trekking to Ghandruk which will take 5-6 hours. From Birethati, cross the metal bridge and at bank of the Modhi Khola registers at the ACAP check post. The trails heads north through the river bank following the rough dirt-rode route then you follow the impressive stone paved trail climbing all the to Ghandruk village (1940m). This village is amazing example of stonework and worth spending a day over here exploring the local Gurung people in the hart of the Annapurna region. Enjoy the spectacular sunset views over the Annapurna ranges.
Overnight at lodge in Ghandruk
Day 5 Ghandruk to Chomrong (2170m) 5hrsToday you can see very close-up view of Annapurna South (7219m), Himchuli (6644m) and Machhapurchhre Himal (6996m).There are number of route options to to reach to Chomrong from Ghandruk. We will follow the most popular and fast trail options via Kot Dada and Kimrong. Once you leave the village of follow the trail of Tatopani. It is steep down hill to Kimrong village(1800m). It is steep up about one hour to reach to Taulang(2180m) and further one hour to reach to Chomrong village.
Overnight at lodge in Chomrong.
Day 6: Chomrong to Himalaya (2920m) 4-5hrsFrom Chomrong follow the trail left bank of the Chomrong Khola and some small terraces to Tilche (2010m/40min) then follow the Bamboo forest and reach to Sinwa(2360m). Continue through the oak and rhododendron forest and reach to Khuldighar (2540m) with few lodges and ACAP post. From here onwards section of the valley are affected by avalanche debris falling from the flanks of Hiunchuli, do not forget to ask the staffs at ACAP post whether the trail is clear & safe or not. Then you pass through Bamboo village (2310m), Dovan (2600m) and reach to Himalaya village exploring some slippery roads, dense forest and diverse landscape.
Day 7: Himalaya to Machapuchhere Base Camp (3700m). 4-5hrsToday, trail further continue climbing dense forest through Hinku cave (3170m) and Deurali 3230m), beyond that is another avalanche-prone area. Then you will see Two obvious rock pillars mark the 'gateway to the century, which suddenly opens out to broad grassy slopes and a series of Mountain Lodges at Machhapuchre Base Camp (3700m). You might feel the effect of altitude here so it is good idea to rest and enjoy the views of the Machhapuchre, Mt. Hiunchuli, Gandharvachuli and Annapurna south range of rewarding experience.
Overnight at Machhapuchre Base Camp.
Day 8 Machhapuchre Base Camp to Annapurna Base Camp & explore the ABC (4130m) 3-4hrsThe trek from MBC to ABC is about 2-3 hours ascend. The vegetation disappears on our way to ABC and the path widens as we enter the Annapurna sanctuary. From here, we get sensational views of the near-vertical south face of Annapurna towering above us. The sanctuary boasts of a dynamic view without anything inhibiting the 360-degree panorama. From the base camp we again get to savor mesmerizing views of the Machhapuchhre, Annapurna south, Annapurna I, Hiunchuli and other peaks. You have option to explore the glacier at the Annapurna Base camp for couple of hours and explore the surrounding paces. There are few lodges at ABC where we will spend tonight.
Overnight at ABC.
Day 9: ABC to Bamboo (2310m) 5-6hrsAnnapurna base camp is our ultimate destination of this trek. Now we descend back to Bamboo which will take about 6 hours. From the Annapurna base camp we retrace our steps downhill to Bamboo so it shouldn't be very difficult. Furthermore, we will always have the rewarding extraordinary pleasant lively views and landscapes.
Overnight at lodge in Bamboo.
Day 10: Bamboo to Landruk (1565m) 5-6hrsDescend further about one hour and reach to Sinuwa (2360m), continue to Taulung (2180m/1.5hrs from Sinuwa)and Junudada (1780m), takes about one hour. The trail further descends through Modhi Khola, dense forest, springs and low land vegetation. Crossing the Modi Khola and few small villages you arrive to the large Gurung village Landruk(1565m).
Overnight at lodge in Landruk.
Day 11: Landruk –Pothana (2890m)- Dhampus (650m) – Phedi (1130m) & drive to Pokhara: 45minNow, the trail climbs gradual up about 2 hours to reach to Pothana (2890m). Enjoy the fine view of Mt. Fishtail and Annapurna to the north part. Descend from Pothana along the large ridge trail to Dhampus (1650m) takes about one hour. Then steep descend to Phedi (1130m) exploring the farmlands, local people in Dhampus area, takes about one hour, then drive about 45min to Pokhara city.
Overnight at hotel in Pokhara.
Day 12: Drive Pokhara (910m) to Kathmandu (1310m) 6-7hrsAfter breakfast, drive from Pokhara to Kathmandu(200km/6-7hrs). It is ideal to hold on the left panel of the vehicle to enjoy driving that offers the countryside of Nepal, greenery, rivers, local villages, farm lands, diverse landscapes and beautiful mountain scenarios and scenery en-route. Upon arrival in Kathmandu, you will be transferred to your hotel. You can spend the evening leisurely; maybe catch up on some last minute shopping.
Day 13: Final departureTransfer to the International airport by Private vehicle according to your flight schedule.