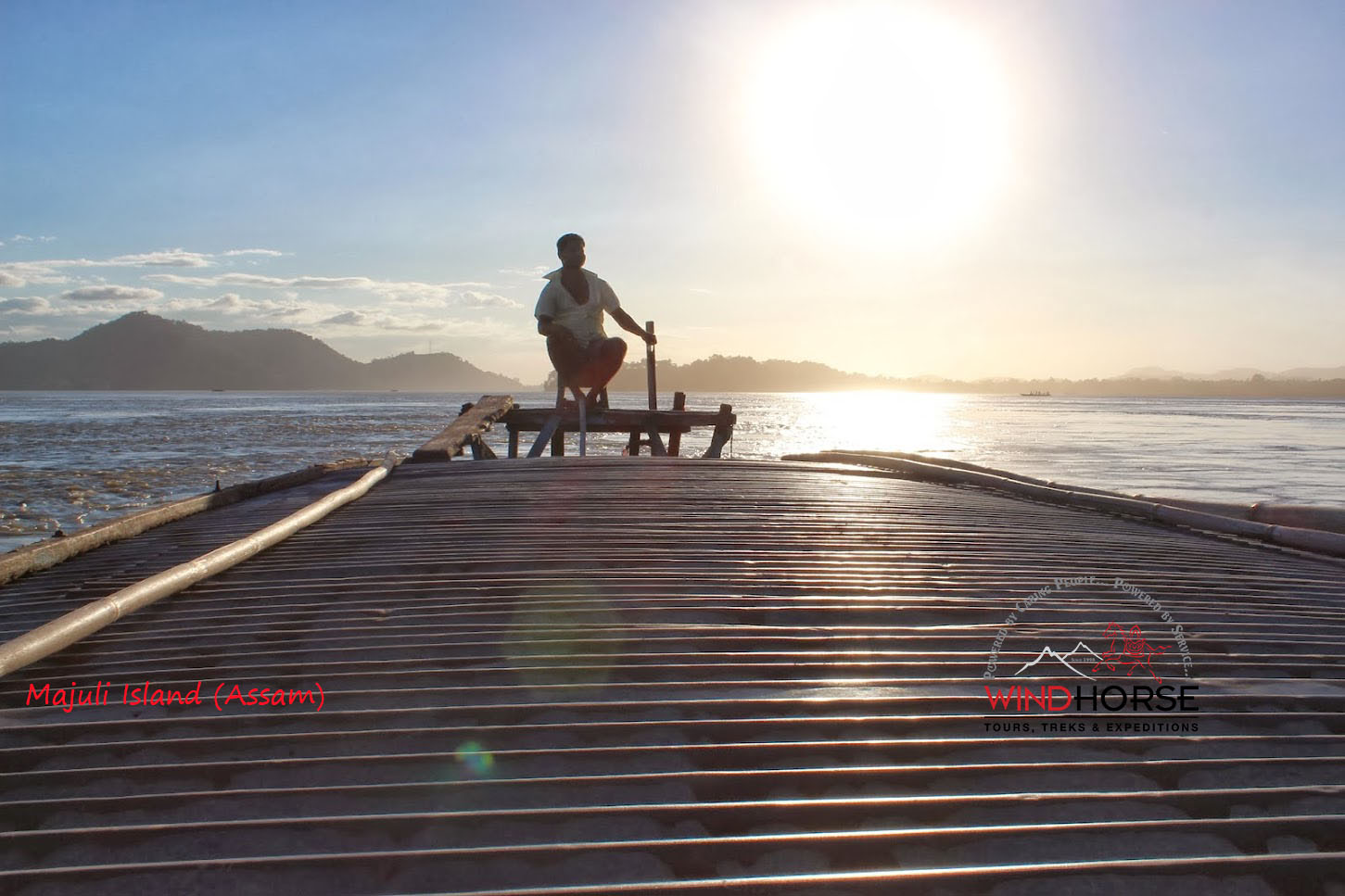 Trip highlights
Insight into Vaishnavite culture, mask making, fishing village, pottery village, Satara (monastery) in Majuli.
Insights into varied tribal social structure and tribal market in Nagaland.
Sampling local/ tribal Cuisine
Visiting bustling tribal Market
Boat ride in Dawki ride, exploring Living Root Bridge and limestone caves.
Interaction with local people.
This itinerary is specially curated to expose and connect with different ethnic cultures in North East Indian States of Assam, Nagaland & Megalaya. Be it Vaishnavite culture in Majuli island or fierce Konyak head hunters, valiant Angami, musical Ao Naga tribes in Nagaland or Khashi tribe in Megalaya, this odyssey empowers interaction with them, seek insights into social structures. Sample local cuisine, explore tribal market in Kohima and larger than life bustling Burabazaar in Shillong. Take a look from close quarter myriad wild lives that pulsate in Kaziranga National Park through elephant and Jeep Safari. Incorporating people, culture and wild live, immerse yourself in each destinations and learn from people firsthand.
Nagaland epitomise quaint and rustiness especially in term of its road condition, no electricity etc. Most villages exudes as if one is stepping back in time, life pulsates at the same rhythm as at days of yore. Its nascent form, quaintness is its true charms. Potentially, this trip can be a pursuit of new life experience, especially if one is looking for "off the beaten one".
Itinerary -In -Brief
Day 1. Arrive in Jorhat
Unlike other part of India, this region have less numbers of flights plying and generally in afternoon. Upon arrival, meet representative and transfer to Thengal Manor (heritage bungalow), it lies in periphery of Jorhat town and in village. In evening, take a stroll to visit interesting villages close by.
Day 2. Excursion to Majuli
Early breakfast for exciting excursion to Majuli island - one of the biggest river Island in world. Drive to Nemitighat Pier and cross mighty Brahmaputra in public ferry to another bank -Kamalabari Pier. In Majuli, visit mask making unit, a few Satara (monastery), pottery village, interesting Missing (tribe) and their social structure, if winter, then sights of visiting migrant birds in marshy land. Make sure not to miss last ferry at 4 P.M to Jorhat. Overnight in Thengal Manor.
Day 3. Drive from Jorhat (Assam) to Mon (Nagaland) - Approx 150 km/ 6 hours.
In this itinerary, there will be couple of necessary long drive. Today will be one of them. It will be a long drive so early leaving is advised coupled with stopping at Nagaland border for immigration formalities. However, we will break this long journey by stopping at couple of villages. Firstly, visit Phuktong village and it 2 great Morung (Men's dormotories). Also visit Angh's (Chieftan) residence. Overnight in Naga's home or Khalsa resort.
Note: As we enter Nagaland, road conditions get relatively bad, governed by potholes at some place.
Day 4. In Longwa village
Drive to Longwa village takes around 2 hours. Longwa village is interesting village as Chieftain's residence transcend international boundaries, some part lies in India and other part in Myanmar. Inhabited predominantly by captivating Konyak Tribe -Historically known for their headhunting as prize trophy. Another interesting feature is Angh has 60 wives, which extend his purview up to Mynamar and Arunchal Pradesh, besides Nagaland. Visit Sangha to see head hunting trophies and typical Naga architecture with palm leaves roofing. Overnight in Spartan Naga House.

Day 5. Drive to Mokochung ( 178 km/ 6 -7 hr)
Nagaland is land of many tribes, after Konyak, Ao Naga tribe, chiefly inhabits Mokochung - cultural hives of the tribe and known for their colourful dance. Another day of long drive but we will stop intermittently to visit village such as Chuchyimlang village also known as friendship village and Mopunchyukit village that harbour oldest church in North East. Mokochung is a scenic town. Overnight in hotel /Lodge.

Day 6. Mokochung to Kohima ( 182 Km/ 6 hours)
After breakfast, drive to Kohima - capital of Nagaland. Drive is again quite long but we will stop to visit Wakha village - home to Lotha Tribe. Further, we will stop to stretch our legs and strike interaction with roadside villagers along the course. Overnight in Hotel.
Day 7. In Kohima
Like any capital in world, Kohima has enough attractions and sight to keep one occupied. We begin with short excursion to Khonoma village belonging to Angami tribe known for their bravery and courage. Also historically, this village was patron and guardian of other villages. After visit war cemetery of World War II, Museum showcasing fine specimen of articles of various tribal communities. Also visit local tribal market. If time permits visit Kigwema village and Jakhama village. Overnight in Hotel.

Day 8 Kohima to Kaziranga National Park ( Approx 225 Km / 6- 7 hours)
Today we will be reentering Assam and it entails long drive to reach Kaziranga National Park vicinity. Along the drive we will stop regularly to visit some roadside villages. Upon arrival, visit one of the famed Assam Tea Garden. Overnight in Bogros resort or similar
Day 9. Kaziranga - Shillong ( 285 km/ 7 hours)
Today is action packed day, starting from early morning. Wake up early around 5 am for Elephant ride from central zone of the park area. Chances of sighting one horn Rhinoceros, Asiatic elephant, various species of deer from close quarter are prime. After breakfast, jeep safari in Bogori ( western range). Subsequently, embark on longest drive of this trip to Shillong - Capital of Megalaya. If time permit though less likely, we will visit Burabazaar. Overnight in Shillong.
Day 10. Shillong -Mawlynnong village via Dawki
Shillong hills oozes out with colonial charms with its churches, architectures, ambience etc. In the morning, visit Don Bosco Museum - a huge building showcasing regional cultures and tradition of various communities. After drive to Mawlynnong - dubbed as cleanest village in Asia, however we will take a tour to Dawki that border with Bangladesh. Along the course, we will traverse across bettle nut plantation and Broom grass. We can stop and interact with Khashi tribe and visit village. Also we can watch people harvesting beetle nuts and broom grass. Dawki is also name of river, we can take a short boat ride over azure Dawki river or watch people fishing. On arrival, take a evening stroll around Mawlynnong village. Overnight in Home stay.
Day 11. Drive to Cherrapunji
Cherrapunji region catches world's attention as wettest place on earth. Today, along the way, we will be doing lot of activities before we drop anchor for the night in Cherrpunji. After breakfast, first stop is at Nongrait for short hike to living root bridge. After a while landscape changes, thick tropical vegetation give way to granite and dwarf vegetation - typical moorish with perpetual cloud and rain so some call it "Scotland of East". After visit Seven sister water fall, Mawsmai Limestone caves, old Presbyterian church and walk in village. Overnight in Cherrapunji.
Note: To visit double decker living root will take 1 extra day as it entails covering 3500 steps to reach one way so it can be one whole affair.

Day 12. Drive to Gawahati ( 120 Km/ 2 -3 hours).
The road conditions in Megalaya is very good. It will take around 2 -3 three hours to reach Gawahati. Free afternoon. Or you may visit some museum, Uma Nanda - world smallest river island, Kamayaka Temple etc. Overnight in Gawahati
Day 13. Departure
Transfer to airport for your onward journey.
Group SizeAny number of members

MealsFull board

Trip AccommodationIts a mixture of homestay/ Tribal House and Hotels. Note some of home stay are spartan in amenities.

RouteJorhat - Majuli excursion
Jorhat - Mon
Mon - Longwa village
Longwa - Mokochung
Mokochung - Kohima
Kohima - Kaziranga
Kaziranga - Shillong
Shillong - Cherrapunji
Cherrpunji - Gawahati


Trip Type Cultural Tour
Wildlife Safari/Jungle Safari and Bird Watching


Trip SeasonsBest time is from Oct - March. Monsoon is prominent in the region from June - Sept and summer are hot and sultry (April - June)

Best MonthsJanuary, February, November, December

Good MonthsMarch, October

Lean MonthsApril, May, June, July, August, September
Prices & Dates
Starting from USD$ 1360, but cost depend on travel date, number of members, hotel chosen.Please contact us for detail.
Included
1. Accommodation based on Twin sharing in 3* to 4* hotels, Village Home stay or tribal House
2. All meal included.
3.Experienced English Speaking Guide.
4.Entrance fee to monuments and  other activities
5. All transfer on good Vehicle.
6. One Elephant ride and one Jeep Safari in Kaziranga and Boat Ride in Dawki river
Not included
1. Airfare
2. Indian Visa Fee.
3. Camera/Video fee for Wild Life Tour.
4. Travel/Medical Insurance.
5. Personal expenses like Telephone calls, Laundry, Tips, Porterage.
6. Any aspects not listed in included sections.
Accommodations
Accommodations are a mix of hotels ( 2 -3*) and Home stay or tribal home. Please note that some of the home stay are very basics.
---
Trip Guide/Leader
---
×

Anand Thapa who hail from Jaigoan – one horse town that border with south west commercial hub, Phuentsholing, Bhutan. He had his schooling in Bhutan. Later he went to Darjeeling to pursue further education. With the lush green tea garden, colonial churches and looming Mt Kanchenjunga captured his imagination, this is how travelling struck him deep.

After his studies, he went to Kathmandu and to different cities in India, making a living doing odds jobs. Finally, he joined Wind Horse tours overlooking the affairs of guests relations, marketing in 2013. Meeting and interaction with guests from different walk of life have fuelled his passion to a new height and claims to be a huge influence as a  learning experience.