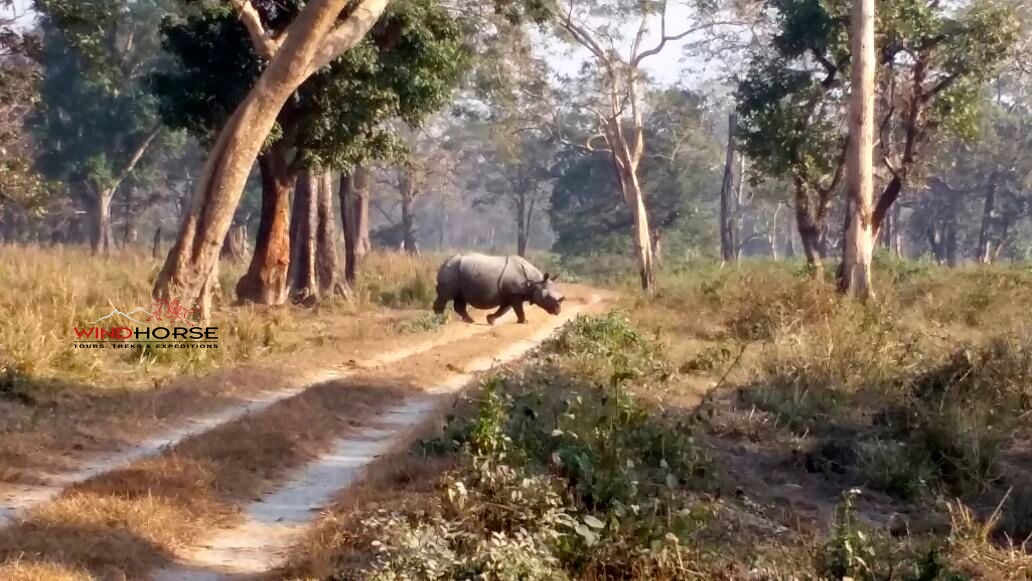 Trip highlights
Explore world heritage National Park such as Manas and Kaziranga National Park.
Opportunity to watch  remarkable ranges of wildlife in their natural habitats – upfront and close.
Birding in thick semi tropical,  Deciduous forest, tall grasses and Marsh land.
Visit and get insights into smaller and tribal villages on the periphery of park.
Rafting adventure in Jio Bhoroli river.
Scenic nature walk in Nameri
Indian state of Assam is home to a few World heritage National Park in India and these national parks have rich parking of bio diversity in form of varied flora and fauna. Sustained conservation and rehabilitation efforts have contributed to preservation and flourish of wildlife and vegetation in these parks. Among the few, the name that comes instantly are endangered one horned Rhinoceros, elusive Royal Bengal Tiger and Asiatic elephant. Through jeep and elephant safari into the world heritage Manas and Kaziranga National Park, the opportunity to see wildlife from close quarter is prime and scenic nature walk in Nameri National park add to the experience. Explore unique tribal villages on the fringes of the park that find its expression on the park's wildlife and ecology
Underlying semi tropical forest harbour more than 650 species of birds (some resident & migratory in winter) that await to be discovered. Also, experience rafting adventure in Jai Bhoroli river (rapid grade class 2).
Outline Itinerary
Day 1: Arrive in Guwahati & Drive to Manas
Upon arrival in Guwahati, meet our representative and drive to Manas (150/3-4hrs), following National Highway 27 to a large extent, and then through the village roads and forest road. If you arrive early, we can stop along roadside villages to break the journey as well as to meet and interact with local. Overnight in Safari Eco-lodge/ Heritage Bungalow in Manas.
Day 2: In Manas
Manas National Park is a world heritage site and covers an area of 950 square km and further extend and share reserve with Bhutan. It has open biological corridors, where wild life moves freely between two countries.
Wake up early for elephant safari into the core of park , early morning hours is ideal time for greater sighting opportunities. You may see wild life such as one horn Rhinoceros, asiatic elephant, varied species of deer, Indian Bison and also, varied sub tropical species of birds. Return for breakfast. relax for a while and then further wildlife opportunities through jeep safari. explore the forest and till the bank of river Manas, from it, the park derived its name. Across and beyond lies Bhutan. Picnic Lunch in bank of river. Further, throughly examining the area for the wildlife and birds, return to lodge by evening. Overnight in Safari style eco lodge/ Heritage Bungalow.
Day 3: Drive to Nameri National Park (280 km/ 6-7 hours)
Nameri National Park lies in the foothills of eastern Himalayas in Assam. The vast stretch measuring approx 200 square km area covered with Semi Tropical, deciduous forest and Savannah grassland offers natural habitat to host of flora and fauna.
Today is a long drive to Nameri National park, its approx 280 km and takes around 6 -7 hours. However we will take short break at regular interval to stretch our legs and visit roadside villages and tea garden. Upon arrival, check into Eco camp, free evening. Take a rest or short evening walk in park's vicinity.
Day 4: In Nameri
Full days activities in Nameri National park includes scenic nature walk, birding, fishing and relaxing by Jia Bhoroli river. After breakfast, take a scenic nature walk in the park and also do birding in rich sub tropical forest. Return to Eco Lodge for lunch. In afternoon indulge in fishing or if you wish we can do further birding or rest and relax by Bhoroli river. Overnight in Eco- Camp.
Day 5. Drive from Nameri to Kaziranga National Park (90 km/ 2 -3 Hours)
Kaziranga National Park is a world heritage site and covers 378 square km. Arguably, one of the best maintained national park in India. The park is home to two third of world one horn rhinoceros and also large breeding population of elephant, wild water buffaloes and varied species of deer. Vast expanse of tall grasses, marsh land and sub tropical broad leaves forest provide a perfect habitat for the varied species of bird to thrive.
After breakfast, experience river rafting adventure in Bhoroli river, generally the rapid grade fall in class 2. Return to eco camp for lunch. Then embark on the drive to famous Kaziranga National Park. It takes less than 3 hours to reach there. Upon arrival check into Eco lodges or heritage Bungalow amidst tea garden. Free evening - rest relax, evening walk in tea garden.
Day 6: In Kaziranga .
Rise early for elephant safari, for optimum and varied sighting opportunities, we will explore 3 routes. We start elephant safari from route 1, opportunity is at large to see upfront and close - one horn Rhinoceros, varied species of deer such as Barking, Spotted, Sambhar and Swamp deer, pug mark of elusive Royal Bengal Tiger. Return to hotel for breakfast. After, visit nearby Kabri villages, located on the fringe of the park, meet, interact and gain insight into their life style. In afternoon, we will approach from route 2 through jeep ride. Return to hotel by evening. Overnight in Eco Lodge/ Heritage Bungalow.
Day 7: Drive to Gawahati and Departure (215 km/4-5 hours)
We will begin the last day with elephant safari from route 3. Savour the closer moments with wild life of this park for last time. Return to hotel for breakfast. After, transfer drive to Gawahati airport for your outbound journey.
You can also take one of our Bhutan trip starting from East ( Samdrup Jongkhar), which is 3 hour drive from Gawahati or fly to Paro, Bhutan (on certain days of the week) to begin a journey there.
Group SizeAny number of members

MealsFull board and at times we will try typical varied Assamese cuisine.

Trip AccommodationAccommodation are in safari eco lodge and camp nearby Parks which are clean and good. Also in some places we use heritage tea Bungalow.

RouteGawahati - Manas National Park
Manas to Nameri National Park
Nameri - Kaziranga National Park.
Kaziranga - Gawahati (Departure)

Trip Type Wildlife Safari/Jungle Safari and Bird Watching


Trip SeasonsBest time is from Oct to March. During these period National parks are open with elephant and Jeep safari. Also weather remains generally good with 14 - 20 degree celsius with clear sky and warm sun.

Best MonthsJanuary, February, March, November, December

Good MonthsApril, October

Lean MonthsMay, June

Not RecommendJuly, August, September
Prices & Dates
Starting from USD $ 840, the exact cost may vary as it depend  on number of members, travel date, hotel chosen etc. Please contact us for price details.
Included
1. Accommodation based on Twin sharing in 3* to 4* Jungle Resort/ Safari Eco Lodge / Heritage Tea Bungalow.
2. All meal included.
3.Experienced English Speaking Guide.
4.Entrance fee for jungle Activities & at Kaziranga, Manas and Nameri National Park.
5. All transfer on good Vehicle.
Not included
Airfare
Indian Visa Fee.
Camera/Video fee for Wild Life Tour.
Travel/Medical Insurance.
Personal expenses like Telephone calls, Laundry, Tips, Porterage.
Accommodations
Accommodation are in safari style eco lodge and camp. They are mostly based on wildlife and Assamese theme, simple yet with adequate amenities and in some places, heritage tea bungalow.
---
Trip Guide/Leader
---
×

Anand Thapa who hail from Jaigoan – one horse town that border with south west commercial hub, Phuentsholing, Bhutan. He had his schooling in Bhutan. Later he went to Darjeeling to pursue further education. With the lush green tea garden, colonial churches and looming Mt Kanchenjunga captured his imagination, this is how travelling struck him deep.

After his studies, he went to Kathmandu and to different cities in India, making a living doing odds jobs. Finally, he joined Wind Horse tours overlooking the affairs of guests relations, marketing in 2013. Meeting and interaction with guests from different walk of life have fuelled his passion to a new height and claims to be a huge influence as a  learning experience.