Bhutan Country Walks
7 Days
Day hikes exploring remote villages, monasteries lending insight into Bhutan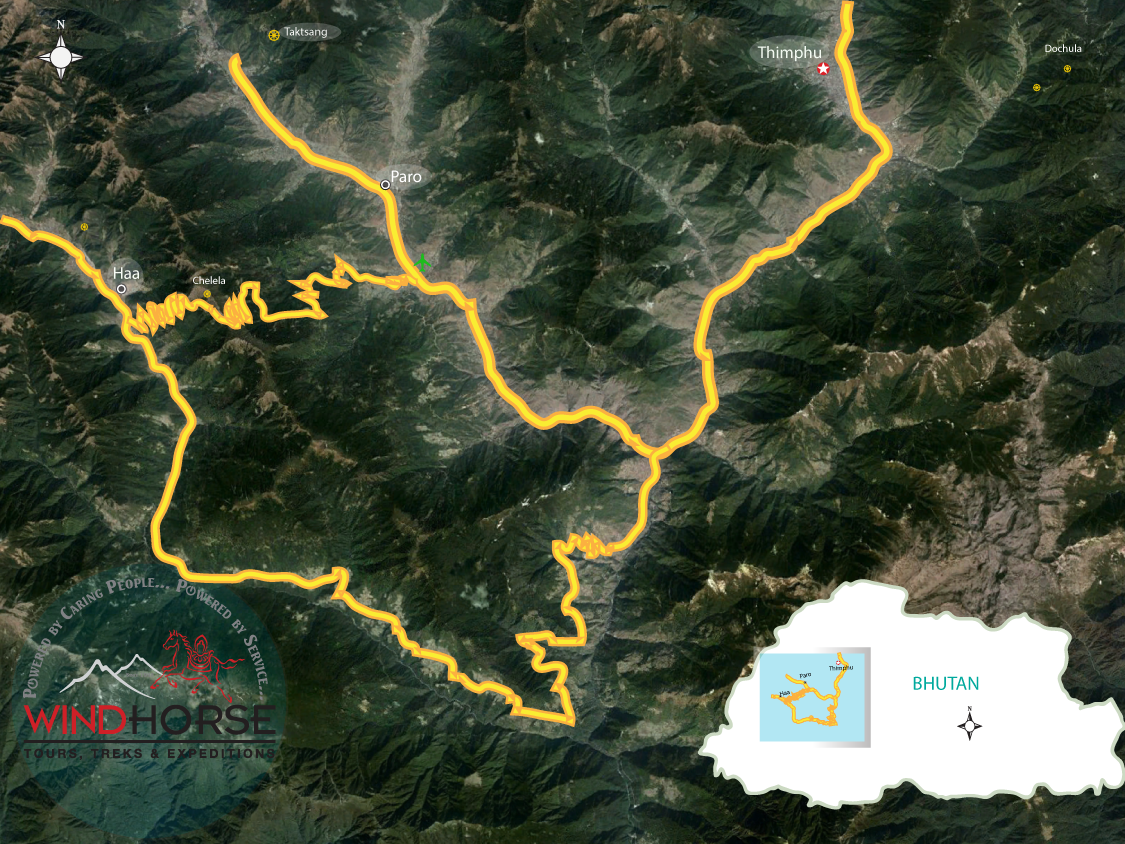 Trip Grade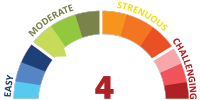 Trip Accommodationclean Guest House in Haa and 3-4star hotels elsewhere. See Details
Group SizeMax 8 members for small group Journeys and any size group for Private trips.
MealsAll meals with tea/snacks are included.
RouteParo, Thimphu and Haa
Paro to Thimphu -52 kms(1hr.)
Thimphu to Haa - 115kms(3hrs)
Haa to Paro -65kms (1.5hrs)
Trip TypeWalking Tour
Trip SeasonsJune, July and sometimes August and September are Wet with rains but it also when Farmers are out in the fields. Otherwise the trip can be done through-out the year.
Best MonthsMarch, April, May, October, November
Good MonthsJanuary, February, June, September, December
Lean MonthsJuly, August
Trip highlights
Moderate day walks. Long walks are between 2-4hours and short walks are 10 minutes to less than hour.
The Best Way to see and experience Bhutan;  by many short light/moderate day hikes.
Visit weekend markets, villages and local homes, opportunity to meet with local folks, local schools and others.
Most dates are also tied into attending one or two festival and events.
If you wish to get a feel of social, cultural, traditional structures sustained at villages in a shortest time frame, then there is no better way to see these aspects first hand than on a walking pace. Bhutan Country Walks Tour takes you on foot through the path amidst terrace rice field, beautiful forests,  wide meadows, hills or some rugged trails leading to farm houses and quaint hamlets. Invariably, opportunities are at large to interact with people and also to delve deeper into the ways of life that continue to uphold the unique tradition and culture in face of the changing times. Walking tours also augur well with the prospect of encompassing some  flexibility like watching archery matches or some extraordinary sights for a photo click or exchange of few words with school going children, teacher and local farmers.
Although the tour  focus on social, cultural, tradition dimension in villages, but it also assimilate fair amount of highlights and important monuments found in Thimphu and Paro.  Summing up, through this walking tour,  we'll be bringing you closer to the ways of life at countryside villages, in the process allowing you to sneak peak into thriving age old tradition and social setup. You'll will be travelling as much as in local way, experiencing some local foods and an opportunity to be part of local tradition and culture which have amazingly stood tall against the test of time.
Outline Itinerary
Day 1: Arrive in Paro Upon arrival, meet and transfer to the hotel. This afternoon or evening, we begin our short walking tour covering some of the monuments and villages. Overnight in hotel
Day 2: In Thimphu After breakfast, one-hour drive brings to capital Thimphu, where we have a full day to cover some of the cultural highlights visiting prominent attractions and in the evening we stroll through the town area. Overnight hotel in Thimphu.
Day 3: Thimphu to Haa In the morning, we will cover any remaining local attractions in Thimphu. Subsequently, drive through less traffic road, savoring scenic landscape on the way to Haa. Along the way, we make intermittent stops at villages and monuments. We'll have sometime to visit local village in Haa by walking. Your accommodation in Hatoey village is in a traditional Farm house converted to a lodge. You have an option to order traditional hot stone bath over Ara, a local home brewed Liquor. Overnight in Haa
Day 4: In Haa Haa valley is among the few places in Bhutan, which still retains its quaint and tranquil charms. It was opened for tourist only in 2002. Full day is devoted to visit in and around Haa Valley. Today, try some local culinary delight that is synonymous with Haa – called "Hoentay Dumpling" made from buckwheat flour and filled with spinach, chopped turnips, mushrooms, ginger, chili and butter. Overnight in Haa
Day 5. Haa to Paro via Chele La  A short drive from Haa climbs up to Chelela Pass (3850m), the highest motorable road in Bhutan, with views of Mount Jomolhari and Jichu Drakey, some of the tallest, most stunning peaks in the world. Begin 1-2hr walk downhill following the ridge to Kila Gompa, a cliff hanging nunnery, a staggering site that manages to house 7 small temples and about 70 nuns. Drive to Paro, where we walk to Dzongdrakha, a cliff side temple complex with local homes. Then  visit 7th century Kichu temple and walk in the valley, past local villages to your hotel in Paro.
Day 6: In Paro – Hike to Takstang Ultimately, the Journey builds up in hike to legendary Taktsang (Tiger's nest) monastery. In order for us to cover beyond what regular tourist visit, start early. After visiting Takstang, instead of retracing the steps back, we plan on hiking further uphill to Zangdopelri and Ugyen Tsemo, for higher lookout and too see core pilgrimage path. Return to Paro by the way of visiting a temple on the other side of rock, visible from afar but not accessible from the main site. Upon return, freshen up at the hotel and visit the town area, for a final stroll in the town and a farewell dinner. Overnight in hotel in Paro
Day 7: Departure Transfer to the airport in time for your departure flight out of Paro.
Longer Walking Tour or Custom Private Trip ? If you are looking for longer version with the same essences and elements, then take a look at Drukyul Walking Tour details
Retaining the essences and elements, we can further customize to suit your date along with your interests, liking, inclinations. There are many ways that can be worked to frame a unique itinerary that will fit your sense and sensibility. Call  or email us  to discuss ranges of possibilities.