Grand Cultural Tour of Bhutan
10 Days
Paro - Bumthang - Punakha - Thimphu - Takstang Tour.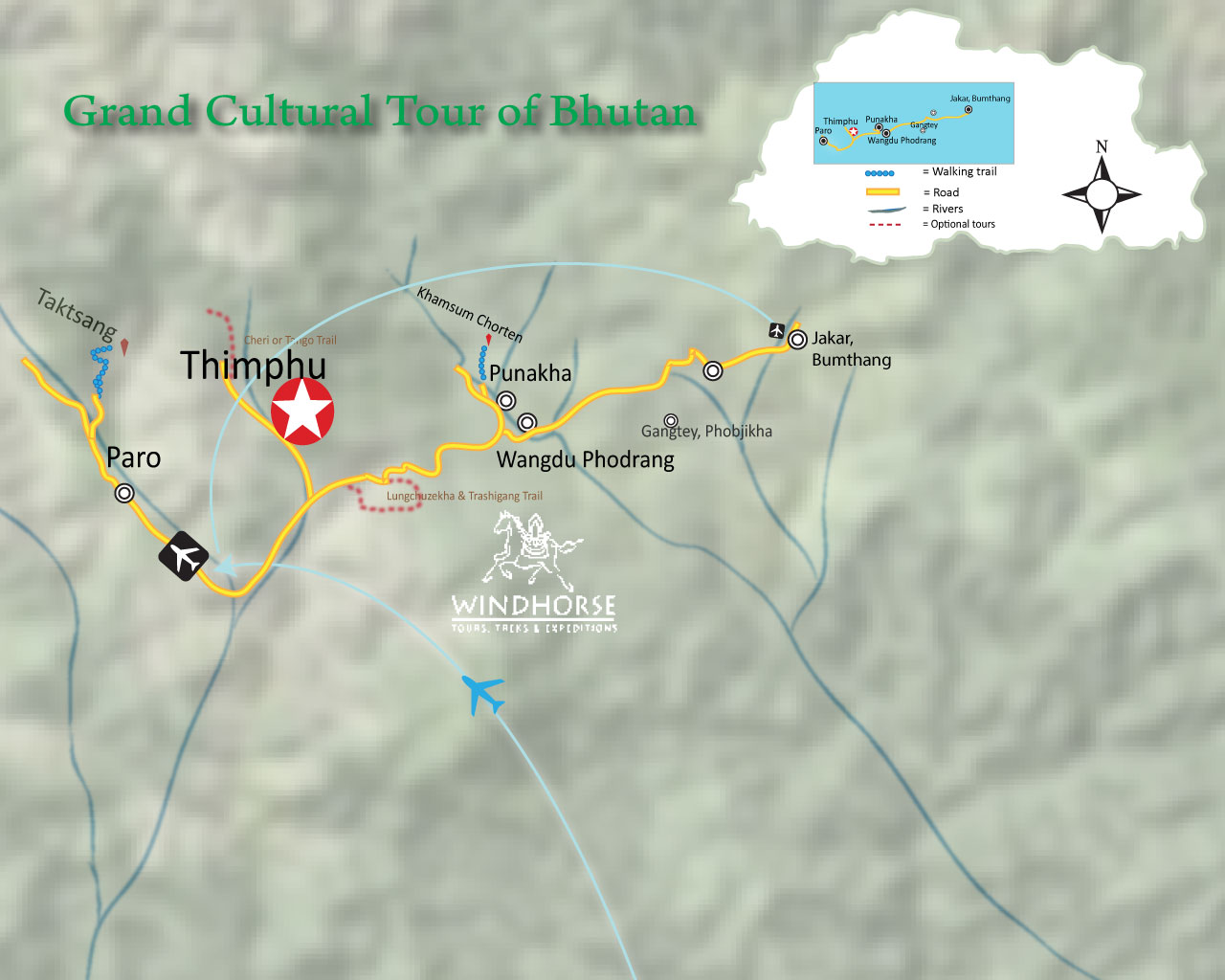 Trip Grade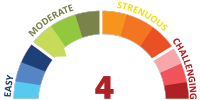 Trip Price From US$ 2000 | See Details
Trip AccommodationBest available standard hotels in Bhutan. Options available for upgrade. See Details
Group SizePrivate with any group
MealsAll Meals
RouteThimphu - Gangtey - Jakar- Punakha / Wangdue - Paro.
Trip Type Cultural Sightseeing Tour
Trip SeasonsPossible through-out the year. Best from Feb till May & from Sept till Nov.
Best MonthsJanuary, February, March, April, May, June, July, August, September, October, November, December
Bhutan Grand cultural tour is the best 10 day tour option for Bhutan. Grand Cultural is a step back in time for a glimpse of traditions and customs fast disappearing from the rest of the Himalayan world. The small kingdom of Bhutan is so traditional, so ancient, and so completely- culturally intact that it can seem almost unreal. Here you'll find an independent people who have not rejected their spiritual heritage for modern ways. They live in a gentle land of winding country roads, forests of juniper, whitewashed farmhouses, and verdant valleys dominated by thriving fortress-monasteries.
In order to cover this extensive itinerary, we take advantage domestic flights between Paro and Bumthang, just started recently.As this domestic flight do not operate daily, we have to adjust the schedule accordingly. Due to weight restrictions rules of Civil Aviation, only between 25-35 passengers may fly at a time and therefore to adjust with the availability, it may be that you travel overland to Bumthang first and fly back to Paro at the end, instead of flying to Bumthang first.
Outline Itinerary
Day 1: Arrive in Paro (L/D) Arrive by flight into Paro from Bangkok, Kathmandu, Delhi, Kolkata, Bagdogra, Singapore or Mumbai.
Upon arrival at the airport, clear immigration & Customs. Meet your Bhutanese Guide and driver outside the terminal, and after introduction, transfer to your hotel.
This afternoon or evening as per your arrival time, transfer short distance to Rinphung Dzong, built in early 17th century. Like most dzongs, Rinphung Dzong houses both the monastic body and district government offices, including the local courts. Rinpung Dzong (meaning fortress on a heap of Jewels) is one of the finest example of Bhutanese architecture you'll see. The massive buttressed walls tower over the town and are visible throughout the valley. Scenes from Bernardo Bertolucci's 1995 film Little Buddha were filmed here. After visiting the Dzong, walk downhill, across a traditional wooden covered bridge that spans the Paro Chhu River, past Ugyen Pelri Palace and arrive in town area. Stroll around the charming small town of Paro, lined with colorfully painted wooden shop fronts and restaurants. As per available and interests, our guide will plan other visits accordingly. Overnight in hotel.
Day 2: Paro Valley (B/L/D) In the morning, we visit Dumtse Lhakhang temple built in 1433 by the iron bridge builder Thangtong Gyalpo. It is shaped like a chorten (stupa) with three floors and the murals inside are said to be some of the finest in Bhutan. Then visit National museum of Bhutan, housed in an ancient Watchtower. Visit beautiful 7th century Kichu Lhakhang temple complex, one of the most sacred and revered places in Bhutan.
In the afternoon, head short distance south to Bondey village and then take a short walk to visit a cliff-side temple complex of Dzongdrakha. Then visit local village and farm houses and return to your hotel.
Days 3 & 4: Fly to Jakar, Bumthang (B/L/D) Transfer to the airport in time for your early morning flight to Jakar, Bumthang. Upon arrival, meet and transfer to the hotel.
Bumthang is justifiably regarded as the cultural heartland of the kingdom with its many temples, holy sites, languages and traditions. We spend nearly two full days in and around Jakar visiting its monuments and cultural sights. Most places can be covered by drive but some places are easier and more interesting by walk. Among others, visit Kurjey Temple complex, the 7th century Jampay Lhakhang temple, Chakar Temple and Tamshing Monastery. Stop at the Swiss farm to sample local produce of cheese and beers. Visit local home, villages, and we may also have an opportunity to visit a school. We will also visit Kharchu Dratsang monastery, during their active evening debate or communion prayers. Visit Jakar Dzong and walk downhill through village and seeing some hidden shrines. See the giant water turned prayer wheels near Wangducholing Palace and if time permits, we can also visit Membartsho ('burning lake'), a holy site where Pema Lingpa, one of Bhutan patron saint is said to have discovered religious treasures.Overnights in the hotel.
You can also sample some local buckwheat dishes during your stay in Bumthang.
Alternatively, one full day can be used for excursion Tang Valley and Orgyencholing Manor Museum, which you can decide while you are in Bhutan.
Day 5: Drive to Punakha (B/L/D) From Jakar, start early for a long drive to Punakha (210KM/7hrs). From Jakar, cross Youtongla pass and arrive in Trongsa. Along the way, we stop briefly to see the Yathra weavers in Chumey. In Trongsa, visits Trongsa Dzong, one of the most aesthetic and magnificent works of traditional Bhutanese architecture. It is a rambling collection of buildings trailing down the ridge with succession of beautiful courtyards, overlooking Mangde Chu river. Continue our scenic drive, passing many small villages, waterfalls with spectacular landscape, and cross Black mountains at Pele La pass (3420m). Mt. Jumolhari and adjoining peaks can be seen from here on a clear day. Lunch will be served along the way. After the pass, the road descends, passing through ever-changing vegetation and arrives in warm subtropical valley of Punakha and Wangdue. Overnight in hotel.
Day 6: In Punakha & Wangdue (B/L/D) Punakha and Wangdue Phodrang are administrative centers of their respective district. Located close to each other and being in the same valley, they are often described together. Compared to Thimphu, Paro or valleys of Central Bhutan, Punakha-Wangdue valley is at a lower elevation of about 1250m above-sea-level. Therefore it enjoys subtropical climate with warm summers and pleasant winters. The valley boasts two crops a year, along with growth of oranges, bananas and other subtropical fruits.
Punakha was also the former winter capital of Bhutan, the tradition that is still followed by central monastic body. The head of the clergy of Bhutan with his entourage of monks spend the winter in Punakha Dzong and summer in Thimphu.
Visit Punakha Dzong, located at the confluence of the Pho Chhu (father) and Mo Chhu (mother) rivers. Drive short distance north of Punakha, through idyllic countryside, from where you can hike uphill through rice fields for about 40 minutes to beautiful Khamsum Yuelley Chorten, which stands out on a ridge with great view of Punakha valley. Later visit Wangduephodrang town and if time is available, you can take a short and easy walk to visit Chimi Lhakhang temple. Chimi Lhakhang is dedicated to popular saint Drukpa Kuenley, also popularly known as divine madman, famous because of the outrageous nature of his teachings which he administered in the most unexpected ways, often with strong sexual overtones and inclinations. Overnight in hotel.
Day 7: Drive to Thimphu (B/L/D) Our destination today is the Thimphu, the capital of Bhutan, about 3.5hrs west across Dochu-La pass (3100m). This spectacular pass is heavily adorned with countless prayer flags and a series 108 chortens. Panoramic views of eastern Himalayan peaks, (most of Bhutan's snowcapped peaks) along the border with Tibet, can be seen from here. We stop to enjoy the view over cup of tea or coffee at the cafeteria. After lunch at your hotel, begin a familiarization tour of Thimphu visiting Tashicho Dzong, a revamped fortress that is the main seat of Government and central monastic body. Stroll through the town area and down to vegetable market. During weekends (Fri-Sun), the vegetable market is more active. Depending on available time, we may visit or incorporate some of tomorrow's sights. Overnight in the hotel.
Day 8: In Thimphu (B/L/D) Thimphu being the capital has number of sights to visit and depending on which may be of more interest to you, the Guide will cover them first and visit rest as per available time. The main sightseeing tour of Thimphu valley include visiting Memorial Chorten, Changangkha Lakhang, Takin (national animal) Sanctuary, Sangaygang View point, Zilukha Nunnery, Traditional Art School (Painting School), Indigenous Hospital, National Library and Handicraft workshops. Later you can visit Textile Museum, Handmade Paper factory, National Smiths, drive up the valley north, towards Dechencholing palace area for general view of the area. In the evening there will be time for stroll on your own. Overnight in the hotel.
Day 9: Paro (Taktsang Hike) (B/L/D) Drive to Paro (1.5hrs) and transfer directly to the trailhead for hike to famous Takstang (tiger's nest) monastery, a quintessential Bhutan experience. Riding ponies can be arranged for uphill portion of the hike till the view point. The hike uphill to the first view point takes about 1hour and another hour to the monastery itself, but the whole excursion including the stops is expected to take all day.
Return to Paro for final stroll around the town. Farwell dinner! Overnight in the hotel.
Day 10: Departure (B) Departure transfer to the airport in time for your flight.