Bhutan Dragon Festival Tour
13 Days
Definitive Cultural & Festival Tour of Bhutan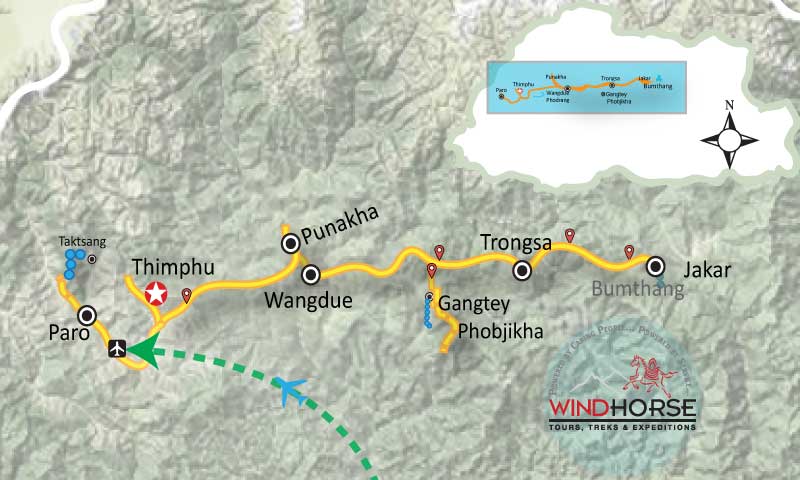 Trip Grade

Trip Price From US$ 2900 | See Details
Group SizeMaximum 9 members
MealsAll meals included
Trip TypeCultural Tour
Best MonthsMarch, April, May, October, November
Good MonthsJanuary, February, September, December
Lean MonthsJune, July, August
Trip highlights
Visit to one or two festivals.
Colorful local markets .
Dzongs (monastery/fort), temples
Arts & Architecture
Optional hike to Taktsang Monastery  and Chimi hakhang.
Opportunity to meet locals, visit local villages, homes. etc
Escorted locally by expert and friendly Bhutanese Tour Leader.
The Kingdom of Bhutan is one of the world's little known treasures. Here in the "Land of the Thunder Dragon," quality of life is measured in terms of Gross National Happiness, instead of material success – though Bhutanese live comfortable, serene lives. Until quite recently this tiny country remained in splendid isolation, dedicated to preserving its rich Buddhist traditions and pristine landscapes. Small number of guests each year visit to discover Bhutan's natural and cultural wonders.
On this Dragon festival trip, you will attend at least one or multiple colourful festivals, and get insight into Bhutanese culture and tradition, while visiting its unique fortresses, monasteries and ancient temples. On few occasions, your dinners will be hosted by local families. We'll visit local farms, villages, schools and have an opportunity to meet and learn from locales.
First introduced in 2001, Dragon Festival Tour has be modified slightly each year, to keep up with changing conditions. As the Road Widening Project has somewhat slowed the driving, this year, we have added one extra day to allow good pace of the tour, without feeling that too much time is spent on the road.
Join us on this definitive Cultural immersion Journey, among ancient monasteries and temples, Himalayan peaks and glacial rivers, rare flora and fauna and extraordinary people. We assure you that this will be one of your most memorable trip.
Outline Itinerary
Day 1: Arrive in Paro, Bhutan Arrive by flight into serene Paro valley. Upon arrival at Paro airport, meet your Guide. A short familiarization tour around Paro valley including visit to Rinphung Dzong and stroll around the charming township. Overnight in Paro.
Day 2 & 3: Punakha & Wangdue valley Along the way, cross Dochula pass with spectacular mountain vista. Then descend into sub-tropical Punakha-Wangdue valley, where we spend rest of the day and also next full day to explore the valley and towns, villages of Wangdue and Punakha.
Day 4: Trongsa Our journey to central Bhutan begins today. From subtropical valley the road gradually climb up the black mountains (JSW National Park), through ever-changing vegetations and winds up on Pele la pass (3350m), with good view across of Mt. Chomolhari, Mt. Jichu Drake and others (on a clear day). Vist Trongsa and overnight in hotel.
Day 5 & 6: Jakar, Bumthang Bumthang is considered the cultural heartland of Bhutan. It was here that Buddhism was introduced by Padmasambhava in A.D 746, and the area continues to thrive as a spiritual center. The wide valleys with fields of buckwheat, apple orchards, and chalet-like houses, surrounded by pine forested hills, make Bumthang extremely beautiful. Overnights in hotel.
Day 7 & 8: Gangtey, Phobjikha ValleyRetrace drive back, recrossing Youtong-la and Pele-la, stopping in some villages en-route. Then take a short diversion from the main road into Gangtey, Phobjikha, a beautiful wide, unspoilt glacial valley, where we spend two nights. Overnights in hotel.
Day 9 & 10: Thimphu Valley Driving to Thimphu and with few stops along the way, takes almost all day.
Next day, we have a full day tour, in which we try and cover most of the interesting sights/attractions of the capital.
Established as the permanent capital of Bhutan in the 1950s, Thimpu has gradually grown over the last decade but remains a relatively small town. With no traffic lights, Thimpu boasts an atmosphere that is relaxing and friendly.
Day 11: Thimphu – Paro We can cover any sights missed of Thimphu in the morning before driving short distance to Paro. Along the way, visit charming nunnery in Sisinag village and some sights/ village visits in Paro.
Paro valley is one of the loveliest in Bhutan. The willow trees and apple orchards line many of the roads. Large whitewashed farmhouses and temples complement the terraced fields with forested hills rising on either side to create a beautiful, organic and peaceful whole. Paro is also excellent agricultural land and the people here are better off than many elsewhere in Bhutan.
Day 12: Paro (Hike to Takstang) Our journey in Kingdom culminate in a hike to iconic Taktsang (tiger's nest) monastery . Overnight in Paro
Day 13: Departure Transfer to Paro airport according to your departure flight schedules
Please note that the schedules are revised for each trips to incorporate the festivals and events.