Bhutan Festival Tour
9 Days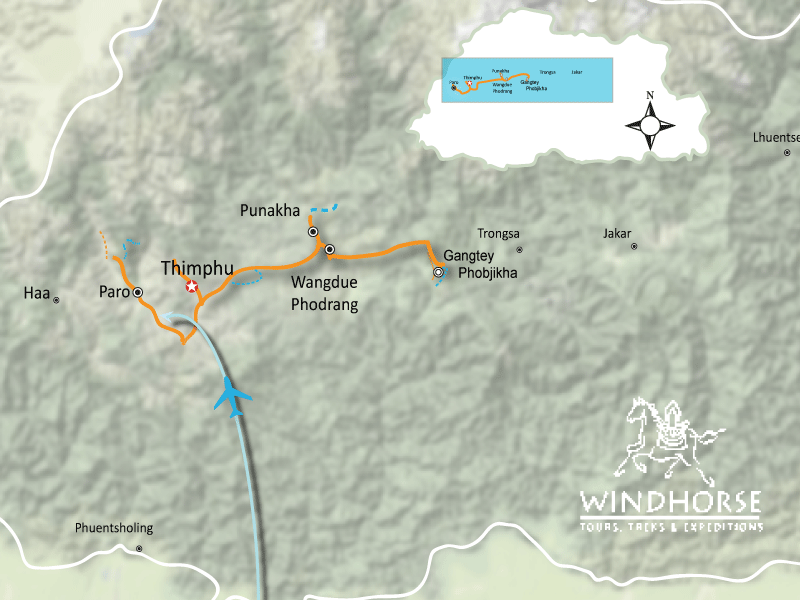 Trip Price From US$ 2000 | See Details
Trip Accommodation4 star hotels mostly, but good 3 star hotel in Punakha
Trip SeasonsPrivately this trip can be done through-out the year. Rains from June-Aug. Dec till Feb has pleasant days with clear skies but nights can be cool to cold.
Group Size Min. 1 Maximum 11
MealsAll meals including evening tea included.
RouteParo - Punakha - Phobjikha- Thimphu - Paro
Trip Type Festival & Culture Tour
Best MonthsMarch, April, May, October, November
Good MonthsJanuary, February, September, December
Lean MonthsJune, July, August
Trip highlights
At least one of the Colorful Festival- quality time spent.
Ancient Monuments
Arts, Architecture.
History, Culture and Buddhism
Visit to local markets, farm houses, schools and opportunity to meet and interact for local folks.
The Tour is designed leisurely with opportunity to explore by yourself.
Bhutan Festival & Cultural Tour
Bhutan Festival Tour is a nine-day leisurely-paced tour that takes on, at least one, if not multiple colorful festivals in this magical Kingdom .
This leisurely-paced tour, takes one or more of Bhutan's most colorful and popular festivals. Bhutan's festivals are joyous expressions of its Buddhist culture. It offers Bhutanese an opportunity to become immersed in the meaning of their religion, as well as being an occasions for seeing people and being seen. People wear their finest traditional clothes, put on their most beautiful jewelery; bring delicious picnic lunch and join in the festivities.
In addition to these festival, this tour covers highlights of Paro, Thimphu, Phobjikha, Wangdue & Punakha valleys, which are Bhutan's most important historic towns and districts in western Bhutan. The pace of this tour allows you to fully absorb and appreciate the rich culture and natural beauty of this peaceful kingdom without feeling that you are bused around.
In the early spring, we Punakha Tsechu and Punakha Dromchoe, and bit later into full spring, attend Talo village festival, along with the famous Paro Tsechu festival, where we also see the unfurling of gaint Thangka. In the autumn,  you'll see three festivals of  Wangdiphodrang, Gangtey and Thimphu tsechu festival.
As these festival periods are extremely popular, flights and hotels tend to get booked out soon, so book this tour early !
Outline Itinerary
Day 1 & 2 – In Thimphu: Thimphu established as the capital of Bhutan in 1961. Its population in under hundred thousand. It has a youthful exuberance that constantly challenges the country's conservatism and proud tradition. The ever-present juxtaposition of old and new is just one of its appealing qualities. Crimson-robed monks, Indian labourers, gho- and kira-clad professionals and camera-wielding tourists all strolling on; and nobody, it seems, is in a hurry. Thimphu is the world's only capital without traffic lights. During your two full days, we will visit many monuments and attractions of Thimphu, including Tashicho Dzong, the farmers market, Gaint Buddha Statue, Memorial Chorten, Traditional Art School, Indigenous Hospital, Textile museum, Handicraft workshops and more. Thimphu offers the best opportunity to do your own thing. It's relaxed, friendly and pretty informal, and is most rewarding if you can be the same.
Day 3 & 4: Punakha—Wangdue Valley: Three-hour-drive from Thimphu to Wangdue/Punakha valley is across spectacular Dochula pass. On a clear day, you will see panoramic views of snow capped peaks of eastern Himalayan range, including Bhutan's highest peaks.Punakha and Wangdue towns are located close to each other in one valley. Punakha was the former winter capital of Bhutan and was established in this location, in part because Punakha is a warmer at a relatively low altitude of 4,100 feet (1300m), allowing for the production of two rice crops each year, along with growth of subtropical fruits such as oranges, mangos, and bananas.During our stay here, we will visit the impressive Punakha Dzong fortress located at the confluence of Pho and Mo Chu Rivers. We'll take an easy walk in the valley, visit some of its monasteries, villages, take short drives and enjoy this idyllic countryside dotted with farm houses and terraced hillsides.
Day 5: Gangtey – Phobjikha valley: From Punakha valley, we'll take a day trip to Phobjikha valley; the drive is though ever changing landscapes and vegetation, as we climb from sub-tropical to temperate and then to alpine vegetation. It takes about two and half hours each way, and including local stops and return, it is a full day excursion. We arrive in beautiful Phobjikha Valley, with its alpine setting on the western slope of the Black Mountains National Park. Visit ancient Gangtey Monastery, which sits on a prominent hilltop above the valley. The vegetation in this high-altitude glacial valley includes mixed forests of pine and rhododendron, with thick brushy bamboos on the valley floor. The valley is the winter home for endangered black-necked cranes that migrate in huge numbers from remote Tibetan plateau, to escape its harsh winter (late Oct till March). Bhutanese consider these cranes as harbingers of good luck.
Day 6, 7 & 8: Paro & Takstang: Emerald green Paro Valley at 7,500ft, is one of Bhutan's most beautiful and most fertile valley. Numerous shrines, fortresses and farm houses dot the landscape and graceful willow trees grow along the edge of Pachhu river, which passes through paddy fields and farmlands. During our time here, visit the ruins of Drugyal Dzong, a fortress which protected the valley against invaders from north. Visit beautiful 7th century Kichu Lhakhang temple, see many beautiful Buddhist wall paintings and iconography inside Dungtse Lhakhang, built in 1421. Among others you will also visit Bhutan National museum, housed in an ancient watchtower and visit Paro Rinphung Dzong, one of the most beautiful fortress /monastery in Bhutan. We also dedicate a full day for excursion to famous Taktsang (Tiger's nest) monastery, an quintessential Bhutan travel experience. We can arrange pony ride for uphill part. For some trips we also incorporate visit to Haa Valley.
Day 9: Departure
Please note that itineraries are revised for each departures to incorporate local festivals and events.  For more information submit Request Detailed itinerary form.