Bhutan History, Culture & Colorful Festival Tour
12 Days
Highlights of Dragon Kingdom with Festival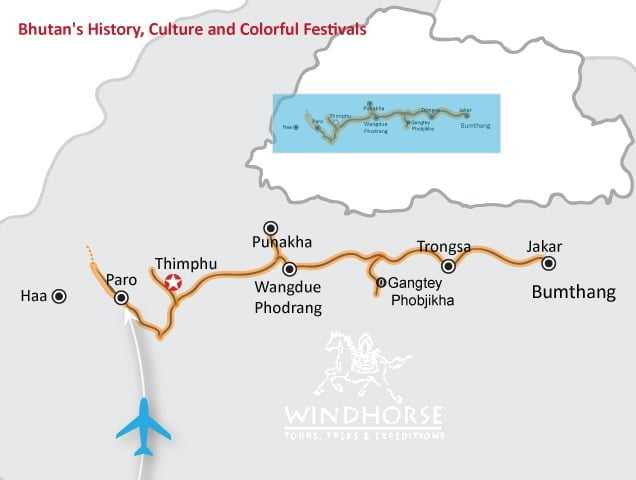 Trip Price From US$ 2230 | See Details
Trip AccommodationAccording to your choice.
Group Size Private trip with your own group
MealsAll Meals Indicated as(B/L/D)
Breakfast,Lunch & Dinner.
RouteParo, Thimphu, Punakha, Wangdue, Gangtey, Trongsa, Jakar
Trip Type Cultural Tour
Best MonthsJanuary, February, March, April, May, June, July, August, September, October, November, December
Trip highlights
Festivals, Weekend Market, Monuments, local homes etc.
This trip commemorates the spirit of Bhutan, the magnificence of its old ways, where you go back in time on a comprehensive cultural odyssey, for a glimpse of traditions and customs fast disappearing from the rest of the Himalayan world. Gigantic mountains covered with thick primeval forests, the generous and welcoming attitude of its unassuming people who have not rejected their spiritual heritage for modern ways; all makes for a unique cultural experience.
As you visit the country's impressive whitewashed Dzongs (fortress-monasteries) that are thriving centers of worship and culture, and meet the people as you travel through the countryside, you'll see how the past remains an integral part of the very vibrant present. One of the highlight is the Tsechu, a religious festival, an exuberant and earthy affair featuring fancifully costumed dancers performing masked dance-dramas before hundreds of onlookers. Mingling with the locals in this joyous celebration, a highlight of their social calendar – is a unique honor, bestowed to only a limited number of visitors each year.
Outline Itinerary
Days 1 & 2: Arrive in Paro – Thimphu (L/D). Upon arrival in Paro airport, meet and transfer to Thimphu. We spend this afternoon and the following day visiting Thimphu's many monuments and colorful weekend market.
Overnight hotel
Day 3 & 4: Punakha and Wangdiphodrang (B/L/D) Drive across Dochula to relatively lowland of Punakha and Wangdiphodrang valley. Visit monuments, farms and local homes. Overnight hotel.
Days 5 & 6: Jakar (Bumthang Valley) (B/L/D) From Punakha, we make a long and scenic drive across two major mountain passes into Bhutan's cultural heartland of Bumthang valley, where we spend two nights. Here we visit many monasteries, temples, village homes, weaving centers and like.
Overnight hotel.
Day 7: Trongsa (B/L/D) From Jakar, we retrace short drive to Trongsa, visiting Chumey valley along the way. In Trongsa, visit one of the most impressive fortresses of the Kingdom.
Overnight in Yangkhil or Phenzhe resort.

Day 8: Gangtey, Phobjikha (B/L/D) A short drive across Pele la pass brings us to secluded and beautiful Phobjikha valley. Here we visit Gangtey monastery and walk in the valley that is also inhabited by endangered Black-necked cranes from Oct till March.
Overnight in Dewachen Resort.
Day 9: Thimphu (B/L/D) From Gangtey, drive back west via Wangdiphodrang, across spectacular Dochula pass to Thimphu. We have time in the afternoon for rest or visit some sights in the capital.
Overnight hotel.
Days 10 & 11: Paro Valley (B/L/D) We have two full days in beautiful Paro valley to visit its sights and monuments. We also hike or ride a mule/horse up to Takstang Monastery's view point. Those who wish to opt out of Takstang hike can spend the time in valley.
Overnight in hotel.
Day 12: Departure (B) Departure transfer to the airport in time for your flight.