Bhutan Multi Activity Adventure
17 Days
Active Adventures in outback region
Trip Grade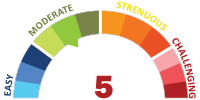 Trip AccommodationUse best tourists standard hotels wherever possible (a mix of 3-4 star). Two nights in deluxe camps and two nights in village Guest house.
See Details
Group SizeAny number of members
Meals All meals including tea.
Trip TypeMulti-activity
Trip SeasonsSpring (March - May) and Autumn (Late Sept -Nov) are best time. But winter months are also nearly as good, if not better because there are fewer tourists. Winter is quieter,skies are clear with good visibility, low precipitation with pleasant days for activities but colder nights.

Best MonthsMarch, April, October, November
Good MonthsJanuary, February, May, September, December
Lean MonthsJune, July, August
Trip highlights
Explore the outback region of country on horse back and horse trek.
Biking in places of interests and through isolated villages of Gogona and Khotokha
Crossing a few  mountain passes on bike.
(Optional) – White water Rafting in Punakha.
Moderate Day hike to visit temples, nature, birding.
Prominent attractions and sights visit in places of interest.
Striking chord with greater interaction with local people, monk, high priest (possibly).
Gain  insights into unique and well preserve tradition and culture.
Multi Activity Trip of Bhutan: Horse-back, Mountain Bike, Hike & Glamping 
From the outset, a sense of adventure fills, the moment your flight touches the tarmac in Paro airport. In  a way, it sets tone for enchanting adventures to follow. This itinerary is specially curated for those who like to chase or live the spirit of adventure. What sets it apart is that most of the adventures takes place in outback regions of Bhutan, drawing a typical off the beaten path experience. It blends all the active adventure such as Horse riding/ horse-trek, Mountain Biking, Off-road biking, Hiking to quaint and far-flung villages, at times testing your physical prowess.  Option for White water Rafting/Kayaking is also available.
This adventure takes you first to the central part of Bhutan, where we spend time in remote Tang valley. From there, begin two day trek on the horseback to Jakar. Changing our mount from Horse to Bike, we will bike and hike or combine both to visit beautiful Bumthang valley's attractions and sights. Explore quaint Phobjika valley on bike, take up challenging ride through remote villages of Gogona and Khotokha . Ride or Raft in warmer  Punakha valley,  followed by visit to capital Thimphu, finally  back to Paro, hiking and touring to cover the main cultural highlights, and  finishing up with hike to to iconic Takstang monastery.
So to a large extent, we also do not miss out on what is popular with other visitors,  yet making a point not to overdo it. Through these combination in Bhutan Multi Activity Adventure, we hope to keep you active and healthy, show you all aspects of Bhutan's Culture, Nature, food and provide greater opportunity for interaction with monks, and mediators, farmers and children, and regular people in villages and urban area and find happiness
Outline Itinerary
Day 1: Arrival in Paro
Arrive in Paro and transfer to hotel. As per available time , we will plan the  activities for today. It may be visit to   Rinpung Dzong and Ta Dzong – your first exposure to Bhutan's impressive architecture.  Also visit local village and farm house that are at close proximity to town and your hotel – this may provide a good insights  into unique and thriving culture and tradition. Later,  check the mountain bike for tomorrow's ride. Overnight in hotel.
Day 2: Paro Valley Tour
Paro is one of most beautiful and historical valley in Bhutan. Most of the day, we will spend on our mountain bikes riding through the valley. By riding bikes, we'll cover visit to some of Paro's prominent attractions such as Kichu and Dumtshe  Lhakhang (Temples), and ride onto the beautiful valley and also visit quaint agrarian village that are away from town, strike chord with friendly locales for greater interaction. Overnight in hotel.
Day 3: Fly to Bumthang & drive short distance to Tang Valley
Transfer to airport in time for your short but scenic flight to Bumthang. Upon arrival,  drive for about 1-2hr  across beautiful forest and several small roadside agrarian villages to Tang valley. En-route we stop at Membartsho, a large nunnery and Rimochen temple. Later we'll  visit nearby villages by short walks. Overnight in simple family run Guest house (2800m).
Day 4:  Tang valley Exploration and getting acquainted with Horse riding
The horses from Wind Horse Ranch nearby arrive at your Guest House. Ride slowly, up the valley and then climb up to Orgyencholing Manor and Museum. After visiting the musuem, continue riding to upper villages in Tang, where we stop to chit/chat with locales and visit their homes. Continuing our ride, we disembark at Wind Horse Ranch and drive back to Guest Houses, where you can enjoy Traditional Hot Stone Bath. Overnight in Tang.
Day 5: Ride Horses to Kunzangdra and Camp (5-6 hours)
Today is complete horse trek day. From our Guest House (2750) till Kizom (a small road side village), the horse ride is on level gradient. Then the trail gets narrow, follows the side of the hills, ascending all the way through fields and pine forests. In some places, you may even have to dismount from horse.  Along the way, you will also have an option to hike up to Kungzangdra temple and meditation site located on the cliff above, which takes about an hour. Continuing the ride further on we camp above the village of Bapzur (approx 2900m). Overnight in tent camp (Lungta Comfort camp)
Day 6: Ride Horse to Padselling Monastery and bike to Jakar.
The horse ride from from our campsite to Padselling is through pine trees, fields of buckwheat and also passes beautiful meadows. Initially its a level gradient, followed by light descent in some place and through meadows, providing opportunity to exercise trot and canter. After crossing stream, its a uphill to reach Padselling monastery (3550m) located nearly at the top of a ridge with great views of Bumthang.  Explore monastery, interact with the monks and spend some moments of mindfulness. From here we will change our mount to mountain Biking. Following the farm road, bike downhill all the way with beautiful vista of Jakar valley below. Overall including horse trek and Bike ride, it takes 6 – 7 hours. Overnight hotel in Jakar.
Day 7: Jakar, Bumthang
Bumthang is aptly considered as spiritual heartland of country as it is dotted with many significant religious edifices and  monuments. If you wish  to make it time effective and to cover as many attractions, we can interminably use support vehicles to carry bike and ride in some place only  to visit  monuments. Also this way we can include some beautiful short hike and farm house visit in the vicinity. Some of the major attractions are Kurjey, Tamshing, Jambay Lhakang, Jakar Dzong, Wandgicholing palace, Swiss farm, Cheese factory, Weaving centre, Karchu monastery where you may be able to watch monk during their evening debate and prayers. Overnight in hotel in Jakar.
Day 8: Tharpaling & Chumey Valley
From Jakar drive to Chumey valley and take a side road to a ridge top monastery complex of Tharpaling located at 3650m. Visit the monastery and begin a thrilling ride along the single path, following ridgeline, through forests, meadows for about 2hrs brings you to main road. (If you are not ready for this adventure, you can always use the road we came up for ride back). From the main road, Chumey is only half hr ride. Rest of the day, ride in the valley, explore the village, see the Yathra weaves, and ride on the road to Nimalung monastery, which hardly sees any vehicle traffic. Overnight in Chumey Nature Resort (2950m).
Day 9:Drive to Trongsa & to Gangtey, Phobjikha
Our drive to Gangtey is around 165km crossing two mountain passes. Due to road widening work, the drive is slow, bumpy and could take about 6hrs. Occasionally it may be faster and more comfortable to ride our bikes in between. From Chumey, cross Yutongla pass into Trongsa, where we can visit impressive Trongsa Dzong. From Trongsa, the road cuts along the side of the mountains with great views passing many villages. We may occasionally make a stop to visit, stretch our legs. After crossing Pele la pass, we cross over to wide and spectacular Gangtey, Phobjikha valley. Overnight in hotel.
Day 10: Phobjikha Valley Rides
Phobjikha is a beautiful glacial valley at about 3000m. It is a designated conservation zone within Jigme Singye National Park.  We spend the full day in the valley, riding our bikes to explore many small quaint villages located on the slopes of hillsides. Sometimes you have to dismount and walk or carry bikes. Visit the ancient Gangtey Monastery located on the hillock, then return to the valley by riding the bike along the Nature trail that cuts across the valley  into Black Neck Crane Info Centre. You may also be able to visit local school.  (If your travel period falls between late October till early March, then you can also watch large flocks of endangered Black Necked Crane, highly revered birds that migrate from central Asia ).
Day 11: Bike to Khotokha valley
With advent of feeder road, it marked the access to this region on bike. This morning the ride is challenging as you pedal from the valley at 3000m for 8km uphill to Tsele La (3430m). We take time and tackle the first ascent. After the pass, it is a gradual descent to Gogona valley (3200m) with few settlements just below our trail. The village is spread out over few meadows and most people here are still making a living through farming activities. From the end of Gogona, the 2nd part of ascent is slightly shorter (4-5km) and less difficult to Shobe La pass  (3475m). After the pass there is a long and beautiful descent through magical forest. You will pass through rhododendron forest with lots of moss hanging from the tree branches. At lower down you will pass through pine forest with fern undergrowth. Some sections of the trail include bridges made from wood logs, and some are muddy, with streams and some area  used wood logs. Finally enter Khothokha valley with the village (2650m) Just outside the village there is a newly built monastic school with over 100 monks.  We may use their Guest House or Lungta Comfort camp. (Approx 40 km/6-7hrs biking)
Day 12: Bike to Wangdue/Punakha
After Khotokha village,  a gradual (pretty easy compared to yesterday) climb for about 6.5kms brings you to ridge top Tashila (2820m). Then it is downhill with endless switchbacks that bring you down to warmer elevation, down to the main east-west highway at 1500m. In some places, the road can be pretty muddy and slippery but it is thrill to ride downhill. From Khotokha to this road point is about 25kms and takes about 5 hrs.  From here you may ride on the main road or take another farm road to Wangdue and Punakha depending on how you feel and weather conditions. Overnight in hotel.
Day 13: In Punakha valley
First we will cover visit to Punkaha Dzong – arguably most beautiful Dzong in the country at the confluence of Mo and Po chhu river. After that you can choose to go on a Rafting or Kayaking (extra cost that you can pay directly).  Then there are several options to ride your bikes a) Ride in the valley and visit some of the monuments b) or drive to Limukha or Nobgang village and using farm road ride down through the villages. Once you are Punakha, you will able to choose these options based on how easy or difficult you want it to be. Overnight hotel (option to stay in traditional Farm House is available).
Day 14: Punakha to Thimphu with hike and bike along the way.
To save time and cover more grounds, drive upto Dochula Pass (3150m). Savour spectacular panorama of peaks over some tea and snacks.  From Dochula, begin 2hr hike Lungchuzekha temple on a higher ridge. Wind Horse maintains this section of the trail (maintain and collect trash). Spend some time with the caretaker, meditate and instead of returning back to Dochula, we walk downhill for another 1.5hr to Trashigang, a hilltop settlement of meditation houses and monastery. Your vehicle will meet you here and it is much more interesting to ride your bike downhill to the main road instead of bumpy 45 min ride. If you want it challenging, you can also go follow the walking path. Towards the late afternoon we arrive in Thimphu with some time to visit great Tashicho Dzong and stroll around.
Day 15: Tour of Capital Thimphu.
Being the capital it has many traditional and contemporary attractions and sights  that can keep us on our toes for entire day. First, we will drive to Buddha point, arguably one of tallest Buddha in sitting posture. After visiting, we will mount the bike for ride just below the point. Its a beautiful trail is adopted and dedicated to fourth king. Ride for about one hour till Changangkha Lhakang on the path cuts across the hill with view of Thimphu. Visit  Changangkha and then either drive or ride your bikes to visit prominent attractions such as Textile museum, Indigenous hospital,  Tashichho Dzong, National Library etc. Toward evening we will visit Centennial Farmers market and if time permits also watch archery match in action in Chanlimithang ground. Overnight in Hotel.
Day 16: Drive to Paro and hike to Takstang
Drive for 1 and half hours to reach Tiger's nest trail head. This epic active adventure  trip draws its curtain with hike to iconic Taksang – quintessence of Bhutan travel. It takes around 1 hr to reach 1st view point and another 1 hours or so  for the final ascent to Taksang monastery. Whilst returning to hotel, stop to try a hand or two at national game of Bhutan – archery. Free evening to rest,  relax and be ready for farewell dinner. Overnight in Hotel.
Day 17: Departure.
Departure transfer to the airport.
Some Relevant Links
Wind Horse Ranch and Riding Club 
Mountain Biking in Bhutan 
Rafting and Kayaking 
Day Hike in Bhutan
Deluxe Camping