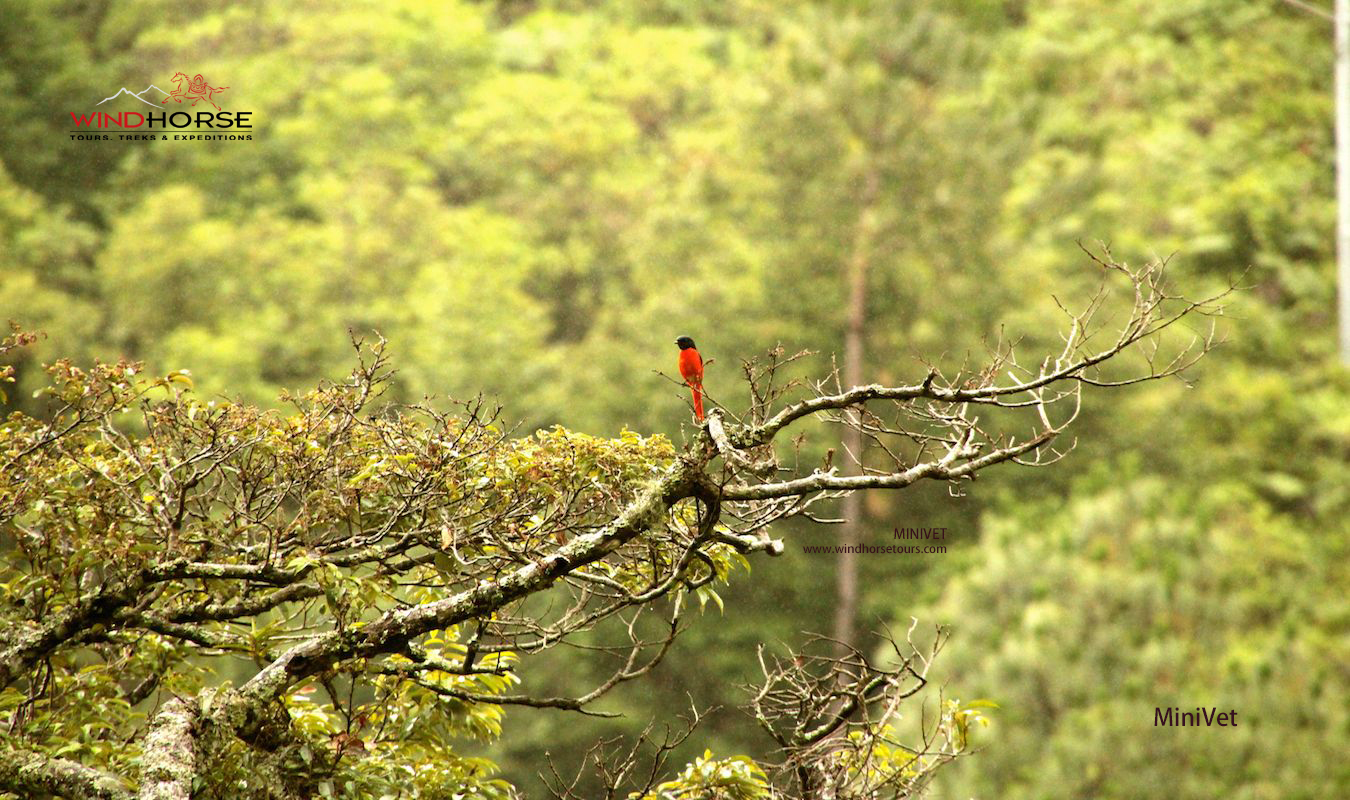 Trip highlights
Top Birds
Sparrow hawk, Rufous-bellied wood pecker, Hoopoe, Nepal house martin, Hill myna.Rufous Fronted Tits,  Stayr Tragopan, Monal, Large Hawk Cuckoo, Darjeeling Woodpecker,Ward's Trogan.Bay Woodpecker, Red-headed Trogon, Wedge-tailed Pigeon Fire-capped Tit breeds White-gorgeted Flycatcher, rare Yellow-vented Warbler. Magpie Robin, Green Magpie, Osprey, River Lapwing, Ruddy Shelduck, Eurasian Wigeon, Spotted Elachura, Pygmy Wren-babbler,pallas Eagle,Slender billed Scimitar Babbler, Red Headed Bull Flinches.  Fire Tailed Myzornis, yellow throated Marten, Yuhinas, Fulvettas, Spotted laughing thrushes,Great Hornbill, Rufous Necked Hornbill, Fire Tailed Mizoram,Black Eagle, Oriental Cuckoo, Speckled Wood Pigeon, Brown Parrot Bill, Black throated Sunbird, Sultan Tit, Green Magpie, Small Niltava, Silver eared Mesia,  Maroon Oriele, beautiful Nuthatch.
Top Animals
Yellow-throated Marten, Black Giant Squirrel, Large-eared Pika, Red Panda, chances to sight  Himalayan Black Bear, Musk Deer.
In Manas National Park – Spotted Deer, Wild Gour/ Indian Bison, One Horned Rhinoceros,
Habitats Covered
Sub- tropical birding habitat with broad and warm leaves forest.
Temperate habitat with forest of fir, Conifer, hemlock forest.
High mountain passes like Thrumsingna, Yotonga, Pelala, Docula passes.
Bamboo bushes, River Channels, Agricultural land etc.
Expected Climate
Summer are hot and wet in sub tropical region like Tingtibi, Gonphu and Manas ( India and Bhutan. Cool and pleasant in temperate zone of Thimphu, Paro, Gangtey. The Ideal period would be from 1st week of November to end of Feb.
Tour Pace and Walking
Pace of tour is moderate except once or twice it require to drive long  to cover distance. Its not just only we hike for birding but also to visit rural villages and temples, and the walk is moderately pace more often.
Number of Birds species expected
300 to 450 species of birds including birds in Manas National Park (India)
Other attractions
Buddhist culture and tradition, verdant landscapes, pristine nature, Dzong and Monasteries, interactions with people, remote villages visit. etc. Rafting in Manas river (Optional)
In Manas National Park – Jeep Safari and Elephant Ride.
To many Bhutan conjures up image of a mystical land surrounded by high mountains and snow-capped peaks with cold winters. However, Bhutan is also a land full of dense subtropical jungles with warm and pleasant winters. In this very land, there are places, among a few, such as mid-south regions that are less treaded even by the local , leave alone the visitors. This region was opened to the visitors only recently, and its inaccessibility assist to retain its originality . The underlying area of remote Nabji, Korphu villages and area like Tingtibiti, Gonphu and Manas wildlife sanctuary seemingly encloses endless foliages making it one of the hotbed for birding and other wild-lives, in addition to less population, devoid of modern means, unpaved road, as a whole it lends and arrest a typical quaint charm of areas and present off the beaten tracks experiences. This itinerary is curated specifically for those who seek to tread upon the road less taken and in company of rare, exotic avians amidst the bountiful and pristine nature.
Primarily focusing on birds as well as other wildlife, this itinerary unfolds leisurely, examining prime birding habitats in western Bhutan mainly temperate region like Paro, Thimphu, Phobjikha and sub tropical -Punakha. Yet at the backdrop we will visit landmark attractions and sights at respective places. As we move south of Trongsa, we head into sub-tropical zone in Tingtibi, Gonphu, Nabji and Korphu village and Royal Manas National Park (Bhutan) and Manas National Sanctuary (India). These areas have rich reservoir of flora and fauna ( prime sub tropical birding habitat ) and other wildlife. There are almost 360 species of birds recorded with 210 resident species. Most notable are Giant Hornbill, Rufous Necked Hornbill, Pallas Fish Eagle, Spotted Wren Babbler, Blue headed Rock Thrushes, Emerald Cuckoo, Finn's Weaver, Hodgson, Bengal Florican, Scarlet Minivet, Magpie Robin, Herons, Pied Hornbill etc. Most notable among the animals are Red Panda( Trongsa area) Golden Langur, deers, Asiatic elephants, one horn Rhinoceros, Asian water buffalos etc.
As we cross the border and step in the Manas National Sanctuary (India) -World Heritage site - it teems with myriad species of birds, wildlife, plants so this conserve sanctuary is home to diverse habitats for varied flora and fauna. Through jeep Safari and Elephant ride in the forest, opportunities to see these wild lives, birds and flora are prime.
Outline Itinerary
Day 1: Arrival in Paro and tour (2200 m)
Arrive in Paro and transfer to hotel. Later visit cultural landmarks such as Rinpung Dzong and National Museum. If time permit, we'll explore and scan villages and farmhouses and agricultural channel nearby in a way setting tone for avifauna that thrive in Bhutan, On the agricultural fringes the birds such as Ibis Bill, fire capped Tits, Spotted Laughing Thrush etc are most likely to be seen. Overnight in Hotel.
Day 2: Paro valley tour and birding
Full day tour of Paro valley scanning for avian and also visiting cultural attractions mainstay. Ideally, in early morning hour we set out examining thoroughly along the bank of Paro river and agricultural edges till the Drukyul Dzong, these areas offer best birding colony in Paro. Birds to most likely to be seen are Black faced laughing thrush, brown dipper, spotted laughing thrush, Fire capped Tit, Ibis Bill, Crested-pie kingfisher, Redrumped swallow, Long-tailed minivet, Grey wagtail, Yellow-billed blue Magpie, Spotted nutcracker, later visit, Kichyu Lhakhang and Dumtshe Lhakahang. Overnight in Paro
Day 3: Hike to Taksang
Today is the hike to iconic Taktsang monastery, if early, we can also see some birds such as Ibis Bill, Brown Dipper, Laughing thrushes. Red Billed Clough. As day progress, it set out flight reaction of bird as the visitors grows. With almost 3 hours uphill walk and 1 -2 hours downhill hike in addition to visit of Tiger's Nest monastery visit, it's a whole day affair. Upon return to hotel, pamper yourself with traditional hot stone bath. Overnight in Hotel
Day 4: Paro – Thimphu (2300 m/54 km/1.20 Hrs)
Drive to Thimphu and head out past the town through the vegetation of fir, conifers, hemlock into Cheri and Begana. Temperate vegetation with quiet ambience provides an ideal habitat for varied species of avifauna. Along the way, sighting of Red bill cough is common. The most common species of avian likely to be seen are Ibis bill, Common sandpiper, Crested-pie kingfisher, Reddrumped swallow, Long-tailed minivet, Grey wagtail, Yellow-billed blue Magpie, Spotted nutcracker, White-bellied yuhina, Red-billed chough, Black-browed tit etc. Later, visit cultural highlight that is synonymous with capital such as Tashi Chho Dozing, Giant Buddha Statue, Takin Reserve, weekend market, Archery match and more in ratio with available time. Overnight in hotel.
Day 5: Thimphu to Punakha ( 1310 m/71 km/3 hours)
Drive to Punakha, if early this will enable prime time birding at Docula Pass (3150 m/ 1 hour) .Given early early morning hours at pass, it not just limits to prime time birding but also can relish glorious sun rise and vista of mountain peaks and surroundings area, weather permitting. We'll side track into the trail in the forest of fir, birch, hemlock, examining the vegetation for the birds. During spring, it's a botanist's delight as forest is ablaze with crimson and pink rhododendrons, creamy magnolia and aromatic Daphne. The forest floor covered with iris, anemone and euphorbia with Lavender primula and deep purple iris lined at the side. Sighting Ward's Trogon would be a prize conquest. And also endemic birds such as resplendent Himalayan Monal, near mythical Satyr Tragopan, Blood Pheasant, Khalij Pheasant etc. In Punakha, we will visit Punkaha Dzong, sitting tall in the confluence of Mo & Pho Chhu river. Overnight in Hotel.
Day 6: In Punakha
Full day tour of Punakha valley that consist of scanning Mo Chhu riverbank and Tashithang area. Punakha has typical sub tropical climate, conducive for varied species of birds to flourish. There are instance where migrant are recorded even in non-migratory season. We'll start with exploring riverbank where birds of duck family and cormorant are frequently seen especially during morning hour. Critically endangered White Bellied Heron are common. After, we drive to northern edge to Tashithang- affluent birding area in western Bhutan, naturally designed with broad-leaved sub tropical vegetation. You may see varied species such as Collared Owlet, Barred Cuckoo-dove, White-browed Shrike-babbler, Large Niltava,We'll also search for a variety of skulkers, including Spotted Elachura and Pygmy Wren-babbler and many more. Overnight in Hotel/ Farm House/ Deluxe Camping nearby river.
Day 7: Punakha – Gangtey, Phobikha (2900 m/65 km/2.5 hours)
Leaving Punakha, along the way we will make succession of stops that features birding spots in agricultural fringes, rivers channels and vegetation -Flycatcher, wedge Tailed green Pigeon are common. Pallas Fish Eagle has been recorded more often in these area. We will also make a stop at large swathe of productive forest before the Phobjika for birds such as scarlet Finch, Black Drongo, Chestnut bellied Nuthatch, Slaty backed Forktail, Gorgeted Flycatcher, White throated Laughing thrust, Eurasian Jay, Wedge Tailed Green Pigeon, Mountain Imperial Pigeon, Verditer Flycatcher, etc. Later visit Gangtey monastery and Nature centre and if your travel date fall between Oct to March, watch Black Neck crane in action. If time permits, a leisurely nature walk in glacial Phobjika valley, where a few birds may awaits you to be discovered such are White Throated laughing thrushes, Mountain Imperial Pigeon, slaty backed forktail, Rusty-flanked Tree creeper, White-browed Bush Robin, and White-winged Grosbeak. Overnight in Hotel.
Day 8: Phobjikha – Trongsa (2200 m/120 km/4 -5 hours)
Leaving Trongsa early, we'll stop at Pela La pass. We will spend the whole morning hours looking for alpine avian delights like Satyr Tagopan, Blood Pheasant, Khalij Pheasant and the beautiful Himalayan Monal. Below the pass, the stand of bamboo up shoots attracts many birds. The specialties of the area are Great and Brown Parrot bills and Golden-breasted Fulvetta, probably one of the world's most attractive passerines. Whilst in Trongsa, visit historical Trongsa Dzong and Museum. Overnight in hotel in Trongsa.
Day 9: Trongsa to Nabji (1367 m/90 kms, 4 -5hours)
Drive to Nabji however road are mainly dirt road, transportation is through tractors and some portion we will walk. This region has impressive flora and fauna, we will make stops to explore the vegetation of broad leaves forests, wild lives are abundant like Rufus Necked Hornbill, Gaint Hornbill, Golden Languor, Himalayan Squirrel, Rhesus Macaques and varied species of sub tropical birds. Nabji village consist of around 50 houses, and just below the village, set in paddy field is the sacred temple of Nabji or "Oath" which is believed to have power of granting wishes and prayers. It would be worthwhile to take a walk in the village and interact with friendly locales. Overnight in Deluxe Camp just below the village in small channel.
Day 10: Full day for excursion to Korphu. Camp (1500 m/6 km/2-3 hours)
Excursion hike to Korphu village, it is located at hilltop above the Nabji. Start the hike with short descent through fan shaped field, cross the small stream and follow steep ascent for 2 to 3 hours to reach Korphu village. Korphu villages consist of around 76 households. Once in village, explore temples, visit village, school , interaction with people et al. Return to Nabji . Overnight in deluxe camp.
Day 11: Drive to Tingtibi.( 560 m/102 km/ 4 -5 hours)
In the morning, we'll walk till the road head and drive through farm road for almost 2 hours, then connect with highway and drive for further 2 hours to Tingtibi. Tingtibi is the bedrock of birding in Bhutan. Its warm sub tropical thick broad leaves forest in addition to lesser people in vicinity augment well for the birds to thrive. Depending on the time of arrival, we'll do the birding in Tingtibi. Overnight in deluxe camp.
Day 12: Birding in Tingtibi and Gonphu areas and camp in Gongphu.(398 m/45 km/2 hours)
The underlying areas of Tingtibi, Gonphu and Manas have relatively lesser population concentration in addition to subtropical climate offer best birding spot in Bhutan. We'll do birding for whole day in Tingtibi and Gongphu area. In Tingtibi, We will focus mainly to spot much sought after Yellow- Rumped honey guide and beautiful nuthatch. Along with it, there are may birds you will encountered such as yellow-throated martin, giant squirrel etc. birds - Rufus-necked hornbill, Blue throated bee-eater, Maroon Oriole, Racket tailed Drongo, Red headed Trogon, sultan tit, Grey Nightjar, Hill Prinia, Asian Emerald Cuckoo, Great hornbill, Partridge, Violet Cuckoo, Pin-tailed Green Pigeon, and Cutia. Rufous-faced Warbler is also quite common, and we stand a chance of encountering the rare White-bellied Heron and possibly Collared Treepie.
In afternoon, less than 2 hours drive takes to Gonphu area, birding in avian rich forest. The species remain similar with Tingtibi however more chances of sighting these species due to serene ambience.
Overnight in deluxe Camp
Day 13: Gongphu to Manas (110 m/55 km/3 hours)
After breakfast, drive 3 hours to reach Manas. It is the part of Royal Manas National Park, the oldest National Park that is the "genetic repository" of varied flora and fauna and pioneer conservation project of fauna in Bhutan. Along the way, we will make regular stop for birding and visit the roadside villages. Once in Manas you can opt for river raft, rapid grade are pretty good and also you can indulge in further birding. Mostly tropical birds such as Egret, Jungle Fowl, Indian roller, Great Hornbill, Alexander parakeet, crested Serpent Eagle, Spotted dove, lesser adjutant stork, white breasted Kingfisher, Stoke Bill Kingfisher, Rose Ring Parakeet, Black Necked stoke etc. Free evening. Overnight in Lungta Comfort Camp/ Park's Shed.
Day 14: Manas -Cross into Indian Manas doing safari on the way
Finish immigration formalities of both Bhutan and India, once in Indian side of Manas Wildlife Sanctuary, we can do wildlife safari and also take excursion for birding in nearby vegetation. These broad leaves forest harbour the avian species such as Indian Roller, Egret, lesser Adjutant Stroke, Jungle Fowls, Pelican, Stroke Bill Kingfisher, Bulbuls, Brahminy Ducks, Fishing eagles etc.Overnight in Safari Lodge.
Day 15: Manas (Indian side).
Rest and relax for whole day or you can start early for wildlife safari such as Jeep safari in deeper part of park, where the sighting of birds are ample such Serpent Eagle, Giant Hornbills, Jungle Fowls, Indian rollers, White Breast Kingfisher, Rose Ring Parakeet and other sub tropical species. And also animals such as Asiatic elephant, wild Gour/ Indian Bison, One horn Rhinoceros, deers etc. And also do elephant ride, along side it, you can also do fair bit of birding in interior of the park. Overnight in safari Lodge.
Day 16: Manas to Guwahati (Departure) (56m/176 km/5 hours)
After break fast, drive 4-5hrs to Guwahati to connect with afternoon flight to Delhi or Kolkata. Or you can take one of our Northeast India Tour.
Best Time To Visit
Window to explore this itinerary is quite small, it stretches from beginning of November - end of Feb. Areas south of Trongsa, fall under sub tropical zone where it tend to get very hot and humid, come June it gets wet with heavy rain till end of September. The weather between Nov - Feb is pleasant and dry during the day and slightly cool at night.
Some relevant links
Birding In Bhutan
Deluxe Camping or Lungta Deluxe
Sample North East India Tour Itinerary as extension trip.
Group SizeAny

MealsFull Boards including evening Tea

Trip AccommodationAccommodation are in best tourists standard hotels. And in form of relative upgrade in Hotel Druk and Tashi Namgay Resort in Thimphu and Paro respectively. Also you can choose to stay in Farm House (Clean and Hygienic) for a day or two for authentic local experience. In some places camping is done, instead of regular camping, you can opt for Wind Horse's special - Deluxe Camping or Deluxe Lungta Camp - Safari style tent and bed with added amenities. Accommodation in Manas (India) is in Safari Lodge which is at the close proximity with Park

RouteParo - Thimphu
Thimphu - Punakha
Punakha - Phobjika
Phobjika - Trongsa
Trongsa - Nabji village.
Excursion to Korphu Village fron Nabji village.
Nabji - Tingtibi
Tingtibi - Gongphu
Gongphu - Manas (Bhutan)
Manas (Bhutan) - Manas (India)
Manas - Gawahati

Trip Type Wildlife Safari/Jungle Safari and Bird Watching


Trip SeasonsThe ideal time to do the trip is from beginning of November till early March. Weather in temperate valleys of Thimphu, Paro, Phobjika is cool with relatively colder nights during these period but the sub tropical areas such Tingtibi, Gongphu, Manas remains dry, warm and pleasant. From April, the sub tropical belts begins to get warm and it can be very hot, humid and wet in mid summer.

Best MonthsJanuary, February, November, December

Good MonthsMarch, April, October

Lean MonthsMay, June

Not RecommendJuly, August, September
Prices & Dates
Cost is based on the number of participants. For details contact us.
Included
Bhutan Royalties, tourists fees, Visa fees and taxes.
Accommodations in listed or similar hotels (pleasant hotels 3-4 star type)
All meals,including evening tea/coffee etc through-out the tour in Bhutan.
All land transfers, sightseeing with entrance fees.
Experienced English Speaking Bhutanese Tour Guide.
Bottled water in the vehicle and other comp. services.
Not included
1.Flights into and out of Bhutan
2. Optional Travel/Medical Insurance
3. Personal expenses such as bars, beverages in the hotel, telephone, laundry, trips, and others.
4. Any items that are not listed in included.
Accommodations
We use tourist standard hotel and whenever possible we use relative upgrade for instance Hotel Druk and Tashi Namgay Resort (4* deluxe) in Thimphu and Paro respectively. Also you can opt for Farm House stay( Clean and Hygienic)for a day or two for authentic local experience. At places where camping are done instead of regular camping, you can opt for Wind Horse 's special -Deluxe Camping or Lungta Deluxe – Safari Style tent and bed. In Manas National Park (India) accommodation is in safari lodge which is at close proximity of park.
---
Hotels in Thimphu
Hotels in Paro
Hotels in Punakha
Hotels in Phobjikha
Hotels in Trongsa