Dagala Trek
11 Days
Dagala Thousand Lake Trek in Bhutan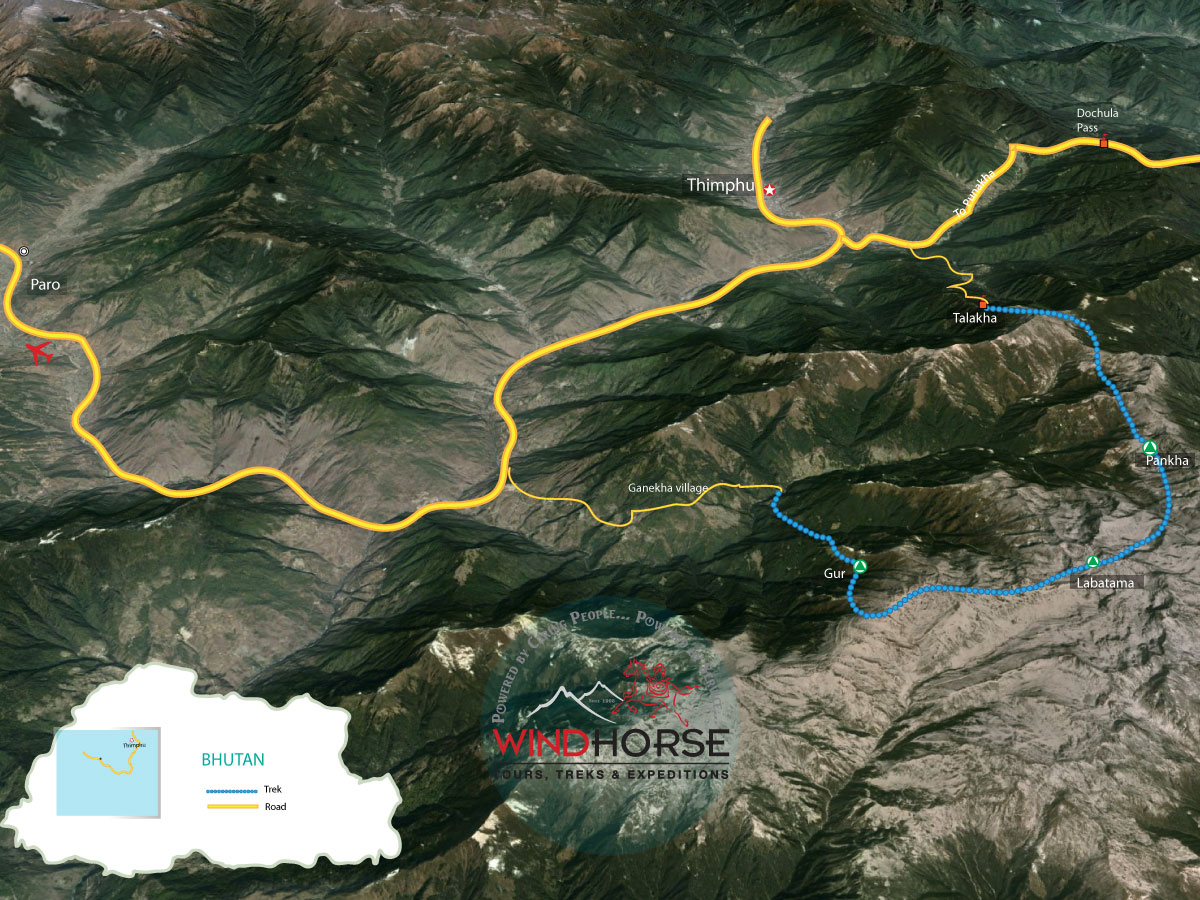 Trip Grade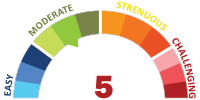 Trip AccommodationWe use best tourist standard hotel. Also in places where there are means to upgrade - 4* hotel we do it automatically, for instance Hotel Druk and Tashi Namgay Resort in Thimphu and Paro respectively. See Details
Group SizeWith your own group
MealsFull board.
RouteArrive Paro
Punakha
Thimphu
Trek
Paro
Departure
Trip TypeCultural and trekking
Trip SeasonsThis trek can be done from mid April till October. Best time is before June and after August since this is the monsoon time. However June till September is when the alpine flowers bloom and temperature is pleasant as well.
Best MonthsApril, May, October
Good MonthsJune, July, August, September, November
Lean MonthsMarch
Not RecommendJanuary, February, December
Trip highlights
Scenic high altitude trek with access to glacial lakes, breathtaking vistas, alpine meadows and verdant forests. Opportunity to meet nomadic cattle herders, Yaks, some wildlife, birds and opportunity for fishing
Legion of trekkers have been drawn by the irresistible mystical charms of Bhutan's mountains and its surreal exquisite landscapes. Dagala Trek Bhutan is one such trek, where in addition to its many small beautiful lakes (therefore also called thousand lakes trek) and its beautiful vistas, it is a one with fewer trekkers. Dagala trek follows a trail along the ridge-line of Dagala range, that separates Thimphu valley from the lower hills to the south with uninterrupted views in almost all direction. On a clear day, you can see not only the peaks of Bhutan, but could also see far off peaks of Sikkim and Nepal as well. With exposed ridge line, the weather can also change dramatically in a short period.
The trek begins from above a village of Genekha, located on the slopes of a hill, between Thimphu and Paro. As the trek progresses, it gradually reveals many of its treasures in form of beautiful alpine meadows, many small lakes, nomadic yak herders camp, varied forms of flora and fauna, soulful pristine environment. Not only does it revved up the spirit with its awe-inspiring landscapes and pristine environment but also allows a close encounter with nomadic yak herders. This trail now used only by nomadic Yak Herders and few trekkers, was once an important trade route connecting Thimphu with Dagana in south. This trek may challenge your physical conditioning with steep climb in some parts, but apart from a high altitude gain within second day of the trek, it is considered moderate to easy type of trek. With exposed ridge line, the weather can also change dramatically in a short period on the trail. However, the good thing about this trail is that you can quickly descend to lower altitudes.
In the spring, the forest along the lower ridges ablaze with rhododendron, and in the summer, the alpine meadows come alive with technicolor bloom of wild flowers. With opportunity to meet the nomads and learn about their lifestyle, and great views all along, Dagala trek is exceptional.
Outline Itinerary
Day 1: Arrive in Paro
Upon arrival in Paro, you are met and transferred to the hotel. Spend rest of the day visiting few sights, walking and strolling in Paro. Overnight in hotel.
Day 2: Paro -Punakha
Drive short distance to Thimphu (1hr), where we spend the morning visiting few sights. Then drive across spectacular Dochula pass to Punakha (3+hrs). Lunch could be planned at Dochula. In the evening, visit Chimi Lhakhang temple.
Overnight hotel in Punakha
Day 3: In Punakha & Wangdue
Punakha-Wangdue valley is at a lower elevation of about 1250m above-sea-level. Therefore it enjoys subtropical climate with warm summers and pleasant winters.
Visit Khamsum Yuelley Chorten by 45min hike uphill. On return visit impressive Punakha Dzong, located at the confluence of the Pho Chhu and Mo Chhu rivers.  In the afternoon, we could drive to one of the villages higher up on the top of hills and begin 2-3hr walk. Overnight hotel in Punakha.
Day 4: Thimphu
Return drive to Thimphu re-crossing Dochula pass with one more opportunity to have a great view of the Himalayas. Upon arrival at Dochula pass you can begin our 2hr. ridge top hike to visit Lungchuzekha Temple. The trail is through rich vegetation of moss laden birch, hemlock and rhododendrons trees. The monastery has been recently repaired and the views from here on a clear day are astounding; with almost all of Bhutan's great peaks seen from here. Return to Dochula pass or follow the trail  that takes us to another ridge top village of Trashigang with monasteries and retreat houses and down to the road head above Hongtsho, from where it is short distance to Thimphu. We may still have some time for local tour and get ready for the trek tomorrow. Overnight hotel in Thimphu
Day 5: Begin trek Gyenkha to Gur
Distance 7 km, 5 hours, 550 m ascent, 210 m descent, camp altitude 3,290 m.
Drive short distance to south of Thimphu for an hour to Gyenekha village. The trek starts at beautiful Gynekha village and begins with a short descent to the river. After crossing the river you start climbing until you reach a huge rock platform from where you have a picturesque view of the below. After another two hours you reach Gur, an area of yak pastures located just below the main trail. Overnight in tents.
Day 6: Gur- Lambatama
Distance 12 km, 6 hours, 1,220m ascent, 110m descent, camp altitude 4,300m.
On the second day, the trail takes you across the high ridges from where you can truly appreciate the rugged beauty of your surroundings and the mountain vegetation. The path winds through refreshing meadows adorned with wild flowers and asparagus (in spring). The first mountain pass you cross is marked by a huge cairn and gives a spectacular view of Kanjenjunga (Sikkim in India) and number of the Bhutanese Himalayan peaks. As you descend the pass you will be able to see the entirety of the Dagala mountain range including meadows and yak herder camps. Once you have descended into the Labatama valley you begin climbing gradually through the valley, passing several yak herder huts before you arrive at Uthso Tsho. The campsite is right next to the lake. Overnight in tents.
Day 7: In Lambatama
This day will be dedicated to relaxing and recuperating at Labatama. It is an ideal to take an excursion to any of three nearby lakes: Reli Tsho, Hen Tsho and Jama Tsho. There is an opportunity to engage in some trout fishing. Permits are required for fishing so you should let us know to make the necessary arrangements beforehand. Overnight in tents. (For those who are short on time, this day could be removed)
Day 8: Labatama- Panka
Distance 8 km, 4-5hrs (+1hr for optional climb), 260m ascent, 520m descent, camp altitude 4,000m.
The trail climbs along the western side of Dala Tsho up to a saddle at 4,520m. From here onwards you will have a fantastic view of the majestic Himalayan peaks all through the descent. The mountain peaks visible include Mt. Everest (Nepal), Mt. Kanchenjunga (Sikkim), Mt. Jomolhari, Mt. Jichu Drake, Mt. Tshering Gang, Mt. Khangbum, Mt. Masang Gang, Mt. Tsende Gang and Mt. Gangche Ta. If you want an even better view, you can climb a peak close to the saddle with an altitude of 4,720m. From the saddle the path descends, passing some yak herder huts to Doccha Chhu. You follow the river for a while, but stay higher up on the slope to reach Panka with ascents and descents along the way. Overnight in tents.
Day 9: Pankha- Talakha-Chamgang- Paro
Distance 10 km, 5-6 hours, 70m ascent, 1000m descent.
This day entails the crossing of several passes but none of them require a major climb. Watch out for different varieties of blue poppy (June-July) and birds while in this area. After crossing the last pass, Tale La (4,180m) you start a long descent to Chamgang. However the new dirt road has come up quite a bit. If the road condition is good, you may only have to walk till the monastery saving few kilometers on foot. Meet your vehicle and drive to Paro, which takes about 2hrs. This evening we hope to visit Rinphung Dzong and others as per available time. Overnight in hotel at Paro.
Day 10: Paro valley (Taktshang)
Transfer to the trail head and hike to famous Taktsang or Tiger's nest monastery. Upon return visit the ruins of Drukgyel dzong  and other sights in Paro. In the evening stroll around Paro town with option for farewell dinner in a local restaurant.
Overnight in hotel.
Day 11: Departure
Transfer to Paro airport in time for your departure flight.