Darjeeling Sikkim & Barsey Sanctuary Walking Tour – 8 days
8 Days
Darjeeling Sikkim & Barsey Sanctuary Walking
Trip Grade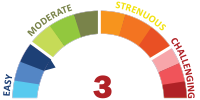 Trip AccommodationFirst class accommodations require that you include at least breakfast and dinner or all meals but others accommodation do not have such requirements. See Details
Group SizeOne Member on wards
MealsBreakfast & Dinner(Lunch in remort village & Camping)
RouteDarjeeling-Hilley-Barsey (Versay)-Dentam-Pelling-Ravangla-Gangtok
Trip TypePrivate with your own Group
Trip SeasonsBest time for this trip: Best in spring or fall (Mar, April, May, Oct & till mid Nov). Median Season would be Sep, late Nov, Dec, Jan and Feb. Lean seasonare from June till August (likelihood of rains).
Best MonthsMarch, April, May, September, October, November
Good MonthsAugust
Lean MonthsJanuary, February, June, July, December
Trip highlights
Tour Darjeeling, walk in Varsey or Barsey Sanctuary, visit Pelling and Ravangla followed by tour of Gangtok on this best of Sikkim Darjeeling Walking Tour in 8 days.
This is a culture and sightseeing tour of Darjeeling, Gangtok, combined with two days of short and easy trek in Barsey Rhododendron Sanctuary (also spelt Varsey ), which lies in the south west corner of the West Sikkim. We also visit and stop in Pelling in west Sikkim for great views of mighty Kanchendzonga and in the small hill town/ village of Ravangla. For Rhododendron flowers, it is best in the months of March & April but great varieties of flowers also bloom in the autumn and fall colors are spectacular. This is also good trip for anyone with slight interest for birds.
Outline Itinerary
Day 1: Arrive in Bagdogra/Siliguri -NJP – Darjeeling (D)(90K/3 hrs Altitude 2134m)Arrive in Bagdogra airport, NJP, Siliguri or nearby place. Upon arrival, you are met by our Guide and driven to Darjeeling. Stop along the ways for photos or views.Upon arrival check into your hotel. After high tea, stroll around Chowrasta Mall.
Overnight at the hotel.
Day 2: Darjeeling local visit (B/D)Early this morning, drive to Tiger Hill to see magnificent sunrise view over Mt. Kanchendzonga and other peaks of eastern Himalayas (weather permitting). On your way back to hotel visit Yiga cheoling monastery at Ghoom built in the year 1850 by a Mongolian lama Sherap gyatso. Later today, take a short joy ride on the Toy train till Ghoom.  We also visit Padmaja Naidu Zoological park, Himalayan mountaineering Institute and Tibetan refugee self help centre.   If you are interested, we can also take you to some local Art galleries, visit few of the old Churches, and walk to some of the flower gardens (depending on seasons) and stroll local bazaar /market, all depending on the time and interests.
Overnight in hotel.
Day 3: Darjeeling – Hilley – varsey (B/L/D (100Km/4 hrs drive to Hilley) We leave this morning for Varsey, driving through lush tea gardens of Darjeeling (stopping to see one of them at least), and then enter Sikkim. Upon arrival at the road-end in Hilley, we begin a leisurely 4km/45-minute walk to Varsey through the aroma of blooming rhododendron flowers. Varsey lies on a massive ridge with a forest cover of silver fir, hemlock and magnolia and rhododendrons. This protected forest is also excellent for birding.
Overnight in simple Guest house.  Option for Camping available.
Day 4: Varsey – Dentam – Pelling (B/D) After breakfast walk for about 10km/2-3hrs along a well-trodden path to the village of Dentam(1500m) traversing through  mixed forest with more rhododendrons. Bird sightings may likely include the Tragopan and Kalij pheasants, the Golden Robin and Laughing Thrushes. The constant view of the snowy Khangchendzonga range in the backdrop adds further appeal to this hike.  Meet your vehicle at Dentam and drive through picturesque rural scenes and villages to Pelling, which takes 2-3hrs. This evening you may visit Pemayangtse monastery or it may be done next day
Overnight in a resorts, Pelling.
Day 5: Pelling – Ravangla (B/D)(73 km 4 hrs. 2100m) Wake up early morning to see Mt.Kanchendzonga right in front of you (weather permitting).After breakfast drive to Ravangla, en-route visiting Khecheopalri Lake also known as the wishing lake. This unusually tranquil Khecheopalri Lake is surrounded by blooming forest and is considered as one of the sacred lakes of Sikkim both by the Buddhist and the Hindus. Later visit Tashidhing monastery one of the oldest (early 17th Century AD) and holiest monasteries in Sikkim. Must visit for anyone interested in Monasteries. Mere view to one of the chortens (Thong-Wa rang-Dol) here is supposed to cleanse all the sins of the beholder. Most important festival : Bhumchu Ceremony on 14th & 15th day of the first lunar month, during which the sacred holy water preserved here in taken out and a portion is distributed among the pilgrims.
Overnight in a Resort, Ravangla
Day 6: Ravangla -Gangtok (B/D)(80km 3 ½ hrs. 1780m) After breakfast at the resort drive to Gangtok, En-route visiting picturesque Temi Tea Estate which produced one of the finest Tea in India,later visit Rumtek monastery-Dharma chakra centre and the seat of His Holiness Gyalwa Karmapa head of Kagyupa order of Tibetan Buddhism (Black hat sect). Before arriving Rumtek stop at Picturesque Martam valley-Terrace paddy farming worth seeing.Upon arrival check into your hotel.
Overnight at the hotel.
Day 7:  In Gangtok (B/D) We begin the day's excursion by driving to one of the highest points above the town for a bird's eye view of the town and to see the high-snowcapped peaks on a clear day. Then we descend and visit Enchey monastery. Visit Flower Exhibition, which is found almost through-out the year near Whitehall. Walk along this ridge through the former Palace area for general idea of the place. The other places, you may wish to visit is the Directorate of Handicrafts & Handloom, where you can see traditional handicrafts in the making. Later visit Institute of Tibetology, a treasure house of rare Lepcha, Tibetan and Sanskrit manuscripts, statues and old thangkas. Nearby also visit the the Dodrul Chorten monastery. The area in which Dodrul Chorten and the Institute are located, is also a Orchid Sanctuary.In the evening, you can take a self guided walk along the MG Marg road, a cobbled pavement street, lined with shops and restaurants. Just below it is the Lal bazaar, a colorful farmer's market place.
Overnight hotel in Gangtok.
Day 8: Gangtok-Bagdogra-Departure (B) Departure transfer to the airport in Bagdogra, NJP train station or Siliguri (Approx 4hrs drive)