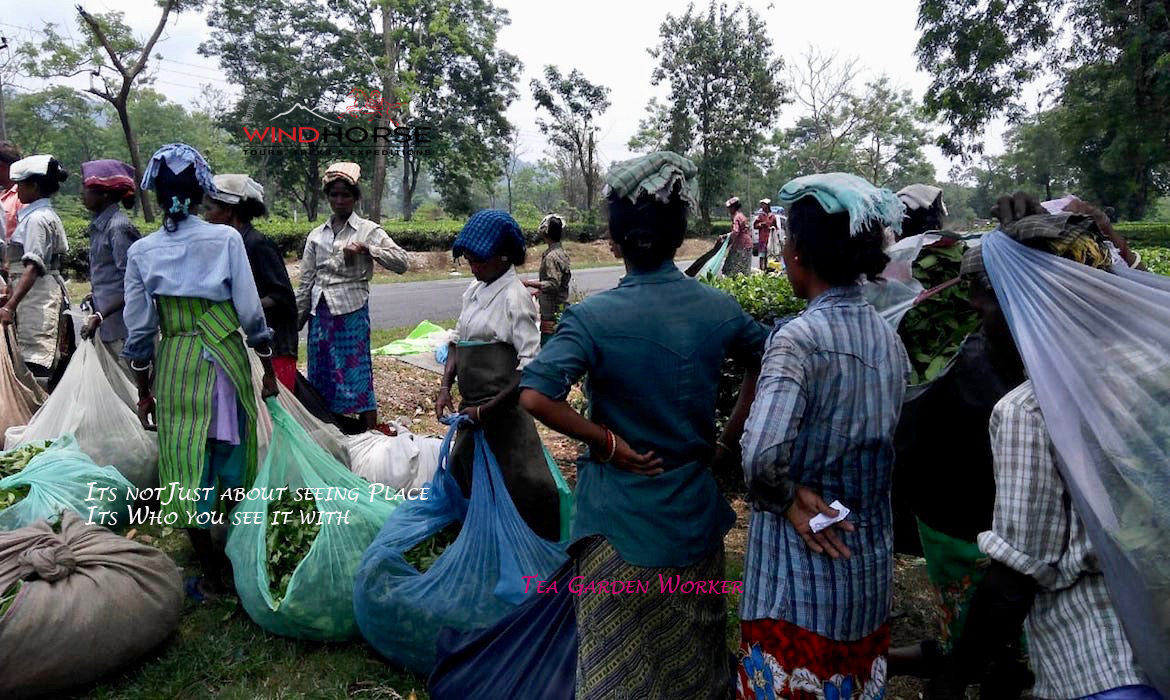 Trip highlights
Elephant/Jeep safari in Jaldapara National park.
Visit Buxa Tiger Reserve.
Visit the tribal village of Toto in Totapara and Dukpa village of Lepchaka
Offers an opportunity to observe the rare Asiatic one-horned rhino
Royal Bengal tiger and variety of birds and other mammals in the National Parks.
Trek through the dense forests, hills, tea gardens, and picturesque surrounding of the Dooars.
For this least explored land called Dooars literally means "Gateway to the mighty Himalayas". This large swathe of fertile plains rolls out to meet adjoining foothills of Darjeeling, Sikkim & Bhutan. Its anonymity on the world map contributes to its charms and forte even though it is home to some important national parks, forest reserves, tea gardens, and some unique tribes. In a way, it could retain an air of fabled mysticalness.

Rolling green landscapes envelops subtropical foliage and Tea Gardens and National Parks, in particular, pulsate with a myriad form of life such as obstinate unicorn Rhinoceros, highly elusive Royal Bengal tiger, Asiatic Elephant, rare and endangered avian, etc and typical subtropical flora.

On the fringes of these National Parks and Forest Reserves, many settlements proliferate over time. This trip probes the wildlife through Jeep and Elephant safari in the park and explores these settlements through moderate hike on the trails least trodden by any standard. It focuses primarily on the northern edge of the plain that borders with southwest Bhutan; these areas are devoid of any form of modernity excess – striking quaint yet evocative appearance.
Outline Itinerary
Day 1. Bagdogra-Jaldapara. ( 127 KM/4 hours)
On arrival at Bagdogra airport meet our representative and drive to Jaldapara national park (Madarihat). The drive passes through the Siliguri area and across the Teesta river that separates the foothills of Darjeeling with the Dooars, we will come across rolling green tea gardens, small towns, and villages all along the way. On arrival check in to the tourist lodge. Overnight in a tourist lodge.
Day 2. Jungle Safari and drive to Rajbhatkhawa (Buxa tiger reserve)
Jaldapara is a national park with a wildlife sanctuary. The park boasts of the highest population of one-horned Rhinoceros in the state. Wake up early for an elephant ride. It takes around 20 minutes to reach the elephant riding point in Hollong. Most likely wildlife to sight is one-horned Rhinoceros, Asiatic elephant, different species of deer, peacocks, birds, etc. After breakfast drive to the tribal village of Totopara, inhabited by TOTO, a unique tribe of Indo –Bhutanese origin with distinct culture and tradition. After the visit,  a scenic drive traversing through deciduous forests will take us to Rajabhatkhawa. Overnight in a forest lodge.
Day 3. Jungle Safari and Pukhri hill hike.
After breakfast drive to Jayanti for a Jungle Safari in Buxa Tiger Reserve. Although a famous Royal Bengal Tiger Reserve, there are only a very few instances of sightings. However, there are opportunities to sight other wildlife such as tiger leopard, elephants, bears, civets, giant squirrel, Gaur, Chital, clouded leopard, wild Buffaloes, antelope, and snakes, and also different species of birds and butterflies. After lunch hike to Pukhri hill where there is a small pond, considered sacred by Buddhists and Hindus and especially during sacred Buddhist holy month, Buddhist release fishes in the pond to mark the ritual. Later, retrace the steps and meet the vehicle and drive back to Rajabhathawa. Overnight in a forest lodge.
Day 4. Trek to Buxa Fort/Lepchaka village.
Drive to the trailhead at Santalbari(18kms/45min) and trek to Buxa fort. This is a 4kms trek through dense forest, hills, and picturesque surroundings with viewpoints and shades along the way. Explore Buxa fort and Buxa Heritage Museum for some time and continue further for about 3kms to Lepchaka, a small hilltop village mostly inhabited by Dukpas – similar to Bhutanese with every aspect ranging from language, tradition, culture, and religion.  Overnight in a village hut.
Day 5. Trek to Jayanti-Drive to Rajabhatkhawa.
Trek from Lepchaka to Jayanti. The trail is a mixture of the village, forest, and riverside hike. Technically, it all descends and crosses the river Jayanti a few times. In the beginning, we will visit the village monastery and also chances to see wildlife is prime along the way. The hiking distance is approx. 9 km and takes around 5-6 hours to cover. Upon arrival at Jayanti, board on to the waiting vehicle and drive to Rajabhatkhawa for an overnight stay. Overnight in a forest lodge.
Day 6. Departure.
After breakfast transfer to Bagdogra airport for your departure flight or you can extend your tour to Bhutan, Sikkim, and Darjeeling.
Group SizePrivate tour with your own group.

Trip AccommodationBest available tourist lodges and resorts.

RouteBagdogra-Jaldapara-Rajabhatkhawa-Bagdogra

Trip Type Wildlife Safari/Jungle Safari and Bird Watching


Trip SeasonsBest during Oct-March

Best MonthsFebruary, March, October, November

Good MonthsJanuary, December

Lean MonthsSeptember

Not RecommendApril, May, June, July, August
Prices & Dates
Starting from USD$ 480 is based on group size, travel date, hotel , vehicle etc. Please contact us for detail.
Included
• Accommodation in listed or similar lodges/resorts or village Home Stay.
• Meals as specified with the cost.
• All land transfers and transportation by exclusive good quality vehicle.
• Bottled mineral water in the drive.
• All sightseeing and entrance fees.
• Experienced English speaking tour guide.
Not included
• Indian Visa.
• International or domestic flight fare.
• Personal expenses such as bar/beverages in the hotels, optional tips/gratuities to staff, laundry, gifts, etc.
• Any additional cost of forced upon by changing itinerary due to your health/medical, political situation,
or inclement weather.
• Medical travel insurance.
• Anything not included in the included section.
Trip Guide/Leader
---
×

Anand Thapa who hail from Jaigoan – one horse town that border with south west commercial hub, Phuentsholing, Bhutan. He had his schooling in Bhutan. Later he went to Darjeeling to pursue further education. With the lush green tea garden, colonial churches and looming Mt Kanchenjunga captured his imagination, this is how travelling struck him deep.

After his studies, he went to Kathmandu and to different cities in India, making a living doing odds jobs. Finally, he joined Wind Horse tours overlooking the affairs of guests relations, marketing in 2013. Meeting and interaction with guests from different walk of life have fuelled his passion to a new height and claims to be a huge influence as a  learning experience.

×

Leading cultural & trekking trips for over 20 years in Nepal & Sikkim & Darjeeling. Karma Lama claims working as free-lancer guide best suit his temperament – the space liberates him to conduct tour with renewed vigor. He has worked with major travel outfitters in the region and has earned many accolades for his inviolate honesty and undiminished competence.
He is integral part of Wind Horse (Sikkim & Darjeeling portion) and has been leading tour for us with his usual flair and panache. Born, brought up and studied in Darjeeling – tourism's Mecca in North East India. Started right after his Bachelor degree, he started as culture guide and over the time he added trekking in his repertoire too.