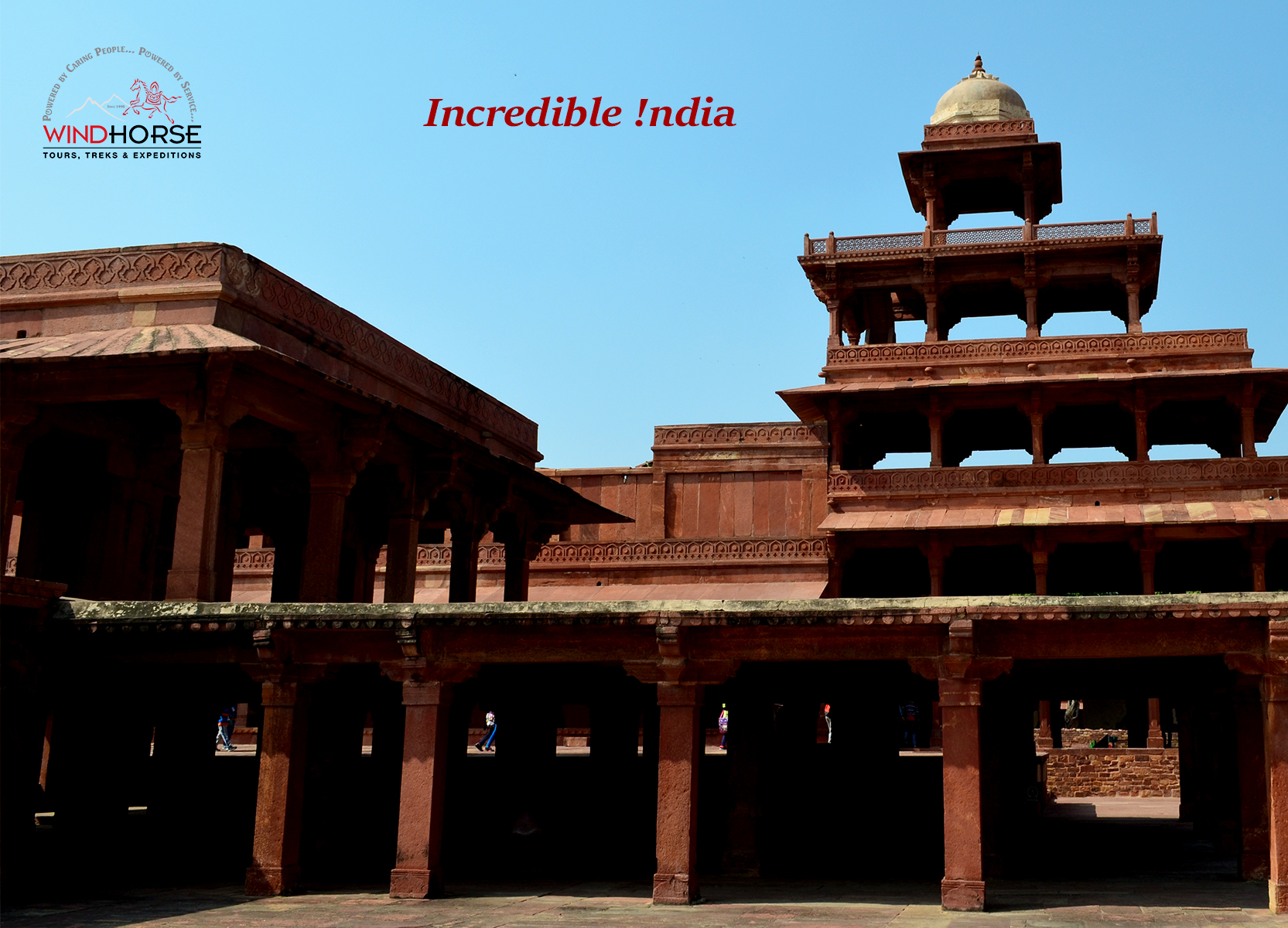 Trip highlights
•    Heritage walks in Delhi
•    Forts & Palaces
•    Walking in colorful market of Jaipur
•    Local Indian Home visit
•    Cooking Lesson
•    Off-the-beaten path
•    Wildlife Safari in search of Tigers
•    Rural Village Tour
•    Taj Mahal
•    Indian Rail Journey experience
•    Bicycle in Khajuraho
•    Boat ride on Ganges
•    Rickshaw ride experience
•    Benaras Walking Tour
•    Silk Weaving Community visit
•    Staying in a Palace hotel
•    Trying local food
For most destinations, you take a trip, but for India, it's a journey where you arrive into the remnant of its rich historical past laced with layers of engaging diversities that you seemingly find at every turn. Our Essence of North India tour celebrates these diversities, in conjunction with visit to heritages monuments, world-class attractions, rural villages and captures spiritual essence of place from close quarters. Most importantly, we have empowered into the fold the most significant element – people. We set leisurely walking pace or in cycle to visit villages, striking chord with locales with greater interaction and delving deeper into their daily lives. The itinerary unfolds each day with diverse elements and surprises, such as rubbing shoulder with locals in bustling maze of alleys/lanes, exercising simple aesthetic like rickshaw ride, or when haggling for small pieces of souvenirs.
From Taj Mahal in Agra to Qutbub Minar in Delhi to Hawa Mahal in Rajasthan, exotic and sensual work of arts in Khajurao, see north India as it lives and breathes. Landscapes, Wildlife, Safari, Boat rides, vibrant towns, short walk to local homes and villages and every day moments capture the spirit of one of the world's oldest cultures and traditions. Inclusion of fast train and flight with an intent to be time effective, even relatively longer drives are interrupted by succession of stops, which are meant not merely to ease the affect of long drives but also to lend insight into roadside villages and homes.
Outline Itinerary
Day 1: Welcome in Delhi.
Upon arrival in Delhi airport, meet our representative and transfer to hotel. You can arrive at any time as no activities are planned for today. Rest of the day is for you to relax and adjust to the time change. Overnight in hotel (no meals)
Accommodation: Jaypee Siddarth Hotel. With elegant interiors and modern comforts, it is located at the hub of commercial centre of New Delhi.
Day 2: Heritage Walk - Old Delhi & Hauz Khas Village
Delhi the capital of India is a symbol of country's rich past and thriving present. It is a city where ancient and modern blend seamlessly together. Our adventure begins with a walk in the Old Delhi, city's most crowded, chaotic and captivating areas, with a bamboozling orchestra of sights, smells, and sounds. This walk takes you through the rambunctious bazaars and historic shrines around Old Delhi's main strip, Chandni Chowk. You will pass through century-old sweet shops, jewelry market, bubbly bazaar specializing in wedding paraphernalia, temples, and many little eateries. Indulge in rickshaw ride or bargain for souvenirs. Subsequently, visit Jama Masjid, largest mosque in country at the end of this walk. After lunch at a nice local restaurant, head to south Delhi for a heritage walk to explore medieval ruins in Hauz Khas village & Deer park that entails visiting ruins of Islamic seminary, mosque, tomb and pavilions from 13th & 14th century. After about 2-3hrs of wandering around, spend sometime wandering the Hauz Khas village, where alleyways of this arty little enclave are crammed with boutiques selling designer Indian-clothing, handicrafts, handmade furniture, and dine in one of the fine restaurant before returning to your hotel.
Accommodation: Jaypee Siddarth Hotel.

Day 3: Drive to Jaipur-The pink city of Rajasthan
After breakfast, enjoy a drive through tour of the Imperial part of Delhi, viewing buildings of India's Parliament, Rashtrapati Bhawan (residence of India's President), and the India Gate, a memorial to Indian Soldiers as we drive slowly and pause to take few photos. Head towards south Delhi to visit Qutab Minar complex, a world heritage site dating back to the late 12th century. Its main attraction is Qutab Minar, the highest brick minaret, 72.5-meter-high tower of victory started by the first Muslim ruler of Delhi. Drive to Jaipur, which takes about 5+hrs to cover 250KM. Depending on how much time we take, lunch may be in Delhi or on the way to Jaipur. Jaipur, the capital city of Rajasthan was established in 1727 by Jai Singh II, and is India's first planned city. It is known as the Pink City because of the color used exclusively in the walled city. Upon arrival in Jaipur, check into your hotel and rest. Dinner and overnight.
Accommodation: Four Points by Sheraton. Comfortable rooms providing breathtaking views of the city skyline or the majestic Aravali Hills.

Day 4: Jaipur sightseeing & Indian Home Visit
Jaipur harbors constellation of historical monuments and religious edifices. There is so much to see here, we will set on course with the visit to Jantar Mantar (Astronomical observation site) followed by visit to City Palace Museum (former royal families still live in a section of this palace). See Hawa Mahal, or Palace of the Winds, built in 1799. It isn't really a palace at all—it's a five-story facade where the women of the royal family could look out over the street scene of the city through more than 900+ ornately decorated sandstone windows.Later take a walk into vibrant Jaipur shopping market in the old city. Observe local artisans like silversmiths, bangle makers at work. Explore 'Block Prints and Vegetable Dying" which are very typical of the state of Rajasthan. Try some of the local cuisines during the lunch. Return to hotel for short rest. In the evening, meet local family where you can take part in an interactive cooking lesson. Learn about their favorite dishes and share a delicious dinner. It is a great way to immerse in the local culture. Overnight in Jaipur.
Accommodation: Four Points by Sheraton.

Day 5: Amber Fort and Ranthambore
After breakfast, check out of the hotel and drive short distance (11km away) to visit the 16th century Amber Fort & Palace, located on a hilltop,is an excellent example of Rajput architecture. The wall of Sheesh Mahal palace inside the fort is completely covered in little mirrors, so the room illuminates with the light from a single match. The splendor of the fort is enhanced by the breathtaking vista of the Maota Lake in front.Drive to Ranthambore which takes approximately 4hr. (160 Km). Ranthambore National Park is home to many wild lives such as Indian Tiger, Leopard, Marsh crocodile, hyena and many more. Also varied species of avian are found (350 species recorded including migratory and resident birds). It used to be hunting ground for Maharajas of Jaipur. Now it catches attention worldwide mainly for Indian tiger conservation project. Upon arrival in Ranthambore, check into the hotel for dinner.
Accommodation: Hotel Ranthambore Regency, located on a private estate made up of woods and farmland, skirting the Ranthambore National Park. It is a one of the most authentic and tastefully done up hotel in the vicinity.

Day 6: Ranthambore National Park Safaris
Dawn and Dusk are the best time for sighting of wild lives, when they remain most active. Wake up early morning for jeep safari into core area of the park. Upon return, enjoy breakfast, after rest, relax or stroll around till you gear up for evening jeep safari. The safari will be in a shared Jeep (max 6 passengers in one Jeep) with a local driver and experienced Naturalist Guide.
Accommodation: Hotel Ranthambore Regency.

Day 7: Drive and Explore Karauli and Bharatpur
After breakfast, drive approx 3hrs/100km to quaint, rural with breathtaking landscapes to Karauli. Once there,take a stroll in town and meet people, who radiates warmth and congeniality. Also visit local houses and interact with people, lending insights into their social, cultural structures and also into their daily life. Visit the City Palace which is an epitome of the rich heritage of the region. Lunch is organized in regal Bhanwar Vilas Palace. Continue our journey for another 3hrs to Bharatpur (3hrs/ 130Km). The history of Bharatpur dates back to 5th century BC, when the Matsya kingdom flourished her. However it was from early 18th century, when Maharaja Suraj Mal captured the fort of Bharatpur by vanquishing the rival chieftain,that laid the foundation for Bharatpur. The valiant Maharaja expanded and built numerous forts and palaces that dot the kingdom. Check into the hotel for dinner and overnight.
Accommodation: Laxmi Vilas Palace hotel. Converted into a heritage hotel in 1994, a part of it still continues to be a residence of the family of erstwhile royal family of Bharatpur. The furnishings, photographs and paintings on the walls remind one of the glories days of the Raj.

Day 8: Rural Village Tour - Deeg and drive to Agra
Deeg is a beautiful garden town situated north of Bharatpur, that boasts of palaces, gardens and fountains. The highlight of Deeg is an impressive fort surrounded by moats and gateways. Stroll in village to experience rural village life in India. We may also visit a local hospitable nearby. Picnic lunch at an idle location. Then drive to Agra, which takes bit over 2hrs (100km). Check into the hotel in Agra.
Accommodation: Crystal Sarovar Premiere, which offers a calm and peaceful oasis for leisure travelers. The efficient team of the hotel ensures that your expectations are adequately met.

Day 9: A date with Taj Mahal & Agra fort
Agra is synonymous with the World Heritage site – Taj Mahal, a cultural icon of India. It embodies the essence of never changing love and romance. Before dawn is the ideal time when first light of day makes Taj Mahal bathe in surreal beauty. We 'll visit before dawn for the most beautiful vista of Taj Mahal, soak in its grandeur for a while. Return to hotel for breakfast and then proceed to visit another landmark – Agra fort. Emperor Akbar, the great, commissioned the construction of the Agra Fort in 1565 A.D. Additions were made by his successors until the time of his grandson Shah Jahan. It has a total perimeter of 2.4KM, ringed by double castellated ramparts of red sandstone punctuated at regular intervals by bastions. A deep moat surrounds the outer wall. There are number of exquisite building enclosed such as Moti Masjid –akin to perfect pearl, Diwan-e-Am, Diwan-e-Khaas, Jehangir's Palace, Khaas Mahal, Shish Mahal and Musamman or Samman Burj-where Shah Jahan was held captive. Rest of the day is free to explore on your own or rest in the hotel. Option to explore the local artisans, Dhobi Ghat, sound/light show, will be offered by your guide.
Accommodation: Crystal Sarovar Premiere.

Day 10: Train Journey to Jhansi and Drive to Khajuraho via Orchha
After early breakfast, transfer to railway station to board India's faster air-conditioned train; Shatabdi express that takes us from Agra to Jhansi (215km in less than 3hrs). Travel by train is the main means of transportation for Indian and this will also allow you to opportunity to meet with locals and converse. Upon arrival in Jhansi (10:45am), meet our vehicle and drive short distance to Orchha (20km/30min). Orchha is historic town, nestled on the banks of river Betwa, with rich legacies in form of its monuments. It strikes an impression that time has come to complete standstill here due to its quaintness and also as its monuments are still in inaugural form. Once there, visit Raja Mahal, Jehangir Mahal, Chhattris that are cenotaph and Laxmi Narayan Temple, whose walls are adorned with beautiful mural paining depicting mythological theme. After lunch, continue our drive to Khajuraho, which takes approximately 4+hrs (170 Km) Upon arrival check into hotel. Overnight & Dinner in Khajuraho.
Accommodation: Ramada Khajuraho. Redefining comfort, the hotel will give you a tranquil break with a hoard of amenities ranging from the necessities to the luxuries.
Day 11: Khajuraho Group of Monuments and Village Cycling Tour
Khajuraho houses some of the finest work of art in stone in sensual and erotic form dating back to 10 century. These masterpiece Indian arts are labeled as UNESCO world Heritage site. In morning we will explore these work of arts in detail. After lunch, we 'll cycle to nearby village with the same name Khajuraho. It still retains quaintness and oozes out with rustic element. We may have opportunity to visit local home and interact with people. Return to hotel for dinner. Overnight in Khajuraho.
Accommodation: Ramada Khajuraho.
Day 12: Fly to Varanasi - Hindu's spiritual Capital.
After relaxed morning at hotel, transfer to the airport for our 40 minutes flight to holy city of Varanasi, a magnet for millions of pilgrims from around the world who come annually to worship, meditate, and bathe in the sacred waters of the Ganges River. It is vibrant city, the "timeless soul of India," with its ancient alleys, golden temples, ashrams, and riverside ghats. Upon arrival in Varanasi, transfer to hotel. Towards evening, walk through narrow alleyways on a walking tour of the Old City finishing up at the riverside, where every evening, groups of priests perform a ganga aarti (fire ceremony) at the Dashashwamedh Ghat. After witnessing the spectacle aarti lighting ceremony at the bank of Ganges, return to your hotel
Accommodation: Radisson Hotel Varanasi. It is ideally located for visiting nearby shrines and temples. At the hotel, you can enjoy a restful sleep in our comfortable rooms.
Day 13: Heritage Walk and Silk Weaving Community
At dawn, as sun rises, enjoy the a boat trip on the Ganges, with tranquil ambience; seeing pilgrims making their devotions against the backdrop of centuries-old temples—one of the most famous sights in India. The devotees are doing varied religious activities such as bathing, yoga, ritual etc. The river is believed to have the power to wash away the sins of mortals. It is considered auspicious to die in Varanasi and some devout Hindus move here at the end of their lives and have their ashes scattered in the holy waters of the Ganges. Return to hotel for breakfast. Get ready with your comfortable shoes as you will head for a heritage walk in old part of Varanasi. Stroll in the narrow lanes with local expert who will weave the charming story of this 3000 yrs, as you pass Ashrams, temples, flower shops, eateries and so forth. After lunch at a local restaurant, we will pay a visit to Silk weaving community, who still adhere to an age old practice to make famous "Varanasi Sari". Watch the weaver in action. Taking a closer look, we can find social fabric interwoven with thread of silk that help to make their living. Return to hotel and dinner. Overnight in Varansi.
Accommodation: Radisson Hotel Varanasi.

Day 14: Fly back to Delhi and Departure
Free morning where you can rest, relax, explore town on your own or introspect at the concluded experiences. Around noon, transfer to Varanasi Airport for your flight back to Delhi. Upon arrival, transfer to hotel in Aero city, which is about 10 minutes from the airport. Rest of the evening is free to relax in airport hotel until your departure.
Accommodation: Hotel Ibis Delhi Airport. Located just 3km from International Airport, Ibis is a modern hotel with small compact rooms, offering all basic amenities including 24hr reception and restaurant that is idle for stopover rest before your connecting flight. For many of the visitors, the night at Delhi may not be necessary,
as they can connect the same day. If this should happen,a discount will be offered.
Day 15: Departure
Departure transfer to the airport in time for return flight home or to other destination.
Group SizeMax. 7

Meals13 - Breakfasts, 12- Lunch, 12- Dinner

Trip AccommodationCombination of modern and heritage hotels

RouteDelhi-Jaipur-Ranthambore-Bharatpur-Deeg-Agra-Orcha-Khajuraho-Varanasi-Delhi

Trip Type Cultural Tour


Best MonthsJanuary, February, March, October, November, December

Good MonthsApril, September

Lean MonthsMay, July, August

Not RecommendJune
Prices & Dates
Tier Pricing cost based on the total sign-ups. At the time of sign-up, the cost will be taken on the basis of 2 Passengers and the final invoice will be raised based on total number of sign-ups.
Starting from $2390 Per person.
Plus airfares to and from India.
For private trips, the cost will add between $100-300 depending on the dates and hotels used.
Single room supplement $690
| | | | | |
| --- | --- | --- | --- | --- |
| Start date | End Date | Remarks | Status | |
Included
• Accommodations for 14 nights in above mentioned hotels
• All transfers and sightseeing by private vehicle
• Sightseeing with entrance fee as per itinerary
• Services of experienced english speaking Guide
• Meals as mentioned in the itinerary (13 breakfasts, 12 Lunches, 12 Dinners as indicated by B, L, D)
• Train Journey by AC Chair Car (Agra-Jhansi)
• Boat ride on Ganges
• 2 Flights (Khajuraho – Varanasi – Delhi)
• 2 Jungle Safaris in Sharing Jeep at Ranthambore National Park
• All Travel activities mentioned in the itinerary
• Bottled Mineral Water during the day drives
• All applicable Government Taxes and Fees for above services
Not included
• Indian Visa
• Any other meals not specified
• Optional Personal expenses such as Tips, laundry, bar, beverages, etc.
• International flights to Delhi and return
• Travel & Medical Insurance
Accommodations
---
Hotels in New Delhi
Hotels in Sawai Madhopur
Hotels in Varanasi
Hotels in khajuraho
Hotels in Jaipur
Hotels in Bharatpur
Hotels in Agra
Trip Guide/Leader
---
×

Rajat Gupta is the gun young at Wind Horse Tours, New Delhi. With his advent there is  infusion of fresh ideas, exuberance and passion , that changing travel scenario demands. He completed his degree course in Tourism Management in 2014.
At Wind Horse Tour, India, he is  setting pace for innovations and fresh perspectives to thrive and to meet new demands. With opening of window for Visa on Arrival for many countries by Indian Government, this has thrown door wide open for travel industries to redesign structural patterns in term of infrastructures and itineraries.

He inherited the passion for the travel business from his father Santosh Gupta. While growing up or still now the travel talks  hogs the limelight at the  dinner table. He alway knew what he wanted or how he wants to shape up his career. Choosing travel management course was a conscious choice to  hone his passion.

×

Gaurav Goyal remains stalwarts  of Wind Horse Tours, India since its inception in 2005. Along with company he gained salience. His friend says " He aged once he started to work ". Like any other works, it was hardly a stroll in park at the start. In initial days, where every little aspects was overwhelming to learn but he weathered  the storm tenaciously and befitting he is in the stage where a rave review from the guests is just like another day in the office.

He grew up in old Delhi locality and did his college from there itself. He is familiar with every nook and corner around Delhi and surrounding regions. This assist in untying knots of intricate history of Delhi and its monuments it harbours in its fold when taking guests on tours.

When not guiding, you can find him in cricket ground  with a Kookaburra cricket ball in hand all geared up to disturb the three timbers that batman passionately guard.

×

Being linguist goes a long way in finding expression to a certain beliefs that you hold aloft. Shyam Vijay is one among a very few mortal who speaks almost all north India regional languages along  with fluent Spanish and English. Some beliefs hold long, it hardly becomes vague or blur with time. The love for travelling and passion to share to one and all rang true as a child, and grew mammoth as he grew up.

His fascination for languages was inspired largely with travelling and relocating to different regions in India due to his father's jobs. Once he came across Spanish tourist speaking the language. He was mesmerised with its sound, articulation and countenance on guest face. He felt like to hear and watch them forever.

Next moments he enrolled for Spanish class and passed out in flying colours. Along with his post graduate degree with major in History in 2008. He was all set to roll.

He started his career as guide as free lancer. Treading upon the path less trodden in the regions in trek of north India Himalayas as well as leading  cultural tours in the region with flair and panache. He joined Wind Horse Tours in 2010. He hails from picturesque town of Jaipur in Rajasthan.