Everest Sherpa Cultural Trek
10 Days
Till Namche bazar & Tangboche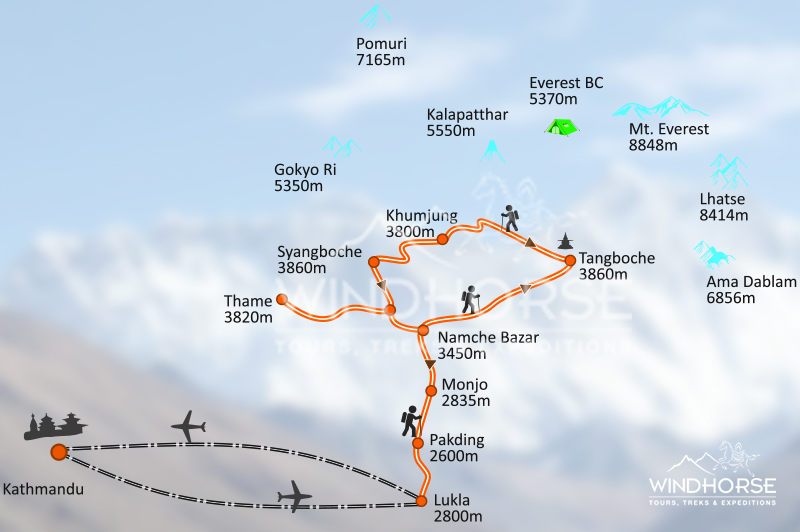 Trip Grade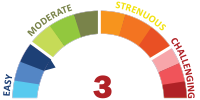 Trip Price From US$ 1270 | See Details
Trip AccommodationDuring the stay in Kathmandu there will be 3 to 5 star hotels. During the trek Guest House and Mountain lodge with basic Amenities. See Details
Group Size9
MealsAll meals Included
RouteKathmandu, Lukla, Namche Bazar, Tengboche-Lobuchhe-GorakShep-Everest Base Camp- Kalapatthar-Lukla-Kathmandu
Trip TypeTrekking and culture
Trip SeasonsSeptember to November, March to May
Best MonthsMarch, April, September, October
Good MonthsFebruary, May, November, December
Lean MonthsAugust
Not RecommendJanuary, June, July
Trip highlights
Sightseeing tour to various historical/natural/cultural world heritage sites in Kathmandu
Magnificent scenic flight to Lukla from Kathmandu
Experience the lifestyle and traditions of Sherpa people living in the Himalayas
Trekking in Sagarmatha National Park (Listed in UNESCO world heritage natural site)
Scenic spectacular view of Mt. Everest from Everest view hotel
Discover numerous Buddhist monasteries and other cultural monuments Variety of floras and faunas
Explore the Sherpa Museum in Namche Bazar & a bustling remote village town of Sherpa settlement at the altitude of 3440m
Visit to Tengboche Monastery situated at the height of 4000m
Discover rich Buddhist and Tibetan culture and traditions
Eye-popping view of world's highest mountain, Mt. Everest
Visit to Sir Edmund Hillary School in Khumjung
The Everest cultural trek is dignified as easy trekking in Nepal, tourists do not need prior trekking experiences and they can do with their family members as well. Everest cultural heritage trek is also suitable who has problem of high altitude sickness and have limited time. You will be exploring below the 4000m altitudes in the Everest region till Namche Bazar and Tangboche. You will be able to see the various breaths taking panoramic views of some of the highest mountain in the world including the Mt. Everest from Namche Bazar Shyangbuche and Tangbuche. Everest cultural heritage trek brings you up close to the Sherpa people and their heartland of Khumbu region. Everest cultural heritage trek till Namche bazar and Tangbuche offers magnificent Himalayan culture, life style, Sherpa culture museum, traditions and living style of the Sherpa people, traditional Sherpa villages, Buddhist monasteries, snow-capped peaks and diverse flora and fauna.
Everest cultural heritage trek begins by visiting the medieval City of Kathmandu Durbar Square, Swambhunath Stupa in the morning and doing trek preparation in the afternoon, which are listed under the UNESCO world heritage sites in Kathmandu valley. After visiting world heritage sites and preparing for trek in Kathmandu, next day we will take 30 minutes scenic mountain flight to Lukla (2840m). Lukla is the heart of Solu Khumbu and the starting point of our trekking. The trek continues through Sagarmatha National Park, where you will explore the diverse flora and fauna of Khumbu region. On the second day of our trek, the trail follows the Valley of Dudhkoshi River to reach to Namche Bazar. Everest culture heritage trek takes trekkers to climb above Namche bazar for excellent view of Everest and other Khumbu region mountains such as Aamadablom, Lotse, Kusum Kangakaru, Kangtega, Thamserko, Kongde etc. After having one-day rest in Namche bazar Next day we reach the famous Tangboche Monastry that serves as spiritual center of the Buddhist Sherpa of Everest region. Then the Everest cultural heritage trek descends back to Khumjung village, Thame, Monjo and Lukla. From Lukla we take breath taking mountain flight to Kathmandu.
Outline Itinerary
Day 1: Arrival in Kathmandu (1310m) Upon arrival at the airport in Kathmandu, meet and transfer to the hotel. In the afternoon, you have the option to be escorted on a stroll around Thamel and the local streets of Kathmandu. Served with welcome dinner in the evening with a typical traditional Nepali culture Program.
Overnight in Hotel Kathmandu.
Day 2: Kathmandu Tour & trek preparation (B) After breakfast start sightseeing covering Kathmandu Durbar Square and Swambhunath stupa. These two sites are also UNESCO world heritage site. Kathmandu Durbar Square area holds the palaces of the medieval Kings who ruled over the Kathmandu Kingdom. Swayambhunath is popular among the foreigners as Monkey Temple. A large number of monkey population is residing in this area. In the afternoon you will be briefed about your trek and have some time to prepare/shop around.
Overnight in Hotel Kathmandu.
Day 3: Fly to Lukla & Trek to Phakding (B/L/D) Early in the morning transfer to domestic airport in time to board a flight to Lukla, which takes about 30 minutes. On the flight, watch the rugged foothills give way to the snowline of the Himalaya; many of the world's highest mountains. After an exciting landing at Lukla, you will meet your Guide/ porter that will carry your luggage every day until you return to Lukla. After giving the porter a chance to load up, depart Lukla (2840m) on the stony path that descends from the forested terraces into the Dudh Kosi valley. The trek starts out with an easy, mostly downhill leg from Lukla to Phakding. It takes us through pastoral lands of the Sherpas, passing several small villages and individual farms. Many Sherpas now make their living exclusively from trekking and there are also many tea houses and basic lodges where it's possible to stop for a drink or a chat. You will also pass by many stone walls, intricately carved with prayers, and prayer wheels of all sizes and see many colorful strings of prayer flags fluttering from high points and bridges. After about 3 hours of trekking we finally meet the river and reach our first lodge at Phakding at 2610m (lower than Lukla)‐ located beside the tumbling Dudh Koshi. (Approx. 8km/ 3hrs trek, ascent 430m ‐descent 620m).
Overnight in Phakding, (Simple lodge)
Day 4: Phakding to Namche Bazaar (3400 m)(B/L/D)  Today will be one of the challenging day physically on your trek, so take it slowly. A pleasant walk by the river through pine forest leads to a short climb to escape a narrow gorge section, passing several villages and lodges. Cross Monjo and arrive at the entrance to the Everest National Park where details of our permits are recorded. Continue trekking past Jorsalle village, the drop down again to the river which we cross on a suspension bridge. Continue up the wooded valley on a good trail and cross the river again before reaching a confluence of rivers one coming down from Thame and the other from the main Khumbu Valley. We make a final crossing on tremendously impressive suspension bridge, spanning a deep chasm and then begin an hour and half long ascent to Namche on a wide switch back trail. This sting of the trail is the steepest in todays' hike on otherwise gentle ascent day. An hour below Namche, near Chutara, we gain views of Everest. Eventually after about 6hrs of hike, pull into Namche Bazaar, the Sherpa capital with its houses built one above the other on the steep sides of a sloping mountain bowl. The narrow streets at its centre are a mixture of cyber cafés souvenir shops. Namche (3420m) is a bustling market where goods as far away as Tibet were and still traded and the hub of everything that goes on in the Everest region. Rest of the day free to relax or explore. On Saturdays' there is generally open weekend market too. (Approx. 12km/ 6+hrs trek. Ascent 1300m ‐ descent 500m).
Overnight in (Simple lodge)
Day 5: Namche from Syangboche (B/L/D) Visit the internationally known Museum of Sherpa Culture & Everest Photo Gallery nearby. Our stay in Namche naturally helps in acclimating to altitude and so we begin another 2hrs steep climb up to Everest View Hotel, passing Syangboche airstrip (3700m) along the way. Opened in 1971, Guinness Book of World Records (2004) accords it the status of Highest Placed Hotel in the world. View Everest from almost every room and enjoy 360' panorama from the hotel sun deck, sipping coffee. In case of altitude sickness, Oxygen bottle, Gamow bag, rescue helicopters are available here. Relax and enjoy the rest of the day in this historic hotel or walk to nearby village. (Approx. 2.5km/2hrs ascent 460m)
Overnight in Shyangboche, Hotel (3880m)
Day 6: Syamgboche to Tengboche (3870 m)& then to Pangboche (3970)(B/L/D) After early breakfast, we begin a bit more challenging day. Leaving the hotel, the trail leads towards the head of Kumjung (3790m) to join the main trail for Tengboche, that descends to Dudh Koshi (3250) with several lodges and series of water driven prayer wheels. From here, a steep ascent of about 600m brings you to the ridge‐top Tengboche (3870m), the famous monastery with Ama Dablam, Everest and other peaks in the background. Tengboche is famous and is considered the biggest monastery in the region. Descend down to Debuche village, cross the Imja Khola river, and climb through the rhododendron forests, past mani stones to Pangboche village and to your lodge located at (3980m). Pangboche used to be the highest permanently occupied village in the Khumbu until tourism created a demand for lodges higher up the valley towards Base Camp. It is a pleasant village, surrounded by fields, with great views and an old monastery which you can look around. (About 11km/6hrs. 855m descent/955m ascent).
Overnight in Pangboche,(Simple Lodge)
Day 7: Pangboche to Tashinga (3780m)via Phortse (B/L/D) If you wish to make it easy, return via same trail. Otherwise we plan on going via Phortse. Walk to Tashinga via a different route, passing through the less visited Phortse village. From Pangboche, take a wonderful high trail above the Imja river. This trail undulates along the valley side and you have fabulous views across to the mountains and Tengboche perched on its ridge. After about two to three hours, you round a corner and the isolated village of Phortse (3,810m) lies below you, situated in a spectacular spot on a promontory overlooking the Dudh Kosi in one direction and the Imja in the other. Walk down to the river (3600m) valley and climb up towards Mong La through heavily forested area, where you may see Danphe pheasant and musk deer. From Mong La (3950m) commanding views of the mountains are breath‐taking. We then descend to our lodge in Tashinga (3450m), located outside the village, with views down the valley to Ama Dablam and Everest. (About 10km/5‐6hrs. 790m ascent & 1320m descent).
Overnight in Tashinga, (Simple Lodge)
Day 8:Tashinga to Khumjung & Thame(3820 m)( (B/L/D) Leaving Tashinga lodge, the trail contour on a small path to reach the main trail leading to Khumjung in about one hour. The path leads gently up the shallow valley built into a mountain bowl. The villages with terraced fields are overlooked by the Sherpa holy mountain called Khumbui Yul Lha. Khumjung is the first village and Khunde is a short walk further on, that contains the famous medical centre instigated by the Sir Edmund Hillary Trust. We take time to visit the Edmund Hillary School in Khumjung which was the first one to be built. The path continues quite easily and, rounding a corner, you look down at the small hamlet of Tshro. As you move up to the head of the valley you come to one or two lone houses and small fields and then you will cross the river pass through the small hamlets. Follow the old Tibetan trade route where you may well pass some Tibetans who come over the Nangpa La to trade in Namche. This well‐formed, wide path makes for a mostly easy walk all the way. Today you are more than likely to see Griffin vultures and mountain goats. Before you reach the village of Thame the path descends to a bridge over a narrow fissure with water roaring below. Here there are large wall paintings of Guru Padmasambhava. The path then climbs steeply to the picturesque village of Thame (3800m) with a backdrop of massive snow covered peaks. Sherpa Tenzing Norgay's house is situated near the top of the village where he lived with his first wife. Apa Sherpa who has climbed to the summit of Mount Everest twenty‐one times also lives in Thame village. Depending on your interest and available time, visit the monastery (3,940m) which takes about one hour, situated above the village. (Approx. 14km/ 5‐7hrs trek. Ascent 1020m/descend 700m).
Overnight in Thame (Simple lodge).
Day 9:Thame to Monjo(2835m) (B/L/D)Retrace our route till Phurte, from where we will take the lower trail to Namche. After 3‐4hrs of easy walking, arrive at Namche Bazaar for lunch and may be a short time for shopping. Then make a long descent downhill crossing the Sir Edmund Hillary Bridge to Monjo lodge (2850). (Approx 13km/5hrs. Ascend 550m/Descend 1510m).
Overnight in Monjo (Simple lodge)
Day 10:Thu Oct. 20, 16: Trek Manjo to Lukla(2840m) (B/L/D) Our last day of trekking is gradually downhill till Phakding. You have a chance to visit Gumila monastery from Phakding by walking little more than half hour from the main trail. From Phakding continue following the river valley for a bit and then climb of the side of the ridge to Lukla (2840m). Free to stroll or enjoy relaxing afternoon at the hotel. (Approx. 13km/ 4 ‐5hrs trek. Descend 800m, ascend 810m). 
Overnight at Lukla (Simple Lodge).
Day 11:Fly back Lukla to Kathmandu (1310m) 45 min flight (B) Fly from Lukla to Kathmandu. Upon arrival in Kathmandu, transfer to the hotel. Free afternoon at leisure.
Overnight in Kathmandu, Hotel
Day 12:Departure (B) You will be transferred to the airport by the private vehicle according to your flight schedule.