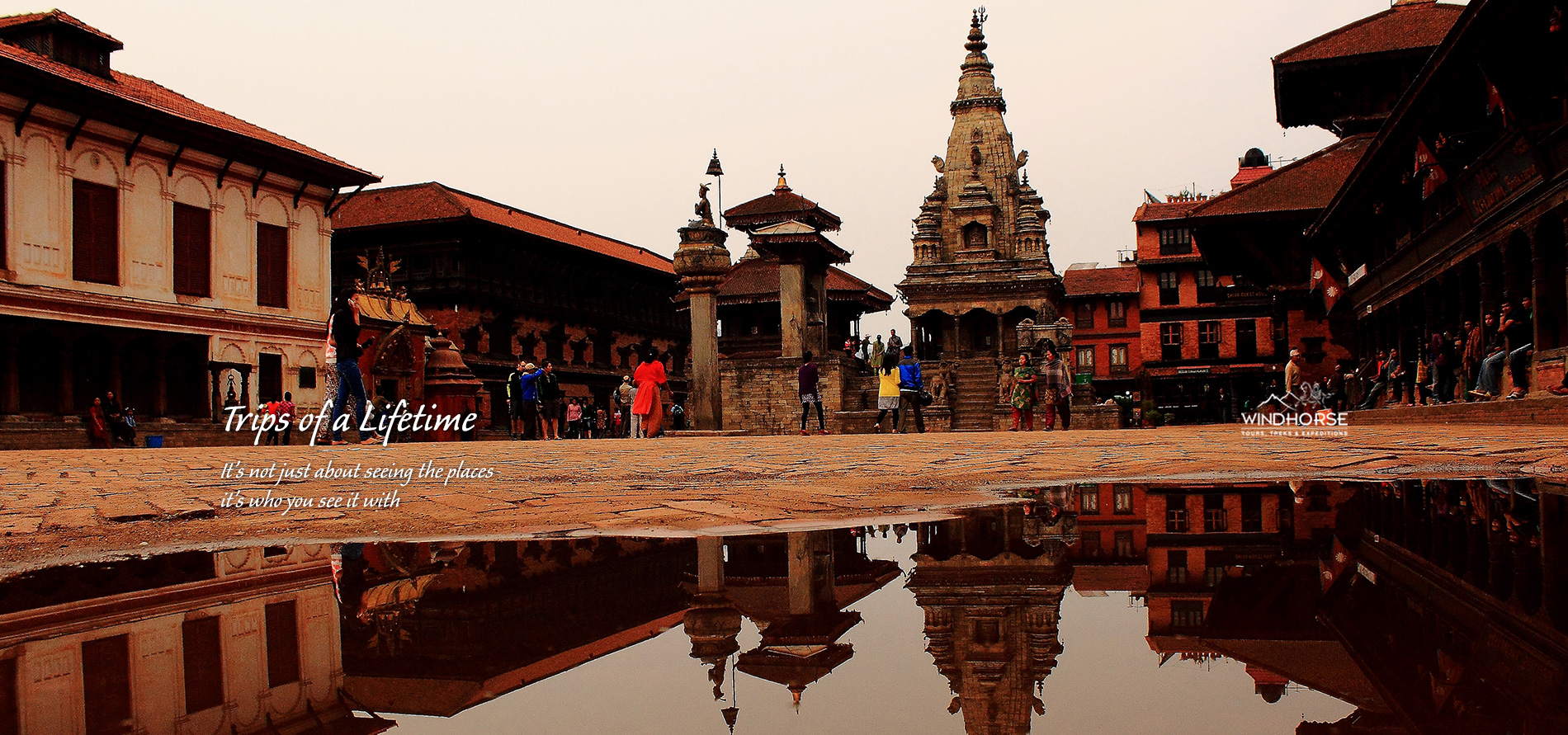 Glimpses of Nepal
3 nights Stopover Tour
Glimpses of Nepal is intended to give you the best of Nepal on a 3 nights /4 days stopover. Explore the historic religious landmarks of the Kathmandu valley, taking in the colorful sights of the fabled cities of Patan and Bhaktapur. Drive-up through scenic countryside to the vantage point of Nagarkot, from where you can get a spectacular panorama of the Himalayas.
Nepal is one of the greatest travel destinations because of its unique, rich heritage and extraordinary mountains. This itinerary is idle for those who are interested in UNESCO world heritage monuments, and a chance to see the views of the Himalayas in a short period of time. You'll explore Kathmandu city, Bhaktapur, Changunarayan, Pashupatinath Temple, Nagarkot, and Swambhunath Stupa, which are world heritage sites. Nagarkot boasts stunning vistas of the Himalayas, especially at sunrise, and along the way there, you will pass through rural landscapes and villages. You will also have an option to take the famous mountain flight that takes you up close to Mt. Everest and several other peaks in the central Himalayas. This flight operates daily in the morning (weather permitting).
Outline Itinerary
Day 1: Arrive in Kathmandu
Upon arrival meet and transfer to the hotel. This afternoon, an introductory tour of Kathmandu with a walking tour of Kathmandu Durbar Square. Then walk past Asan and Indrachowk markets, rubbing shoulders with locals towards Thamel, seeing so many old houses, markets and temples along the way. Explore Thamel, the center of tourists in Kathmandu, where you will find shops selling curios, handicrafts, trekking gears, and several good restaurants. Overnight hotel in Kathmandu.
Day 2: Kathmandu UNESCO World Heritage Tour
Full day guided tour of Kathmandu valley takes on a visit to Pashupatinath temple, the holiest Hindu temple of Nepal, located on the banks of Bagmati river. Journey up the hilltop to Swayambhunath (Monkey Temple), which is a fascinating, chaotic jumble of Buddhist and Hindu iconography, soaring above Kathmandu city. Then drive a short distance to Patan, known as the city of Arts. You will be provided some free time here to eat lunch, browse shops and local galleries. On the way back to the hotel, stop by Bodhnath (or Boudha), Asia's largest chorten, that pulses with life as thousands of pilgrims gather daily to make a kora (ritual circumnavigation) of the dome, beneath the watchful eyes of the Buddha, which gaze out from the gilded central tower. This is one of the few places in the world where Tibetan Buddhist culture is accessible and unfettered, and the lanes around the stupa are crammed with monasteries and workshops producing butter lamps, ceremonial horns, Tibetan drums, monks' headgear, and the other paraphernalia essential for Tibetan Buddhist life. Overnight in Kathmandu.
Day 3: Bhaktapur & Nagarkot
After breakfast drive to Bhaktapur, a medieval walled city full of ancient buildings. Spend a few hours here to explore the Bhaktapur Durbar Square, Golden Gate, Nyatapole Temple, Palace of 55 windows, and Dattatreya Temple. Watch people, local artisans at work, browse shops and drive for 30 minutes to Changu Narayan temple, another UNESCO site. You will also be provided an option to hikes for about 2 hours. A short drive further uphill brings you to Nagarkot, located on a ridge facing one of the broadest possible views of the Himalayas, including Mt. Everest (on a clear day). Depending on the available time, you can walk to the nearby villages and see the sun-set from your hotel. Overnight hotel at Nagarkot.
Day 4: Departure:
At dawn, rise to see the sunrise over the Himalayas. Transfer to Kathmandu airport in time for your departure flight (takes between 1-2hrs)
This itinerary can be modified to fit your arrival and departure timings. For example, the itinerary can be done in reverse order staying the first night in Nagarkot or you can spend the first night in Kathmandu, 2nd night in Nagarkot, and return to Kathmandu for the third night.
Group SizePrivate (Independent travel)

MealsAs indicated in included sections.

Trip AccommodationHotels are 3 to 5 stars depending on your wish.

RouteIn Kathmandu

Trip Type Cultural Tour


Trip SeasonsThroughout the year

Best MonthsMarch, April, October, November

Good MonthsJanuary, February, May, September, December

Lean MonthsJune, July, August
Prices & Dates
Starting from USD$ 400, price dependent on the choice of hotels and the number of travelers. Available as a private tour for independent travel to individuals and groups, throughout the year.
Included
All transfers by private vehicle with AC
Accommodation in listed hotels with breakfast
Local English Speaking Guide
Sightseeing as per itinerary with entrance fees
Not included
International airfare to and from Kathmandu
Nepal Visa ($25 upon arrival)
Travel Insurance (recommended)
Meals other than listed (lunch & dinner)
Bar/Beverages, Laundry & Telephone
Travel Insurance
All other personal expenses are not listed in the included section.
Accommodations
Choice of Standard, Superior, Deluxe hotels available.
---
Trip Guide/Leader
---
×

Hem Raj Bastola is a permanent inhabitant of Pokhara-25.  He has been working as a  tour and trekking guide  since 2010. Formerly he has worked as a guest service agent at the hotel Pokara Grande. He started his career as a Cave guide,  ticket sales man at Gupteshwor Mahadev Cave in Pokhara. So must of his working experience is related to tourism and hospitality industry. Beside his guiding profession, he enjoys reading and writing poetry. His poets have been published in different forums and medias.  When get free time loves to work in the field as well.

×

Min Bahadur Singh was born in 1977 in Bajura district, far western development region of Nepal and later on he moved to Pokhara, permanent resident of Kristi-3 Kaski, Pokhara. He is Trek and City Tour Guide in Pokhara city, Nepal, a city of natural beauty and on the lap of the Himalayas. He has completed his intermediate education level and various training related to the travel and tourism industry. He started his career in the hospitality industry since 1992. He's worked in the tourism sector for 24 years and has 12 years of guiding experience involving in different travel and trekking agencies in Nepal. Min has joined to this company since 2014, and he does city tour guide in Pokhara and Annapurna region Trekking as well.On top of that, he is also bird watching specialised in the mountain region of Nepal. Min speaks English very well and has been the beloved guide for English speaking tourist. He loves to travel, meet new people and share his ideas and experiences to other people.

×

Bijaya Gawali permanent resident of Kausaltar, Bhaktapur, Nepal is one of the experienced City tour Guide in Kathmandu valley, Nepal. He has completed his bachelor degree from Tribhuvan University, Kathmandu Nepal. He has got several pieces of training including City tour guide licence. He has started his career working in 4-star hotels in Kathmandu for 12 years. He has been working as a city tour guide in Kathmandu valley since He loves to meet new people, reading newspapers and listening music. When he has free time, he goes out with family and friends. Bijaya Gawali is not only the english speaking guide but also the french guide. His knowledge of French language gives him an edge in handling our French guest better. He has joined to this company since 2014, and he is well versed in both English and French language and taken care of our guest very well.