Glimpses of Bhutan
6 Days
Short introduction tour of Bhutan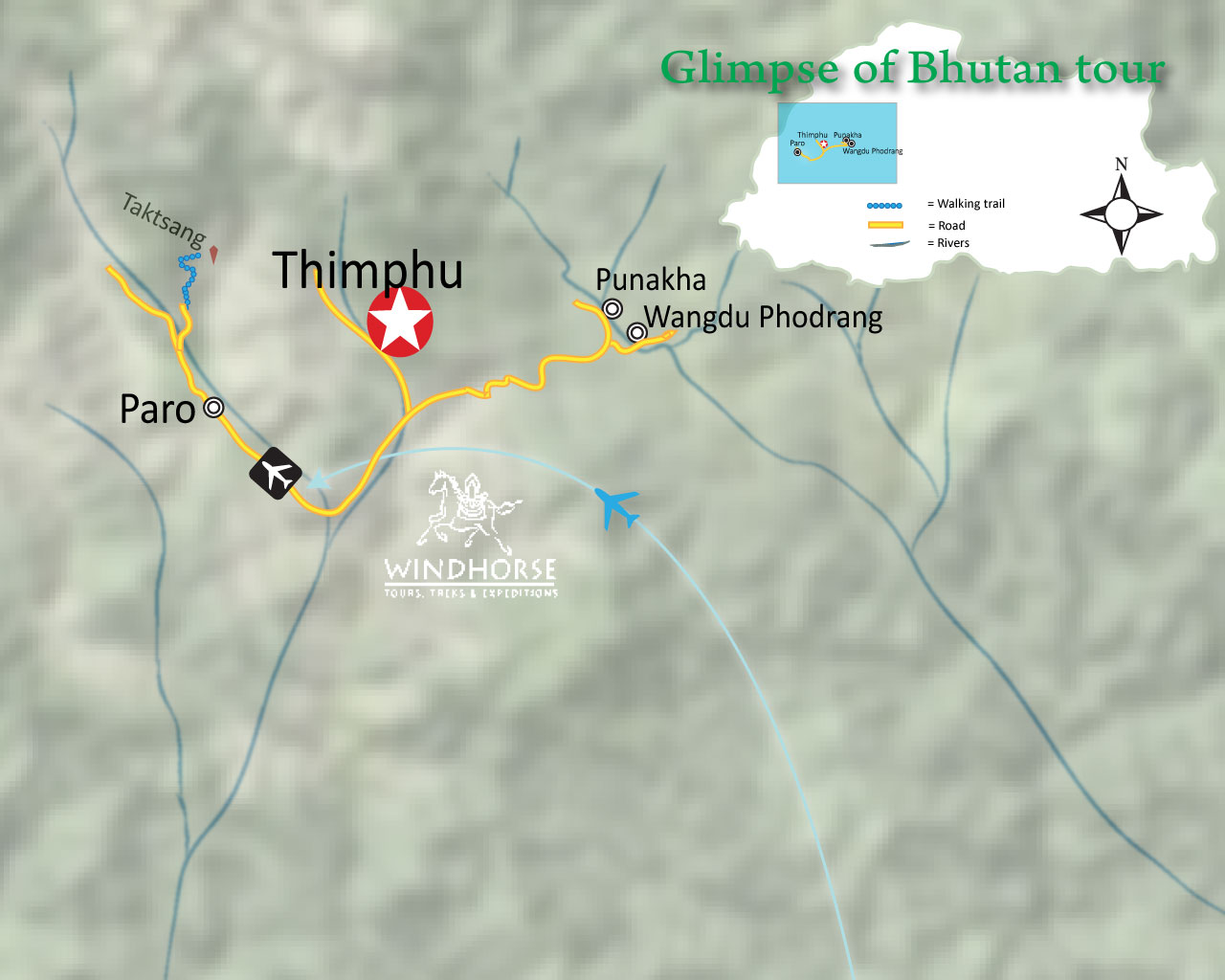 Trip Grade

Trip Price From US$ 1350 | See Details
Trip AccommodationBest available tourists standard hotels. See Details
Group SizePrivate Tour
MealsFull board in Bhutan
RouteParo, Punakha, Thimphu
Trip TypeTour
Trip SeasonsThrought out the year.
Best MonthsJanuary, February, March, April, May, June, July, August, September, October, November, December
For better part of last century, Bhutan remained in glorious isolation, denying to the outside world, the glimpses into its rich culture, tradition, religion and social-political structure thus adding to its deepening enigma – the last bastion of mythical Sangri-la. However, this itinerary concedes more than the glimpses rather insights into the undiluted tradition, culture, religious structures,  Dzongs, monasteries, natural environment, quaint and serene valleys that has withstood the time and its fury. Although for 6 days only, this itinerary cover well three beautiful valleys that constitute western Bhutan.These valleys with varying degree of altitude are generally marked with high passes in between.
Starting from the capital, Thimphu, temperate valley – which house many attractions modern as well as historical. After visiting these attractions, we drive east and pause for substantial period at  Docula Pass. The pass that separate Thimphu and Paro valleys with Punakha. Savouring the astounding surroundings and  peaks of eastern Himalayas. We move downhills and stops at sub tropical agrarian Punakha/ Wangdi valley, the former winter capital of the Kingdom. Thereafter we retrace back and  visit emerald -green temperate valley of Paro and at the end hike up to Taktsang (Tiger's Nest) monastery -the cultural icon of the country.
This itinerary can be manoeuvred further for those who wish to spend more time in one place and do not like driving around, we can remove the drive to Punakha. This will allow extra time in Thimphu and Paro.
Outline Itinerary
Day 1: Arrive in Paro (L/D)Upon arrival in Paro airport, you are met by Wind Horse guide and a driver and transferred to the hotel.This afternoon visit National Museum, followed by visit to Rinphung Dzong (Monastery/Fortress). Later visit 7th century Kichu Lhakhang (temple) and Dungtse Lhakhang that contains some ancient murals. Stroll through the charming Paro town.
Overnight in hotel.
Day 2: Paro – Punakha(B/L/D)After breakfast, drive for about 2hrs till Dochula pass (3,050m). Along the way, we get the glimpse of capital Thimphu as well. At Dochula pass, we take a short break for tea and to enjoy the panoramic views of the eastern Himalayan peaks. Continue our drive, descending about 1500m in two hours through ever changing vegetation into semi-tropical Punakha and Wangdue valley. After lunch, visit 17th century Punakha Dzong, straddling at the confluence of Pho and Mo Chu river. Then drive short distance through idyllic countryside to Khamsum Yuley temple on Nyinzergang hill, that provides good vista of the valley and paddy fields (optional).
Return to Punakha for overnight (1450m)
Day 3: Drive to Thimphu (B/L/D)In Wangduephodrang, visit Richengang village, unique for cluster of houses connected with each other, followed by short walk to visit Chimi Lhakhang temple, dedicated to Lama Drukpa Kunley (1455 – 1529), popularly known as 'the divine madman, a folk hero and a cultural icon around whom countless yarns of facts and fiction, stories and legends have been spun. Drive back over spectacular Dochula Pass to capital Thimphu, which takes about 3hrs.
Late afternoon, visit great Tashicho Dzong and the giant Buddha statue on Kuensel phodrang ridge.
Overnight in Thimphu (2400m)
Day 4: In Thimphu(B/L/D)Full day to tour the capital of Bhutan, where there are lots to see and do. Visit memorial Chorten, Takin Preserve, Zilukha nunnery, a Viewpoint, followed by visit to traditional Art school (also called painting school) and visit Indigenous Hospital. In between, we can stop at the Post Office for stamps or send postcard home. See the textile academy and museum, stroll through the Farmer's market, peek at Changlimithang ground, where you may see the archery (national game) in progress. Stroll in the core city area, and shop for souvenirs.
Overnight in Thimphu.
Day 5: Paro (Takstang Hike)(B/L/D) Drive for about hour to Paro and hike to famous Taktsang (tiger's nest) monastery (3120m/10,200ft). Visible from afar, this magical monastery clings to a vertical granite cliff 1,000 feet above the valley floor. It is one of the most amazing and important pieces of architecture in Bhutan. If for some reason, you are not able to hike, your Guide can arrange other interesting alternatives. You can also hire pony for the uphill part, till the first view point & cafeteria but you must be able to walk back downhill. While some will probably not make it all the way to the monastery, however it is worth even to try getting till the first view point. Return to Paro, where we may have more time for stroll around the town. Farewell dinner in the evening.
Overnight in the hotel, in Paro valley.
Day 6: Departure (B)After breakfast, transfer to the airport in time for your departure flight.