Golden Triangle of India
5 Days
A compact India tour with the highlights of Jaipur & Agra along with Deeg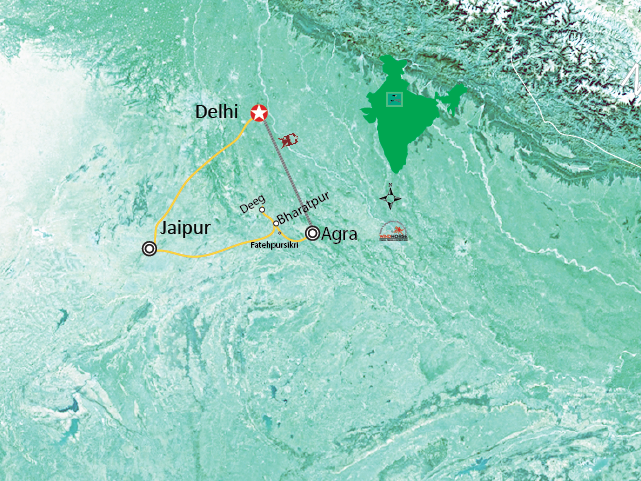 Trip Price From US$ 410 | See Details
Trip AccommodationChoice of standard, superior and deluxe hotel.

Trip SeasonsRound the year
Group SizePrivate tour
Meals04 Breakfasts,
01 Dinner (With Local Indian Family),
01 Lunch in Bharatpur/ Fatehpur Sikri
RouteDelhi-Agra-Bharatpur-Jaipur
Trip TypeCultural & Historic
Best MonthsJanuary, February, March, October, November, December
Good MonthsApril, August, September
Lean MonthsMay, June, July
Trip highlights
☑ A short Indian railway experience
☑ Taj Mahal – 'Wonder of the World'
☑ Fatehpur Sikri, the former Mughal Capital
☑ Off-the-beaten path visit of Deej & Bharatpur
☑ Heritage hotel stay in Bharatpur
☑ Cooking lesson and dinner with a local family
☑ Forts & Palaces
☑ Walking in village & colorful market
Save
Save
Save
Save
Save
Save
Save
Save
Famous Golden Triangle Tour of India is an introduction to India's most popular destinations; Agra and Jaipur, starting and ending in capital Delhi. However in this tour, en-route – we also include a visit to delightful rural area of Deej and Bharatpur, where along with visit to its opulent palaces, we wander around its village, visit a public hospital and may be a school and so forth, and spend the night in a heritage hotel, converted from Palace.
Experience the history of massive forts, the opulence and splendour of Rajasthan's palaces, the bustle and buzz of markets, peace and serenity of rural town and the traditions of a heritage hotel in this compact India tour, jam-packed with unforgettable highlights
Outline Itinerary
Day 1: Welcome to India. Upon arrival in Delhi, meet our representative and transfer to hotel.
You can arrive at any time as no activities are planned for today. The rest of the day is for you to relax and adjust to the time change or discuss with the Guide to arrange tour of Delhi at an extra cost.
Overnight in Delhi
Day 2: Taj Mahal & Agra Fort.(B) Transfer to Railway Station to board Gatimaan Express, a high speed train that runs between Delhi and Agra. It just takes about 100 minutes to cover 188Km, which if we were to travel by road could easily take more than 4hrs. (Air-con chair car). Agra was the capital of the Mughal Empire from the 16th to the early 18th centuries. Upon arrival, proceed straight to Agra Fort on the banks of the Yamuna River. After visiting the Fort, check into the hotel. During the day, you will have free time to unwind and relax, or take optional tours to explore the back lanes of Agra.
Later in the day, we make a sunset pilgrimage to the exquisite Taj Mahal, the white marble palace constructed over a 21-year period from 1632 to 1653 by Emperor Shah Jahan in memory of his wife, Mumtaz Mahal, who died in childbirth.
Overnight in Agra.
Optional: In the evening you book and can see "Mohabbat The Taj' a play that depicts the saga of love and a memorable journey into history of Taj Mahal.
Day 3: Rural Village Tour – Deeg.(B/L) After breakfast at your hotel, drive for less than 1hr to see red sandstone ruins of the remote Mughal capital at Fatehpur Sikri. After lunch en-route, continue driving for another hour or so to Deeg, a delightful rural area with rich colorful history, packed with forts, palaces, gardens and fountains. Visit Deeg Palace, an opulent palace built in the mid-18th century. Meander through the palace gardens filled with fountains and hear interesting facts about kings who lived here, one of whom liked to make his evenings extra colorful so he used multi-colored water in the fountains. Then stroll in village to experience rural village life in India. We will also visit a nearby local hospitable run by government.
Return drive for about half hour to spend evening and overnight in a heritage hotel in Bharatpur
Day 4 Jaipur -the Pink City.(B/D)  Three hour plus drive (185km) brings us to Jaipur, the capital city of Rajasthan, established in 1727 by Jai Singh II, and is India's first planned city. It is known as the Pink City because of the color used exclusively in the walled city. Upon arrival in Jaipur, check into your hotel.
There is so much to see here, and we will set on course with the visit to Jantar Mantar (Astronomical observation site) followed by visit to City Palace Museum (former royal families still live in a section of this palace). See Hawa Mahal, or Palace of the Winds, built in 1799. It isn't really a palace at all—it's a five-story facade where the women of the royal family could look out over the street scene of the city through more than 900+ ornately decorated sandstone windows. In the evening, meet a charming local host family where you can take part in an interactive cooking lesson. Learn about their favorite dishes and share a delicious dinner. It is a great way to immerse in the local culture.
Overnight in Jaipur.
Day 5: Jaipur (Amber) & Departure(B) Check out of your hotel and take a short stroll into vibrant market in the old city. Observe local artisans like silversmiths, bangle makers at work. Explore 'Block Prints and Vegetable Dying" which are very typical of the state of Rajasthan. Journey short distance to the outskirts and visit the 16th century Amber Fort & Palace, located on a hilltop, an excellent example of Rajput architecture. The wall of Sheesh Mahal palace inside the fort is completely covered in little mirrors, so the room illuminates with the light from a single match. The splendor of the fort is enhanced by the breathtaking vista of the Maota Lake in front. From Amber, our road continues north to Delhi which takes about 5hrs (270km). We will transfer you directly to the Delhi international airport, if you have a flight tonight. End of services
Note: If you wish to avoid this journey, you can take an evening flight from Jaipur to Delhi, which takes less than half hour (extra cost).
[No Accommodation in Delhi]