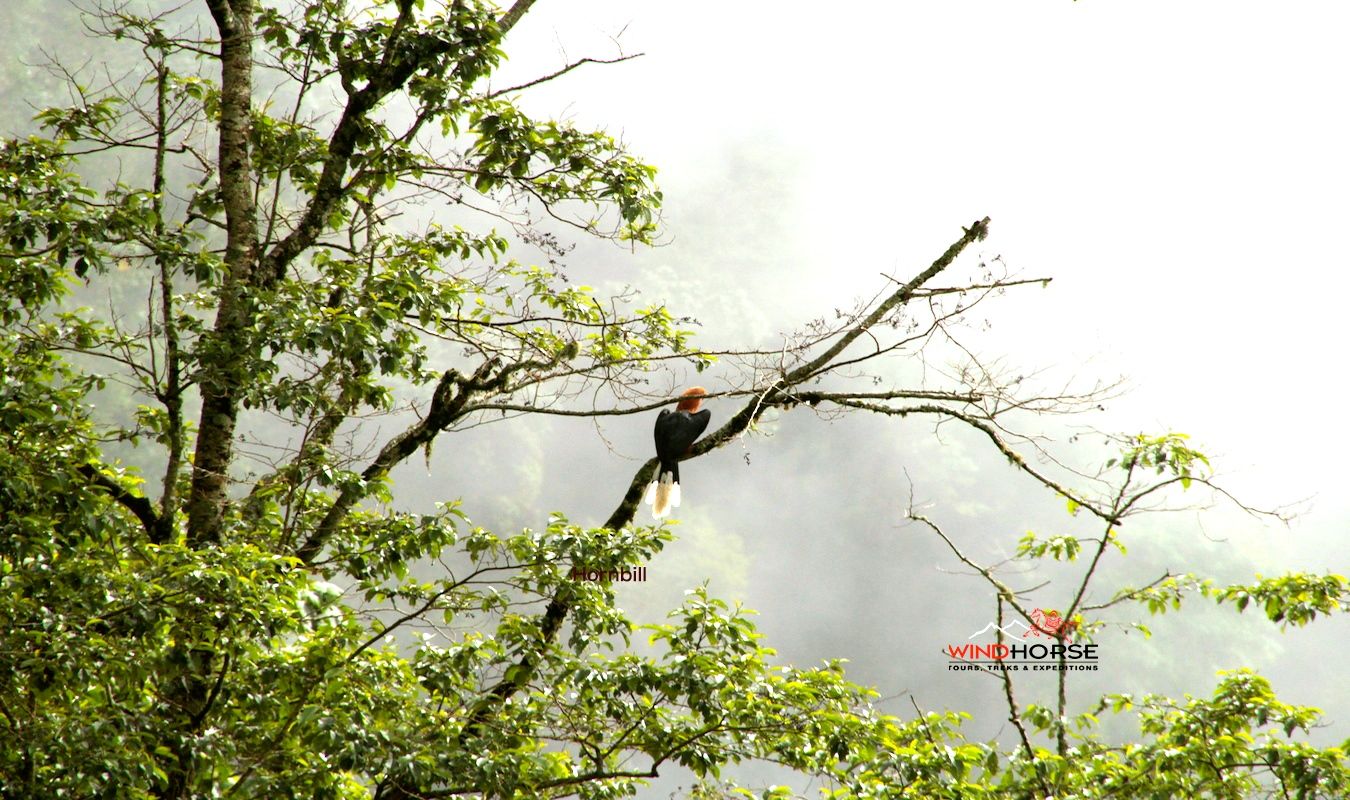 Trip highlights
Focussing, primarily on birding  yet at backdrop cultural insights in places of interest
Birding in off the beaten habitats and visit and interaction with people at remote regions.
Some resident, indigenous, rare, exotic and endangered Birds. 
Hill myna.Rufous Fronted Tits,  Stayr Tragopan, Monal, Large Hawk Cuckoo, Darjeeling Woodpecker,Ward's Trogan.Bay Woodpecker, Red-headed Trogon, Wedge-tailed Pigeon Fire-capped Tit breeds White-gorgeted Flycatcher, rare Yellow-vented Warbler. Magpie Robin, Green Magpie, Osprey, River Lapwing, Ruddy Shelduck, Eurasian Wigeon, Spotted Elachura, Pygmy Wren-babbler,pallas Eagle,Slender billed Scimitar Babbler, Red Headed Bull Flinches.  Fire Tailed Myzornis, yellow throated Marten, Yuhinas, Fulvettas, Spotted laughing thrushes,Great Hornbill, Rufous Necked Hornbill, Fire Tailed Mizoram,Black Eagle, Oriental Cuckoo, Speckled Wood Pigeon, Brown Parrot Bill, Black throated Sunbird, Sultan Tit, Green Magpie, Small Niltava, Silver eared Mesia,  Maroon Oriele, beautiful Nuthatch.
Top Animals
Golden Langur, Yellow-throated Marten, Black Giant Squirrel, Large-eared Pika, Red Panda, also chances to sight  Himalayan Black Bear, Musk Deer.
Habitats Covered
Sub- tropical birding habitat with broad and warm leaves forest, temperate habitat with forest of fir, Conifer, hemlock forest, High mountain passes like Docula, Pelala passes, bamboo bushes, river Channels, agricultural land etc.
Tour Pace and Walking
Pace of tour is moderate except once or twice it require to drive for longer hours  to cover distance. Its not just we hike for birding but also to visit rural villages and temples, and the walk is moderately pace more often.
Number of Birds species expected
250 to 350 species of birds.
Bhutan's serene ambience, vegetation rich and religious belief makes it ideal or hallowed ground for birders. Hardly any parallel can be drawn for the birding here as a typical birding day may envelope abundant avifauna - some rare, exotic and highly endangered birds and also any of these varied otherworldly aspects such as untamed vegetation, pristine nature, high mountain passes, rural monasteries, countryside quaint villages, farmland, interaction with locales etc.
Primarily, this journey traverses core birding zones in temperate forests as well as sub tropical. At the backdrop, we will visit some of prominent attractions in towns like Thimphu, Paro, Punakha yet focus remains strong to capture in our lens birds that thrive in periphery or river channel, agricultural land of these towns. On introspection, one can find a greater harmony or peaceful coexistence of human with birds or other living beings. Core tropical birding regions like Tintibiti, Gonphu and Gelephu areas are relatively remote with seemingly endless vegetation, with occasional scattered quaint houses here and there. These area are the hotbed for exotic species of birds such as Yellow Rumped Honeyguide, beautiful Nuthatch, hornbills and many more and also animal like Golden Langur.High passes like Pelala and Docula are home to beautiful birds such near mythical Satry Trogopan, resplendent Himalayan Monal and many more. Largely birding here spells greater interaction with nature's theme. Region around Gelephu, Tshirang where we will make regulars stops have seen minimal visitors. These areas may have a few surprises up on the sleeve for you.
Accommodations are in best tourist standard hotels. Whilst camping, you can opt for Wind Horse's special Deluxe camping or Lungta Deluxe Camp (Safari Style Tent and Bed) instead for regular one. Also Farm house stay with local family for a day or two.
Outline Itinerary
Day 1. Arrive and stay in Paro (2200 m)
Upon arrival transfer to hotel. Later, visit landmark attractions - Rinpung Dzong, National museum. After, set the tone for birding with visit to the agricultural channel and light vegetation in nearby villages to interact with locales, learn about birds and its significance in social and religious context, village life and lookout for birds. Most likely birds to be seen are Ibis bills, fire capped Tits, Spotted Laughing Thrush, Brown Dipper etc. Overnight in Hotels.
Day 2. Paro to Punakha: (1330 m/3 hours drive)
Drive east to subtropical valley of Punakha across Docula Pass (3150 m). Stop briefly to relish the landscapes and view of mountains peaks, we will examine the surrounding thoroughly on return. After, descend but we will stop below the pass and scan the botanical garden -an ideal rendezvous point for birds among others such as Besra, Eurasian Jay. Punakha harbour long Mo Chhu river channel that encloses broad leaves vegetation, agricultural lands and quiet neighbourhood - one of prominent birding arena in western Bhutan. Following the old trail, we'll start examining the Mo chhu riverbank meticulously past beautiful Punakha Dzong, which we will visit later, scanning for species of ducks, herons and waterfowls. Critically endangered White Bellied Heron are seen frequently. Other birds such as Magpie Robin, Green Magpie, Osprey, River Lapwing, Ruddy Shelduck, Eurasian Wigeon. Overnight in hotel/ traditional Farm house/ Deluxe camping on river bank.
Day 3. In Punakha (Drive into Tashithang and beyond for birding)
Drive north of Punakha valley into the warm broadleaves forest reserve of Tashitang - bedrock of birding in western Bhutan. The favourable warm climates and rich reserve of forests provide ideal conditions for varied species of avifauna to thrive. In winter myriad migrants from alpine region can be seen in these forest. We'll scan the area minutely looking for species of passerine, and a whole lot of species waits to be discovered such as Collared Owlet, Barred Cuckoo-dove, White-browed Shrike-babbler, Large Niltava,We'll also search for a variety of skulkers, including Spotted Elachura and Pygmy Wren-babbler. Overnight in hotel/Traditional Farm House/ Deluxe camping in river bank.
Note:Early morning hour is the prime time for birding.
Day 4. Punakha to Gangtey, Phobjikha (3000 m/ drive - 3+ hrs) – start early and birding
Drive to Gangtey, however along the way we'll make series of stops where we'll venture into agricultural fringe and river channel. Sighting of Pallas's eagle are frequently reported. Others birds are Flycatcher, wedge Tailed green Pigeon are common. We will also stop at large swathe of productive forest reserve prior to Phobjika, upon closer exploration we can find myriad avifauna such scarlet Finch, Black Drongo, Chestnut bellied Nuthatch, Slaty backed Forktail, Gorgeted Flycatcher, White throated Laughing thrust, Eurasian Jay, Wedge Tailed Green Pigeon, Mountain Imperial Pigeon, Verditer Flycatcher, etc.Upon arrival in Phobjika, if it falls between Oct to March, we can see a large colony of endangered Black Neck Crane in vast meadows. Overnight in Hotel.
Day 5. Phobjikha – Trongsa (2180 m/ 3 hours approx )
Leaving Trongsa, we'll stop at Pela La pass. We will spend the whole morning hours looking for alpine avian delights like Satyr Tagopan, Blood Pheasant and the beautiful Himalayan Monal. Three miles below the pass, the stand of bamboo up shoots attracts many birds. The specialties of the area are Great and Brown Parrot bills and Golden-breasted Fulvetta, surely one of the world's most attractive passerines. Along the way stop and visit Chendebji Stupa – eighteen century Swambhunath Stupa style. Overnight hotel in Trongsa.
Day 6. Trongsa to Tingtibi (580 m/ 4hours)– Camp
Shemgang / Tingbitti is considered as best sub tropical birding region in Bhutan. Morning birding to Yeshi Zam, the focus will be mainly to spot Yellow- Rumped honey guide. This large forested area is also home to endangered Golden Langur. Although its likely to see beautiful nuthatch in lower Shemgang road, but the most people will hardly get enough of it. So we will search for more in campsite vicinity, which is amidst the beautiful forest, though at slightly lower altitude that we visited. Along with it, there are many birds you will encountered are yellow-throated martin, giant squirrel Rufous-necked hornbill, Blue throated bee-eater, Maroon Oriole, Racket tailed Drongo, Red headed Trogon, sultan tit, Grey Nightjar, Hill Prinia, Asian Emerald Cuckoo, Great hornbill, Partridge, Violet Cuckoo, Pin-tailed Green Pigeon, , and Cutia. Rufous-faced Warbler is also quite common, and we stand a chance of encountering the rare White-bellied Heron and possibly Collared Treepie etc. Overnight at Camp/Deluxe camp..
Day 7. Tingtibi – Gonphu – Gelephu (305 m/4 hrs)
We will do early morning birding in Tingtibi area. After, drive for approx. 2 hours to Gonphu. Birding extensively in Gongphu area. The birds likely to be seen are Green Magpie, Laughing Thrushes,Spider hunter, Samatar Babblers, Wren Babbler. Later we descend into lowland Gelphu, however, enroute we stop at lush forest of Tama la. There is report of sighting of rare blue Fronted Robin. In Gelephu, you will find completely different set of birds, typical of the plains of India such as Jungle fowl, White Throated Kingfisher,Indian Peafowl; Green Imperial-Pigeon; Brown Boo books, Asian Barred-Owlets, Chestnut-headed Bee-eaters; colorful Indian Rollers, both Wreathed and Oriental Pied hornbills; a Greater Flame back Greater Yellow nape, Ashy Wood swallows, comical Greater Racket-tailed Drongo. Overnight in Camp/ Deluxe camping nearby hot spring - Allegedly, believed to have therapeutic benefits.
Day 8. Gelephu, Tshirang, Wangdue-Dochula pass.(3150 m/6 hours)
Today is the longest drive, it takes around 6 hours, however we will make regular stops along the ways. As there are a few lush green forests with prime birding spots. Once in Dochula pass, explore the beautiful surrounding and spectacular view of far off eastern Himalayan mountain peaks on a clear day, so is the spectacular sunset from the pass (3150 m). Overnight in Hotel in Docula Pass.
Day 9. Dochula to Thimphu.
Early morning birding around the Docula pass. The forest of conifers, firs, spruce are an ideal habitat for the alpine avain such as resplendent Monals, near mythical Stayr Tropan and prize conquest will be spotting Ward Trogopan. Eec. Also we will watch glorious sun rise. After breakfast, we will drive for Thimphu (45 mins) and head past town to Cheri, Doderma, north of Thimphu valley. Red billed Coughed is frequently seen along the way. Birding in temperate forest of conifers, spruce and you may see Ibis bill, Common sandpiper, Crested-pie kingfisher, Redrumped swallow, Long-tailed minivet, Grey wagtail, Yellow-billed blue Magpie, Spotted nutcracker, White-bellied yuhina, Red-billed chough, Black-browed tit, Upland pipit
Later drive back to town and visit prominent attraction like Tashichho Dzong, Gaint Buddha statues, Takin reserve, Painting School, Centennial weekend market, Archery in Changlimithang ground. etc.
Overnight in hotel.
Day 10. Thimphu-Paro (hike to Taktsang)
Drive to Paro and Transfer to trail head of Taksang monastery (1hr.30 mins). If early we can see birds commonly found in Paro like Ibis bills, laughing thrushes, brwon dipper etc.Chances to sight birds plummet significantly as the days set in as the crowd triggers flight reaction of birds.For the hike portion it takes around more than 2 hours. Return to town, visit Rinpung Dzong and National Museum. Stroll in town Farewell Dinner.
Overnight in Hotel in Paro.
Day 11. Depart
Transfer to Airport on time for your outward journey.
Group SizeAny number of members

MealsFull Board including evening Tea

Trip AccommodationTourist Standard hotel 2* to 3* and whenever possible we use 4* hotel like Hotel Druk in Thimphu and Tashi Namgay in Paro. In some places we camp and option are to do normal camping or deluxe camping (Safari Style Tent and Bed). Also we can add farm house stay for a day or two for authentic experience.

Route1. Arrive and stay in Paro
2. Paro to Punakha
3. Punakha to Phobjika
4. Phobjika to Trongsa
5. Trongsa to Tingtibi
6. Tingtibi to Gongphu to Gelephu.
7. Gelephu to Tshirang to Wangdi to Docula
8. Docula -Thimphu
9.Thimphu to Paro.

Trip Type Wildlife Safari/Jungle Safari and Bird Watching
Deluxe Camping, Tented Camp Trip


Trip SeasonsIn tropical region like Tingtibi, Gonphu and Gelephu, summer(May -Sep) are hot and wet.However Winter are pleasant in tropical belt, but can be relatively cold in morning and evening in temperate region like Thimphu, Paro. This period would be ideal to do birding also these period affords to see some migratory bird like Black Neck Crane etc.Spring(March and April) is the mating season for birds, when the birds' call are distinct and it exhibit colour changes to entice the mate.

Best MonthsJanuary, February, March, October, November, December

Good MonthsApril, September

Lean MonthsMay, June

Not RecommendJuly, August
Prices & Dates
Cost is based on the number of participants. For details contact us.
Included
Bhutan Royalties, tourists fees, Visa fees and taxes.
Accommodations in listed or similar hotels (pleasant hotels 3-4 star type)/camp/Deluxe camp/Farm House
All meals,including evening tea/coffee etc through-out the tour in Bhutan.
All land transfers, sightseeing with entrance fees.
Experienced English Speaking Bhutanese Tour Guide.
Bottled water in the vehicle and other comp. services.
Not included
Flights into and out of Bhutan
Optional Travel/Medical Insurance
Personal expenses such as bars, beverages in the hotel, telephone, laundry, trips, and others.
Any aspect not reflected in included section.
Accommodations
Tourist Standard hotel 2* to 3* and whenever possible we use 4* hotel like Hotel Druk in Thimphu and Tashi Namgay in Paro. In some places we camp and option are to do normal camping or deluxe camping (Safari Style Tent and Bed). Also we can add farm house stay for a day or two for authentic experience.
---
Hotels in Thimphu
Hotels in Trongsa
Hotels in Paro
Hotels in Punakha