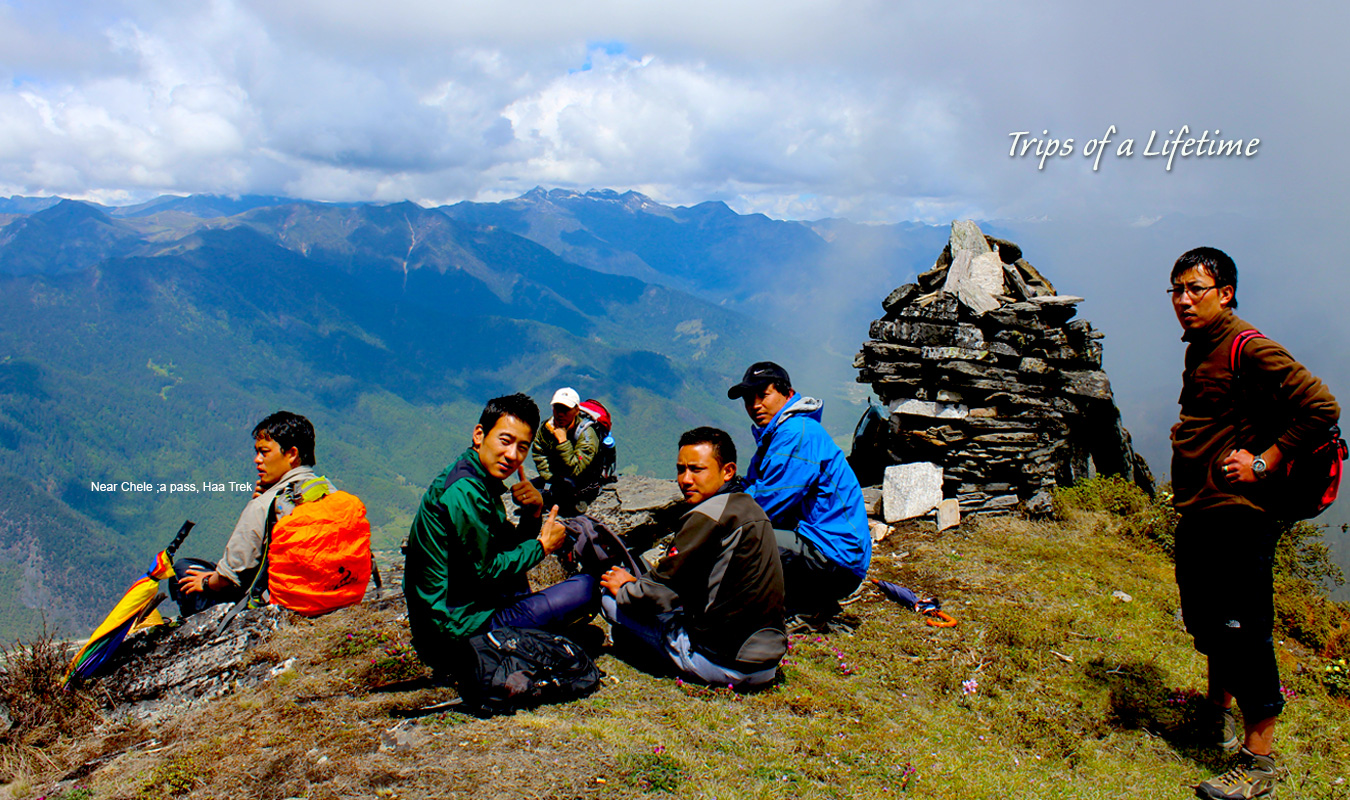 This trip examine two aspects of Bhutan trip within the subscribed time - Cultural delights & Trekking highs. Featuring the cultural aspects of three valleys of Thimphu, Paro and Haa, distinctively different from each other. Thimphu at the crossroad of modernity with tradition, but at a closer look you will feel undertones of complete harmony in between the two. Paro with its verdant valley, completely submerged in its rich cultural,traditional and religious legacies. Haa valley lends a typical tranquil and quaint ambience.Where it seems that hand of clock has stopped long time ago. Traversing these valleys with added colours of Trek to end with, will hardly fail to arrest the real essence of Bhutan as a whole.Two short treks – from Haa to Paro following a traditional route on the ridge overlooking a breathtaking valley, and the other to Bumdra and visiting enigmatic Tiger's Nest Monastery on the way down.
We have recently launched deluxe camping, this can be easily incorporated in this short trek, adding a new dimension to your experience, which can be acquired at slightly elevated price. And most significantly without undermining an iota of ethos of the trek.

Outline Itinerary
Day 1: Arrive in Paro - Thimphu
Upon arrival in Paro airport, meet your guide and transfer to Thimphu. Take a short tour to get acquainted with the capital city.
Overnight in hotel.
Day 2: Thimphu - Dochula pass
Spend the whole day touring Thimphu valley, visiting its many monuments and local attractions. Towards late afternoon, drive about 1hr to the spectacular Dochula Pass in time for sunset views over the eastern Himalayan peaks.
Overnight in Dochula lodge.
Day 3: Dochula Pass - Haa Valley
See the sunrise view over the snow-capped peaks from your hotel. From Dochula, begin 3 hr walk to Lungchuzekha and Trashigang through rich rhododendron forests and great views. Later drive to Haa via Thimphu, which takes about 3hrs. Spend the rest of the afternoon touring rural Haa valley, visiting one of its many large villages and some local temples.
Overnight in hotel.
Day 4: Trek from Haa to Sopshingkha
Gradually begin a climb uphill through the hills of pine forests. Along the way, make a short excursion to the cliff-hanging Juneydra temple. About 5 hrs walk. Overnight camp.
Day 5: Trek end at Chele La - Paro
Walk for about 3-4 hrs to Chele La Pass and end the trek. From Chelela Pass walk to the secluded Kila Gompa nunnery with many cliff-side retreat houses. Then drive to Paro. Visit Paro valley for the rest of the afternoon.
Overnight in the hotel.
Day 6: Trek to Bumdra
Drive till Sang Choekor Buddhist College (2,900m) and begin trek, gradually climbing uphill to the Yak pasture below Bumdra monastery (3,800 m), which takes about 4-5 hrs and offers unimpeded views of the Himalayan ranges. Later we have an option to climb up to the monastery and the peak to the north (about 4000 m) for even better views, returning in time for a well-earned dinner.
Overnight in camp.
Day 7: Trek to Takstang - Paro
Descend downhill through ancient pine and rhododendron forest on the monks' zig-zagging trail to first arrive at Ugyentsemo monastery and then cross over to Zangto Pelri monastery. A short descent further brings us to the famous Taktsang (Tiger's Nest) monastery. After visiting Taktsang, descend to the road-head. (total around 5-7 hrs).
Overnight hotel in Paro.
Day 8: Departure
Transfer to the airport for your departure flight.
Group SizePrivate

MealsAll meals included.

Trip AccommodationAll hotels are tourist standard with 3-4*.Except in Haa, which is relatively basic in comparison to hotel in Thimphu and Paro.

RouteThimphu -Dochula - Haa - Paro

Trip Type Trekking
Deluxe Camping, Tented Camp Trip


Trip SeasonsBest from March till May and from Oct till Nov, but can be done through-out except in Jan till mid Feb.

Best MonthsJanuary, February, March, April, May, June, July, August, September, October, November, December
Prices & Dates
Cost is based on the number of participants. For details contact us.
Included
Bhutan Royalties, tourists fees, Visa fees and taxes.
Accommodations during tour in listed or similar hotels (pleasant hotels 3-4 star type) and in tent camp during the trek.
All meals, including evening tea/coffee etc through-out the tour in Bhutan.
All land transfers, sightseeing with entrance fees.
Experienced English Speaking Bhutanese Tour Guide.
Bottled water in the vehicle and other comp. services.
Full-service camping
Not included
Flights into and out of Bhutan
Optional Travel/Medical Insurance
Personal expenses such as bars, beverages in the hotel, telephone, laundry, trips, and others
Accommodations
List of the hotels of this Trip and trekking equipment description.
---
Hotels in Thimphu
Hotels in Paro
Hotels in Trek
Hotels in Dochula
Hotels in Haa