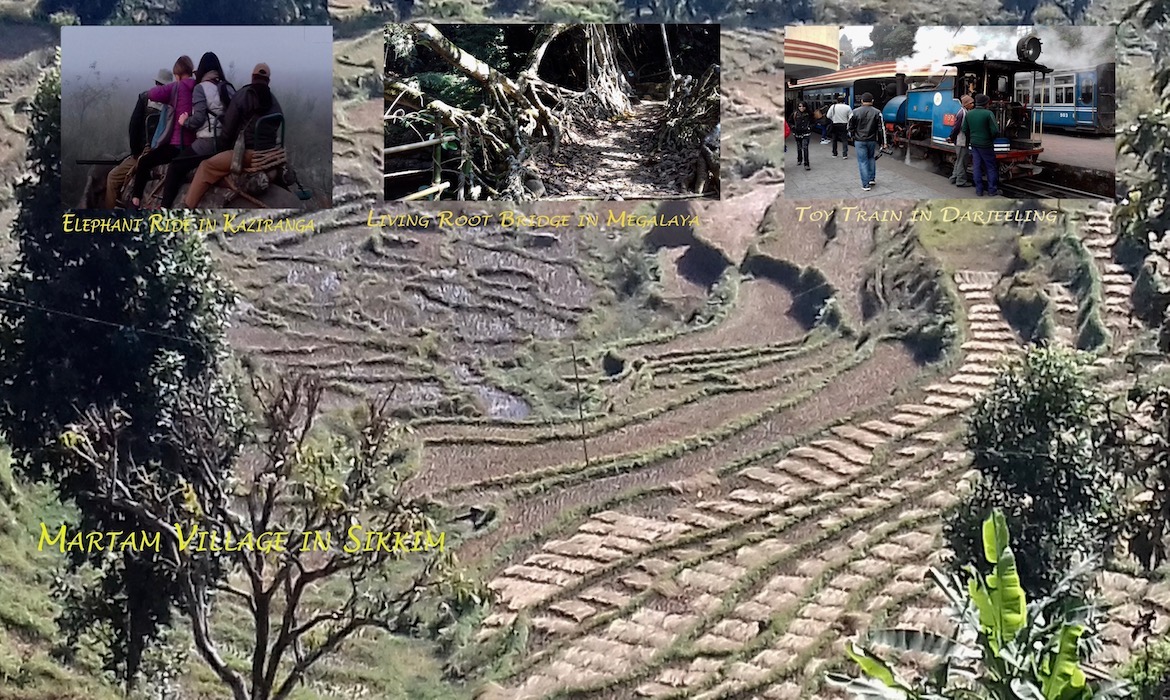 Trip highlights
Insights into Vaishnavite culture in form of traditional Satara ( Monasteries), social structure  in Majuli.
2. Myriad Wildlife in Kaziranga
3.Colonial era ambience and architecture and bustling Market in Shillong.
4.Limestone caves, waterfall, social dimensions in Cherrapunji .
5. Religious attractions and museum in Gawahati.
6. Buddhists monasteries and historical legacies in Himalayan state of Sikkim.
7. UNSECO Toy train, Tea garden and monasteries in Darjeeling.
Primarily, focussing on the cultural dimensions of the fascinating North East India , the itinerary unfold seeking insights into its social, culture and tradition aspects of people and place. It traverses into multiple endemic cultural identities of the region such as Missing tribe in Majuli (Assam), social structures in tea gardens and on fringes of National Park in Assam. Predominant Khashi tribe in Megalaya. Nepalese, Bhutai and Lepcha communities in Sikkim and Darjeeling. Through short walk, we visit houses and villages and try to strike chord with locales through greater interactions and lend insight into social structure and daily life.
Across manifold diversities in term of cultural expressions, this odyssey also encloses wildlife, nature in relatively pristine form and clearly stand out as unique and extraordinary region in vast canvass of Indian functioning diversities.
Itinerary -In - Brief
Day 1. Arrive in Jorhat
Arrive in Jorhat airport, meet Wind Horse representative and drive to hotel. It lies outskirt of town in a rural village setting. Rest and relax and in evening take a stroll in charming village nearby. Explore the village and interaction with friendly locales. Overnight in Thengal Manor.

Day 2. Excursion to Majuli 7 drive to Kaziranga
Wake up early for early breakfast and drive for 45 mins to Nimitighat pier for public ferry across Brahmaputra to Majuli. In Majuli, visit mask making unit, Satara (monastery), Pottery village and also its swamp areas are bio diversity hotspot for various migrating birds and get insight into Missing (Tribe) social structure by visiting them and interaction. Retrace the step and cross Brahmaputra to Nimitighat pier. After, drive for 2 -3 hours to Kaziranga. Overnight in Bogros Resorts
Day 3. In Kaziranga
Relatively active day today with combination of wild life safari and village visit. Wake up early for elephant ride, undoubtedly a prime time for sighting wild life from close quarter such as one horse Rhinoceros, various species of Deer, Asiatic elephants etc. Return to hotel and after breakfast rest and relax for a while. After, Jeep safari in Bagori (Western Range). Later visit Kaziranga Orchid and Bio diversity park. It houses orchid green house with fine specimens of wild orchid, some huts showcasing cultural and traditional artefacts of the regions and tribal dances. Visit tribal village on the fringe of Park and tea garden workers colony through short walks. Ample opportunities to chat and sought insights into their daily life. Overnight in Bogros.

Day 4. Drive to Shillong
Today is relatively long drive into capital of Megalaya - Shillong. perched in hills, still retaining colonial traits with its Raj era architectures and ambience. In evening visit Burabazzar - maze of lanes with shops lined up selling various wares . Rub shoulder with locales from all walks of life. Overnight in Hotel.
Day 5. Drive to Mywallnong Village via Dawki
Post breakfast, visit Don Bosco Museum - it displays the cultural heritage of entire North East regions. After, drive to Dawki (Bangladesh border) but along the course there are many interesting Khasi villages( Predominant tribe in Megalaya) with betel nuts & broom grass plantations. We may stop and interact with villagers and if fortunate can watch harvesting Betel nuts which is quite interesting. Also it crosses Dawki river to reach Dawki. On the way back to Mywallong, stop for boat ride in azure Dawki river. Upon arrival, take a stroll in evening Mywallnong village - dubbed as cleanest village in Asia. Congenial Khasi people readily displays warmth when striking a conversation. Overnight in simple Home stay.

Day 6. Drive to Cherrapunji
Early morning is good time for a short hike to a tower , a tad less than a kilometer away. Also visit charming village again. Post breakfast, drive to Nogriat village for a short hike to visit living root bridge. As we drive further, gradually thick vegetation gives way to granite and dwarf vegetations. In Cherapunji , visit seven sister fall, Mayslwai limestone cave, Old Presbyterian church. In evening a short walk to the village nearby the hotel. Overnight in Hotel.
Day 7. Drive to Gawahati
Drive to Gawahati will take around 1 -2 hours . Upon arrival, visit Kamayaka temple. One of the holiest temple for Hindu and for tantric tradition (Hindu Sect) followers. After take a public ferry to Uma Nanda - smallest river island in world. Free evening. Take rest or take a stroll in market. Optionally, you may take late night train for Siliguri for Sikkim & Darjeeling tour or take a flight next day. Train journey in India can be an adventure!!!... Overnight in Hotel.
Day 8. Fly to Bagdora & Drive to Martam (East Sikkim).
Transfer to airport for Bagdogra. Meet the Wind Horse representative and drive to Gangtok. The drive is scenic and follows the Teesta river upstream till border town of Rangpo. After immigration formalities, the road climb gradually and for last 45 mins it climb steeply to Martam Village - Its a sleepy hamlet with around 40 -50 households, a departure from organised hustle and bustle of Gangtok. Village Resort overlooks scenic terraced rice field and beautiful landscape. Depending on time, if we have about 3 hours at our disposal then scenic village hike across wooded hills and terrace rice field. If less , visit Martam villages striking chord with locales through greater interactions and home visit. Overnight in simple village Resort.
Day 9. Excursion to Gangtok
Wake up early for a quick visit of village. Life in village start early, this is the time more likely to meet them. After breakfast, drive to Gangtok - an hour drive. Like a typical Himalayan state, the area is predominantly dotted with many Buddhist monasteries. Some are old, steeply immersed in history and some contemporary ones. Drive to ridge of Gangtok hill, we begin from top and move below. Visit Enchey monastery - affiliated to Nyinmapa tradition of Himalayan Buddhism. If fortunate , we can watch some ongoing ritual. After, visit Directorate of Hand loom and Handicraft - it houses museum, traditional painting and Bamboo craft school, sale emporium. Post lunch, visit Do - Drul Chorten and nearby Namgyal Institute of Tibetology. Retrace the step to Martam. Free evening. Overnight in Martam Resorts.
Day 10. Drive to Darjeeling
After a short drive on the way to Darjeeling, stop to visit Rumtex Monastery - main seat of Karmapa lineage of Himalayan Buddhism. To a certain distance the drive follow river Teesa downstream and climb the wooded hill followed by rolling green tea garden. It offer a scenic drive in entirety. Also, on regular interval, we will take a break to stretch our legs and visit roadside villages. Upon arrival, visit vibrant market and take a stroll on pedestrian thoroughfare at Chowrasta. Overnight in Hotel.
Day 11. In Darjeeling
There are lot to see, begin with visit to Himalayan Mountaineering Institute - one of the premier mountaineering institutes in the world, Padmaja Naidu Himalayan Zoological Park, Snow Leopard Breeding Centre and the Tibetan Self-help centre - it's emporium boast of highest quality Tibetan handicrafts. World famous tea is synonymous with Darjeeling so we will visit a tea estate that produces one, on the way back and also visit Tea garden colony. In the afternoon visit the Japanese Peace Pagoda and the beautiful Dali monastery – affiliated to Kagyupa sect of Vajrayana Buddhism. Option is also available to take a joy ride on a toy train . Overnight in Darjeeling.
Day 12. Departure
Considering the heavy traffic on the way to airport, we will travel with enough time at our disposal.
Group SizeAny number of members

MealsFull board

Trip AccommodationIn 3 star accommodation with good amenities and in some case in spartan homestay.

Route1.Arrive Jorhat
2.Jorhat - Majuli excursion - Kaziranga
3. Kaziranga - Shillong
4.Shillong - Cherrapungi
5. Cherrpunji - Gawahati
6. Gawahati - Sikkim
7. Sikkim - Darjeeling
8. Departure



Trip Type Cultural Tour


Trip SeasonsWinter are good months with blue sky and bright sun and temperature around 10 - 18 degree celsius. Spring (Feb & March) and Fall ( Sept & Oct)

Best MonthsJanuary, February, March, October, November, December

Good MonthsApril

Lean MonthsMay, June, September

Not RecommendJuly, August
Prices & Dates
Starting from USD$ 1440 , however exact cost are determined based on your travel date,  number of participant, hotel chosen. Please contact us for details.
Included
1. Accommodation based on Twin sharing in 3* to 4* hotels, Village Home stay or tribal House
2. All meal included.
3.Experienced English Speaking Guide.
4.Entrance fee to monuments and  other activities
5. All transfer on good Vehicle.
6. One Elephant ride and one Jeep Safari in Kaziranga and Boat Ride in Dawki river
Not included
1. Airfare
2. Indian Visa Fee.
3. Camera/Video fee for Wild Life Tour.
4. Travel/Medical Insurance.
5. Personal expenses like Telephone calls, Laundry, Tips, Porterage.
6. Any aspects not listed in included sections.
Accommodations
Accommodations are a mix of 3 to 4 star hotel and homestay and village resort. Note home stay have spartan amenities
---
Trip Guide/Leader
---
×

Anand Thapa who hail from Jaigoan – one horse town that border with south west commercial hub, Phuentsholing, Bhutan. He had his schooling in Bhutan. Later he went to Darjeeling to pursue further education. With the lush green tea garden, colonial churches and looming Mt Kanchenjunga captured his imagination, this is how travelling struck him deep.

After his studies, he went to Kathmandu and to different cities in India, making a living doing odds jobs. Finally, he joined Wind Horse tours overlooking the affairs of guests relations, marketing in 2013. Meeting and interaction with guests from different walk of life have fuelled his passion to a new height and claims to be a huge influence as a  learning experience.