Introduction of India, Bhutan & Nepal
19 Days
Discover India's mystical and historical legacy, Bhutan's quaint and tranquil charm, Nepal's history on its edifices.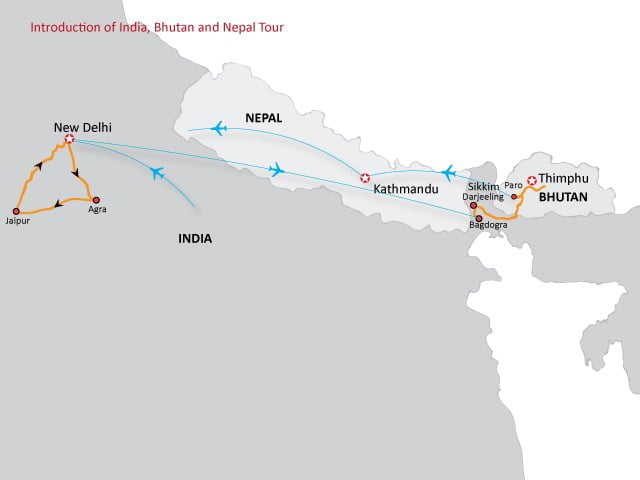 Trip Grade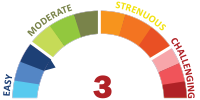 Trip Price From US$ 3500 | See Details
Trip AccommodationIn Delhi, Agra & Jaipur, among many, you may choose hotel as per your liking. Cost will reflect accordingly. In other places we try to use best in the area. In Bhutan hotel are tourist standard and in places where avail, we use upgraded accommodations. For instance, 4* Hotel Druk & Tashi Namgay Resort in Thimphu and Paro respectively. Note, recommended hotels are based on amenities, ambience and location.
See Details
Group SizePrivate with your own group
MealsBreakfast & Dinner in India & Nepal. All meals including evening tea in Bhutan.
RouteAgra, Jaipur, Delhi, Bagdogra, Darjeeling, Phuntsholing, Thimphu, Punakha, Paro, Nagarkot, Kathmandu.
Trip Type Cultural Tour
Trip SeasonsPeak season March-April-May-September-October-November
Best MonthsJanuary, February, March, April, May, June, July, August, September, October, November, December
Trip highlights
The most popular sights of India, Bhutan and Nepal
This journey starts with the tour of renowned Golden Triangle: Delhi, Jaipur and Agra, where we visit some of the greatest sights of India, including the Taj Mahal. Fly northeast to Bagdogra and climb up the hills through tea gardens to Darjeeling. Take a joy ride on the famous toy train with astounding views of the Kangchenjunga Himalaya. Travel overland and cross the border into Bhutan, a kingdom of stunning natural beauty with its friendly, colorfully dressed people. Spend a week in Bhutan visiting ancient monasteries, villages, farms and meeting with locals. A breathtaking flight over mountain vistas brings you to Medieval Kathmandu. In Kathmandu, admire magnificent royal residences, cobbled streets, ancient squares and buildings sprinkled with intricately hand-carved windows set against a backdrop of the majestic Himalaya. In the narrow lanes and alleys, jostle with Nepalese people in a happy and lively atmosphere. Visit artists markets, temples, pagodas, a hill resort and a local home.
Outline Itinerary
Day 1: Arrive in Delhi: Meet upon arrival and transfer to a hotel.
Overnight hotel.
Day 2: Delhi Tour  Full day sightseeing tour of New and Old Delhi. Visit Lal Kila (Red Fort), Jama Masjid and Chandni Chowk market in Old Delhi. Later visit Humayun's Tomb, Qutub Minar, India Gate and other attractions.
Overnight in Hotel
Day 3: Drive to Agra  Drive to Agra visiting Sikandra tomb en-route. Upon arrival in Agra, visit Agra Fort and Taj Mahal at the sunset.
Overnight in hotel.
Day 4: Agra – Jaipur  En-route to Jaipur, visit the ancient Mughal capital of Fatehpur Sikri. Evening in Jaipur is for stroll and walk into the old city.
Overnight in hotel.
Day 5: Jaipur Start with the visit of Amer fort at the outskirts of Jaipur. Later visit City Palace, Jantar Mantar Observatory followed by Hawa Mahal and the walk through the colorful bazaars.
Overnight in hotel.
Day 6: Return to Delhi Drive back to Delhi and pursue your own interests in the evening.
Overnight in City Park.
Day 7: Fly to Bagdogra – Gangtok, Sikkim  Transfer to the airport and fly to Bagdogra airport. Upon arrival, meet and drive for about 3-4 hours to Gangtok, the capital of Sikkim, once an independent country. In the evening, stroll around MG Marg, a promende or Avenue, where vehicles are not allowed.
Overnight in hotel.
Day 8: In Gangtok  Full day tour of Gangtok, Sikkim, where we visit Enchey Gompa, Tashi viewpoint, Flower Expo, Tsuk Lhakhang temple inside the former Palace complex, cottage industry, Institue of Tibetlogy, Dodrul Monastery and local farmer's market.
Overnight in hotel.
Day 9: Gangtok – Phuntsholing, Bhutan  Descend from the hills to the plains and cross Duars area with Tea Gardens of west Bengal into Phuntsholing at the foothills of Bhutan. Meet our Bhutanese Guide and stroll around the town.
Overnight in hotel Druk or best available.
Day 10: Phuntsholing – Thimphu Drive uphill to Thimphu after completing immigration formalities. En-route make a stop and visit Rinchending Monastery, other villages and towns along the way. Once in Thimphu, visit Tashicho Dzong and tour around town.
Overnight in hotel.
Day 11: Thimphu We have a full day in the capital to cover all the major landmarks and interesting attractions.
Overnight in hotel.
Day 12: Thimphu – Punakha  After further sightseeing of Thimphu in the morning, then drive across Dochula Pass to Wangdiphodrang. Visit the town and fortress in Wangdue. Spend the night near Punakha.
Overnight in hotel.
Day 13: Khamsum and Punakha Dzong  In the morning drive and walk to Khamsum Chorten and visit local homes. Later visit Punakha Dzong and Chimi lhakhang temple. In the evening stroll around the new township of Punakha.
Overnight in hotel.
Day 14: Thimphu and Paro  Drive back to Paro via Thimphu. At Paro, visit National Museum and Rinphung Dzong.
Overnight in hotel.
Day 15: Taktsang and Drugyal Dzong  Hike to Taktsang (optional) and visit ruins of Drugyal Dzong, Kichu temple and a typical farm house.
Overnight in hotel.
Day 16: Fly to Kathmandu Upon arrival, meet Nepalese Guide and drive to Bhaktapur city to visit Durbur Squares and temples. Continue to drive toward famous Nagarkot hill resort for panoramic views of the Himalayas.
Overnight in one of the Hill Resorts.
Day 17: Nagakot – Kathmandu Drive back to Kathmandu. Visit Syambhunath and Kathmandu Durbur Square. Have dinner with a live entertainment at a local restaurant.
Overnight in hotel.
Day 18: Kathmandu  Visit Boudanath, Pashupatinath temple in the morning. Later visit Patan city.
Overnight in hotel.
Day 19: Departure  Transfer to the airport in time for a flight to your next destination.
You can fly back to Delhi, Varanasi, Bangkok from Kathmandu.