Introduction to Bhutan – 8 days
8 Days
Introduction to Bhutan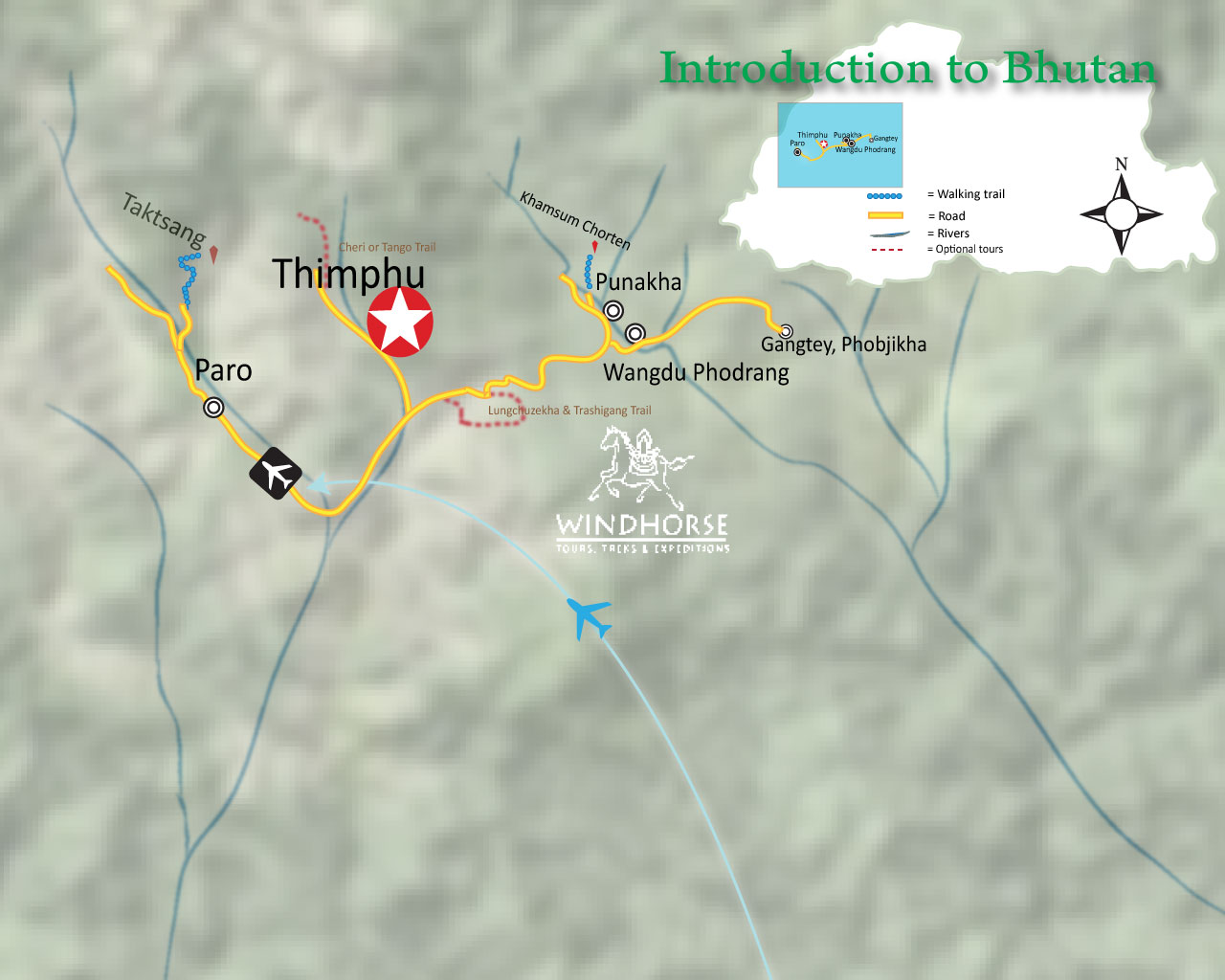 Trip Grade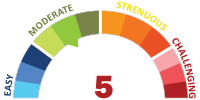 Trip Price From US$ 1440 | See Details
Trip AccommodationHotels can be provided according to your choice. See Details
Group Size Private trip with your own group.
MealsAll meals
RouteThimphu-Phobjikha-Punakha-Paro
Trip Type Cultural Tour
Trip SeasonsBest from Feb till May and from Sept till December. This tour can be done anytime - throughout the year.
Best MonthsJanuary, February, March, April, May, June, July, August, September, October, November, December
This tour is the curtain raiser to the places of interest in western and central Bhutan. This seemingly leisure paced odyssey take you to the road of discovery of  well preserved tradition and culture, medieval Dzongs, pristine environments, monasteries and ever friendly people.This introductory tour start from capital city Thimphu, which stole the limelight for being only capital in the world without traffic lights. After visiting sights and attraction in Thimphu valley, we then drive east across spectacular Dochula, offering grand vista of eastern Himalayan peaks on a clear day to the glacial valley of Phobjika, where electricity is still a novelty, an initiative undertaken in conversation programme of sacred Black Neck Crane. On the way back, we stop at semi tropical agrarian valley of Punakha & Wangdi, that houses one of most beautiful Dzong (Punakha Dzong) in the country on the confluence of Po and Mo Chhu river, after visiting these attraction, crossing again Docula pass, take you to verdant valley of Paro,  culminating into hike  to the famous Taktsang (Tiger's Nest) monastery, a quintessential Bhutan travel experience.
For those short on time and those who wish to avoid long drives in Bhutan, this 8 days/7 nights introduction tour of Bhutan is the perfect choice.
This itinerary can be manoeuvred in any order, to incorporate local events, festivals or celebrations.
Outline Itinerary
Day 1: Arrive in Paro – Thimphu (L/D) Upon arrival in Paro, you are met by Wind Horse Tours staff and transferred to Thimphu in a private vehicle (1hr). Along the way, you can stop in several places according to your interest. After lunch, visit different sights and attractions of Thimphu.
Overnight in hotel of your choice.
Day 2: Thimphu Sightseeing (B/L/D) Full day tour of Thimphu's cultural sites and monuments including Tashicho Dzong, Traditional Art School, Markets, Indigenous Hospital, Nunnery, Takin Sanctuary. Our guide can also change the tour to incorporate your interest and you may visit as much or as little.
Overnight in hotel of your choice.
Day 3: Thimphu – Gangtey, Phobjikha Valley (B/L/D) Drive across the spectacular Dochu La Pass to Gangtey, Phobjikha Valley (5 hr). The scenery is stunning and ever-changing, as the road climbs and descends. Along the way, you can stop at several places. Upon arrival, visit ancient Gangtey Gompa Monastery and take a short walk to visit local homes. Overnight at Dewachen Resort (standard) or at Aman Resort (for luxury)
Overnight in hotel of your choice.
Day 4: Gangtey – Wangdue – Punakha (B/L/D) In the morning, take a short easy walk in the valley and also visit the Nature information centre. One of the main attractions of the valley is the endangered black-necked crane, which reside in Phobjikha from late October till March. Later drive back and descend into sub-tropical valley of Punakha – Wangdue (2-3hrs). Visit the township of Wangdue and its massive fortress. In the evening, take a short easy walk to see Chimi Lhakhang temple, which is through a small village.
Overnight in hotel of your choice.
Day 5: Punakha -Thimphu- Paro (B/L/D) In the morning, visit the impressive Punakha Dzong at the confluence of Pho and Mochu rivers. If you wish, you can also take a short (40 minute each way) walk to visit Khamsum Yuelley Chorten. On the return drive to Thimphu, we spend some time below Dochula pass to explore the botanical park and nearby surrounding for birds for diverse flora. Lunch could be planned at Dochula pass. After descending into Thimphu, continue short drive to Paro.
Overnight in hotel of your choice.
Day 6: Paro Valley Tour (B/L/D) If you are interested more in the walks and to visit off-the-beaten sights, your guide can take you for drive up to Chele pass and hike to Kila Gompa nunnery. Along the way, you will also pass through wonderful forests. Also short distance from Paro in Bondey village, you can take a short walk to visit Dzongdrakha Gompa. The popular attractions within Paro include visiting Rinphung Dzong, National Museum, temples of Kichu and Dungtse, visiting local home and the stroll around the township.
Overnight in hotel of your choice.
Day 7: Paro Valley (Takstang) (B/L/D) Before the hike, you can visit the ruins of Drugyal Dzong. Then follow it by day excursion to famous Taktsang or Tiger's nest monastery. We can arrange pony ride for the uphill part but you must be able to walk down hill. This is expected to take all day.If for some reason, you wish skip Taktsang, our Guide and driver can arrange other interesting alternatives based on your interest. Return to Paro for farewell dinner.
Overnight in hotel of your choice.
Day 8: Departure (B) Transfer to Paro Airport in time for your departure flight. Most flights out of Bhutan depart in the morning.