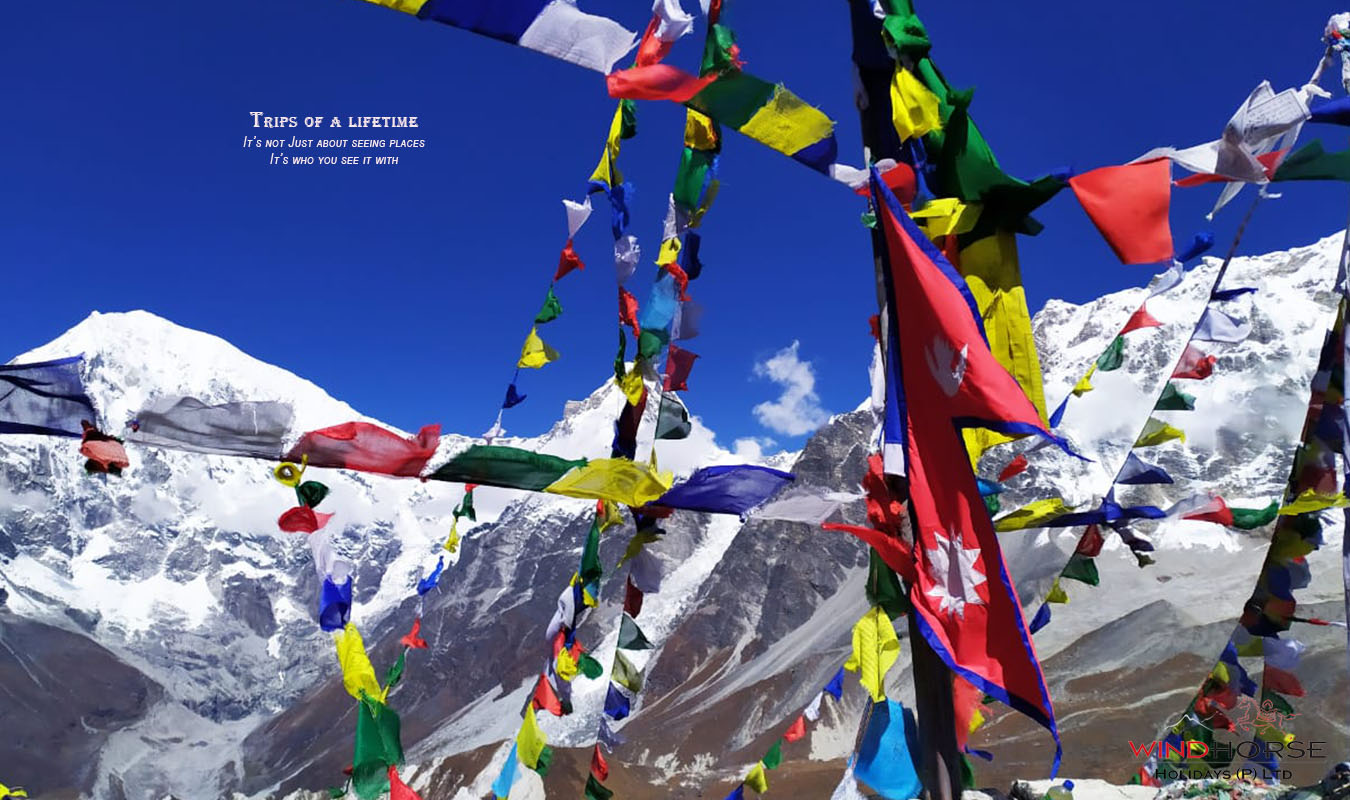 Trip highlights
Explore the UNESCO Heritage Sites around Kathmandu Valley.
Scenic drive to Syabrubesi through winding mountain road.
Trek on a less crowded and off-the-beaten trail.
Explore Langtang National Park, home to rare Himalayan flora and fauna.
Tread across verdant forests, high alpine meadows, and yak pastures.
Visit the ancient Buddhist monastery, Kyanjin Gompa.
Enjoy incredible mountain views from Tserko Ri.
Visit the Holy Gosainkunda Lake, believed to have been formed by Lord Shiva.
This Langtang and Gosainkunda Pass Trek combines the Langtang Valley Trek with the high-altitude lakes of Gosainkunda. Langtang and Gosainkunda Pass Trek is a fabulous journey across the extraordinary Himalayan landscape, valleys, and meadows with exceptional views of Langtang Lirung, Dorje Lakpa, Langshisa, and other peaks. The Langtang and Gosainkunda Pass Trek is less crowded and more pristine than other treks in Nepal. Moreover, this Langtang and Gosainkunda Pass Trek offers the opportunity to explore the Tamang and Sherpa villages and learn more about their rich culture and tradition.
Our journey begins from Syabrubesi on the edge of the Langtang National Park. We climb through beautiful thick oak and rhododendron forests to Langtang valley. The trekking trail follows the Langtang Valley Trek trail until Kyanjin Gompa, where we spend a day acclimatizing. On this day, we climb up to Tserko Ri and return to Kyanjin Gompa. The following day we descend back to Lama Hotel and then to Thulo Syabru. From Thulo Syabru, the Langtang and Gosainkunda Pass Trek route shifts towards the holy lakes of Gosaikunda across the Lauribina La Pass(4610m) with stunning views of Ganesh Himal, Jugal Himal, Manaslu, and other peaks.
Gosainkunda lake basin consists of dozen lakes: Saraswotikunda, Bhairavkunda, and Gosainkunda are eminent. Gosaikunda lake is a revered pilgrimage site for Buddhists and Hindus. People believe the waters of Gosaikunda Lakes have magical healing powers. Each year, thousands of Hindu pilgrims come to take a holy bath during the Janai Purnima festival(Aug/Sep). We explore around the lake and next day, descend to Sing Gomba across the Lauribina la Pass. From Sing Gompa, we come down to Dhunche and drive back to Kathmandu.
Detail Itinerary
Day 1. Arrival in Kathmandu
Upon arrival, meet our representative and transfer to the hotel. T rest of the afternoon is free to relax at your hotel or take a short walk to Thamel. In the evening, we will have dinner at a traditional Nepalese restaurant with a cultural performance. Overnight in Kathmandu.
Day 2. In Kathmandu
Today in the first part, we will visit some of the major UNESCO World Heritage Sites, including Pashupatinath temple, Boudanath Stupa, and Kathmandu Durbar Square. In the evening, we will have a briefing regarding the trek. Overnight in Kathmandu.
Day 3. Drive from Kathmandu to Syabrubesi (1,550m/7-8 hrs)
After breakfast, we will have an overland journey north of Kathmandu valley to Syabrubesi via Trishuli Bazaar and Dhunche. The drive goes along a winding mountain road with views of beautiful landscapes and snow-covered mountains in the background. Overnight in Syabrubesi.
Day 4. Trek from Syabrubesi to Lama Hotel (2,380m/6 hrs)
Today the trail goes along the Langtang river across forests of oak and rhododendron, verdant meadows, several Tamang villages, a stunning vista of great Himalayan peaks, and finally ascends through Rimche and ends at Lama Hotel. Overnight in Lama Hotel.
Day 5. Trek from Lama Hotel to Langtang vallley(Sherpagaon/Mundu 3430m/6-7 hrs)
Today's trek begins with a gentle ascend, which soon turns into a steep climb until we reach the green pastureland of Ghoda Tabela. From Ghoda Tabela, the trail climbs to the beautiful Langtang valley with yaks grazing in the meadows and a few make-shift yak herders camps. We shall either halt for the night at Sherpagaon or Mundu village. Overnight in Sherpagoan/Mundu.
Day 6 Mundu/Sherpagaon to Kyanjin Gompa (3,870m/4-5 hrs)
The trail passes across water run mills, prayer wheels, chortens, streams, and wooden bridges, and finally, we reach Kyanjn Gompa. Kyanjin Gompa is a beautiful village with views of Ganchenpo, Langtang Lirung, Langsisa, Dorje Lhakpa, Yala peak, and many other Peaks. After lunch, we will visit the monastery and cheese factory and explore the village. Overnight in Kyanjin Gompa.
Day 7. Excursion to Tserko Ri (5033m/5-6 hrs)
The trail begins from a flat path but soon turns to a steep climb as we proceed further. The summit of Tserko Ri provides a stunning 360 view of Langtang valley and the snow-covered peaks. After spending some time at the top, we will descend to Kyanjin Gompa. Overnight in Kyanjin Gompa.
Day 8. Kyanjin Gompa to Lama Hotel(2380m/6-7 hrs)
Today we retrace our steps back to Lama Hotel. The trail is mostly downhill past forests and villages with a view of the snow-covered peaks along the way. Overnight in Lama Hotel.
Day 9. Lama Hotel to Thulo Syabru (2260m/6hrs)
Today we begin with a gentle descent down to the river through beautiful pine and Juniper forests and ascend to Thulo Syabru. Thulo Syabru is a lovely village that has preserved the ethnic custom, culture, and traditions of the Tamang people. Enjoy the magnificent view of nature with splendid views of Ganesh Himal, Langtang Himal, and other peaks. Overnight in Thulo Syabru.
Day 10. Thulo Syabru to Sing Gompa(3330m/5-6 hrs)
Leaving Thulo Syabru, we ascend steep uphill through forests of oak, hemlock, and rhododendron across pasture lands to the ridge at Phoprang. And from here, the trail goes across a narrow hilltop to Sing Gompa, with its picturesque setting and impressive views. Overnight in Sing Gompa.
Day 11. Sing Gompa to Gosainkunda(4380m/5-6hr)
The trail ascends gently up to Lauribina Pass. From here, it is a steep uphill walk with good views of the west Himalchuli, Manaslu range, Ganesh Himal range, and other peaks. After a short break at Lauribina Pass, we continue our journey and reach a small ridge, from where we shall have the first views of the holy lakes. There are about a dozen lakes in the Gosaikunda basin: of which Saraswatikunda, Bhairavkunda, and Gosainkunda are the prominent ones. Overnight in Gosainkunda.
Day 12. Gosaikunda to Sing Gompa(5-6hrs)
Early morning visit Bhairavkunda and Saraswatikunda and retrace our steps to Sing Gompa. The trail ascends until the ridge and descends to Sing Gompa crossing Lauribana Pass once again with magnificent mountain views and forests. Overnight in trekkers lodge.
Day 13. Sing Gomba to Dhunche(1764m/5-6hrs)
The trail descends through pine, rhododendron, and bamboo forest to reach Deurali. From Deurali, the trail further descends through dense forest, crosses the river, and finally arrives at Dhunche. Explore the village area and learn about the culture, customs, and lifestyle. Overnight in trekkers lodge.
Day 14. Dhunche to Kathmandu (6-7hrs)
The drive to Kathmandu goes through foothills, terraced fields, and small villages and towns. Upon reaching Kathmandu check into your hotel and rest and relax. Overnight in Kathmandu.
Day 15. Departure
Transfer to the airport for the departure flight.
Group Size2-10

MealsOnly breakfast in Kathmandu, all meals during the trek

Trip Accommodation3-4* category hotels in Kathmandu and local village lodges during the trek

RouteKathmandu-Syabrubesi-Lama Hotel-Kyanjin Gompa-Lama Hotel-Thulo Syabru-Sing Gompa-Gosainkunda-Sing Gompa-Dhunche-Kathmandu

Trip Type Trekking


Trip SeasonsBest during spring and autumn

Best MonthsMarch, April, May, October, November

Good MonthsFebruary, September

Lean MonthsJune, July, August

Not RecommendJanuary, December
Prices & Dates
Cost Information coming soon !!
Included
All airport and hotel transfers by private vehicle.
One full day sightseeing with entrance fee accompanied by a local guide as per itinerary.
Accommodation in the above listed or similar hotels in Kathmandu and in local comfort lodges during the trek.
Only breakfast during the stay in Kathmandu.
One welcome/farewell dinner in Kathmandu.
All meals including 3 coffee/tea during the trek.
English-speaking guide along with a porter(one porter for every two pax) during the trek.
Guide, porter, and trekking staff insurance.
All necessary paperwork and permit (TIMS/LNP)
All Government taxes and service charges.
Not included
Nepal entry visa.
International flight to and from Kathmandu.
Lunch and dinner or any other meal not specified above.
Personal Travel Medical Insurance.
Personal expenses include a bar, beverages, tips and gratuities, laundry, telephone, battery recharge, etc.
Hot showers during the trek.
Any extra cost incurred due to unforeseen circumstances or early return from the trek.
All other personal expenses that are not listed in the included section.
Trip Guide/Leader
---
×

Hem Raj Bastola is a permanent inhabitant of Pokhara-25.  He has been working as a  tour and trekking guide  since 2010. Formerly he has worked as a guest service agent at the hotel Pokara Grande. He started his career as a Cave guide,  ticket sales man at Gupteshwor Mahadev Cave in Pokhara. So must of his working experience is related to tourism and hospitality industry. Beside his guiding profession, he enjoys reading and writing poetry. His poets have been published in different forums and medias.  When get free time loves to work in the field as well.