Magical Kerala Tour – Southern India
8 Days
Kochi-Munnar-Thekkady(Periyar)-Houseboat-Kovalam | 08 Days
Trip Grade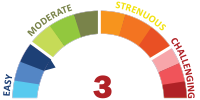 Trip Price From US$ 875 | See Details
Trip AccommodationModern 4 star category hotels and resorts See Details
Group SizePrivate Tour
Meals07 - Breakfasts
01 - Lunch
04 - Dinners
RouteKochi-Munnar-Thekkady (Periyar)-Alleppey-Kovalam-Trivandrum
Trip TypeCultural & Scenic Tour
Trip SeasonsSeptember to March
Best MonthsJanuary, February, March, October, November, December
Good MonthsApril, August, September
Lean MonthsJuly
Not RecommendMay, June
Trip highlights
Trip Highlights:
Historic Kochi sightseeing
Munnar Hill station- the Summer retreat of the British during colonial times
Spice plantation visit in Thekkady
Visit to protected Periyar Tiger Reserve
Boat ride in Periyar Lake
Houseboat trip – Kerala backwaters
Serene Kovalam beach
Kerala is a widely known and classical tourist destination in Asia. Arabian see in the west and Western Ghats in the east gives Kerala unique geographical features. Kerala enjoys a network of 44 rivers, an equitable climate and long shoreline with serene beaches. One can experience exotic wildlife, lush green hill stations, tranquil backwaters house boat stay, waterfalls and relishing cuisine by our Kerala Tour with Windhorse.
Ayurveda is an ancient system of Indian medication and rejuvenation therapy which is the oldest health care system of the world. Kerala attracts millions of tourist from all over the world for 'Ayurvedic health vacations' thus it is also known as the 'Land of Ayurveda'.
Houseboat Experience – Life on the backwaters has a different set of rules. First, since there are no roads you depend on canals, rivers and lakes for your travel routes. Most families have a boat of their own. Children often learn to swim at least as early as they learn to walk – you are likely to see kids splashing in the local equivalent of a playground. Their school buses float, as do the postal vessels delivering to homes here. Even the supermarket floats! A unique set of waterways in Kerala's central region allows us to showcase three districts that represent the "rice bowl" of Kerala – all by boat.
Kerala is a year-round destination due to its warm and humid climate; it receives heavy rain during monsoon from May to July. Best time to visit Kerala is from October to April.
With all the unique and amazing offerings, it is aptly referred as the 'God's own country '.
This Kerala tour would leave you enchanted with its charm and uniqueness for which it is world-famous.
Outline Itinerary
Day-1: Arrival in Kochi
Arrival at Cochin (Kochi) International Airport and transfer to hotel in the company of office representative. The rest of the day is free to enjoy at leisure.
Overnight: Kochi
Day-2: Kochi sightseeing (B)
After breakfast enjoy sightseeing of Kochi including Asia's best preserve Synagogue, the Dutch Palace and the oldest European Church in India – the St. Francis Church where Vasco De Gama was originally buried. A leisurely walk through the Fort Cochin area would give you a close look at the operation of the huge cantilevered Chinese fishing nets. Evening at leisure.
Overnight: Kochi
Day-3: Drive to Munnar (B,D)
Drive to Munnar (140 km/ 04 hrs.) a misty, lush green hill station up in the Annamalai range of Kerala. Munnar's tea gardens, some of the highest in the world, stretch up the sides of the hills and are interspersed with pockets of forest rich in wildlife. Reach and check-in hotel by afternoon. Later enjoy the scenic beauty of Munnar with its marvelous waterfalls, lush tea gardens and high mountains with low flying clouds.
Overnight: Munnar
Optional: Walking along trails in Eravikulam National Park (US$ 20)
 Day-4: Drive to Thekkady (Periyar National Park and Tiger Reserve) (B,D)
Transfer to Thekkady (120 km/ 04 hrs.). Drive through one of those most picturesque hill highways of Kerala. Thekkady is set in the heart of the Cardamom and Pepper Hills of Kerala; this is otherwise the Periyar National Park and Tiger Reserve. Periyar has one of the world's most fascinating Natural wildlife reserves noted for its geography, diverse wildlife and scenic beauty.
Apart from the wildlife, this region harvests the best quality spices including Cardamom, Pepper and also tea. Evening go for a walk at the Periyar Wild life sanctuary and later for a boating at the Periyar Lake. This wildlife offers you a rare opportunity to enjoy south India's wildlife. Enjoy this boat safari on Periyar Lake to view the varied wildlife of this region.
Overnight: Thekkady
Day-5: Transfer to House Boat (B,L,D)
After breakfast, transfer to the Houseboat Embarkation point (Alleppey – 04 hrs.). The Kerala houseboats used to form an inseparable ingredient of the way of life in Kerala, this traditional boat is locally called as Kettuvallom. Check-in to the exclusive houseboat. Your private boat will be facilitated with bed rooms, bath rooms, living area, sun deck, dining and beautiful corridor. The boat will also have a Kitchen that prepares all your meals onboard. This full day cruise will include all your meals and an overnight stay on board.
Overnight: Houseboat
 Day-6: Drive to Kovalam (B)
After breakfast, check out and drive to Kovalam (04 hrs.); on arrival check-in hotel. Kovalam is an internationally renowned beach with three adjacent crescent beaches. It has been a favorite haunt of tourists, especially Europeans, since the 1930s. A massive rocky promontory on the beach has created a beautiful bay of calm waters ideal for sea bathing. Enjoy the evening watching a spectacular sunset or swimming at the picturesque Kovalam Beach.
Overnight: Kovalam
Day-7: Kovalam (B)
The day is at leisure to relax at beach. The leisure options at this beach are plenty and diverse. Sunbathing, swimming, herbal body toning massages, special cultural programmes and catamaran cruising are some of them. The tropical sun acts so fast that one can see the faint blush of coppery tan on the skin in a matter of minutes. Life on the beach begins late in the day and carries on well into the night. The beach complex includes a string of budget cottages, Ayurvedic health resorts, convention facilities, shopping zones, swimming pools, Yoga and Ayurvedic massage centers.
Overnight: Kovalam
Day-8: Departure transfer (B,D)
After breakfast, check-out hotel and transfer to Trivandrum International Airport at least three hours prior to scheduled departure of your international flight back home or two hours prior to domestic flight for onward destination.
Note- Trivandrum (also known as 'Thiruvananthapuram') is the capital city of Kerala. It is just 16 km away from Kovalam and getting there is no hassle.