Merak & Sakten Trek
18 Days
The wild eastern Bhutan trek - Yeti trail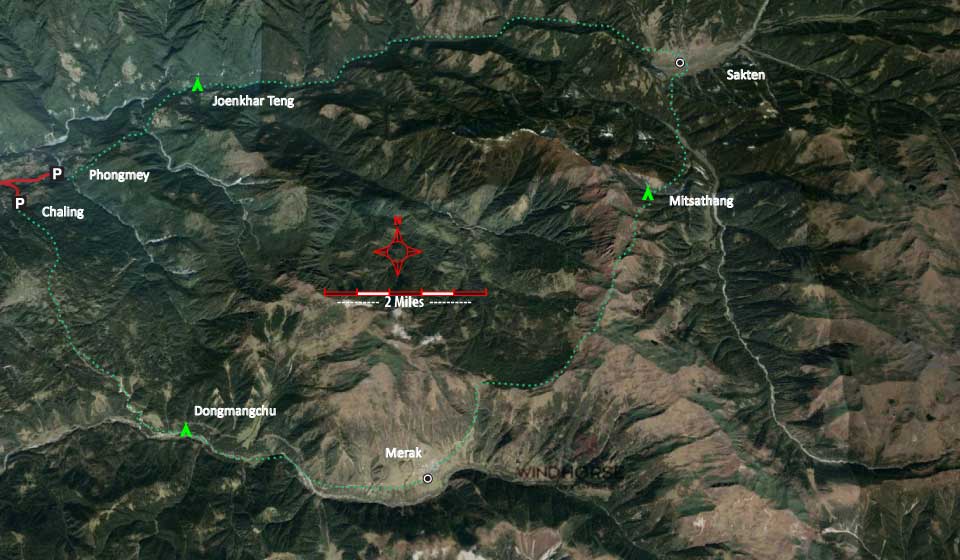 Trip Price From US$ $3800 | See Details
Trip Accommodation6 nights in tent camp, 3 nights in simple hotels with western private bath and rest in comfortable 3 star type hotels /lodges.
Trip SeasonsMarch till May and Oct till mid Nov.
Group Size8 Pax maximum
MealsAll meals after arrival in Bhutan
Trip TypeModerate trek
Best MonthsJanuary, February, March, April, May, June, July, August, September, October, November, December
Trip highlights
Colorful festival.
Remote villages Meet the Brokpa tribe
Trekking off the beaten trail
National Parks
Cultural monuments
Takstang (Tiger's Nest)
Local markets.
This new trekking route into Merak and Sakteng is a truly incredible cultural journey and nature trek into a region closed to foreigners for the past 30 years. Until now only a handful of researchers and tourists have been granted permission to enter this area. Merak and Sakteng has been closed to protect the unique cultural heritage of the Brokpa people and in part to give the mythical Yeti some peace, whose tales of wandering in the valley is very popular among the locals. The Brokpas of the Merak and Sakten regions of eastern Bhutan are semi-nomadic yak herders who speak a unique dialect, wear unusual clothing and live in stone houses distinctive to this isolated region of Bhutan.
This seven-day trek (including one rest day for exploration) enters Sakteng Wildlife Sanctuary, one of nine protected areas in Bhutan. The Sanctuary is typical of the diversity of Himalayan terrestrial ecosystems, combining alpine meadows, temperate forests and warm broad leaf forests. According to the surveys conducted by the World Wildlife Fund some 203 species of plants, 119 species of birds and 18 species of mammals have been confirmed. such as the endangered snow leopard, red panda, the Himalayan black bear, and the Himalayan red fox.
The trek is part of community-based tourism that benefits local communities. Extra fees (such as government entry fees, camping fees, use of local staffs, and each night in the villages locals hosting cultural show and dances) are a necessity. Along with the trek, you will visit the valleys of Bumthang, Punakha, the capital Thimphu and Paro, which are all quintessential Bhutanese treasures.
Combined with these, we also attend one of the colorful Bhutanese Festival to make this trip a truly magical experience!
Outline Itinerary
Day 1: Arrive Guwahati-S/Jongkhar(D).Arrive in Guwahati airport in Assam, India. Meet and take a drive to Samdrup Jongkhar, a frontier town in southeastern Bhutan. Along the way, you will pass through many small Assamese villages and tea gardens. Complete immigration formalities and enter Bhutan. In the evening stroll around the town to see the locals. Samdrup Jongkhar is a trading town for eastern Bhutan.
Overnight in Mountain hotel or best available.
Day 2: Samdrup Jongkhar-Tashigang (B/L/D)After an early breakfast, we will drive north to Trashigang. As the road ascends, we pass through a variety of vegetation zones in the Himalayan foothills. Looking back we should get a distant view of the Indian plains. The roadside is rich in plants including ferns, rhododendrons and primulas and we will pass though many small villages. If possible, we will stop in some of them, including a stop at a local weaving center in Khaling. Late in the afternoon, we will visit Trashigang Dzong which houses the monastic institute for monks and administrative center for the valley.
Dinner and overnight in Druk Deothjung or Lingkgar hotel.
Day 3: In Trashigang (Day excursion to Tashi Yangtse) (B/L/D)Drive to Tashiyangtse, visiting Gomkora temple, Doksum village along the way. In Trashiyantse, visit Traditional Art School, Chorten Kora and stroll around the village and in its small township. Return to Trashigang for overnight.
Attend the festival at Gomkora during March trip and skip Tashiyangtse.
Day 4: Start trek to Donmong Chu (B/L/D)Approx.19km, 5-6hours, 1210m ascend and 200m descend. From Trashigang drive for 1½ hr. to the road end at Chaling at 2135m. After leaving Trashigang, the drive is a scenic one as you pass through Rangjung town and then after that, it is a dirt road uphill through Radhi village to Chaling (total 3hrs drive). After the pack animals are loaded with your luggage, along with Wind Horse trekking crew, begin trek past Chaling and gradually make a climb towards Shaktimi meadow, with yaks and sheep grazing with some yak herders' huts scattered on the hillside. Continue the climb to reach Mendula Pass at 3345m. After the pass it is all downhill through the rhododendron forests till campsite at a beautiful meadow known as Donmong chu by the river at 3145m.
Overnight in camp.
Day 5: Donmong Chu-Merak (B/L/D).Approx. 10.5km, 3-4hours trek, 396m ascend. Trek along the Donmong Chu River through the rhododendron forests and shrubs. There are no steep climbs today and the trail in most part follows the river bends, gradually gaining the height. The first village we come across is Gangu(3430m) and after another 45 minutes, we arrive at a large Merak village located at an altitude of 3520m. Visit the local village homes; meet with its local people. Merak is one of the most isolated valleys in Bhutan. Like the people of Sakteng, Merak people (Brokpas) are said to have migrated here few centuries ago from the Tshona region of southern Tibet. They arrived here after several months of journey across treacherous passes,set the shrubs on fire and settled down to make it their home called Merak, which literally means "Set on fire". The inhabitants of Merak are similar to those of Sakteng in their language, dress, lifestyle and spiritual affiliation. However the people from Merak are said to be better built and taller than their counterparts in Sakteng. The houses are built of stones with very small windows and in most cases the houses are one storied only. In Merak the custom of polyandry is practiced, with brothers sharing the same wife.
Overnight in Camp or simple guest house when available.
Day 6: Merak-Mitsateng (B/L/D)Approx. 16km, 6 hours, 630m ascend and 1090m descend Today's journey is the toughest on this trek with the crossing of the highest pass and there are also a few smaller passes and ridges. Start early from the camp, towards the east with a gradual climb to the first pass at 3900m, from where you can look back for a last glimpse of Merak valley. Continue thereafter along the tree line with juniper and rhododendron forest on one side till we reach Nachungla Pass at 4150m. The views are incredible endless, 3 60 view with peaks o f Bhutan, Arunachal and Tibet. Occasionally, you will come across Yak herders in their camp, and frequently we see caravans of yaks and horses along the trail. From the pass, it is a long descent to Miksateng village campsite at 3060m.
Overnight in camp.
Day 7: Mitsateng-Sakteng (B/L/D)Approx. 6.5km,2-3hours, 81ascend and 310m descent. After breakfast, drop down to the river and after crossing it, we follow the river basin for a few hours. Than we gradually make a climb towards a small pass with a small chorten (stupa) on the hill overlooking the Sakteng valley. From the ridge, we drop down to the valley, cross the river into Sakten village. We should arrive before the lunch time, allowing plenty of time to explore the area. The area has cell phone towers and electricity since 2012. Our camp site is down at the end of the town, alongside the Guest house. If possible, you can stay at the Guest house. Sakteng at an altitude of 2950m.
Overnight in camp.
Day 8: Sakten Exploration (B/L/D)Today is a well-deserved rest day. In the morning, visit the village, local homes, temple, meet with people, who are happy to chat with you. See the lifestyle and unique living culture of this ethnic group. You can also local School. In the afternoon, there may be people coming over to perform cultural show for you. Brokpas have a unique yak and ache lhamo dances. You can try the local liquor with a special ceremony. Sakteng is a wide valley at about 3000m, surrounded by mountains on all sides. Sakteng literally means bamboo field. The inhabitants of Sakteng are similar to those of Merak in their language, dress, lifestyle and spiritual afflictions. It comprises of around 200 households with three main villages, Sakteng, Tengma and Borang Tse but generally known as Sakteng, and the people are known as Saktengpa. Every winter, Brokpas take on drukkor or grain journey to the lowland village, where they have their regular host family, with whom they have close trading and social relationship. They live together as one family for weeks and barter their Yak products with maize and grains.
Overnight in Sakten.
Day 9: Sakten-Joenkhar teng (B/L/D)Approx. 17km, 6-7 hours, 74m ascend and 1291m descent. Today's journey is a long and gradual descent. Start early from the camp. Leaving Sakteng, start with short climb to the small hill towards the west end of the village. Then descend down to the river and walk alongside it through the broad leaf forests. All day we walk above a roaring white river. We are now in a warm area and with walking, we feel like taking a plunge. Views are wonderful. Distant ones through narrow, heavily forested valleys of distant mountains topped by snow or white clouds; waterfalls free falling through ferned crevices, turbulent rivers smashing up against rocks; deep forested ravines. The vegetation changes drastically as we descend. You will see some of tallest trees and even some of rhododendron trees are several stories high. Our campground is right next to the river, whose roaring sounds combined with deeming noise of beetles, makes the sleep very pleasant. (Altitude 1750m).
Day 10: Joenkhar teng (trek end) – Tashigang – Mongar (B/L/D)Approx. 8km, 2-3 hours, 320m ascend and 300m descent. Our last day of the trek begins with short climb through Joenkhar Teng and a long descent crossing suspension bridges and short climb to reach Phongmay (1770m). Meet our transport and drive to Mongar town, which takes about 5hrs via Trashigang.
Overnight in hotel Wangchuk or similar.
Day 11: Mongar- Jakar, Bumthang (B/L/D)After breakfast, we begin a long and spectacular drive west to Bumthang, across Thrumshingla National park, through ever changing vegetation and landscapes, rich in bird and other wildlife. We also pass through many small hamlets and villages along the way and we will stop to visit few of them, arriving in Jakar in the evening.
Overnight in hotel Mountain Lodge or Ugyenling.
Day 12: In Bumthang (B/L/D)Bumthang is justifiably regarded as the cultural heartland of the kingdom with its many temples, holy sites, languages and traditions. We spend the full day in and around Jakar visiting its important monuments and cultural sites and local villages.
Part of the today will be spent attending the festival for Nov trip.
Day 13: Bumthang – Trongsa – Punakha (B/L/D)After breakfast take a long drive to Punakha. From Jakar, cross into Chumey valley, then across Yontongla pass, we arrive in Trongsa, where we stop to peek at the Tower of Trongsa museum and also see the impressive Trongsa Dzong. Trongsa Dzong is one of the largest fortress monastery in Bhutan. Traverse Pele la pass (through Black mountain national park) and descend into semi-tropical Punakha-Wangdue valley, where we arrive in the evening.
Overnight in Punatsangchu or Meri Phuensum hotel.
Day 14: Punakha-Thimphu (B/L/D)Visit Punakha Dzong, a former winter capital of Bhutan, located at the confluence of two rivers. Then drive up to Dochula pass, where we stop for lunch and to get the panoramic mountain views of eastern Himalayan peaks (weather permitting). Thimphu is only a half hour drive from Dochula pass and we spend the rest of the afternoon visiting Thimphu's many monuments and attractions including traditional art school, Zilukha nunnery, Takin (national animal) sanctuary and, Tashicho Dzong.
Overnight in Khang Residency, Jumolhari or similar.
Day 15: Thimphu – Paro (B/L/D)Full day in Thimphu for touring its many monuments, attractions such as Textile Academy, Farmer's Market, Changlimithang, Handicrafts workshops, Giant Buddha statue and others as per available time. In the evening, drive short distance to Paro (1 1/2 hr)
Overnight in a hotel. Tashi Namgay, Tenzinling, Olathang or similar.
Day 16; In Paro (B/L/D)Spend the full day around charming Paro valley, where we visit National Museum, Rinphung Dzong and beautiful 7th century Kichu Lhakhang temple, Dumtse Lhakhang, Dzondrakha cave temples and local farm houses by short walks and drives.
Overnight in Tashi Namgay, Tenzinling, Olathang or similar.
Day 17: Paro (Takstang monastery) (B/L/D)No journey to Bhutan is complete without a visit to Takstang monastery. Drive short distance from the hotel to the trailhead and make a steep climb for about 2-3hrs to Takstang. Taktsang monastery (also called Tiger's Nest) is situated on a nearly vertical cliff at 3000m altitude north of Paro in Bhutan. Situated on the edge of a 1,200m cliff, this monastery creates an impressive sight, and is the unofficial symbol of Bhutan. Taktsang was established as a sacred place for meditation by Guru Rinpoche who visited the site on his second visit to Bhutan in 747 CE. It is also known as "Tiger's Nest" because Guru Rimpoche is said to have flown on the back of a tigress in the 8th century. He then meditated in a cave here for three months where the monastery was later built. The cave is said to be the origin of Buddhism in Bhutan. The first monastery was constructed in 1694, but in 1998 a tragic fire destroyed most of the original buildings – which have since been painstakingly restored to their former glory. After visiting the monastery, lunch at the cafeteria and return downhill to Paro for any remaining tour or stroll around the town area.
Day 18: Departure (B)Departure transfer to the airport in time for your flight.
Check Druk Air website for schedule and airfares.