Motorbiking Tour in Bhutan – The Land of Thunder Dragon
12 Days
Motorbiking across the happiest land of Asia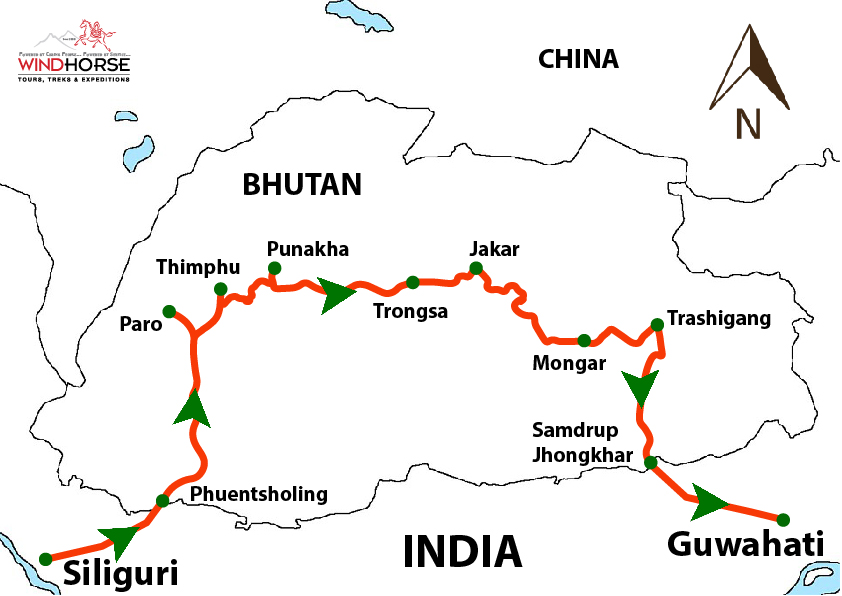 Trip Grade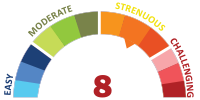 Trip Price From US$ 725 | See Details
Trip AccommodationBest available A Class Hotels in Bhutan & Siliguri, which are 3-4 star types.
Exclusive Riverside Camping in Punakha. See Details
Group Size25
Meals11 Breakfast, 04 Lunch & 09 Dinner
RouteSiliguri – Phuentsholing – Paro – Thimphu – Punakha – Trongsa – Bumthang – Mongar – Trashigang – Samdrup Jongkhar – Guwahati
Trip TypeMotorbiking Tour
Best MonthsMarch, April, September, October
Good MonthsFebruary, May, November
Lean MonthsJanuary, June, December
Not RecommendJuly, August
Trip highlights
Ride cross whole of Bhutan from West to East
Pass through Highest motor able road in Bhutan – Chele la Pass
Comfortable riverside camping experience in Bhutan
Hike to Tiger's Nest
Hassle free ride with trained supervisors, mechanics and support vehicles
MOTORBIKING IN BHUTAN TOUR – 12 Days
Exposure to nature makes on nostalgic and value important relationships, sharing, and community. Wind Horse Motorbiking Tour in Bhutan will leave you mesmerized about this country as you ride from west to east leaving a lasting beautiful impression for lifetime. Riding through different Kingly provinces, religions, customs & rituals is one of of the takeaways. Primary feature that augment well to make an ideal motorbiking experience is Bhutan's mountainous topography, offering varying degree of natural gradients. From challenging uphill ride to adrenaline rushing down hills to gentle ride in the valley, or the thump of the off roads, be it amateur or seasoned motorbike rider, it has all for everyone. The encounter with the medieval and contemporary attractions and sights, tranquil and quaint villages, intact ecology and other natural landscapes is a must, as one rides across the country whose Gross National Happiness is more than the Gross Domestic Production.
Traversing the places, sights and topography that lies along the west –east highway (Approx. 600 km), throws challenges in varied forms such as battling a new mountain passes over 3000 mt every day, maneuvering the dirt roads to reach a rural demography that takes you 15 years back in time, due to it's settlements and culture.
You can bring your own motorbikes, or rent one from us. Our motorbiking tour in Bhutan is backed by a support vehicle, well rode Tour Captain and Tail Gunner.
The motorbiking run is on the low traffic main roads as you go from west to east of Bhutan and will take you to off roads that leads you to the unforgettable view points. Discover Bhutan's varied attributes on your riding pace.
Outline Itinerary
Day 1: Arrive in Siliguri (D). Arrival in Siliguri via flight (Bagdogra Airport) or train (New Jalpaiguri Junction Railway station). You can take a cab to reach the designated hotel or we can arrange your arrival transfer. Check-in hotel and unwind. Meet the group in the evening for an introduction session and have a sumptuous dinner together to know your group members. Overnight in hotel.
Distance Traveled : None – Day of Arrival
Altitude : 100 m (Siliguri)
Day 2: Siliguri to Phuentsholing (B/D). Early morning briefing session with Tour Captain understanding the road rules and regulations. Check and square your motorbike with all gears.
After breakfast, we flag-off our journey from Siliguri to Phuentsholing. The complete ride is in India driving through Tea-estates and country side with the end in Phuentsholing – The Gateway of Bhutan via road. Relax and walk through the town. Overnight in hotel.
Distance Traveled : 165 Km/4 hrs.
Altitude : 300 m (Phuentsholing)
Day 3: Phuentsholing to Paro (B/D). After completing Bhutan permit formalities, we begin our first uphill ride in the land of Thunder Dragon. En-route pass by Rinchending Monastery, other villages and enjoy scenic beauty of landscape & waterfalls on the journey. Upon arrival in Paro, check-in hotel. Dinner at hotel and overnight.
Distance Traveled : 165 Km/6-7 hrs.
Altitude : 2250 m (Paro)
Day 4: Hike to Tiger's Nest (B/L). After early breakfast gear up for hike to Taktsang Monastery (Tiger's Nest). Return to town and evening at leisure to explore the town. Try local delicacies and immerse yourself in Bhutanese cuisine. Beware of the GREEN CHILIES, not for faint hearted!
Return to hotel and overnight.
Distance Traveled : 50 Km/ 2 hrs.
Altitude : Tiger's Nest – 3050 m
Day 5: Paro to Thimphu via Chele La Pass (B/L). Ride for 2 hours to Chele La Pass at the altitude of 3810 m which makes it of the highest motorable pass in Bhutan. The ride till here is through dense spruce and larch forests according to the seasons. On a clear day, there are spectacular views of Mt. Jumolhari, Jichu Drake and adjoining peaks to the North West, as well as the view of Haa and Paro Valley. Return drive to Thimphu – Capital of Bhutan. Upon arrival, proceed for lunch and check-in hotel. Evening at leisure. Overnight in Thimphu.
Distance Traveled : 120 Km/4 hrs.
Altitude : 2250 m (Thimphu)
Day 6: Thimphu to Punakha – Camping (B/L/D). After breakfast, proceed for visiting famous Thimphu attractions and later ride to Punakha via Dochula Pass (3116 m) en-route visiting Chimi Lhakhang – Fertility Temple. Arrive at campsite in Punakha and have lunch. Later visit Punakha Dzong and try your hand at Archery (National Sport of Bhutan) with locals. In the evening enjoy dinner around campfire. Overnight in camps.
Distance Traveled : 70 Km/3 hrs.
Altitude : 1300 m (Punakha)
Day 7: Punakha to Trongsa (B/D). Riverside breakfast in camp. Our ride to Trongsa is around 150 km crossing Pele la Pass (3390 m). Due to road widening work, the drive is slow, bumpy and could take about 6-7 hrs. Arrive in Trongsa and check-in hotel. Option of visiting Trongsa Dzong or Choekhor Rabdentse which is the largest & most impressive Dzong in Bhutan, perched high on a cliff above the deep Mangde Chu river gorge. Overnight in Trongsa.
Distance Traveled : 150 Km/6-7 hrs.
Altitude : 2200 m (Trongsa)
Day 8: Trongsa to Jakar, Bumthang (B/D). After breakfast, ride uphill to Yotongla Pass (3425 m). Then descend into Chumey Valley, first of the four valleys of Bumthang. We continue ride to Jakar, the center of Bumthang valley. Free time to explore the town or option of visiting Swiss Cheese Farms and exclusive Unfiltered Draft Beer house. Later check-in hotel and dinner. Overnight in Jakar.
Distance Traveled : 70 Km/3-4 hrs.
Altitude : 2800 m (Jakar)
Day 9: Ride to Mongar (B/D). The long ride east from Jakar to Mongar, passes through Ura Village, crosses two passes – Sheytangla Pass (3596 m) & Thrumshingla Pass (3780 m) with spectacular mountain views into Sengor Village. Then the road descends through ever changing vegetation, until it hits the lowest point in Kuri Zampa at 570 m above sea level. From here it is little over 1100 m climb to the town of Mongar located on the hillside. It is long ride, but nonetheless a scenic one, with opportunity to see wide varieties of flora and fauna. Overnight in Mongar.
Distance Traveled : 150 Km/5 hrs.
Altitude : 1700 m (Mongar)
Day 10: Mongar to Trashigang (B/D). After breakfast, ride to Trashigang, which takes about 3 hrs. Along the way, we will pass through local villages, schools, etc. Upon arrival in Trashigang, option of visiting Dzong and visit the town area. Check-in hotel and dinner. Overnight in hotel in Trashigang.
Distance Traveled : 80 Km/3-4 hrs.
Altitude : 3800 m (Trashigang)
Day 11: Drive to Samdrup Jongkhar (B/D). Ride from Tashigang to Samdrup Jongkhar and along the way; stop at some of villages and small towns of eastern Bhutan, such as: Kanglung, Khaling, Wamrong and Deothang. The drive is a long one, but very interesting as we descend hills and pass through several villages to the frontier town. Overnight in a simple hotel (best available) in Samdrup Jongkhar.
Distance Traveled : 180 Km/6-7 hrs.
Altitude : 250 m (Samdrup Jongkhar)
Day 12: Exit Bhutan to Guwahati – Departure (B/L). After breakfast ride across the border into India. Upon arrival in Guwahati, transfer to a local restaurant. Enjoy farewell lunch, which will be the last meetup point of riders from the Land of Thunder Dragon. Tour ends here.  Our team will be assisting you for arranging your final departures for your onwards journey.
Distance Traveled : 100 Km/3 hrs.
Altitude : 70 m (Guwahati)
Optional: Please let us know your arrival/ departure timings and we can assist you with transfers, accommodation, or any other services at additional costs.
Total Distance Covered = 1400 Km
Total Riding Time = 45+ hrs.