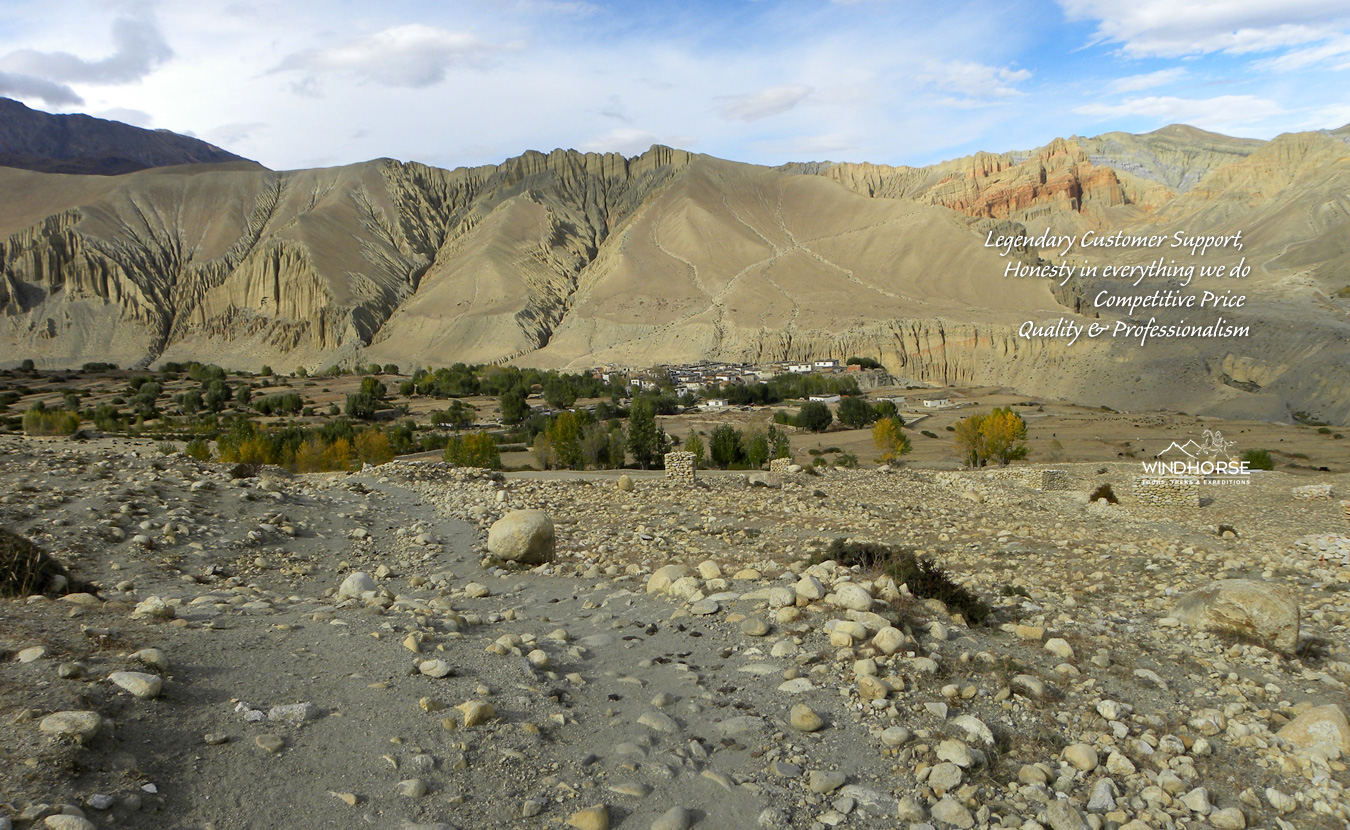 Trip highlights
Enjoy mix culture of Tibetan Buddhist and Bon culture; it is also known as Mini Tibet of Nepal
Explore the UNESCO world heritage sites in Kathmandu
Stunning trek in the isolated off beaten trans-Himalayan mountain region of Nepal
Warm hospitality of Thakali people and their culture
Explore the Lo-Manngthang mountain area primitive Tibetan influence village culture, traditions, hospitality, heritage and living style of residents.
Spectacular scenery of alpine forest and red mud mountain.
The walled city in Mustang to observe King's Palace, many monasteries and Himalayan ranges
Forbidden Kingdom of Upper Mustang trek in Nepal is one of the off beaten adventure treks in the pristine, isolated trans-Himalayan plateau exploring a vibrant mix of Bon culture lying to the north-west of Annapurna region of Nepal. Mustang has developed its own distinct cultural and geographical traits, making it an attraction not just for ordinary visitors but also for anthropologists, archaeologists, and geologists. Forbidden Kingdom of Upper Mustang trek moves through the deepest gorge of the earth made by the Kaligandaki River, Kagbeni to Lo-Manthang, the cultural capital of Upper Mustang. Trekkers will have an opportunity to explore the numerous monasteries going back to hundreds of years, moving through Himalayan ranges, the pretty village of Kagbeni located on the bank of the Kaligandaki (Black) River, primitive Tibetian culture, longest mani walls in Upper Mustang, Mountain Desert & mystic valley. Red Gompa and a spiritual gate of Chorten, Lomangthang (the capital city of Mustang), King Palace and Prince of Upper Mustang are also the major attractions of this trek.
Upper Mustang region was restricted for foreigners until Nepal Government announced the opening of the restricted areas in October 1991.The people of Mustang call themselves Lobas, and they have their own King or Tribe-leader, Jigme Palbar Bista. After Nepal was declared a republic in 2007. The Nepal Government took back the official recognition of the Bista as the Mustangi King. However, the people there still respect him as their King or tribe leader.
Forbidden Kingdom of Mustang Trek starts from Kathmandu with half day sightseeing and trek preparation. Next day take a drive (option to fly) to Pokhara. Then Take a flight to Jomsom from Pokhara and hike up to Kagbeni. In Kagbeni present the special permit and proceed the Trek to Chele. Once you reach to the Lomangthang, there will be an option to explore by horse riding surrounding places. Then we descend back to Jomsom, Pokhara and Kathmandu and end the trip. The entire trek is a fantastic combination of unique culture in Nepal and natural landscapes with the panoramic views of Nilgiri, Annapurna, Machhapuchre and Dhaulagiri Mountain.
Outline Itinerary 
Day 1: Arrive in Kathmandu (1300 m)  
Your Forbidden Kingdom of Upper Mustang trip starts with arrival in Kathmandu, meet greet and transfer to the hotel. Depending on arrival time, in the afternoon you have the option to stroll around ancient traditional tourist and local market (Asan, Indrachook and Thamel) on the north part of Kathmandu Durbar Square. Tonight you will be treated to a welcome dinner in a typical Nepali restaurant with folk dance and cultural performance.
Overnight in Kathmandu
Day 2: Kathmandu: Sightseeing and Trek Preparation
After breakfast start sightseeing covering Kathmandu Durbar Square and Swambhunath Stupa. Kathmandu Durbar Square with various arts and crafts from the 16 to 18th century located at the Centre of the Kathmandu and 2km south of Thamel. Then drive 3.5 Northwest of Kathmandu and visit the oldest Buddhist Stupa Boudhnath where you will see the entire panoramic view of Kathmandu Valley. It is also known as Monkey Temple as you can see lots of monkey around the Stupa. In the afternoon you will have a discussion with the guide, and this time is also to get the gears ready.
Overnight hotel in Kathmandu.
Day 3: Drive Kathmandu to Pokhara (823m): 6 hrs
After breakfast drive Kathmandu to Pokhara from Kathmandu (208km/6hrs) via Prithvi Highway. On the way, we will stop at scenic spots, have a lunch and get a refresh. The highway follows a series of deep river valleys, passing ancient stone villages and reach to Pokhara. Check into the hotel and rest for a while. In the evening you have the option to stroll around Local Street of lakeside. Your hotel located near by the Phewa Lake.
Overnight hotel in Pokhara.
Day 4: Fly to Jomsom (20m) & trek to Kagbeni (2,850m): 3-4 hrs
After breakfast, you will be transferred to the airport to board a flight to Jomsom. A scenic adventure 20 minutes flight takes you over the Annapurna and Dhaulagiri mountain which is popular for one of the deepest gorge in the world.  After arriving at Jomsom, we start our trek towards Kagbeni, which takes about 3-4 hours gentle walk. Kagbeni is also the checkpoint for entrance to Upper Mustang Trekking, and it is an interesting windswept village situated on the bank of Kali Gandaki River. We can enjoy the magnificent view of Mt. Dhaulagiri, Nilgiri and Tukuche peak while walking the trail in the opposite direction.
Overnight in Kagbeni.
Day 5: Kagbeni to Chele (3050m): 5-6 hrs
We start our trek after breakfast. At Kagbeni, we show the permission ticket checks up in Kagbeni and start our trekking early in the morning as the weather gets very windy & gets up with blustering dust and sand in the afternoon. This tracks follows the up and downhill passing through the Tangbe (3060m) Hamlet with the picturesque scenic field view of barley, wheat and apple farms. The further path ahead descends gradually to the riverbed, which is well-known for its fossils. The broad valley terminates abruptly at an upward rock. Then we traverse a bridge over the Kali Gandaki River, which flows via the natural tunnel in the cliff. The valley narrows further north. A steep trail leads us to a small pleasant hamlet Chaile with magnificent landscapes view towards the Himalayan ranges.
Overnight in Chele.
Day 6: Chele to Syanbochen (3475m): 6-7 hrs
We start trekking bit early as later in the afternoon will be the windy weather.  Trek from Chele to Syanbochen will take approximately 6-7 hours. At first, we pass through Eklo Bhatti and Taklam La Pass (3624m) with views of Tilicho peak, Yakawa Kang and Damodar Danda. The trail passes through a forest of small trees and green hinterlands, which can persist in the narrow gorge because the high perpendicular walls keep them calm and adequately moist. Sometimes it is possible to see the blue mountain ship in this area. We enjoy the surrounding view of neat streams and juniper trees. We also pass via a cave famously known as Ramchung Cave in the local community. The weather in Syanbochen is much cooler.
Overnight in Syanbochen
Day 7: Syanbochen to Ghaymi (3520m): 5-6hrs
After early breakfast we trek from Syanbochen to Ghaymi, takes about 5 to 6 hours. Uphill to the Yamda La (3,850m) passing a few teahouses, Chortens and local villages which are like Tibetan style of houses with open Varanda. We cross a mountain pass and an avenue of poplar trees and fields of Barley. The route descends steadily towards the Ghami La pass and on the way we see a rundown, deserted village downstream. Another broad valley comes in from the left-hand side and in its centre is Ghami, Mustang's third largest town, which is high above the River and surrounded by fields.
Day 8: Ghaymi to Charang (3500m): 4-5hrs
After breakfast, the trek from Ghaymi to Charang takes about 4-5 hours. Trail passes through the Ghaymi Khola, a sacred stone – a wall made by the Buddhism followers, a village of Charang with a maze of fields, huge white Dzong, Ghar- Gompa and red Gompa and reaches to Charang.
Overnight in Charang.
Day 9: Charang to Lo-Mangthang (3700m): 5-6hrs
Trek from Charang to Lo-Mangthang with a magnificent view of Nilgiri, Tilicho, Bhrikuti Peak and Annapurna, which will take approximately 5-6 hours. In the beginning, the trail descends to Charang Chu Canyon and then ascends after crossing the river. Before we reach to Lo-Manthang, enjoy the spectacular, magnificent views of the fenced city near to the Tibetan Border.
Overnight in Charang Lomangthang
Day 10: Explore and excursion to Lo-Mangthang
Today, enjoy exploring the surrounding areas of Lo-Manthang. Visit Tingkhar and  Namgyal Gompa. Namgyal Gompa situated on a hilltop serves as an important monastery of the local community. After visiting Namgyal Gompa continue the tour to Tingkhar,  the last main village to the north-west of Lo-Mangthang and stroll back to a hotel. Here, you have another option to visit the main attraction of this town including the Tall Champa Lakhang "God house" the red Thugchen Gompa, Chyodi Gompa, four- storey building of the Royal Palace as well as the surrounding panoramic magnificent views of the Trans-Himalaya Mountain region the back to the lodge. The total activities will be 6-7 hours.
There is an option to explore by horse riding that will cost you extra if you are interested. Position our horses and gentle climb to reach to the green meadows high above the settlement.  After 1.5 hours, arrive at some large yak-wool tents surrounded by a couple of hundred yaks.  If you are interested, you can test the yak milk and Tibetian butter tea, which might be the unique taste for tourist. After exploring the Lomanthang back to the lodge.
Overnight in Lo- Manthang
Day 11: Lo-Mangthang to Dhakmar (3810 m) 6-7hrs
Our last destination is Lo-Mangthang mountain village and surrounding places. After exploring the Lo-Manthang, we return via Dhakmar. From here we come back and take slightly different route rather than returning same the way. Trek to Drakmar via Gyakar, it takes 6-7 hours. We will explore the local area and more than 1200 years old Ghar Gompa with Guru Rinpoche as the major figure. The Gompa is also famous for its rock paintings.
Overnight in Drakmar.
Day 12: Dhakmar to Ghiling (3806m): 5-6 hrs
Start our trek early in the morning as there will be dusty windy later in the afternoon. Trek from Dhakmar to Ghiling, which will take approximately 5-6 hours. In the evening explore the local area of Ghiling to observe the culture, heritage and lifestyle of local people.
Overnight in Ghiling.
Day 13: Ghiling to Chhuksang (3050m): 5-6hrs
Trek from Ghiling to Chuksang which will take about 5- 6 hours. Enjoy the beautiful spectacular view of Himalayas. The haunting landscape will be something to remember.  Savour the last hours in this remote and unique area on before the sun sets over Chhuksang.
Overnight in Chhuksang.
Day 14: Chhuksang to Jomsom (2700): 6-7hrs
Today is our last day of the trekking day and will be a long day which is about 6-7 hours trek to reach to the Jomsom. After early breakfast, start trek through rocky trail until Tangbe then continue the path at the bank of the Kaligandaki River until we reach to Kagbeni, which will take 3 hours. Have lunch at Kagbeni then follow the. After lunch continue trek to Jomsom. From Kagbeni to Jomsom it will take about 2.5 hours.
Overnight in Jomsom.
Day 15: Fly back Jomsom to Pokhara (910m) 30minutes
After morning breakfast fly back to Pokhara, which will take 20 minutes with breathtaking adventure flight between the George of the Annapurna and Dhaulagiri Mountain. On arrival in Pokhara, transfer to the hotel. Have a rest for a couple of hours and in the afternoon, enjoy1 hour boating to Phewa Lake and visit Taal Barahi Temple, an island temple located in the middle of the Lake.
Overnight in Pokhara.
Day 16: Drive from Pokhara to Kathmandu (Option to fly)
Early morning you have a breakfast and drive to Kathmandu, which will take about 6 hrs. Enjoy the driving via riverbanks, countryside villages and farms. Upon arrival in Kathmandu, transfer to the hotel and rest in the evening. You have the option to stroll around and do the shopping on your own.
Overnight in Kathmandu.
Day 17: Departure
You will be transferred to the airport for your departure by the private vehicle according to your flight schedule.
Group Size9

MealsBreakfast and welcome dinner in Kathmandu.All meals while trekking.

Trip Accommodation3 * Hotels In Kathmandu.
Tent camp & Guest House while Trekking

Trip Type Trekking


Trip SeasonsApril to October

Best MonthsJanuary, February, March, April, May, June, July, August, September, October, November, December
Prices & Dates
Tier priced (per person in US$) based on number of participants and type of hotels.
7-9 members: 2090
4-6 members: 2269
2-3 members: 2350
Single traveler: 3145
Single room supplement:  271
Using 4 Star Deluxe Hotel in Kathmandu/Pokhara.
Single person cost includes single room supplements
To offer the lowest possible cost, our trips are tier priced according to the number of participants or members on the trip. Costs are based on double occupancy. If you wish to have a single room, you must pay the single supplement fee. If you are willing to share accommodations, we will match you with a roommate if one is available. If we cannot match you with a roommate, the single supplement will apply.  Single passenger cost includes single room supplement.
Included
Accommodation as per itinerary (Guest House/Teahouse/Lodge during the trek & 3-4 star hotels in Kathmandu and Pokhara)
All airport transfer and sightseeing by private vehicle
Meal; Full board during the trek & Kathmandu & Pokhara on BB basis.
One welcome dinner with typical Nepali cultural show
Sightseeing as per itinerary with entrance fees
Domestic flights round trip; Pokhara-Jomsom-Pokhara including taxes
English-speaking trekking guide
Porters to carry luggage (2 trekkers get 1 porter and can carry 25kg in total
A comprehensive medical first aid kit box
All necessary paper work and permits (ACAP and Upper Mustang special trekking permit)
Not included
Nepal Visa fee (Please bring US$ 40 cash and two passport photographs)
International airfare to and from Kathmandu
Excess baggage charges
Meals other than listed (lunch and dinner in Kathmandu & Pokhara is not included)
Battery charge, extra porters, mineral water or boiled water & hot shower
Personal expenses. (Tips, Laundry, Telephone, bar, beverages)
Travel & rescue Insurance
Extra night accommodation in Kathmandu and Pokhara in case of early arrival, late departure, and early return from the trekking (due to any reason) than the scheduled itinerary
All other personal expenses not listed in the included section
Accommodations
---

Fatal error: Call to undefined function getallheaders() in /home/windho11/public_html/api/api3.php on line 20

Trip Guide/Leader
---
×

Tourism is the key driver for economy in Nepal and its so difficult to keep a person away from glitz of tourism especially in Kathmandu. Largely, people are connected in one way or other. Laxman Bhattarai is no exception to the rule. Though a computer web programmer/developer by orientation but tourism has always captured his imaginations.

Love for tourism was imbibed during his early days in Palpa, which still retain its medieval feel and its Newari charms. He says it was a tough choice to choose between tourism and computer.During those days, though pursuing the intricate of computer but he harboured an idea of romancing being part of tourism fraternity.

Working as senior web developer took him to roads much loved, designing and developing the travel website. He is man behind the Wind Horse Tours dyanmic website.

And with inception of Sixth Sense Travel Pvt Ltd in 2014, dedicated to Nepal trip solely gave a concrete shape to his childhood dream. Perseverance and diligence marks his traits and set a very standard when he frames an itineraries.

×

Hem Raj Bastola is a permanent inhabitant of Pokhara-25.  He has been working as a  tour and trekking guide  since 2010. Formerly he has worked as a guest service agent at the hotel Pokara Grande. He started his career as a Cave guide,  ticket sales man at Gupteshwor Mahadev Cave in Pokhara. So must of his working experience is related to tourism and hospitality industry. Beside his guiding profession, he enjoys reading and writing poetry. His poets have been published in different forums and medias.  When get free time loves to work in the field as well.

×

Min Bahadur Singh was born in 1977 in Bajura district, far western development region of Nepal and later on he moved to Pokhara, permanent resident of Kristi-3 Kaski, Pokhara. He is Trek and City Tour Guide in Pokhara city, Nepal, a city of natural beauty and on the lap of the Himalayas. He has completed his intermediate education level and various training related to the travel and tourism industry. He started his career in the hospitality industry since 1992. He's worked in the tourism sector for 24 years and has 12 years of guiding experience involving in different travel and trekking agencies in Nepal. Min has joined to this company since 2014, and he does city tour guide in Pokhara and Annapurna region Trekking as well.On top of that, he is also bird watching specialised in the mountain region of Nepal. Min speaks English very well and has been the beloved guide for English speaking tourist. He loves to travel, meet new people and share his ideas and experiences to other people.