Nabji Korphu Trek Bhutan
16 Days
An Enchanting Winter Trek in Bhutan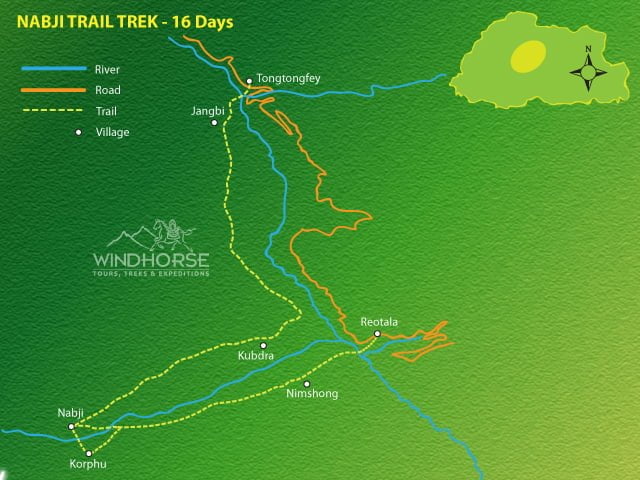 Trip Grade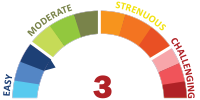 Trip Price From US$ 2950 | See Details
Trip Accommodation5 nights camping and rest in the moderate clean hotels with attached bath. See Details
Group Size 9 pax maximum
MealsAll meals are included.
Trip Type A low altitude trek
Trip SeasonsThe trek can be done privately between late October till March.
Best MonthsJanuary, February, March, April, May, June, July, August, September, October, November, December
Trip highlights
Art, Culture & History cover till central Bhutan
Access to remote villages to see and learn their ways of living
Rich and diverse flora and fauna
Spectacular views
Colorful markets
6 day easy –moderate trek
Dochula pass stay to get the spectacular snowcapped views
Takstang – the tiger's nest monastery hike
Even in a land recognized as one of 10 global 'hotspots of bio-diversity', the newly opened valleys of Nabji – Korphu have the reputation of being ecologically well-endowed. It is estimated that the region, harbors at least 395 species of birds, including the rare and beautiful Rufous Necked Hornbill. Otherworldly fauna, including Golden Langurs, one of the rarest primates make frequent appearances along the route. The trek goes through terraced farmland, broadleaf forests with an impressive array of flora and fauna, through the rarely visited villages. Among them, we also meet elders from shamanistic Monpa communities.
This exceptional trek into the Edenic wonderland of Bhutan's Jigme Singye Wangchuck National Park is perfect for those who want a low altitude trek in a remote, un-spoilt area, with plenty of chance to interact with the friendly and hospitable local villagers. This trek is carefully designed to benefit the villages we pass through and each village provides a guide, porters, food and handicrafts. In agreement with the government, Wind Horse pays the villages for these services, ensuring that money goes back to the community and we are lucky enough to see an untouched, un-spoilt part of Bhutan.
In addition to visiting and trekking in these recently opened areas, the tour touches all the major tourist places of Bhutan and the dates of small group journeys are tied into attending one of the colorful festival in Bumthang or Trongsa or in Nabji Village.
Outline Itinerary
Days 1 & 2 : Fly to Paro,scenically situated in a pretty terraced valley. Transfer to Thimphu, the capital.
Day 3: Tour Punakha Valley,former winter capital.
Days 4 & 5 : In Bumthang Valley, the cultural heartland of Bhutan
Day 6:  In Trongsa
Day 7 & 8: Trek from Reotala to Nimshong and then to Nabji
Day 9: Excursion to Korphu Village or rest in Nabji
Days 10 & 11: Trek to Kudra and then to the Monpa land of Jangbi
Day 12: Trek end and transfer to Gangtey, Phobjikha valley
Day 13:  Stay at Dochula pass for views
Day 14  & 15 : In Paro Valley, touring and then hiking to Taktsang (Tiger's Nest) monastery.
Day 16: Departure by flight.
(Detailled itinerary provided on request)
Nabji Trek: This 6-day Nabji – Korphu trek , in the foothills of Black mountains under Jigme Singye Wangchuk National Park was opened in 2006 but only recently has the route begun to grab attention. To minimize the impact on the fragile ecosystem of the region, only one group is allowed to walk the trail at a time.  As a part of community tourism initiative, local villagers are employed to provide services and amenities in addition to our guide and cook from Thimphu. This trek may also be done in reverse order.
Monpa People: Monpas are believed to be the earliest settlers in Bhutan. They number around 3000 and inhabit villages dotting the mountain slope over looking Mangde Chhu near Jangbi. Monpas practice a mix of Buddhism and animistic shaminism.