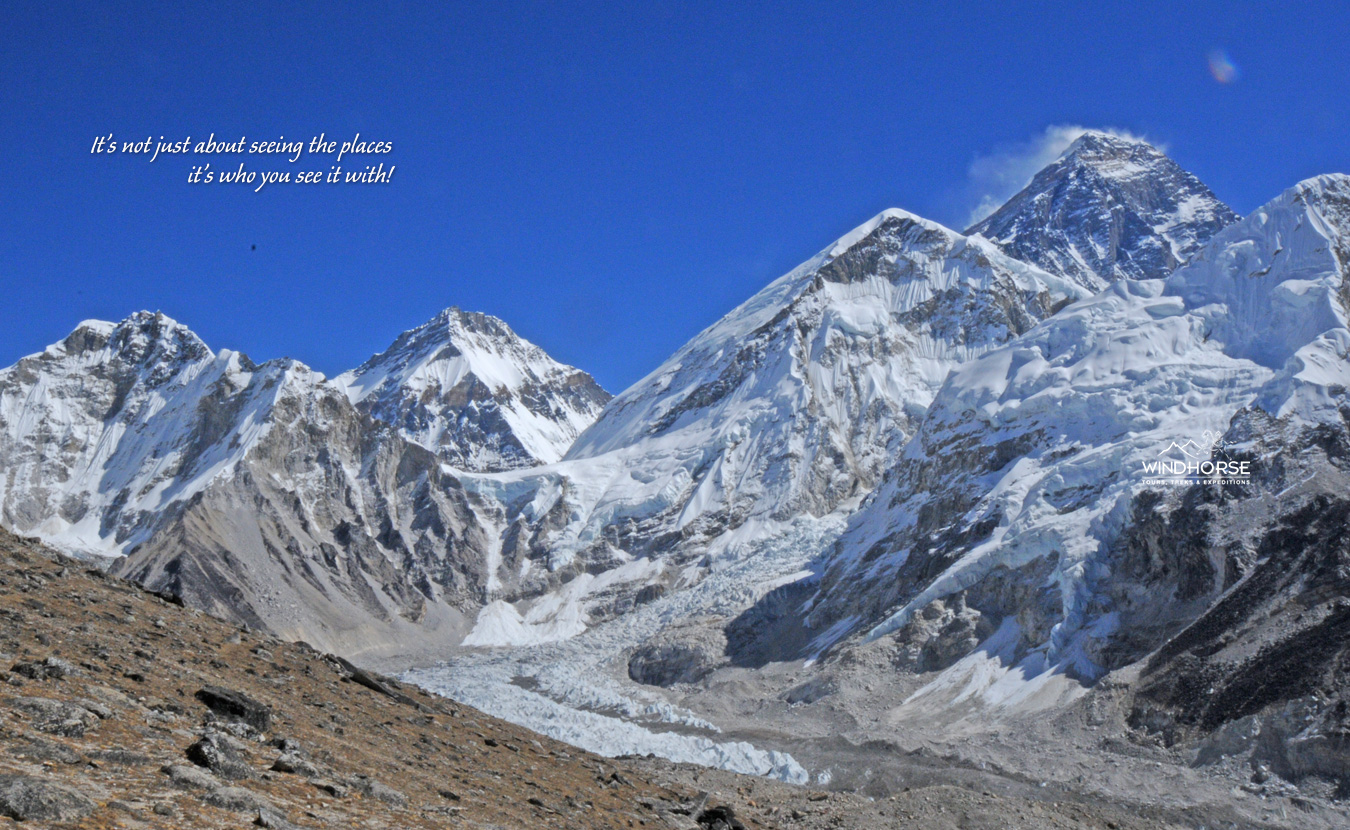 Trip highlights
Scenic, breathtaking mountain flight from Kathmandu to Lukla to Kathmandu.
Explore the Namche Bazaar, the capital of Sherpa people & gateway of Mt. Everest & interact with residents.
Explore the Everest National Park (National Park situated the highest altitude in the world) and diverse flora and fauna in this area
Observe Sherpa Buddhist culture and village lifestyle in the heart of the Himalaya of Khumbu region of Nepal
Explore the Everest and surrounding mountain's panoramic view from Namche, Syangboche, and Kalapatthar
Explore the Tengboche monastery, one of the biggest Monasteries in the Everest region
Trek along the bank of Dudh Kosi River & explore the local villages
Hike to Kalapathar (5550m), one of the highest altitude of this trek and ultimate destination to have the great panoramic mountain view from very close distance
Visit highest mountain base camp in the world situated at 5364m.
Remarkable view of Khumbu ice fall and Glacier in Khumbu region of Nepal
Everest Basecamp & Kalapatthar trek in Nepal is one of the popular trekking destinations in the world due to its feature of exceptional highest altitude and distinct complex landscape, remarkable natural beauty, diverse floras and faunas. Everest Basecamp & Kalapatthar trekking in Everest region of Nepal offers to the adventure travelers an exciting opportunity to explore up to the base camp of the world's highest mountain Mt. Everest (8848m). Mount Everest Basecamp (5364m) and Kalapatthar trek have been popular trekking destination after the first successful completion of expeditions to Mount Everest Summit (8848m) on May 29th, 1953 by Sir Edmund Hilary and Tenzing Norgay Sherpa. The Everest base camp & Kalapatthar trekking reveals some of the most breath- taking and specular scenery of the Himalaya, traditional Sherpa culture, Everest National Park with diverse flora and fauna, living style of Sherpa people, hidden Buddhist culture and their religion in Khumbu region of Nepal. Everest Basecamp & Kalapatthar trekking is graded as moderate to difficult trekking where trekkers should have prior trekking experience and some level of physical fitness to do this trekking.
Everest base camp & Kalapatthar trekking begins with half day sightseeing and trek preparation in Kathmandu valley on Nepal. Then next day, take 30 min mountain flight to Lukla. On the same day, trekking trail follows the bank of Dudh Kosi River and reach to Phakding village. On the second day, reach at bustling mountain village town, also popularly known as the capital of Sherpa people in Khumbu region is called Namche Bazaar. At the Sherpa capital of Namche Bazar, you have the option to explore the village and interact with the local Sherpa people to develop insight of culture, tradition and living style of residents in Everest region of Nepal. Everest Base Camp & Kalapatthar Trek is also great opportunity to immerse you in the rich Buddhist culture, explore the Sherpa culture museum located at just above the Namche Bazar. Then the trail ascends towards the Tengboche hilltop village and follows the Dingboche, Lobuche and Gorekh Shep (last teahouse accommodation available). On the same day, we hike up to Everest Base Camp and next day early in the morning hike to Kalapatthar (5550m) to explore the sunrise and mountain views, which is our ultimate destination of the Everest Base Camp trek. Then we descend back through Pheriche, Phortse, Khumjung, Bengkar and Trek end at Lukla. From Lukla take mountain flight to Kathmandu, which takes 30 minutes.
Outline Itinerary
Day1: Arrival in Kathmandu
Upon arrival at in Kathmandu International airport, meet and transfer to the hotel. In the evening, you have the option to be escorted & stroll around Thamel and north part of the Kathmandu Durbar Square, Ashan, Indrachook & local tourist market of Kathmandu valley. You will be served by welcome dinner in the evening with a typical Nepali cultural program in Kathmandu. Overnight in hotel in Kathmandu.
Day 2: Kathmandu sightseeing & trek preparation
Today you will be able to do the half-day excursion and half-day trek preparation. After breakfast start tour covering Kathmandu Durbar Square and Swambhunath Stupa, which are listed on the UNESCO world heritage sites. Kathmandu Durbar Square area holds the palaces of the medieval Kings who ruled over the Kathmandu Kingdom. Kathmandu Durbar Square reveals Nepalese art, craft and architecture of an ancient period. The architecture is typical of the Malla dynasty, which ruled over Nepal from the 12th to 18th century. Then we visit world's oldest Buddhist pilgrimage site and tourist destination Swambhunath Stupa. Swayambhu meaning the "the self-existent" is popular among the foreigners as Monkey Temple with a large number of monkey population. After sightseeing, we will have a discussion session where we discuss our trek plan and preparation in the afternoon. If you need trekking gears utilise this time to buy some gears & clothes at local tourist market in Kathmandu.
Day 3: Fly Kathmandu to Lukla (2840m) 30 min &Trek to Phakding (2652m). 3hrs
Early in the morning transfer to domestic airport to board a scenic mountain flight to Lukla (2840m) and which will take about 30 minutes. The flight to Lukla will be one of the lifetime spectacular experiences. Upon arrival at Lukla start trekking until we reach to Phakding passing through beautiful Chaurikharka village on the left-hand side, which will take about 3 hours. Further the trail traverses Chheplung (2660m), Thado Koshigaon (2580m) from where you can see the glimpse of Mt. Kusum Khangkaru (6367m), Nuring (2492m) and reach to Phakding. The trail to Phakding lets you discover the green landscape with a scenic view of local villages, green farmlands in the lower Everest region of Nepal and reach to beautiful hamlet Phakding. Because of being the first day of trekking we do not walk a lot and stay at Phakding village. Overnight at Lodge in Phakding.
Day 4: Phakding to Namche Bazaar (3440m) 6hrs
After breakfast start trekking through a beautiful pine forest that leads us along the bank of Dudh Koshi River and Hillary Suspension Bridge to reach to the Sagarmatha (Everest) National Park and Monjo Village. After crossing the Phakding village don't miss the opportunity of the first view of the Mt. Kongde Ri (6186m) on your right-hand side. The further trail with some up and down, we reach the Bengkar village on the corner of the River and Monjo village on the left view of the River. Monju village is the border of the Sagarmatha (Everest) National Park, one of the UNESCO world heritage site in Nepal. At the check Post, we stop, make entry and show the paperwork to the authorities and continue the trekking via Jorsalle village (2740m), Large Dovan (2830m) and cross the one of the highest bridge in the Everest region over the Dudhkosi River. Then follow the up steep trail about one hour and reach to Chautara, the first viewpoint of the Everest. Trekking further about an hour steep up, you reach to the Namche Bazar, the capital of Sherpa people. Namche Bazar is one of the trading points for Sherpa people. It is also an ideal market for tourist to purchase traditional local made crafts.
Day 5: Acclimatisation, trek to Everest view hotel Shyangboche (3880m) 4hrs
Today is the day for rest to adjust the high altitude climate. The principle is a trek in high and overnight in lower levitation. In the morning we take the excellent opportunity to explore the Sherpa Culture Museum and Everest Photo Gallery, from where you can also explore the spectacular mountain views including Mt. Everest, Kongde, Kusum Kangru, Thamserku, Aama Dablam, Lhotse and Nuptse. Start hiking to Everest view hotel passing through Syangboche Airport (3700m), which is said, the airport situated at the highest altitude in the world. We climb further to reach Mt. Everest View Hotel for great panoramic views of Everest, Lhotse, Aama Dablam, Thamserku, Kongde and much more. Then we escorted through the Khumjung village and interact with local people, observe the culture tradition and living style of Sherpa people living in Everest region of Nepal. You have the option to visit the Khumjung High School and interact with teachers and student. Then descend back to Namche Bazar.
Overnight at mountain lodge in Namche Bazar.
Day 6: Namche Bazar to Tengboche (3860m) 5hrs
Trek from Namche Bazar to Tengboche, along the way it offers the majestic views of Mt. Everest, Mt. Nuptse, Mt. Lhotse, Mt. Ama Dablam and Thamserku. The trail passes through Kayangjuma, Sansa, Phunki Thenga then cross the Bridge over the Dudh Koshi River. After crossing the River, the trail is steep up ascend about 500m, and we reach on the hilltop called the Tengboche village. Tengboche is an extraordinary place and on the top of the village, it has the biggest Buddhist monastery 4000m altitudes, called Tengboche Monastery. Tangbuche monastery is one of the biggest monasteries in the Everest region of Nepal. The structure of monastery for the first time was built I in 19 23 AD. In 1934, it was destroyed by an earthquake and rebuilt. It was destroyed by fire again in 1989 and reconstructed with the help of volunteers and the provision of foreign aid. Tengboche is a beautiful place for scenic views of Mt. Everest, Mt. Nuptse, Mt. Ama Dablam, Thamserku, Kangtega, Kusum Khangkaru and Kongde Ri on the South.
Overnight at mountain lodge in Tengboche.
Day 7: Trek Tengboche to Dingboche (4410m) 5hrs
Early in the morning if you are interested in visiting the Tengboche monastery for pray and observe the ceremony. Try to be there before 7:30 am, to see the monks praying, and you can also involve there for pray. After breakfast trek from Tengboche to Dingboche, also known as Summer Valley, which will take approximately 5 hours. At first, we trek via Debuche, cross bridge over Imja Khola and trek along the beautiful green fields, protected lands & the village of Pangboche (3900m). The trail is step up for an entire day to reach to Dingboche. The village of Somare (4010m) and Orsho are on the way and offer the excellent view of Mt. Aama Dablam. We descend to the river and follow the up steep trail to reach the Dingboche via north face of the Pheriche village. Trekking about 3 hours from Pangboche we reach to the Dingboche village. Overnight at mountain lodge in Dingboche.
Day 8: Acclimatization, in Dingboche (4410m), Optional hike to Chhukhung (4730m)
Again it is necessary to take the day rest and acclimatise before go higher altitude; we spend our rest day in Dingboche. Enjoy the leisurely breakfast with a spectacular sunrise view over the mountain and admiring Aama Dablam to the South, Mt. Lhotse and numerous other peaks. We hike to Chhukhung, which takes about 3-4 hours to explore the spectacular mountain. We can see the three out of six highest mountain in the world from the viewpoint, which includes Mt. Lhotse (8516m), Mt. Makalu (8485m) and Mt. Cho Oyu (8201m). You will also see the peak of Cho Latse (6440m) and Taboche (6542m) to the west. Then we back to Dingboche & rest in the evening.
Overnight at Lodge in Dingboche.
Day 9: Dingboche to Lobuche (4910m) 5hrs
Trek to Lobuche via Khumbu Khola valley & Duglha (4530m) (also known as Thukla) that leads to the white Chorten on the top of the ridge. Then further continue through Dusa (4530m), Palrung Khrka and you will see the Chola peak on top and at the bottom Chola Lake (4590m) on the left-hand side. At the height of the ridge we will find a collection of stones with prayer flags, memorials of several famous mountaineers such as memorial of US citizen mountaineer Scott Fisher and Nepali citizen ten times Everest submitter Nepali mountain guide Babu Chiri Sherpa, who perished on a mission to submit Mt. Everest. Along the way as the trail further continues to the Khumbu Glacier moraine, you witness a great view of Mt. Pumori (7161m), Khumbutse, Khumbu peak, Nuptse, Baruche, Lola peak and beautiful views of Himalayas. As we pass the Khumbu glacier moraine, you might feel a little out of breath due to high altitude. It will take about 5 hours to reach Dingboche to Lobuche. Overnight at lodge in Lobuche.
Day 10: Lobuche to Gorak Shep (5180m) Hike to Everest Base- Camp (5364m) & back to Gorak Shep (8hrs)
Trekking to Gorak Shep passes through the lateral moraine of the Khumbu Glacier with the witness of the north ridge of Mt Everest, Mt. Pumo Ri, Mahalangur and Mt. Nuptse and surrounding peaks. Trekking after approximately 3 hours from Lobuche, we will reach Gorak Shep. Take Lunch at Gorekh Shep and have rest for a while. Gorakshep is the last place where you get lodge/guesthouse accommodation. From Gorak Shep continue trekking to reach Everest Base Camp, which is one of the ultimate destinations of our trekking and will take approximately another 3 hours. On the way, we pass through the massive icefall and glacier and after walking one and half hour we see the first glimpse of Mt. Everest. Hiking through the trail with several ups and downs in the high altitude, we explore the lovely and vibrant, beautiful views of Snowcap Mountains and icefall glacier. When we reach to EBC we will enjoy the natural magnificence of Khumbu Glacier and icefall, people staying in the tented camp and some of the enthusiastic mountain climber doing the preparation for Everest expedition. We will spend one hour at the base camp enjoying the Himalayan beauty and capturing the majestic views in our cameras. Then trek back to Gorekhshep. Get ready for tomorrow as we wake up early in the morning for sunrise views from Kalapatthar. Overnight at Gorakshep.
Day 11: Hike to Kala Pattar (5545m) for sunrise; descend to Gorekshep & Pheriche (4210m) 7hrs Today is the toughest day for us of entire trekking. We wake up at 4 am in the morning and start a hike to Kalapatthar for the spectacular sunrise view and the massif of mountains. It will take 2-3 hours to reach to Kalapatthar from Gorekhshep. A long but truly an exciting and adventurous hiking will finally land us in Kala Patthar. Then observe the majestic views of various mountains including Mt. Everest (8848m), Mt. Pumo Ri (7161m), Lingtren(6749), Khumbutse peak (6640m), Baruche (7129m), Nuptse (7861m), Aama Dablam (6856m), Kangtega (6685m), Thamserku (6608m), Lhotse (8516), and last one on the far right hand corner is the Tibetan ranges. We will enjoy the panoramic views of Himalayas and capture the moments in our cameras. This moment is one of the unforgettable alive memories for the rest of our lifetime. Remember you might feel freezing and lack of oxygen, water bottle might get frozen, mobile and camera might not work. Do not forget to get thick warm clothes and protective equipment such warm cap and gloves. We don't stay at Kalapatthar for long as it is freezing weather. We spend about half an hour and capture all the memories in our camera as photo and video then descend back to Gorakshep, takes about 1 hour. Take breakfast and then descend to Pheriche (4210m) via Lobuche and Thukla. After descending 2-3 hours from Gorekhshep, we reach to Thukla where we will have lunch. It will take another one hour descend exploring the river and Pheriche valley to get Pheriche village from Thukla. Overnight at lodge in Pheriche
Day 12: Pheriche to Phortse (3810m) via Pangboche 5-6hrs
Start trekking Pheriche to Phortse village (3810m), which will take approximately 5-6 hours. The trail passes witnessing the wild animals like the mountain goat, musk deer and many species of Himalayan birds. Descending from Pheriche, we reach to Upper Pangboche village (3930m). It is popularly known as the village situated at the highest altitude on earth. From Upper Pangboche the trail is divided into two branches. One goes to Tengboche if you descend but we take straight further to go to Phortse village instead descend, this trail avoids much of the trekkers and yak traffic. It will take 3 hours to reach to beautiful village Phortse from Pangboche. The monasteries were built during the 16th century in this village, the culture & tradition has remained unchanged since the ancient period. Overnight at lodge in Phortse village.
Day 13: Trek Phortse to Khumjung (3780mm) 6hrs
After breakfast trek from Phortse village to Monjo village, which will take approximately 6 hours. From Phortse village the trail drops sharply down to the Dudh Kosi River for about 20 minutes, cross the bridge and reach to Phortse Thangka. We ascend steep up to Mongla Hill (3973m) for about one and half hour. From Mongla Hill offers you the excellent views of Aama Dablam, Thamserku, Kusum Khangkaru, Kongde Ri and Tawache peak. At Mongla Hill enjoy the leisurely lunch exploring the panoramic mountain views. From here descend all the way to famous village Khumjung. The Khumjung village is said to be the largest settlements of Khumbu region. There is well equipped High school established by Sr. Edmond Hilary in 1960. In the afternoon interact with the school students and teachers at the school and explore the Khumjung village to observe the Sherpa culture tradition and living style of local people in Khumbu region. Overnight at lodge in Khumjung village.
Day 14: Trek Khumjung to Bengkar (2630m) 5hrs
Enjoy the leisurely breakfast and start the trek. In about one hour you reach to Namche Bazar. Spend some time at Namche Bazar for lunch before we descend. We descend the valley via Dudh Koshi river. From Namche, it is steep down, takes approximately 3 to 4 hours to reach to Bengkar. The beautiful Monjo village is located near the boundary of Sagarmatha National Park along the trail. Walking another one hour from Monjo you reach to Bangkar. In the evening you have the option to explore the surrounding village and environment.
Overnight at Bangkar.
Day 15: End trek, Bangkar to Lukla (2840m)Today is our final day trekking of Everest Basecamp & Kalapatthar trek. In the morning start treks exploring various Sherpa hamlets through riverbank of Dudh Kosi River with several ups and down. Along the way, we will also explore many monasteries that resemble unique Buddhist culture and tradition. Upon arrival at Lukla, we will have a relaxing time at the hotel and make preparation to fly back to Kathmandu for the next day. Lukla airport is also known as Tenzing-Hilary Airport, is a small airport located in the lower Khumbu region of Nepal. Overnight at mountain lodge in Lukla.
Day 16: Fly back Lukla to Kathmandu (1310m) 35 min flight
Fly from Lukla to Kathmandu will take 35 minutes of astonishing scenic mountain flight lands you in the domestic terminal of the airport. Upon arrival in Kathmandu, transfer to the hotel and in the afternoon enjoys as leisure. Remember there is a high chance of cancelling the flight because of the weather condition. We do have some evidence trekkers had to stay for three days because of the weather condition. So be prepared and make 1 Leisure day in Kathmandu so that you can be safe.
Day 17: Free/Leisure day in Kathmandu
It's also spare day in case of bad weather in Lukla. Remember, there are high chances of cancelling flights because of weather condition in Lukla. You have the option to stroll around the local tourist market in Kathmandu to observe the living style of local people in Kathmandu valley. You can see the traditional houses, arts and crafts, residents selling clothes, fruits and vegetable around Indrachook and Ashan located in the North Part of the Kathmandu Durbar Square. Overnight at hotel (3* to 4*) in Kathmandu.
Day 18: Departure
You will be transferred to the airport by a private vehicle according to your flight schedule.
Group SizeMinimum 2 Pax.

MealsBreakfast, Lunch & Dinner will be provided according the Traditional Nepalese Meal Daal, Bhaat, Tarkari (For Lunch & Dinner). Set breakfast best available at the lodge such as Breads with Jam/Honey/Butter, Eggs etc. Some lodges offer Continental breakfast, Lunch & Dinner with Tea & Coffee.

Trip Accommodation3-5 Stars Hotel in Kathmandu & Mountain Lodge/Guest Houses During the Trek.

RouteKathmandu- Lukla- Namche Bazar- Tengboche- Dingboche-Lobuchhe- Gorak Shep- Everest Base Camp- Kalapatthar- Pheriche- Monjo- Bengkar -Lukla- Kathmandu

Trip Type Trekking


Trip SeasonsSeptember, October, November, December, February, March, April

Best MonthsMarch, April, October, November

Good MonthsMay

Lean MonthsFebruary, June, August, September, December

Not RecommendJanuary, July
Prices & Dates
Tier priced (per person in US$) based on number of participants and type of hotels.
Superior Class Hotels
7-9 members: 1640
4-6 members: 1770
2-3 members: 1850
Single traveller: 2790
Single room supplement: 190
Single person cost includes single room supplements
To offer the lowest possible cost, our trips are tier priced according to the number of participants or members on the trip. Costs are based on double occupancy. If you wish to have a single room, you must pay the single supplement fee. If you are willing to share accommodations, we will match you with a roommate if one is available. If we cannot match you with a roommate, the single supplement will apply.  Single passenger cost includes single room supplement
Included
All airport &hotel transfer by Private vehicle
Accommodation as per itinerary & Guest House/Lodge in Trekking Duration and 3 to 4 star hotels in Kathmandu
BLD (brakefast, Lunch Dinner) include on Trekking Duration but in Kathmandu only breakfast will be provided
Professional English Speaking Guide (1 guide for 4 trekkers)
1 Porter for 2 trekkers on Trek Duration (note: the limit of weight is maximum 15kg per trekkers)
Sightseeing as per itinerary with entrance fees
Nacessary paper work and permits (TIMS/ Everest National Park permits)
Domestic Flight, Kathmandu to Lukla to Kathmandu
One welcome or farewell dinner with cultural performance in Kathmandu
Not included
Nepal Visa ($40 upon arrival at airport)
Meals other than listed (lunch and dinner are not included in Kathmandu and also in the case of early return from trekking than the scheduled itinerary)
Personal expenses (Tips, Laundry, Telephone, bar, beverages, battery recharge, bottle or boiled water, shower etc.)
Rescue & travel insurance effects (we strongly advise buy a travel insurance policy).
Trip cancellation costs, accident or health emergency, evacuation, loss, theft or damage to baggage and personal
International flights from and to Kathmandu
All other personal expenses not listed in the included section
Accommodations
3-5 Stars Hotel in Kathmandu & Mountain Lodge/Guest Houses During the Trek.
---
Hotels in Kathmandu
It is a premier five-star deluxe oasis in the heart of Kathmandu, Nepal. Modern day sophistication greets cultural heritage in the ample grounds of the 100-year-old palace and newly designed structure of the hotel. Find refuge among antique fountains...

The hotel is located close to all major embassies, airline offices, banks, immigration office and the famous shopping centers of Thamel. It is only 8km from the Tribhuvan International Airport. ...

Hotel Shambala, a contemporary Tibetan themed boutique hotel in Kathmandu, Nepal offers unparalleled comfort and luxury with the best in Tibetan and Nepalese hospitality. Inspired by Tibetan art and architecture, all 65 rooms feature beautiful handma...
Trip Guide/Leader
---
×

Min Bahadur Singh was born in 1977 in Bajura district, far western development region of Nepal and later on he moved to Pokhara, permanent resident of Kristi-3 Kaski, Pokhara. He is Trek and City Tour Guide in Pokhara city, Nepal, a city of natural beauty and on the lap of the Himalayas. He has completed his intermediate education level and various training related to the travel and tourism industry. He started his career in the hospitality industry since 1992. He's worked in the tourism sector for 24 years and has 12 years of guiding experience involving in different travel and trekking agencies in Nepal. Min has joined to this company since 2014, and he does city tour guide in Pokhara and Annapurna region Trekking as well.On top of that, he is also bird watching specialised in the mountain region of Nepal. Min speaks English very well and has been the beloved guide for English speaking tourist. He loves to travel, meet new people and share his ideas and experiences to other people.

×

Hem Raj Bastola is a permanent inhabitant of Pokhara-25.  He has been working as a  tour and trekking guide  since 2010. Formerly he has worked as a guest service agent at the hotel Pokara Grande. He started his career as a Cave guide,  ticket sales man at Gupteshwor Mahadev Cave in Pokhara. So must of his working experience is related to tourism and hospitality industry. Beside his guiding profession, he enjoys reading and writing poetry. His poets have been published in different forums and medias.  When get free time loves to work in the field as well.