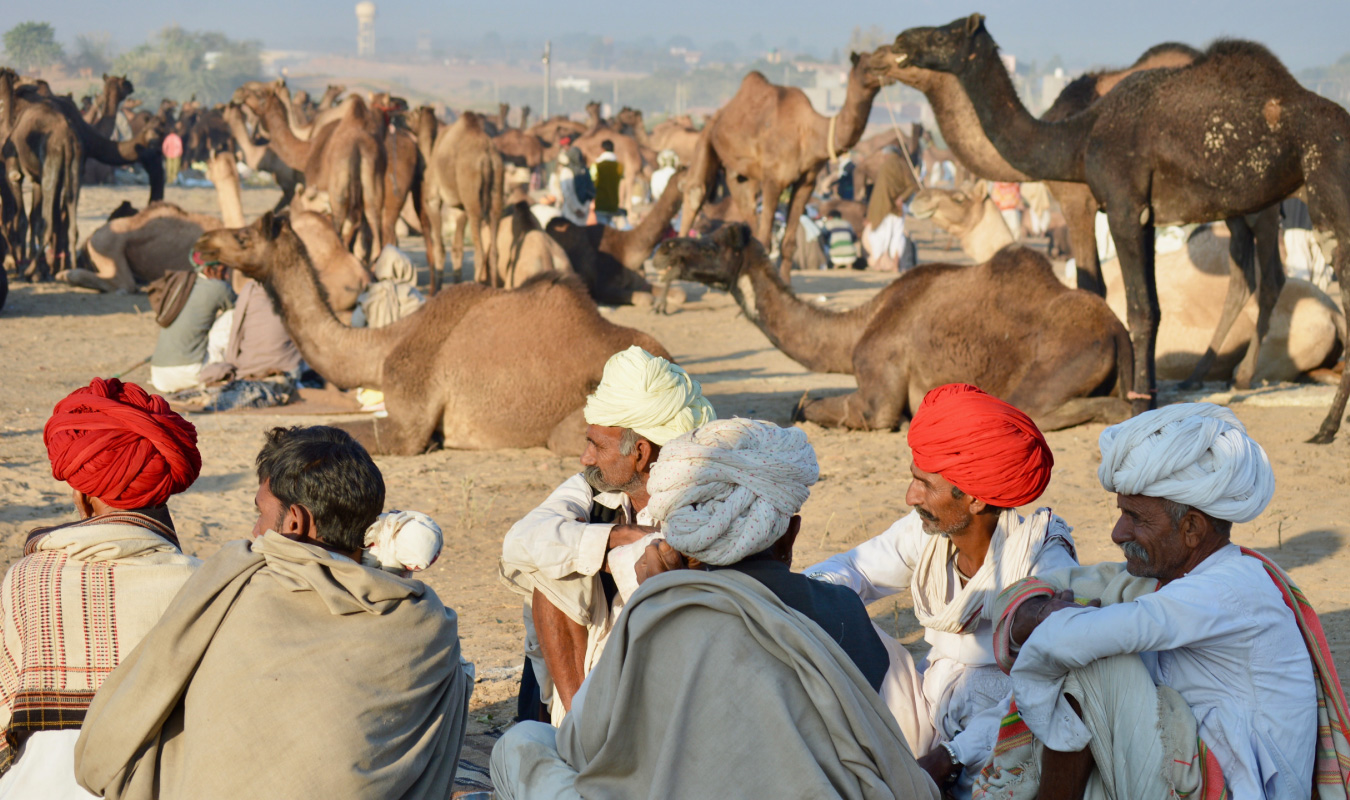 Trip highlights
Old and New Delhi – Red Fort, India's largest mosque Jama Masjid and hustle & bustle of Chandni Chowk
A date with Taj Mahal at sunset- An epitome of Love
Fatehpur Sikri – Former Capital of Mughals
The Pink City of Jaipur – Grandeur of Amber Fort, City Palace Museum and ancient observatory of Jantar Mantar
Pushkar Camel Fair -World famous cattle fair with trading, competitions, music, dance, colourful market stalls and fairground events
Ajmer Sherif – A Muslim Mausoleum
Travel through Indian Railway- One of the largest rail network in the world
Pushkar Camel Fair is one of India's most highly-rated travel experiences. An epic carnival visited by over 400,000 people from all over the world, it attracts more than 10,000 camels, horses and cattle for trading, races and various spectacle competitions. It brings rural traders and villagers from different parts of Rajasthan. Pushkar is a 'Hindu city' which is famous for having the only 'Brahma Temple' in the world.
This tour largely focuses on history and culture of India with a life-time experience of witnessing Pushkar Camel Festival. Get amazed by competitions organized in the festival like Longest Moustache competition, Cricket match and a 'Camel Beauty Pageant'.
Along with this unique experience, undertake the famous Golden Triangle journey through Agra, Jaipur and Delhi, thus giving you an unforgettable introduction of these classical and incredible cities that define the culture and heritage of Northern India. We will take you through the 'hustle n bustle' of Old Delhi with enthralling Rickshaw Ride and Lutyen's Delhi, showcasing Qutab Minar, Humanyun's Tomb, India Gate with panoramic tour of city. Delhi – the 'Capital City of India' boasts important historic monuments and modern day architecture with pride.
Then come on a date with Epitome of Love - 'Taj Mahal' at sunset that would leave you captivated with its glory with its colours and the majestic piece of art influencing not only the whole place, but your mind and heart. Visit the Ghost Town - 'Fatehpur Sikri', the first planned city of Mughals in India. It was deserted due to water scarcity in the region. Then enter the desert state of India: Rajasthan which bears incredible culture, heritage and traditions. Enchanting grandeur of Amber Fort, Jal Mahal and Hawa Mahal in Jaipur, also known as 'Pink City', are prominent sights of this Capital City of Rajasthan. Jaipur is a heritage city dating back to 18th century and a modern metropolis.
Follow our Pushkar Camel Fair with Golden Triangle Tour for an astonishing and stupefying familiarization to India not as tourist but a traveler with travel companion.
Outline Itinerary
Day 1: Arrive in India (Nov 12, 2018)
Highlights: Humanyun's Tomb, Qutab Minar, India Gate, Parliament House, Jantar Mantar
Arrive in Delhi. You'll be met at the airport and transferred to your hotel to relax.
Begin your half-day New Delhi sightseeing in the afternoon. Visit to 16th Century Humanyun's Tomb, Qutab Minar Tower, India Gate, drive past majestic Parliament Houses and Jantar Mantar Observatory. Evening is free to explore nearby areas. Overnight in Delhi.
Note: If your flight arrives late in the evening on Day 1, local sightseeing scheduled for New Delhi will be covered next day in full day sightseeing on Day 02.
Day 2: Delhi Sightseeing
Highlights: Red Fort, Jama Masjid, Chandni Chowk Market, Rickshaw Ride
After breakfast, embark on Old-Delhi sightseeing tour. Visit the enchanting RED FORT and JAMA MASJID, the largest mosque in India. Experience the cacophony of 'Chandni Chowk' Market, where from we take a Rickshaw ride through narrow crowded lanes. Overnight in Delhi.
Day 3: A Date with Taj Mahal
Highlights: Agra Fort and 'Taj Mahal'
Post breakfast, drive to Agra along Yamuna Expressway. Upon arrival, visit the historic AGRA FORT which looks like the Red Fort in Delhi, but much larger. Later in the evening, visit the famous Taj Mahal, one of the seven wonders of the world, as the sun sets in backdrop providing interesting hues. Overnight in Agra. (Distance about 210km/4-5hrs drive)
Day 4: Ghost City – 'Fatehpur Sikri' - Jaipur
Highlights: Deserted Fatehpur Sikri
After breakfast, drive to Jaipur. En-route visit FATEHPUR SIKRI –the ruins of 16th century Mughal capital city build by Akbar. Arrival in Jaipur by evening with some time for relaxation. (Approx. 25okm/5+ hrs drive)/.Overnight in Jaipur.
Note: If time permits, option of visiting Laxmi Narayan Temple (also known as Birla Temple) in the evening.
Day 5: The 'Pink City' of Jaipur
Highlights: Amber Fort, City Palace Museum, Hawa Mahal, Jantar Mantar
Visit the iconic places of Jaipur, the capital city of Rajasthan state. Vist Amber Fort located on the hilltop. Later visit Hawa Mahal, Jantar Mantar Observatory, the City Palace with its museums and art galleries. Evening is free time to explore the city own your own. Overnight at Jaipur.
Note: Option is available for those who wish to ride the Elephant when climbing upto Amber Fort. Also in the evening, you can watch a Bollywood movie in famous traditional Raj Mandir Theatre.
Day 6: PUSHKAR CAMEL FAIR
Highlights: Camel, Horses and Livestock Trading Market, CAMEL CART RIDE
After breakfast, leave Jaipur and proceed to Pushkar. Once a year, Pushkar holds the world-famous Camel Fair where thousands of traders, villagers, breeders, farmers descend from various parts of Rajasthan. You have a whole afternoon to watch fair, where you can see trading of livestock, camel races and other events such as Cricket, Tug-of-war, Camel beauty pageants and other contests such as the long moustache among the men. You may also wish to try a camel ride and enjoy the celebration come to recess as the sun-set views over the surrounding hills. Overnight stay in Tent Hotel - en-suite bath. Distance approx 150km/3hrs.
Day 7: SACRED PUSHKAR SIGHTS
Highlights: Pushkar Lake, Sacred Ceremony, Brahma Temple, Savitri Temple
Pushkar is a spiritually significant place for Hindus being the site of only temple of Brahma (the lord creator of universe), located along a lake, which makes it one of the most sought for Hindu places in the country. First hike up to Savitri Temple located at the top of a Ratnagiri hill. Then later visit Lord Brahma's temple, Pushkar Lake and also see the sacred Hindu ceremony performed by the local priests. Thereafter, explore the Pushkar Fair. Overnight in Tent hotel.
Day 8: Train Journey to Delhi via AJMER
Highlights: Muslim Mausoleum, Jain Temple and Indian Rail Journey
After breakfast, drive short distance (15km) to Ajmer, where we visit a Sufi shrine of early 13 century Sufi saint Moinuddin Chishti, a pilgrimage destination. Driving past, we also see Ana Sagar Lake and Nasiyan Jain Temple from outside. At 3:45pm, board the Ajmer Shatabadi Express train which travels via Jaipur to Delhi, arriving late in the evening (10:40PM). Transfer to the hotel in Delhi. Note:You will be served light snacks, tea-coffee and dinner during the train journey by Indian Railways which is part of the train ticket price.
Day 9: Departure (Nov 20, 2018)
Transfer to International airport in time for your flight
Group Sizemax. 7 in one vehicle

MealsDaily Breakfast.
All meals while stay in Pushkar.

Trip AccommodationCombination of 4-5 Star Deluxe Hotels and Heritage Hotel in Jaipur.
Royal Desert Camps in Pushkar.

RouteDelhi-Agra-Jaipur-Pushkar-Ajmer-Delhi

Trip Type Festival Tours


Best MonthsJanuary, February, November, December

Good MonthsMarch, September, October

Lean MonthsApril, August

Not RecommendMay, June, July
Prices & Dates
Tier Pricing cost based on the total sign-ups. At the time of sign-up, the cost will be taken on the basis of 2 passengers and the final invoice will be raised based on total number of sign-ups.
Starting from $1690 Per person.
Single room supplement $750
| | | | | |
| --- | --- | --- | --- | --- |
| Start date | End Date | Remarks | Status | |
Included
Accommodation on Twin Sharing basis stay in mentioned hotels/camps
Daily breakfast
All meals while stay in Royal Desert Camps, Pushkar
All transportation and transfers in private chauffer driven air conditioned vehicles
Local English speaking Guide for sightseeing as per the itinerary
Train Journey – Ajmer Shatabadi Express from Ajmer to Delhi by AC Chair Car
Bottled Mineral Water during the drive
All Entrance fee
Taxes
Not included
Indian Visa
International airfare 'to and fro' Delhi.
Meals those not listed in the inclusion.
Travel Insurance.
Tipping- 'Entirely a personal gesture'.
Expenses of personal nature like laundry, phone calls, etc.
Accommodations
Combination of Heritage and modern hotels.
---
Hotels in New Delhi
Hotels in Jaipur
Hotels in Agra
Hotels in Pushkar
Trip Guide/Leader
Tour will be accompanied by our experienced tour guide having indepth knowledge of Indian Culture, History and life of local inhabitants.
---
×

Gaurav Goyal remains stalwarts  of Wind Horse Tours, India since its inception in 2005. Along with company he gained salience. His friend says " He aged once he started to work ". Like any other works, it was hardly a stroll in park at the start. In initial days, where every little aspects was overwhelming to learn but he weathered  the storm tenaciously and befitting he is in the stage where a rave review from the guests is just like another day in the office.

He grew up in old Delhi locality and did his college from there itself. He is familiar with every nook and corner around Delhi and surrounding regions. This assist in untying knots of intricate history of Delhi and its monuments it harbours in its fold when taking guests on tours.

When not guiding, you can find him in cricket ground  with a Kookaburra cricket ball in hand all geared up to disturb the three timbers that batman passionately guard.

×

Hemant Arya says " There is no half measure in what ever I do. Its either 100% or nothing". With these thought driven, it has taken him to many different frontiers, sometime prickly but mostly well charted territory. And this is what guests find an outstanding traits in him that make the tours smooth and informative. Since 2008, He has been leading tours in Delhi, Agra, Jaipur and north India vindicating his above philosophy.

Since kid, he had a strong liking for this trade, he actually studied to be in travel industry. He did his bachelor degree in Art with History as major. He makes best use of what ever he learnt.

He hails from Delhi and grew up watching Delhi grow up into bigger cities as well. He has fond memories of all the attractions and monuments that he visited with his friends and family.

He loves to read, if not home you can find him in his favourite hang out point at National Library in Delhi.