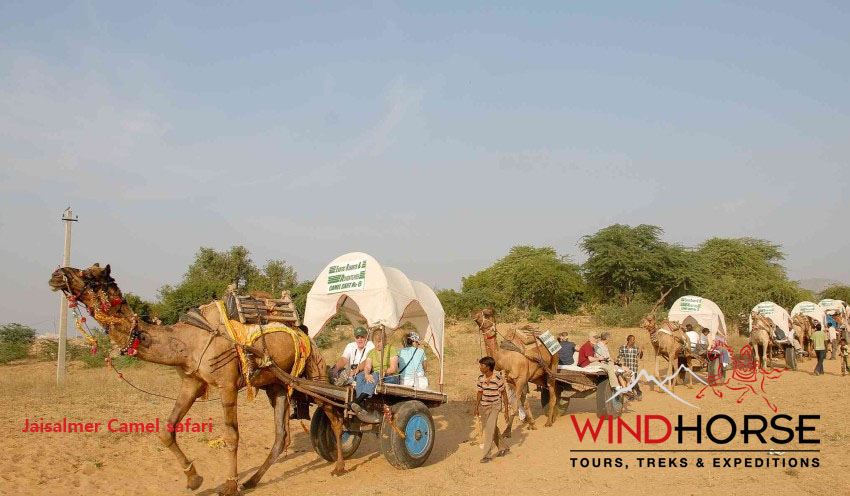 Trip highlights
Visiting the era of the Mughal empire and Sand dunes of Rajesthan
Rajasthan, the Land of Kings, is the quintessential Indian state. The walled cities, forts and palaces are a dramatic reminder of the rich cultural heritage and history of the region. Amazing legends of a bygone era relate to tales of romance and heroism of the Rajput warriors who ruled the region for nearly a thousand years. Our journey passes through the fairytale cities of Jaipur, Jodphur, Udaipur and Jaisalmer as well exploring the lesser known forts and palaces of Bundi, Chittaurgarh and Nimaj. We visit Maharajahs palaces, the ornate Havelis of Shekawati at Mandawa and explore the haunting beautiful sand dunes on a camel safari.
Outline Itinerary
Day 1: Drive from Delhi – Agra
Travel overland to Agra, home to 's most famous site, the majestic Taj Mahal. Also visit the nearby Red Fort.
Day 2: Drive to Bharatpur
From Agra, first stop at the fortified Mughal City of Fatehpur Sikri. Continuing our journey by road, reach the city of Bharatpur where we visit the Keoladeo Bird Sanctuary, a World Heritage reserve containing over 350 different species of birds.
Days 3 & 4: Drive to Jaipur
Jaipur is the colourful capital of the state of Rajasthan, a vibrant and exciting town.Visit historic Amber fort, Old Bazaar, Hawa Mahal, better known as The Palace of the Wind.
Day 5: Drive to Bundi
Leave Jaipur in the morning for Bundi, a favorite of Rudyard Kipling. The town has remained one of the better kept secrets of Rajasthan and has a very relaxed atmosphere.
Day 6: Drive to Chittaurgarh
Fort & Udaipur From Bundi, head south towards Udaipur visiting Chittaurgarh Fort, en-route.
Day 7: Drive to Udaipur
The city of Udaipur is built around the shores of Lake Pichola with a wealth of fascinating temples, ornate palaces, and impressive havelis (merchant homes).
Day 8: Drive to Nimaj
Journey to Nimaj, surrounded by fields of millet and wheat fields, mud plastered houses linked by narrow pathways. Nimaj is a fascinating little village and our stay here is one of the highlights of the trip a we overnight in a heritage property full of old world charm. En-route visit Ranakpur temple complex.
Day 9: Drive to Jodhpur
Drive to Jodpur, visiting some of the villages, including Bishnois and Meghwas en-route.
Days 10 & 11: Drive to Jaisalmer.
Jaisalmer is an ancient trading town resembling a scene from the story of "A Thousand and One Nights". The inhabitants still live in the narrow paved streets and alleyways of the town's ancient fort.
Day 12: Drive to Bikaner
From Jaisalmer, drive through the desert to Bikaner in north west Rajasthan.
Day 13: In Jaisalmer
Camel Safari and camp in the desert
Day 14: In Jaisalmer
Camel Safari in the morning and return to Bikaneer for local sights. Overnight hotel
Day 15: Drive to Mandawa
Head off the beaten track to the small town of Mandawa. This small town is one of the most attractive of those in the Shekawati region. The region is noted for its wealthy merchants homes, with intricate decorated murals inside and outside of these homes.
Day 16: Drive to Delhi
It is about 5 hours of drive from Mandawa to Delhi. Arrive in the early afternoon and drop off at the hotel near the city or at the airport.
Group SizePrivate

MealsDaily breakfast and some meals

Trip AccommodationTourist standard 4 to 5* category

RouteDelhi – Agra - Bharatpur-Jaipur- Bundi-Udaipur-Nimaj-Jodhpur-Jaisalmer-Bikaner-Mandawa

Trip Type Cultural Tour


Trip SeasonsMid Sept til mid April

Best MonthsJanuary, February, March, April, May, June, July, August, September, October, November, December
Prices & Dates
Cost Information
2240
2 Pax USD 2240 Per Person
4 Pax USD 1640 Per Person
Single Supplement USD 780
Single Person travelling 3590
---
Trip Dates:
Private Journeys for independent travel with your own dates.
Included
Accommodation with daily breakfast
Quality A/c transport
English Speaking Guide
All transfers and sightseeing
Fully organised camel safari
Not included
Cameras Fees at sights if applicable
Travel Insurance
Expenses of personal nature such as tipping, porters, laundry, telephones, etc.
All other than those listed in above inclusions
Accommodations
---
Hotels in New Delhi
Hotels in Jaisalmer
Hotels in Bikaner
Hotels in Udaipur
Hotels in Bharatpur
Hotels in Bundi
Hotels in Jodhpur
Trip Guide/Leader
---
×

Rajat Gupta is the gun young at Wind Horse Tours, New Delhi. With his advent there is  infusion of fresh ideas, exuberance and passion , that changing travel scenario demands. He completed his degree course in Tourism Management in 2014.
At Wind Horse Tour, India, he is  setting pace for innovations and fresh perspectives to thrive and to meet new demands. With opening of window for Visa on Arrival for many countries by Indian Government, this has thrown door wide open for travel industries to redesign structural patterns in term of infrastructures and itineraries.

He inherited the passion for the travel business from his father Santosh Gupta. While growing up or still now the travel talks  hogs the limelight at the  dinner table. He alway knew what he wanted or how he wants to shape up his career. Choosing travel management course was a conscious choice to  hone his passion.

×

Gaurav Goyal remains stalwarts  of Wind Horse Tours, India since its inception in 2005. Along with company he gained salience. His friend says " He aged once he started to work ". Like any other works, it was hardly a stroll in park at the start. In initial days, where every little aspects was overwhelming to learn but he weathered  the storm tenaciously and befitting he is in the stage where a rave review from the guests is just like another day in the office.

He grew up in old Delhi locality and did his college from there itself. He is familiar with every nook and corner around Delhi and surrounding regions. This assist in untying knots of intricate history of Delhi and its monuments it harbours in its fold when taking guests on tours.

When not guiding, you can find him in cricket ground  with a Kookaburra cricket ball in hand all geared up to disturb the three timbers that batman passionately guard.