Rajasthan Adventure Tour
11 Days
Delhi - Mandawa - Bikaner - Jaisalmer - Jaipur - Agra - Delhi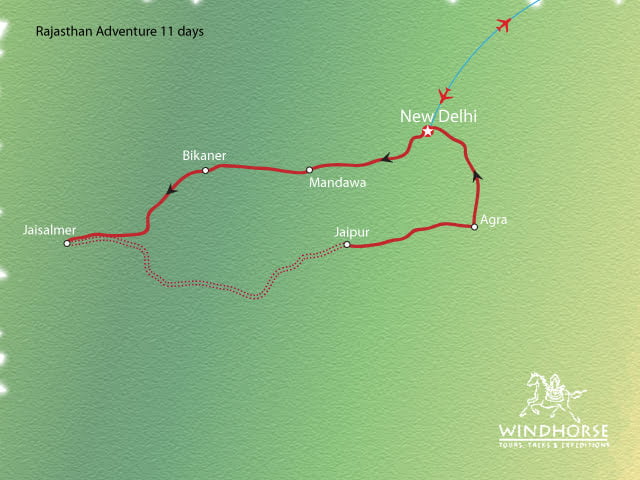 Trip Price From US$ 1625 | See Details
Trip AccommodationFirst Class - 4 star type Hotels, Resorts, Palaces and one night on a Train See Details
Group Size Max. 7 pax (Minimum 2)
MealsMeals as specified in the itinerary Breakfast(B), Lunch(L), Dinner(D)
RouteDelhi - Mandawa - Bikaner - Jaisalmer - Jaipur - Agra - Delhi
Trip Type Cultural Tours with short walks
Best MonthsJanuary, February, March, April, May, June, July, August, September, October, November, December
This Rajasthan tour package for 11 days leads you through the sun drenched Rajasthan and into the places and sights that regular tours don't cover. Rajasthan tour enables you to see beautiful sights and places of Rajasthan and all the attractions along the Golden Triangle route. This is one of the best Rajasthan tour packages providing opportunity to interact with the local people, while learning the way they live and to experience their hospitality. As time permits, we will also visit local homes and schools. Your stays are in the charming and affordable Forts and Palaces replete with 'Old World Charm.' We will travel by a small van with maximum of 7 passengers to make your experience a personal, accompanied by a knowledgeable and a passionate Guide. There is also a one overnight train journey, a short camel ride, an elephant ride and a rickshaw ride to add to your Indian experience. The itinerary is packed with India Rajasthan tour showing you beautiful land and the hospitable people of India.
Outline Itinerary
Day 1: Arrival in Delhi Upon arrival in Delhi, you are met and transferred to a hotel in the suburbs of Delhi (30km), which is on the way to your next destination.
Overnight in Heritage Village, Manesar or Similar.
Day 2: To Mandawa (B) Drive to Mandawa in the heart of Shekhawati, a region known as the "Open Art Gallery of Rajasthan," for its fascinating mansions (Havelis). These mansions have lavishly painted walls, built by the rich merchants as their residence between 18th and 20th century. We spend the afternoon walking to visit some of these Havelis.
Overnight in Desert Resort Hotel or similar
Day 3: Mandawa – Bikaner (B) Visit sights in Mandawa and drive to the desert city of Bikaner. Visit the Junagarh Fortress.
Overnight in Raj Villas Palace Hotel.
Day 4: Bikaner (B) After visiting the Camel Center, you may choose to walk or ride a camel to visit local villages. Lunch at a village hut known as Dhanhi. Later visit Deshnok, which is famous for its rat temple.
Overnight in Raj Villas Palace Hotel
Day 5: Bikaner – Jaisalmer (B) Drive further into Thar Desert and arrive in the Golden City of Jaisalmer. En-route, stop in some villages inhabited by Bishnois tribe. While in Jaisalmer view sunset and enjoy a dinner with cultural performance at Sam Dunes.
Overnight in Fort Rajwada.
Day 6: Jaisalmer Sightseeing and Overnight Train (B) Walk through maze of alleys and bazaars to see Jaislamer's unique architectural masterpiece that amazes visitors. Visit Sonar Kila or the Golden Fort, including Jain temples and some of the Havelis. In the evening board an air-conditioned sleeper train to Jaipur.
Overnight in train
Day 7: Arrive in Jaipur (B) Arrive early this morning in Jaipur and transfer to a hotel. After some rest, start for a half-day tour of this Pink City to visit the Hawa Mahal or the Palace of Winds. Then visit the City Palace with its museum and Jantar Mantar Observatory. Free evening.
Overnight in Narain Niwas Palace or similar.
Day 8: Jaipur Walking tour (B) Short distance away from Jaipur, we visit Amber Fort and ride an elephant. Return to Jaipur and begin walking into the old city through its maze of streets. Enjoy a timeless bazaar admiring a full of colorful textiles and trinkets.  Spend some time looking at houses, mansions and temples. Sense the whirl of streets packed with camel carts and cycle-rickshaws. In the evening drive to an ethnic village resort of Chokhi Dhani for traditional dinner and a Rajasthani performance.
Overnight in Narain Niwas Palace or similar.
Day 9: Jaipur –Agra (B) En-route to Agra, stop to visit the ghost city of Fatehpur Sikri. Visit Taj Mahal in Agra during the sunset and visit the Agra Red Fort.
Overnight in Holiday Inn.
Day 10: Agra-Delhi (B) Drive to Delhi after visiting rest of the sights in Agra. Free evening in Delhi.
Overnight in City Park.
Day 11: Delhi tour – Departure (B) A brief tour of some of the landmark monuments of Old and New Delhi including: Jama Masjid, Rajghat Park and drive past India Gate, President's House and Qutub Minar. Transfer to the airport in time for your flight to your next destination.