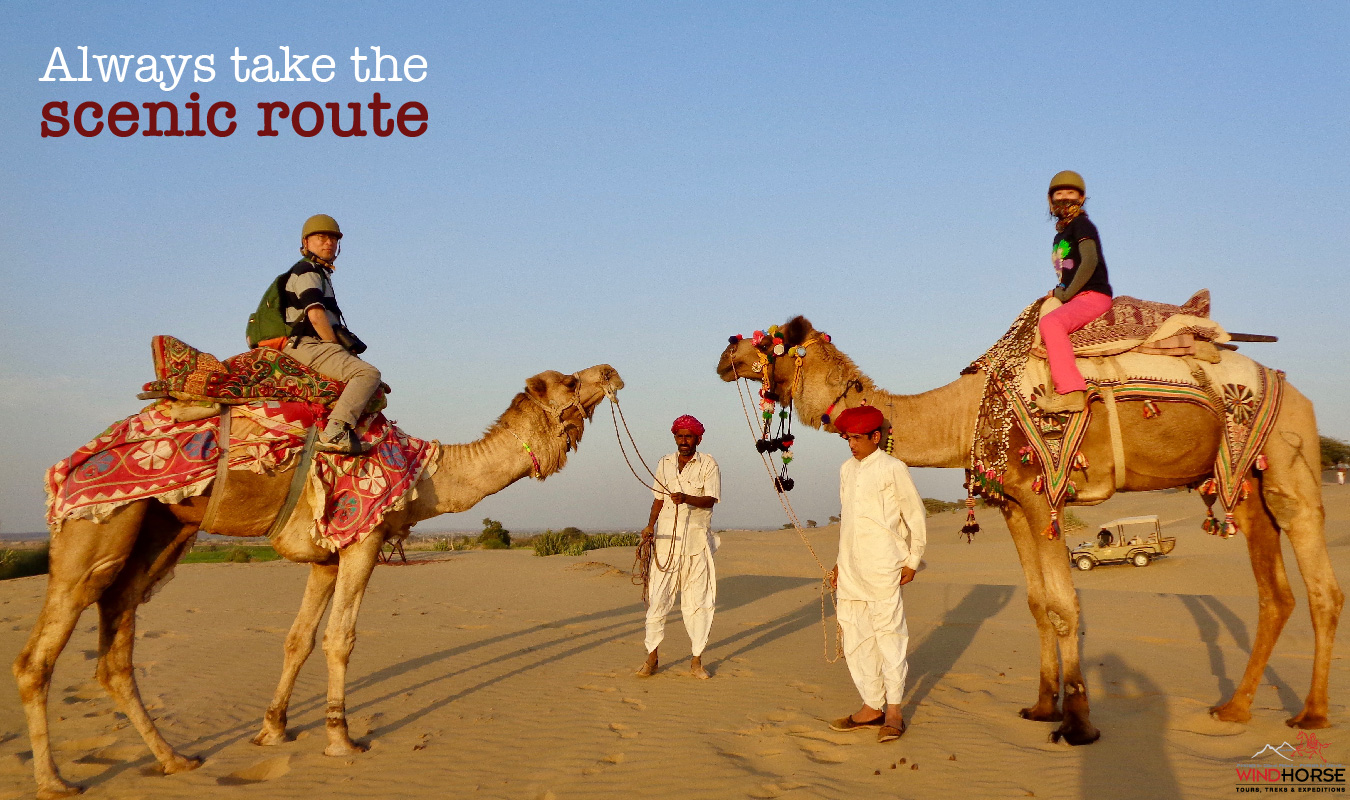 Trip highlights
Village walking tour visiting old Havelis and famous 'frescos'
Jeep safari and dinner in Sand Dunes
Biking through the countryside
Experiential stay in Heritage Hotels
Udaipur Bicycle Tour
Holy ceremony on the banks of Pushkar Lake
Pink-City Walking Tour
Dinner with local Indian Family
Biking in Bharatpur Bird Sanctuary
Date with Taj Mahal at sunrise
Farewell Dinner by Wind Horse
In this trip, you walk across some of the most sought for destinations in the world. Amidst the cacophony of Delhi, you see structures of contemporary history of this incredible civilization: India. As you move around this city, let the passion for food fascinate you. Then a few hundreds of miles away stands a monument built over the blood and sweat of thousands of workers grinding to make the dream of an emperor come true.
As we see it today, The Taj stands like a king, a place of love and a piece of art that compliments simple and daily happenings like sunrises and sunsets to give you a view that no price can buy. And one day, you will find yourself moving on the roads of one of the harshest geographies that this world could offer: the Thar. Take village walking tours to eerie Havelis and famous frescoes in Rajasthan and go on a jeep safari in the Sand Dunes. Stay at heritage hotels to experience the royal way of life.
Take a bicycle tour around Udaipur and witness spectacular parts of this city. We also take you biking through the countryside, the Bharatpur Bird Sanctuary, and give you a local experience with a dinner at a traditional Indian home. Royal Rajasthan and Taj is the tour that your heart has been yearning for till now. Now that you have it, here is your itinerary.
Detailed Itinerary
Day 01: Welcome to India – New Delhi On arrival at Indira Gandhi International Airport in Delhi, you will be met by our company representative and transferred to your hotel. Since most of the international flights arrive late night in Delhi, it is best to check in to your hotel and give the rest of the day to relaxation.
Overnight stay in Delhi.
Day 02: Shekhawati Havelis of Nawalgarh Today, we take you to Nawalgarh town, the center of Shekhawati region. While on a private drive from Delhi (6 hrs./280 km), you will pass by many local towns and villages which will give you a vivid picture of life in India from road. Nawalgarh is one such town to have one of the best experiences of rural India. We explore this town on foot and hence, check into your hotel and put on your walking shoes. Our first stop is the museum of 'Podar Haveli' on the eastern side of town. Thereafter, a short stroll will take us to Morarka Haveli Museum which exhibits amazing original murals that depict Indian mythology and an image of Jesus. The last stop in this village walk is Bhagton Ki Choti Haveli which exhibits more frescoes. Then return to hotel and enjoy delicious Rajasthani food. A must-try dish in this meal is 'Masala Gatta' (Gram flour dumpling in yogurt gravy).
Overnight stay in Nawalgarh. (B,D)
Day 03: Khimsar Fort Continuing the journey for 5 hrs. covering about 245 km to the Thar Desert wherein lies this sixteenth Century Khimsar Fort exclusively constructed with the idea of war, now transformed into a luxurious heritage hotel. We take you on a guided tour around this fort which still holds its pride since 450 years, thus housing three generations of Khimsar Thakurs. Walk around the wonderful little Khimsar Village, having populace of only 8,000+ individuals. Visit a water body looking like an oasis situated at the center of the village, nearby temples and 'Nila Moti Trust' – a handicraft organization built and kept running by Mrs. Monica Matter from Switzerland who works for the upliftment of women in villages. We greet you with a jeep safari in the evening in the heart of the seven dunes of Akla. Surrounded by sand dunes and a water body in the center, enjoy a wonderful dinner amidst this never-ending land with folk dance and Rajasthani puppet show to give you a taste of its rich culture. Return to hotel.
Overnight stay at Khimsar Fort. (B,D)
Day 04: The Blue City – Jodhpur It is a 2-hour drive from Khimsar to Jodhpur and as we come nearer to the blue city, the scene keeps getting better and better. Upon arrival, check-in hotel and begin guided tour of second largest city of Rajasthan. Journey starts with availing an autorickshaw (tuk-tuk) to the entrance of Mehrangarh Fort. It is a standout amongst the most glorious forts in India. The Fort lies on a rough slope over Jodhpur's skyline and is still kept running by the Jodhpur Royal Family. Mehrangarh is certain to hypnotize you with its radiant history and legends. Later visit Jaswant Thada (White marble remembrance to Maharaja Jaswant Singh II), Umaid Bhawan Palace (Hilltop Palace planned by the British Architect Henry Lanchester for Maharaja Umaid Singh which started to be built in 1929 and took 15 years and 6000 workers to complete) and the Step Well-Toorji ka Jhalara.
Take a walk along the clock tower, an old city landmark surrounded by Sadar Market. Stroll down crowded alleys which are spread out in all directions. Return to hotel.
Overnight stay in Jodhpur. (B)
Day 05: Biking to Luni After breakfast in hotel, meet your biking tour leader for preparation and guidelines session. Transfer outside of city to bicycle tour's beginning point. Get on our bicycles and begin cycling towards the beautiful field of Pali after crossing a few villages, where you will get the opportunity to feel the way of life in rural Rajasthan. The destination of this ride would be Fort Chanwa, Luni. Upon arriving at this village, check into the hotel and rest. (The total bicycle activity and time relies on customers' comfort. Maximum distance of this ride can be of 25 km to reach the hotel. Mineral water and packed lunch will be provided during the ride).
The village of Luni is situated around 35 km from Jodhpur. It settles in the shadow of the Fort dividers and is a center-point of activities of its numerous craftsmen designing metal, clay or wood into mind-boggling shapes and showing the abilities that were ignored during the time by their progenitors.
Later meet the local community viz "Bishnoi", "Patel" (Agriculturist) "Moila" (Potter), "Prajapat" (Weaver) of the village. You can, likewise, dress same as like their host and join the family to be feel like a local. Come back to hotel at night and continue for a 'Common Village Dhani Dinner' which is served is rural style with social customary ceremony and folk dance.
Overnight stay in Fort Chanwa. (B,L,D)
Day 06: Ranakpur Jain Temples and Kumbalgarh Fort -Udaipur Our next journey takes us to the village of Ranakpur in Pali area, found 95 km northwest of Udaipur and houses one of India's greatest and most critical Jain temple buildings. Talk a walk with your guide to the temple complex which is situated at the foot of Aravalli Hills and is well known for its multifaceted cutting on milky white marble, arrangement of halls, domes and in excess of 1400 exclusively engraved columns that maintain the structure of the temple. Continue the drive for 01 hour along twisted roads uphill through the Aravalli Hills, a scene to cherish during this journey to reach Kumbalgarh. It is situated 80 km north of Udaipur and is the second most important fortress after Chittorgarh fort in Mewar region. Once you enter the fort, you will see thick walls extending till a distance of 36 kilometers and consisting of palaces, temples, gardens and stepwells, all having been battle-ready with canon bunkers.
Finish the sightseeing and transfer to Udaipur. It is a 100 km drive and more than 2 hours to reach the main city. Upon arrival, check-in hotel and relax.
Overnight stay in Udaipur. (B)
Day 07: Udaipur by Bicycle Tour 'The City of Lakes', 'Venice of the East', 'Kashmir of Rajasthan', 'Most Romantic City of India' – are some of the famous tags associated with Udaipur. An extraordinary way to enjoy this lovely city is a BICYCLE TOUR. It draws in with the environment, associates you with the surface of the city and exposes you to the very pith of India. Begin cycling from the hotel and enter the old city to ride through the thin paths which still holds its beguiling enchantment. The visit takes you to Dudh Talai, a lake settled between little hillocks, sparkling Lake Pichola which houses Jag Niwas and Jag Mandir and world popular 'Lake Palace Hotel' in the inside. The ride ends at Fatehsagar Lake which has three artificial islands on which the Udaipur Solar Observatory is located.
Evening is left to relaxation to explore the Ghats (a series of steps leading down to a body of water) beside Lake Pichola, a famous Sunset spot. Alternative of going to Bagore-Ki-Haveli, situated at Ganguar Ghat is available. Bagore-Ki-Haveli houses an intriguing workmanship and craft exhibition and hosts a beautiful cultural event at night.
Overnight stay in Udaipur. (B)
Day 08: Pushkar – Sacred Lake & Ghats After breakfast, go on a boat ride in Lake Pichola and later continue drive for 05 hrs. to Pushkar – a conspicuous Hindu town which houses world's only Lord Brahma temple. This town is built around heavenly lake of Pushkar which draws in plenty of travelers, mostly Hindu devotees because of its legendary and amazing climate.
Upon entry in Pushkar, check into your hotel and witness an evening prayer ceremony at the Ghats in the present of a priest. The Pooja service rinses mind, body and soul and the whole phenomenon is magical in nature. Stroll in the grimy alley with brilliant markets on both sides till the Brahma Temple. Watch the devotion of Hindu enthusiasts which denotes their lifestyle. Night at relaxation to see around Pushkar on foot. Come back to your hotel, thereafter.
Overnight stay in Pushkar. (B)
TIP: Sunset Caféon the eastern ghat is a perfect place to watch the sun go down over the sublime lake while enjoying curries, pizza & pasta with a German bakery cakes.
FACT: Pushkar is also known as the 'Rose Garden of Rajasthan' due to extensive rose farming with diverse varieties which are exported all over the world.
Day 09: Jaipur – The Pink City A two-hour drive brings you to Jaipur, Rajasthan's Capital, which was established by Raja Jai Singh II in 1727. After arriving in Jaipur, check-in hotel and go for the Pink City Walking Tour. This strolling visit in old city starts from Bapu Bazaar – a renowned nearby market for brilliant garments, shoes, scents and tasty road-side food. Visit the jewelry market of Johari Bazaar, Siredori Bazaar and Hawa Mahal – the 'Royal residence of Winds' is the most particular milestone of Jaipur developed for Royal women to watch the city from 900+ adorned sandstone windows. Continue to enter City Palace Complex – the living arrangement of Royal Family and Jantar Mantar – eighteenth century observatory. Go through 'Maniharon ka Raasta' and 'Khajane Walon ka Rasta' – where you will discover marble and stoneware carvers working. Following 3-4 hours of stroll in this beguiling old piece of town, the walk ends at the 'Ajmer Gate'. Thereafter, transfer to hotel.
At night, meet a kind and warm local family where you can partake in an intuitive exciting cooking lesson. Find out about their most loved dishes and share a supper like never before. It is an awesome method to be a part of the local culture.
Overnight stay in Jaipur. (B,D)
Day 10: Amber Fort and Bharatpur After a casual and relaxing morning, check out of the hotel and in company of your guide visit Amber Fort & Palace in the outskirts of the Pink City. It is situated on a ridge and is a brilliant structure portraying expert Rajput engineering. The mass of Sheesh Mahal castle inside the fort is totally canvassed in little mirrors, so the room lightens up with an iota of light. The brilliance of the fort is complimented by the stunning vista of the Maota Lake in front. From Amber, we drive to Bharatpur situated 200 km from Amber. After arriving at Bharatpur, check into the hotel and have dinner.
Overnight stay in Bharatpur. (B)
Day 11: Biking in Bird Sanctuary and Fatehpur Sikri One of the world's most significant bird sanctuaries, the Keoladeo Ghana National Park, is located in Bharatpur and for this, it is a UNESCO site. After an early breakfast, we transfer you to the national park's main gate. No vehicles are allowed inside the park except government authorized cycle-rickshaws and bikes. Mountain bikes (standard specification bike) will be ready at the park entrance and start paddling along the mesmerizing way to the inside. Total biking distance is about 8 to 10 km. and takes 2 hours back to park entrance. Complete the biking and transfer to your hotel where you wash and get fresh.
Sanctuary's 29 sq. km area contains birds from Central Asia and Siberia and for its diversity, it is also referred to as an 'Ornithologist's Paradise'. It hosts over 350 speices of birds, the most prominent ones being migratory Siberian Cranes, Pelicans, Cranes, Ibis, Spoonbills, Egrets, Darters, Cormorants, Grey Herons, Stork, Ducks, Eagles, Hawks, Pipits, Warblers, Wheatears, Wagtails, Flycatchers, Buntings, Larks, Shanks, and Stints.
Thereafter, check out of the hotel and transfer to visit Fatehpur Sikri. Located at a distance of 40 km west of Agra, this old city was the capital of Mughal Emperor Akbar for brief time of 14 years. It is a World Heritage site including Khwaja Moinuddin Chisti's dargah, three royal residences of his most loved spouses (Hindu, Muslim and Christian wife), Buland Darwaza (Victory Gate), structures and yards. Continue your journey to Agra. On reaching Agra, check into your hotel and have dinner.
Overnight stay in Agra. (B)
Day 12: Taj Mahal at Sunrise and journey back home There is not a better time to visit the Taj Mahal, structure that defines the ancient city of Agra, than before dawn. Meet your guide in hotel at around 06 am and visit the shimmering beautiful Taj Mahal. The sun rises to give light to majestic Taj Mahal as it shines and welcomes you to its wonderous cradle. Thereafter, return to the hotel for breakfast and then travel to the Agra Fort which is one of the greatest forts ever made. There are number of exquisite building enclosed such as Moti Masjid, akin to perfect pearl, Diwan-e-Am, Diwan-e-Khaas, Jehangir's Palace, Khaas Mahal, Shish Mahal and Musamman or Samman Burj-where Shah Jahan was held captive.The Agra Fort is much larger and artistically richer when compared to the Red Fort of Delhi.
Drive back to Delhi by the Yamuna Expressway (220 km/5 hrs.) and transfer to a nice restaurant for a warm farewell dinner facilitated by Windhorse Team. Thereafter, airport transfer for your onward travels. (B,D)
Group SizeAny number of participants

Meals11 Breakfast,1 Lunch and 5 Dinner as mentioned in the itinerary (B,L,D)

Trip AccommodationCombination of Heritage and Modern contemporary hotels. You also have a choice to book your own accommodations, kindly enquire for the same.

RouteNew Delhi – Nawalgarh – Khimsar Fort – Jodhpur – Luni – Udaipur – Pushkar – Jaipur – Bharatpur – Agra (Departure)

Trip Type Walking and Hiking Tour
Cultural Tour
Village Tour
Wildlife Safari/Jungle Safari and Bird Watching
Cycling Trip
Multi Activity


Best MonthsJanuary, February, October, November, December

Good MonthsMarch, September

Lean MonthsApril, May, August

Not RecommendJune, July
Prices & Dates
Per person Price in USD:
06 members = $1190
05 members = $1285
04 members = $1345
03 members = $1390
02 members = $1485
Single Traveler = $2370
Single Supplement = $275
(Single traveler cost includes single supplement)
Upgrade to 4 Star hotels: US$ 225 per person (Single supplement is US$215)
Upgrade to 5 Star hotels: US$ 680 per person (Single Supplement is US$655)
Included
Accommodation for 11 nights on twin sharing basis
11 Breakfast, 01 Lunch and 05 Dinner
All transfers and sightseeing by private vehicle
Sightseeing with entrance fee as per itinerary
All travel activities as per mentioned itinerary
Services of experienced English speaking Guide
Bottled Mineral Water during the day drives
All applicable Government Taxes and Fees for above services
Not included
Indian Visa
All other meals
Optional Personal expenses such as (Tips, Laundry, bar, beverages)
Travel & Medical Insurance
International flights from and to India
All other personal expenses not listed in the included section