Snow Leopard Jhomolhari Trek
14 Days
Bhutan Chomolhari Trek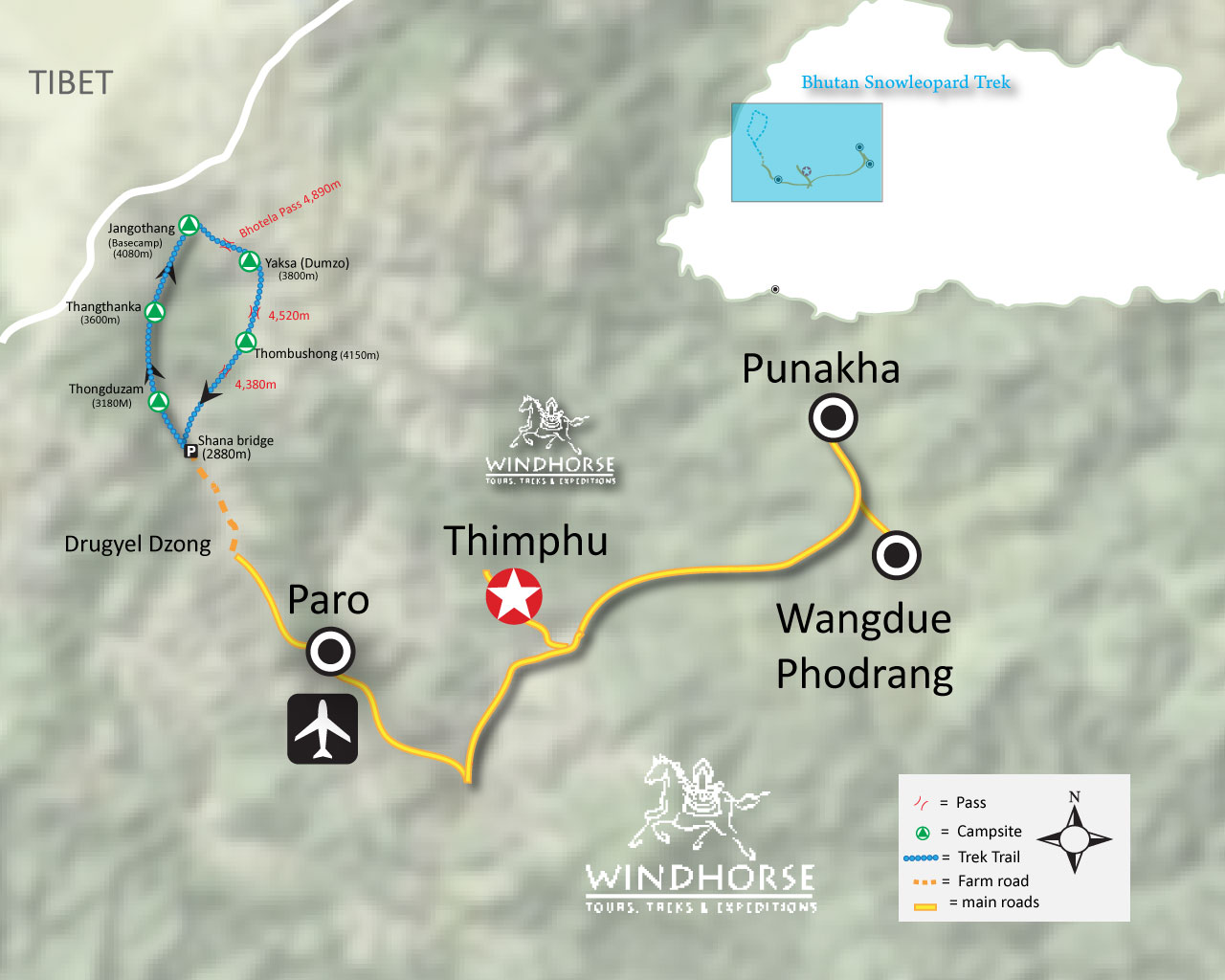 Trip Grade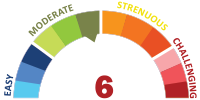 Trip Price From US$ $3000 | See Details
Trip AccommodationBest available tourists standard hotels, where available. We update our trekking equipment and gear regularly and so you will receive the best gears.
See Details
Group SizeMax. 9 members
MealsAll meals plus evening tea. All beverages included during the trek.
RouteParo - Punakha- Thimphu- Trek to Thongduzam, Soithangthangkha, Jangothang - Dumzo (Yaksa), Thongbu Shong and end trek in Shana - Paro (Takstang hike).
Trip TypeTrekking - Moderately Streneous
Trip SeasonsThere are two best season for this trek (Spring from late March till May) and Fall (from late Sept till early November)
In the winter (late Nov till early March it is snowed in) and in summer (June till early Sept), it rains frequently, although it is flowering season in the high places.

Best MonthsApril, May, October
Good MonthsMarch, June, September, November
Lean MonthsJuly, August
Not RecommendJanuary, February, December
Trip highlights
Stunning views of mountains and high peaks such as Jhomolari, Jichu Drake, Tserim Kang and others.
See Yak herders – opportunity to meet, chat and learn about them
Trek past azure lakes, cross high passes
Pristine nature; Alpine valleys, temperate forests, rivers and glaciers
Wildlife such Blue Sheep, Golden Marmot, migratory birds and may be even the elusive Snow-leopard
Introduction to Buddhist culture and tradition
Historical monuments such as Dzongs and monasteries.
Nothing in the world can prepare you for an astounding panorama that awaits you when you embark on a Snow Leopard Jhomolhari trek in Bhutan (Chomolhari Loop). Along this trek, you will come upon stretches of spectacular scenery, unending expanse of fields, green hills filled with flowers and quiet hamlets below snow-capped peaks. This is one of Bhutan's finest treks that offer spectacular views of 7,314m Jomolhari with its companions Jitchu Drake and Tserim Kang. These trio peaks are Bhutan's highly revered custodians that loom large on the Tibet-Bhutan border close to an ancient trade route from India into Tibet's Phari Valley. It is thought by many to be the most beautiful mountain in the whole length of the Himalayas. This trek has high chances of sighting the blue-sheep, Takin, and a wide variety of birds. In the spring, rhododendrons, azaleas, and masses of wildflowers carpet the high meadows, while pear and apple trees blossom in the valleys. In the fall, rice paddies ripen to a golden brown, and yak herders bring their charges down from high summer pastures. As a part of this small group journey, the some trip combines attending one of the joyous festivals of Bhutan.
Outline Itinerary
Day 1: Arrive in Paro   Upon arrival meet your Guide. In the afternoon begin a short tour of serene Paro valley, where we visit Rinphung Dzong, take a short walk and visit Dungtse Lhakhang to see some ancient murals. Later stroll through charming Paro town. Overnight hotel in Paro.
Day 2 & 3: Punakha & Wangdue Valley Drive east across spectacular Dochula pass to semi-tropical Punakha-Wandgdue valley. At Dochula pass, enjoy the spectacular mountain panorama and continue the drive descending nearly 1700m (5,500ft) in two hours to Punakha valley. After lunch, tour Wangdue Phrodrang, visit Richengang village, and take a short easy walk to Chimi Lhakhang temple, dedicated to Bhutan's famous Saint Drukpa Kuenley. Next day, we spend time taking in short hikes and visiting Punakha Dzong, an architectural masterpiece located on the confluence of two rivers. Overnight hotel in Punakha.
Day 4: Hiking to Lungchuzekha  From Punakha retrace our drive till Dochula for one more opportunity to view Bhutan's peaks that form the natural boundary with Tibetan Plateau. After enjoying the views over Cuppa and snacks at Dochula, begin 2-hr ridge top walk to Lungchuzekha temple/ retreat center. The trail is through rich vegetation of moss laden birch, hemlock and rhododendrons trees, with excellent views of peaks and the valleys. This trail is adopted by Wind Horse since 2009. Our guides clean and maintain this trail. Picnic lunch at the monastery. Instead of returning to Dochula, walk 1hr downhill to another retreat and monastic center of Trashigang, located on a hilltop. Meet our vehicle and drive short distance to Thimphu, where we visit the great Tashicho Dzong, and the giant Buddha statue, as the sunsets in the valley. Overnight hotel in Thimphu.
Day 5: Thimphu Valley Tour Bhutan's bucolic capital is nestled in a fertile valley at 2,350m (7500ft). The capital has lot to offer and if there are no events taking place, our agenda is to do a full day tour that takes in some of the highlights such as visiting view points, Takin Preserve, Zilukha nunnery, Traditional Art School, Memorial Chorten, and Changlimithang ground to see if archery is taking place. Visit institute of Traditional Medicine, stop briefly at the National Library, visit the Centennial Farmer's market and more as per available time. We will also allow some time for you to stroll and shop in the city area if you need to pick up handicrafts or some gears or likes for your trek. Overnight hotel in Thimphu.
Day 6: Drive to Paro – Shana – begin trek to Thongdu Zam  From Thimphu, we drive to Paro and continue north till Drugyal Dzong (2hrs). Stop briefly to visit the ruins of Drugyal Dzong fortress. Then we drive for another hour or so along the rough farm-road to Shana Zam (2850m). Meet our trekking crew (horseman, cook & assistant), hand over your luggage for the trek. Begin our 3-4hr trek gradually walking up the valley, following Pachu river's bends deep into J.DW National Park to camp at Thongduzam (3150m). Approx. 8km. 3-4 hours trek, 500m Ascent/200m Descent. Overnight in tent camp.
Day 7: Trek to Soi Thangthanka (Approx. 9Km. 4-6 hours trek, 500m Ascent / 50m Descent) Continue up through the valley, following Paro river, which gradually narrows as the trail leads higher, winding up and down through a thick, lush forest of oak, pine, cider and juniper, as we get closer to our camp for the night. Overnight in tents at around altitude of 3600m.
Day 8: Trek to Jangothang ( Jomolhari Base Camp) (Approx. 15km/6hr trek – 500 ascent/50m descent) Continue following Paro river as the valley begins to widen, opening to a spectacular area surrounded by high ridges and snow-capped peaks. A few yak-herding villages are based in this area. Due to altitude gain, the pace is typically slower. Camp at Jangothang (4,080m) below a ruined fortress with Mt. Jhomolhari, which now seems nearby. Overnight in tents.
Day 9: Rest Day or Explore Jangothang is one of the most spectacular camping places in the entire Himalayas. You may wish to rest and enjoy views from your campsite or join for excursions towards the glaciers /moraines of Chomolhari or visit local village nearby. Overnight in tents.
Day 10: Trek across Bhontela to Dumzo ( Soi Yaksa) (Approx. 16km/ 7 hours trek. 810m Ascent/ 1090m Descent)  The trek is now more serious. The trail starts with a steep hike to Tshopu lakes and gradually climb up to Bhonte La pass (4,890m). Around these areas, we can often see blue sheep, fat marmots, and migrating Himalayan birds, as well as fabulous views of Jichu Drake and Tserim Kang peaks, along the side of Jhomolhari. After the pass, it is a steep descent downhill to small yak-herding village of Soi Yaksa and camp near Dumzo at 3800m. Overnight in tents.
Day 11: Trek to Thongbu Shong (Approx. 11KM, 5 hours trek. 720m Ascent/ 340m Descent ) Our hike starts with a gentle uphill trail to the top of the eastern ridge of the Soi Yaksa valley. From here, enjoy an incredible view of the amphitheater of mountains to the north and to the west. Cross Takhungla (4,520m), and descend to our camp site in a wide grassy pastures by the valley at 4,180m. Overnight in tents.
Day 12: Trek to Shana- Paro (Approx. 13km/5hr 200m Ascent and 1650m Descent) After a short, steep climb out of camp, leave the remote mountain area by following the ridge to Thombu La (4,380m). From this vantage point we get a glimpse of the Paro valley to the south and mountain views all around. Start steep descent and rejoin our route to Shana, where we first began our trek. Bid farewell to trekking crew, meet the vehicle and, drive along the farm road to Paro. Arrive in the evening to the comforts of your hotel in Paro.
Day 13: In Paro (Taktsang) Full day for hike to iconic Taktsang (tiger's nest) monastery, an quintessential Bhutan travel experience! As you will have covered more grounds on foot, we hope to take you beyond Takstang to visit more remote monasteries further uphill such as Zangdopelri, Ugyen Tshemo and also walk to other side of the Takstang that is not accessible from the main site. This is a full day hike. Return to Paro, where we get chance for final stroll. Farewell dinner and overnight in Paro.
Day 14: Departure After breakfast, transfer to Paro airport in time for your departure flight.