Tibet to Kathmandu via Everest Base Camp
10 Days
Overland from Lhasa, Tibet to Kathmandu, Nepal via Rongbuk - Everest Basecamp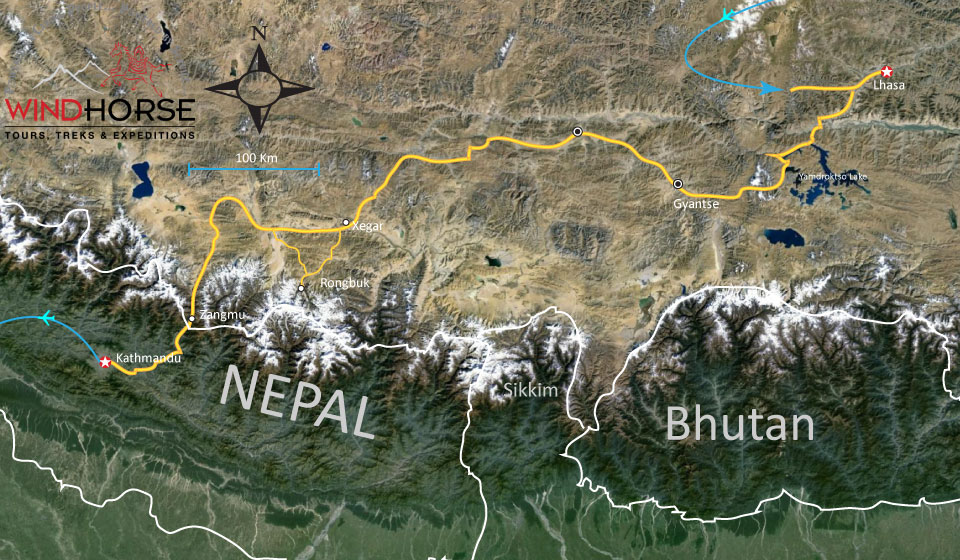 Trip Price From US$ 1500 | See Details
Trip Accommodation8 Nights mix of middle class hotels and best available in smaller towns including two nights in primitive guesthouses. See Details
Group Size10 maximum
MealsDaily Breakfast & Dinner
RouteLhasa, Gyantse, Shigatse, Xegar, Rongbuk Monastery, Everest Basecamp, Tingri, Zhangmu, Kathmandu.
Trip TypeTrekking & Cultural tour
Best MonthsApril, May, June, October
Good MonthsJuly, August, September
Lean MonthsJanuary, February, March, November, December
Delve into the fascinating world of mountain lore and Tibetan and Nepalese cultures while visiting the fabled cities of Lhasa, Gyantze, Shigatse, and Kathmandu.
On this specially crafted adventure, take in some of the most magnificent mountain vistas on Earth as we journey overland across the Tibetan Plateau to the North Face Base Camp of Mount Everest and into Nepal.
Our first three days are spent on acclimatizing in the holy city of Lhasa and at the same time visiting the formidable Potala Palace. Join the pilgrims at the Jokhang temple as they do Kora and wander through narrow alleyways of Barkhor, city's old quarters and pilgrim trail.
After Lhasa we begin our spectacular journey along Lhasa-Kathmandu road, better known as Friendship Highway, which slips over 15,700-foot Khamba La and whirls past turquoise lakes and Himalayan giants to the old-fashioned town of Gyantse, where we'll see the fresco and sculpture-filled rooms of the Kumbum chorten. Visit Shigatse with its' ornate Tashilunpo Monastery, and head to the village of Xegar in the plains of Tingri. Next morning, we cross stupendous Pang La pass, gazing at a vast swatch of the central Himalaya, including Makalu, Everest, Lhotse, and Cho Oyu, four of the world's seven highest peaks and arrive in Rongbuk Valley, near the base of Mt. Everest.
As you approach the mountain, reflect that there are many awe-inspiring sites in the world, but there is only one highest point. Mt Everest is possessed of an unsurpassed majesty; it's nature's signature piece, and its summit represents Earth's best effort to reach heaven.
After Rongbuk, regain the main Lhasa-Kathmandu road, crossing the magnificent Tingri Plain and begin the almost-10,000-foot drop from the austere Tibetan Plateau to verdant Nepal, after a night in Gyirong .
Outline Itinerary
Day 1: Arrive in Lhasa (D) Arrive at the Gongkhar airport in Lhasa and transfer to hotel. Free afternoon to rest and acclimatize. Gather for reception and welcome dinner.
Overnight in Kichu, Dekhang, Doodgu or similar hotels in Lhasa.
Days 2 & 3: Lhasa (B/D) During these two days, visit Sera & Drepung monasteries, Potala & Norbulingkha Palaces, Mentsekhang (Tibetan Medical center), Tibet Musuem, Jorkhang Temple with walk around Barkhor area. During the evenings, there will be time to stoll around on your own.
Overnight in Kichu, Dekhang, Doodgu or similar hotels in Lhasa.
Day 4: Drive to Gyantse via Yamdrok Tso (B/D) Drive across Kambala Pass and along the long shores of dazzlingly turquoise green Yamdrok Tso Lake, with spectacular vistas to Gyantse. En-route stops at villages, town and nomad camps. Arrive in the late afternoon at Gyantse, one of Tibet's most traditional towns, little influenced by the Chinese.
Overnight in Gyantse Hotel (3star)
Day 5: Gyantse & Shigatse (B/D) Visit sights in Gyantse that includes Kumbum Monastery, Pelkor Chode, including drive upto Gyantse Dzong for view of the Gyantse Town. In afternoon drive to Shigatse. At Shigatse, we visit the famous Tashilunpo Monastery, the principal seat of Panchen Lama.
Overnight in Shigatse or Manasarovara Hotel.
Day 6: Drive to Shegar (New Tingri) (B/D) Upon arrival in Shegar, time permitting, we visit the Shegar Chode Monastery and provide opportunity to hike up to Shegar Dzong.
Overnight in simple Qomolongma Hotel.
Day 7: Dza Rongbuk Monastery (Everest Base Camp) (B/D) Depart Xegar on the drive to the Everest Base Camp where we will spend time enjoying the views of Mt. Everest. Once at Rongbuk, we have the option of either walking (approximately two hours) or take a horse cart to the Everest Base Camp, as cars are not permitted in the valley for environmental reasons.
Overnight Rongbuk Guest House.
Day 8: Drive to Gyirong border (B/D) In the morning, we will have opportunity to see Mt. Everest, as the sunrise. After breakfast drive to Old Tingri (where you still will catch some good view of Mt. Everest) drive to the Nepal border (Gyirong) via a visit to the Peku Tso Lake.
Overnight in Gyirong hotel or best available (3star).
Day 9: Gyirong – Cross border to Nepal (B/D) Transfer to the border, then walk across the border. Transfer to Kathmandu
Overnight in Hotel
Day 10:Departure (B) Transfer to the airport or extend you trip to Bhutan or India.