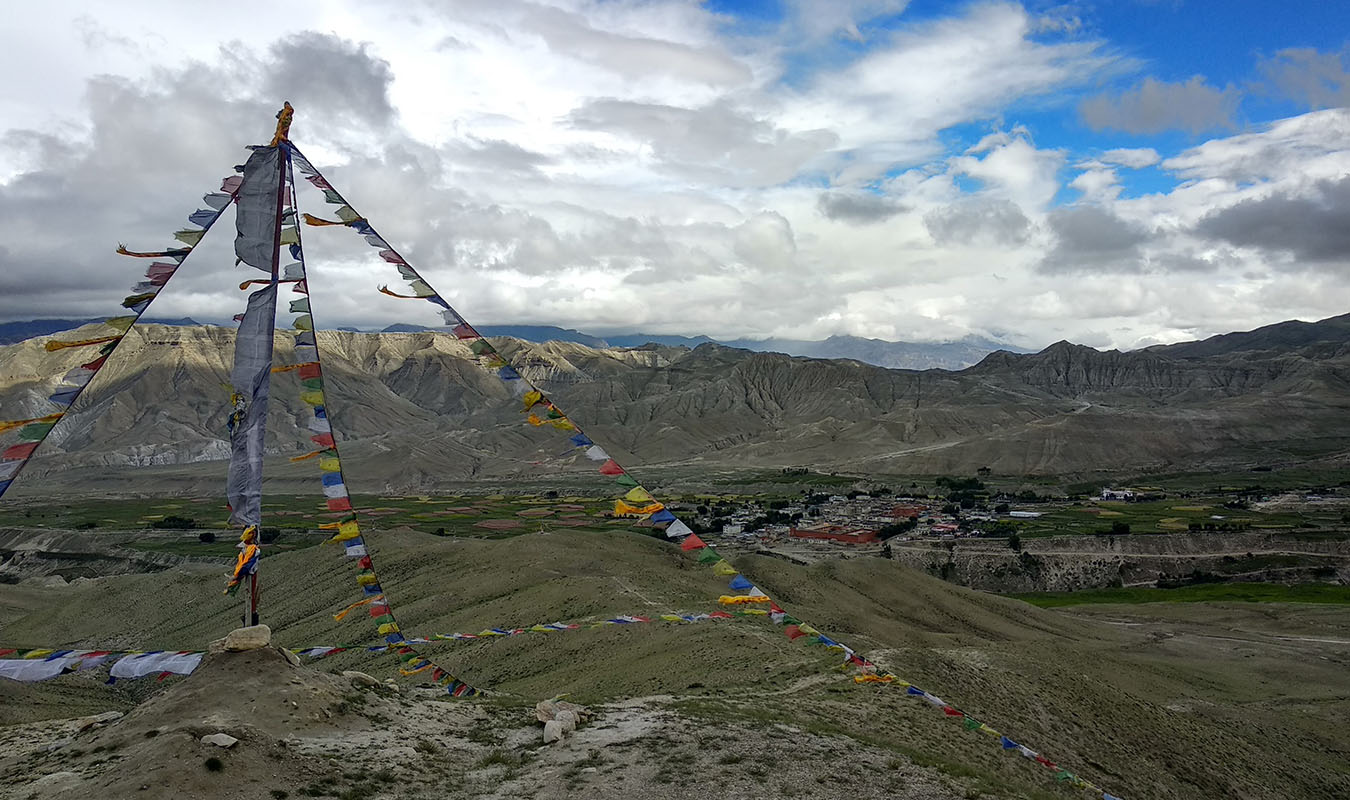 Trip highlights
Explore the UNESCO world heritage sites in Kathmandu
Exquisite mountain views throughout the trip.
Visit Muktinath temple and other cultural sites.
Visit old monasteries and ancient caves of Upper Mustang.
Encounter the desert-like landscape in Nepal.
Enjoy a mixed culture of Tibetan Buddhism and Bon culture.
With century-old tradition and unique culture, ancient caves, historically rich archeological sites, and magnificent landscape make Upper Mustang a unique experience in Nepal. Upper Mustang is in the north-central part of Nepal in the trans-Himalayan region bordering Tibet. Upper Mustang was once a popular trekking destination. Because of the recent construction of roads over the original trekking trails, most travelers prefer  Upper Mustang Tour. However, if you prefer to trek, you can check out our Upper Mustang Trek.
The Upper Mustang Tour is a perfect way to experience what this region those that this region has to offer. Due to the construction of roads to the Upper Mustang region, more and more people prefer this Upper Mustang Tour rather than trekking to the Upper Mustang. Therefore, we have designed this Upper Mustang tour as an alternative to the Upper Mustang Trek. The Upper Mustang Tour allows you to discover Mustang without trekking. On this 12-day Upper Mustang Tour, you explore the marvelous landscape, ancient monasteries and temples, panoramic mountain views, and the hidden city of Lo Manthang.
The Upper Mustang Tour begins with a day of sightseeing around Kathmandu. The next day we drive to the lake city of Pokhara, followed by Tatopani, Kagbeni, Ghami, and Lo Manthang. You may stop your private vehicle and enjoy and capture in your cameras. This beautiful drive from Kathmandu to Lo-Manthang goes through the diverse landscape, stunning mountain views, the deepest gorge in the world, and quaint villages. We will explore Lo Manthang and drive to Pokhara from Marpha and then to Kathmandu, thus ending our Upper Mustang Tour.
Detail Itinerary
Day 1: Arrive in Kathmandu (1350m)
On arrival at the Kathmandu airport, meet our representative and transfer to the hotel. Today in the afternoon, there is the option to stroll around the ancient traditional local markets of Asan, Indra chowk, and Thamel, the center of tourist activity. Welcome dinner in the evening in a traditional Nepalese restaurant with a cultural performance. Overnight in Kathmandu.
Day 2. In Kathmandu
After breakfast, we will go for a guided excursion around the city's architectural, historical, and cultural landmarks. We will visit the Kathmandu Durbar Square, Swayambhunath Stupa, and the Boudhanath Stupa. Later in the evening, our guide will brief you regarding the Upper Mustang Jeep Tour. Overnight in Kathmandu.
Day 3. Kathmandu to Pokhara(850m/6hr)
After breakfast, we shall drive to Pokhara (208km/6hrs) via the Prithvi Highway. We will stop at scenic spots to refresh and stretch our legs. The highway follows a series of deep river valleys, passing ancient villages, and reaching Pokhara in the afternoon. Check into the hotel and rest for a while. In the evening, take a stroll around the popular lakeside area. Overnight stay in Pokhara.
Day 4. Pokhara to Tatopani(2600m/5-6hrs)
After breakfast, we begin our journey toward Mustang. The first part of the journey is over a Tarmac road until Beni. After Beni, the drive is over a bumpy graveled road. The drive to Tatopani goes along the Kali Gandaki valley. Tatopani is a small town where you can enjoy a bath in the natural hot springs. Overnight in Tatopani.
Day 5. Tatopani to Kagbeni(2804m/5-6hrs)
After breakfast, we will continue our road trip toward Kagbeni. The drive to Kagbeni goes past several villages like Kalopani, Ghasa, Marpha, and Jomsom. We will explore the apple farms at Marpha and the local market at Jomsom. We will cross over Kagbeni and drive to Muktinath. We will visit the Muktinath temple dedicated to lord Vishnu. After the visit, we return to Kagbeni for the night. Overnight in Kagbeni.
Day 6. Kagbeni to Ghami(3520m/5-6hrs)
Kagbeni is the entry point to the Upper Mustang district. After breakfast, your guide will check your restricted area permit and drive towards Ghami. We will cross the Kali Gandaki river and reach Chhusang. From Chhusang, we take the picturesque route to Sayngboche with views of Tilicho peak, Damodar Danda and Yakawa Kang. We will pass through some breathtaking places and arrive at Ghami. Overnight in Ghami.
Day 7. Ghami to Lo Manthang(3840m/3hr)
After breakfast, we hop into our 4WD and drive past Tsarang. We cross the Ghami river, climb up a plateau and continue to Lo Manthang. We will have spectacular views of Annapurna, Nilgiri, Tilicho peak, and Bhrikuti peak along the way. We will also visit some important monasteries in the Upper Mustang district. Overnight in Lo Manthang.
Day 8. Exploration Day
Lo Manthang is a mysterious and enchanting city. Today we will explore Namgyal Gompa, Thubchen Gompa, the sky caves of Chhoser, and the SHIJA JHONG cave dating back over 3,000 years. Besides, there are also some caves used for burial, meditation, and used for living. After the visit, we return to the hotel. Overnight in Lo Manthang.
Day 9. Drive to Jomsom(2743m/6-7hrs)
After breakfast, we will follow the same route to Tsarang and Ghami to Jomsom, past Kagbeni and Marpha. Overnight in Jomsom.
Day 10. Drive to Pokhara(7-8hrs)
After breakfast, we will retrace our long drive to Pokhara. Overnight in Pokhara. (Option is also available to fly to Pokhara and drive to Kathmandu with extra cost)
Day 11. Drive to Kathmandu(6-7hrs)
After a good night's rest in Pokhara, we will retrace our drive back to Kathmandu and conclude our Upper Mustang Jeep Tour. Overnight in Kathmandu.
Day 12. Departure
After breakfast, transfer to the airport as per your departure flight.
Group Size2-10

MealsOnly breakfast in Kathmandu and Pokhara while all meals during the Mustang Tour

Trip Accommodation3-4* category hotel in Kathmandu and Pokhara while best available lodges in Mustang region

RouteKathmandu-Pokhara-Tatopani-Kagbeni-Ghami-Lo Manthang-Jomsom-Pokhara-Kathmandu

Trip Type Cultural Tour


Trip SeasonsBest during September-November, March-May is also a good season

Best MonthsSeptember, October, November

Good MonthsMarch, April, May

Lean MonthsJune, July, August

Not RecommendJanuary, February, December
Prices & Dates
Cost Information coming soon !!
Included
All transfers by private vehicle.
Sightseeing and monument entrance fee.
Accommodation in the above listed or similar(3-4*) hotels in Kathmandu, Pokhara, and local village lodges in the Mustang region.
Only breakfast during the stay in Kathmandu and all meals during the Jeep Tour.
One welcome/farewell dinner in Kathmandu.
English-speaking local guide.
All necessary paperwork and permit (ACAP/RAP)
All Government taxes and service charges.
Not included
Nepal entry visa.
International flight to and from Kathmandu.
Lunch and dinner or any other meal not specified above.
Personal Travel Medical Insurance.
Personal expenses like bar and beverages, tips and gratuities, laundry, telephone, battery recharge, etc.
Hot showers during the trek.
Any extra cost incurred due to unforeseen circumstances.
All other personal expenses are not mentioned in the included section.
Trip Guide/Leader
---
×

Hem Raj Bastola is a permanent inhabitant of Pokhara-25.  He has been working as a  tour and trekking guide  since 2010. Formerly he has worked as a guest service agent at the hotel Pokara Grande. He started his career as a Cave guide,  ticket sales man at Gupteshwor Mahadev Cave in Pokhara. So must of his working experience is related to tourism and hospitality industry. Beside his guiding profession, he enjoys reading and writing poetry. His poets have been published in different forums and medias.  When get free time loves to work in the field as well.