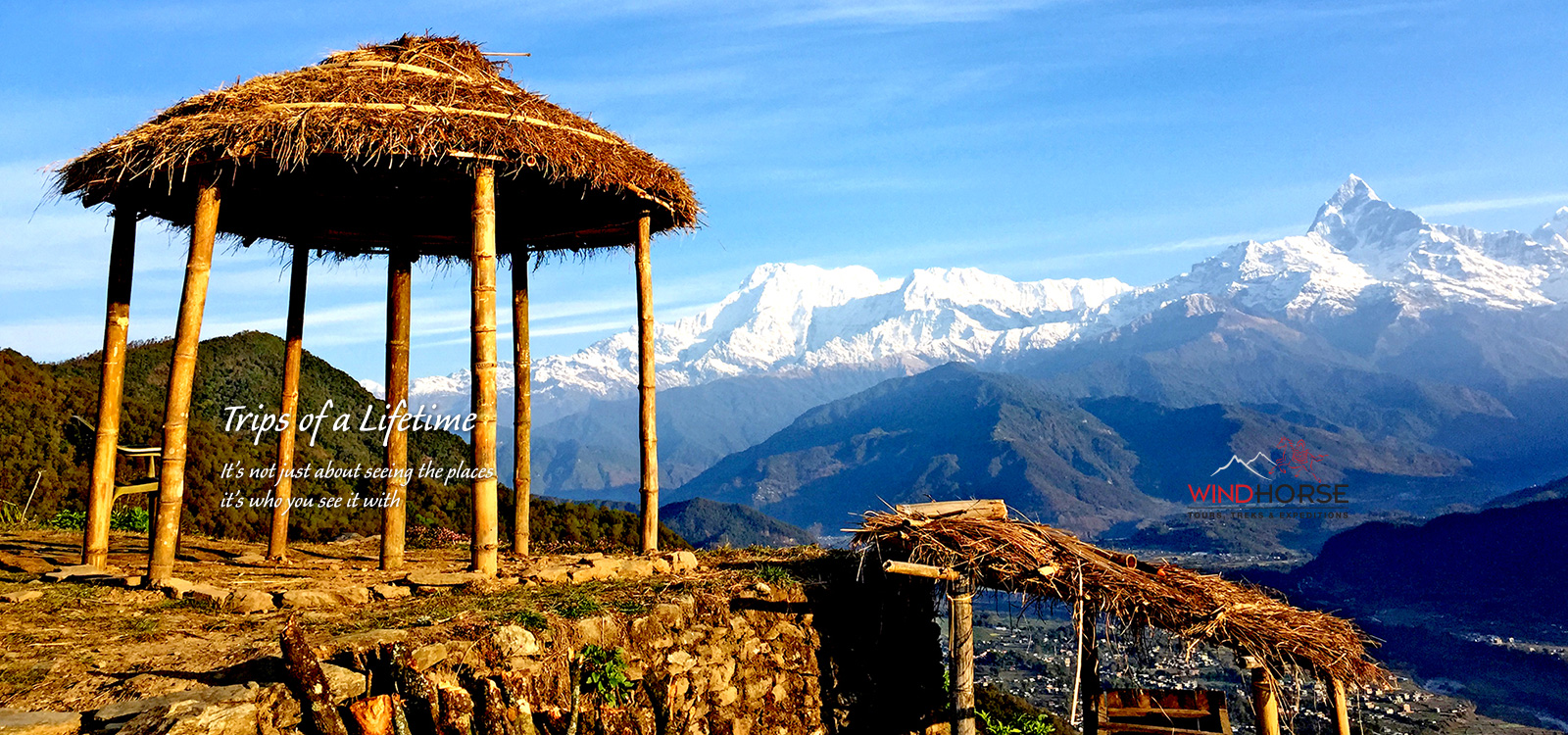 Trip highlights
See the real Nepal; go beyond the beaten track and discover lest touched villages
Enjoy the spectacular views from each and every village on this tour.
Stay at Boutique hotels and Eco Resorts when in villages, and in modern hotel with swimming pool while in Kathmandu and Sarangkot. Each and every hotels are thoughtfully selected for experience, comfort and great food.
Visit UNSCEO world heritage sites in Kathmandu, Bhaktapur and Patan.
Relax and enjoy the peace and serenity in villages where life is un hurried, people are friendly, and views are amazing.
A close encounter with locals and opportunity to learn and share experiences.
Enjoy gentle walks that keep you active and be outdoor.
To most, Nepal conjures up the image of mighty Mt Everest and other peaks but its charm, forte, appeal don't merely rest on these aspects alone. It spreads to a wider arena – to its historical monuments, cultural diversities, charming mid hills and its villages, flora, fauna, gentle people and more. This revised itinerary, where we smoothen rough edges, added changes evolving with time, bring forth these essences of Nepal.
In this swashbuckling trip, that entails generous dose of leisurely light day walks, affording greater purpose and opportunities to get insights into quaint villages and deeper interaction with the people, we explore landmarks, attractions, villages in constant backdrop of majestic peaks.
The trip begins with discovering prominent sites in Kathmandu valley, after which the focus shift readily to the historical renaissance city of Bhaktapur where every carved wooden structure has its own story to tell. Navigating further, we are closer to the essence of this trip, that is visiting lest explored villages of Namo Buddha, Eklekhet, Balthali and Bandipur, where time seems to stands still, life is unhurried, and people radiate warmth and hospitality. Our journey then takes further into serene Pokhara valley surrounded by hills, with looming giant snowcapped peaks in its backdrop, that are perfectly reflected on its many lakes. In Pokhara we spend nights on the higher ridge near Sarangkot from where we can get better views and cooler climes. The trips end with a final day of touring some of the world Heritage monuments in Kathmandu.
To give an extra dimension to your experience; in the villages we use boutique/ village Inn, where traditional ambience and rural flavor are the order of the day. In Kathmandu and Pokhara you stay in modern hotels with swimming pool.
Outline Itinerary 
Day 1: Arrival in Kathmandu:
Upon arrival in Kathmandu airport, meet and transfer to the hotel. Towards late afternoon, visit Kathmandu Durbar Square. Then take a short walk to Thamel via Indrachowk and Asan markets, through the alleyways rubbing shoulders with locals. After strolling around Thamel enjoy a welcome dinner that includes Cultural Performance. Overnight hotel in Kathmandu
Day 2: Kathmandu – Bhaktapur – Namobuddha village:
In the outskirts of Kathmandu and visit Bhaktapur, a walled city, or rather a village, filled with ancient red-brick buildings, with narrow streets or alleys, full of temples, statues, all intricately carved, refreshingly devoid of the traffic and pollution of Kathmandu. Although many building were tragically destroyed by 2015 Earth Quake, the main attractions still remain same as they ever were. After spending some time walking in Durbar Square, looking at famous sculptures that cost a man his hands, the Palace of Fifty-five Windows and some of the temples, we continue our drive to Namo Buddha. Along the way, stop at Dulikhel, a popular place from which to observe the stunning panorama of peaks. Leaving the main highway, a narrow country road winds up to the hilltop Namo Buddha, one of the three most important Buddhist pilgrimage site in Nepal. Known to Buddhist as Tamangligi is the spot where Buddha in one of his previous lives is said to have feed himself to the starving tigeress, that was close to death from starvation unable to feed its cubs. Visit a sprawling Thrangu Tashi Yangtsi monastery. From here a short half hour ridge walk (optional) with views of the valley below brings us to your accommodation, a delightful eco-retreat featuring charming local inspired cottages, spread in forests. The resort is all organic, uses vegetable from its own garden, bakes own sour-dough bread. Overnight in Namo Buddha Resort
Day 3: Villages of Namo Buddha, Eklekhet & Balthali:
Spend the day gently walking from village to village, visiting homes, meeting people and learning about their ways of life. As we walk, enjoy the magnificent views of the surrounding area, immense array of terraced fields surrounded by lush green hills with glimpse of the snowy peaks in the distance. We will visit Eklehet and walk to Balthali village taking around 3hrs or so of gentle walk desending the ridge. Overnight in simple Balthali Village Resort or Balthali Eco Hill Resort
Day 4: Drive to Bandipur:
Drive to the historic Bandipur village on the top of a ridge in the Mahabharat range. Bandipur is a living museum with beautifully preserved village; its winding narrow lanes are lined with tall 18th century mansions, their grand neoclassical facades and shuttered windows, speak of past glories. Cafes, lodges, shops are reborn from these derelict buildings. Absence of motorised vehicles, with restaurant tables set out on the bazaar, where children play, where unhurried locals shop, chat or drink chai, one really feel that time seems to have stand still here.
Stroll in the village, relax and watch the daily life going around you from the restaurant, hotel verandah or your room. If the weather is clear, walk short distance to the hill top – otherwise we can do this next morning. Overnight in Old Inn (a Heritage House).
Day 5: To Pokhara & Sarangkot:
Short walk to the hill top of Bandipur, from where on a clear day, you can Annapurna range, as well as peaks in Langtang to the east and Dhaulagiri in the west. You can look out over the Marshyangdi valley, see other countryside villages of Nepal. Visit local temples, a Library, may be also a school etc and drive to Pokhara, from where we continue short distance up the hill for half hour or so to our hotel, located below the Sarangkot summit.
Visit to Sarangkot is almost a religious affair for those staying in Pokhara; to see the beautiful sunrise and sunset view as the rays cast changing hues over Annapurna range, Dhauligiri range, and Fishtail. You can observe splendid picture-perfect scenery of beautiful green hills, rice terraces, and the breathtaking Pokhara valley, surrounded by lakes. This evening is free for you to rest and enjoy the views or and if you are looking for adventure, Sarangkot is a launching pad for Paragliding, exhilarating Zipline launches, Bungee Jump, and you can also take a reasonably priced micro ultralight flights around the Pokhara Valley. Overnight in a brand new hotel.
Day 6: In Sarangkot- Pokhara:
At dawn, visit the summit of Sarangkot (1590m) for amazing sunrise view. Later walk down for about 2hrs or so to Phewa Lakeside in Pokhara, via Methlang village and other villages. Enjoy a ride on one of the brightly painted boats and visit the Barahi Island temple. Phewa Tal is visitors' focal point in Pokhara, and is the second largest lake in Nepal. On a clear day, the Annapurna mountains are perfectly reflected on its mirror surface. There are seven other smaller lakes in Pokhara. Then you have an option to walk for another one hour uphill to Shanti Stupa, World Peace Pagoda on top of Ananda Hill overlooking Pokhara, with another excellant views. Enjoy free time to stroll through Pokhara lakeside may be browsing the souvenir shop or checking out lakeside cafes. Your guide and driver will be on the standby to transfer you back to your hotel below Sarangkot
Day 7: Fly Pokhara to Kathmandu:
After breakfast, transfer to the airport and take a 20 minutes' flight to Kathmandu. In Kathmandu, we plan on visiting Patan, the city of Arts and Swambhunath Stupa, also known as monkey temple.
Overnight in hotel in Kathmandu
Day 8: Departure:
You will be transferred to the airport according to your flight schedule.
Request Full detailed daily itinerary and other information.
Group SizeAvailable as small group/join-in or Independent

MealsDaily breakfast and dinners

Trip AccommodationHeritage/Eco Village resorts in villages and modern hotels (4+star) in Kathmandu and in Sarangkot (Pokhara)

RouteKathmandu, Namobuddha, Balthali, Bandipur, Pokhara, Sarangkot, Kathmandu

Trip TypeVillage Tour & Gentle walks

Trip SeasonsThis trip can be done through-out the year but June through mid September may be rainy season. Best in Winter, Spring and Autumn.

Best MonthsJanuary, February, March, April, October, November, December

Good MonthsMay, September

Lean MonthsJune, July, August
Prices & Dates
Cost range from $1000-1300 per person. Details of costs available upon request.
The trip is available for daily join-in group departure with maximum 9 members or travel independently with any group size.
| | | | | |
| --- | --- | --- | --- | --- |
| Start date | End Date | Remarks | Status | |
Included
•    Accommodations as listed
•    Daily breakfast and dinner in the hotels.
•    All land transfers by good quality vehicle
•    English speaking local guide.
•    Sightseeing admission fees.
•    Pokhara-Kathmandu airfare.
Not included
International flight
Nepal Visa (available upon arrival)
Travel & Medical insurance
 All lunches, bar/beverages, drinks, laundry, telephone, tips and other personal expenses.
 Any extra expenses incurred as a result of your health, or due to weather, political situation, and other unforeseen events.
Accommodations
---
Hotels in Kathmandu
Hotels in Bandipur
Hotels in Balthali
Hotels in Sarankot
Trip Guide/Leader
---
×

Bijaya Gawali permanent resident of Kausaltar, Bhaktapur, Nepal is one of the experienced City tour Guide in Kathmandu valley, Nepal. He has completed his bachelor degree from Tribhuvan University, Kathmandu Nepal. He has got several pieces of training including City tour guide licence. He has started his career working in 4-star hotels in Kathmandu for 12 years. He has been working as a city tour guide in Kathmandu valley since He loves to meet new people, reading newspapers and listening music. When he has free time, he goes out with family and friends. Bijaya Gawali is not only the english speaking guide but also the french guide. His knowledge of French language gives him an edge in handling our French guest better. He has joined to this company since 2014, and he is well versed in both English and French language and taken care of our guest very well.

×

Min Bahadur Singh was born in 1977 in Bajura district, far western development region of Nepal and later on he moved to Pokhara, permanent resident of Kristi-3 Kaski, Pokhara. He is Trek and City Tour Guide in Pokhara city, Nepal, a city of natural beauty and on the lap of the Himalayas. He has completed his intermediate education level and various training related to the travel and tourism industry. He started his career in the hospitality industry since 1992. He's worked in the tourism sector for 24 years and has 12 years of guiding experience involving in different travel and trekking agencies in Nepal. Min has joined to this company since 2014, and he does city tour guide in Pokhara and Annapurna region Trekking as well.On top of that, he is also bird watching specialised in the mountain region of Nepal. Min speaks English very well and has been the beloved guide for English speaking tourist. He loves to travel, meet new people and share his ideas and experiences to other people.

×

Hem Raj Bastola is a permanent inhabitant of Pokhara-25.  He has been working as a  tour and trekking guide  since 2010. Formerly he has worked as a guest service agent at the hotel Pokara Grande. He started his career as a Cave guide,  ticket sales man at Gupteshwor Mahadev Cave in Pokhara. So must of his working experience is related to tourism and hospitality industry. Beside his guiding profession, he enjoys reading and writing poetry. His poets have been published in different forums and medias.  When get free time loves to work in the field as well.