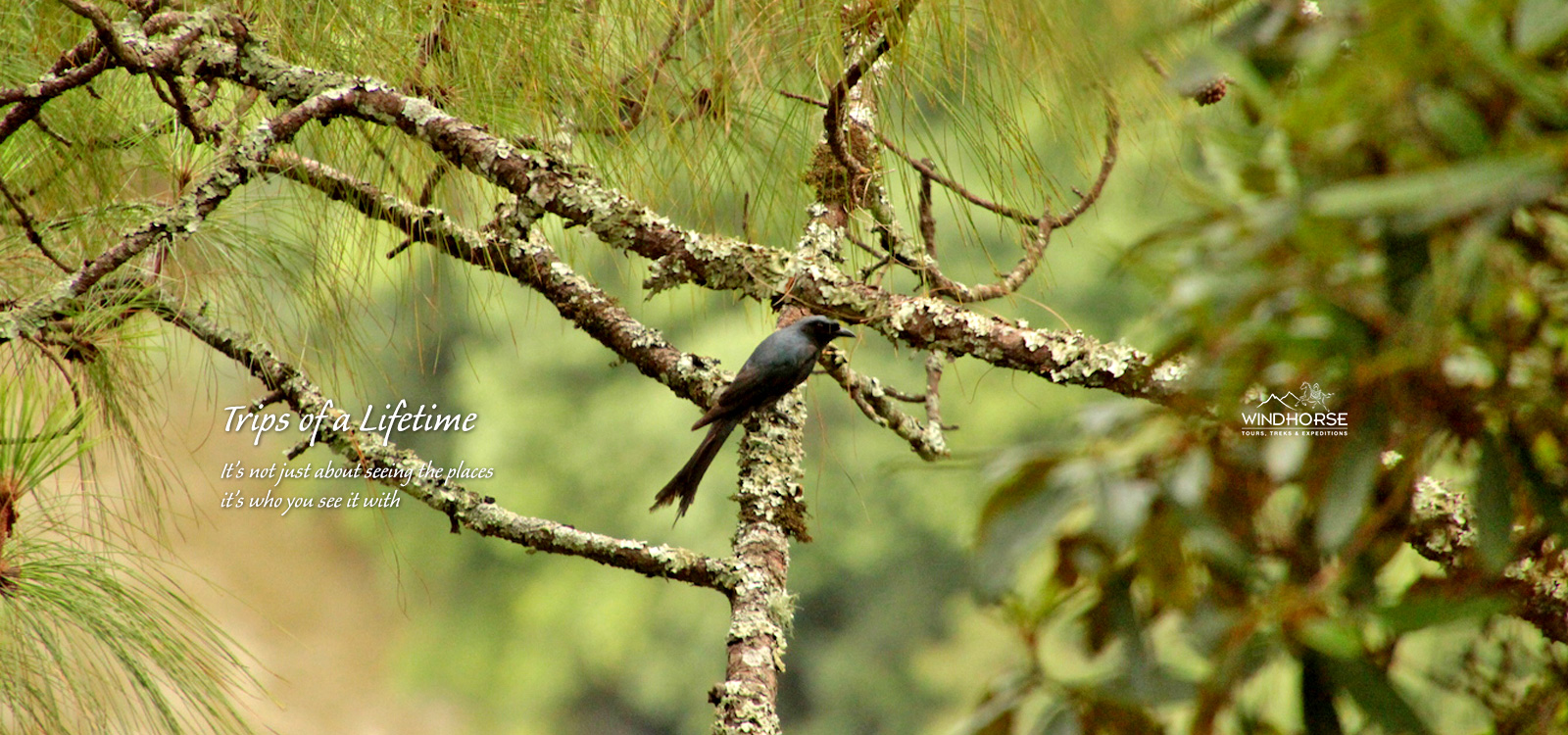 Trip highlights
Top Birds
Black-necked Crane, Himalayan Monal, Blood Pheasant, Ibisbill, Ward's Trogon, Long-billed Plover, Rufous-necked Hornbill, Beautiful Nuthatch, Rufous-throated Wren-Babbler, Coral-billed Scimitar Babbler, Black-headed Shrike-Babbler, Fire-tailed Myzornis, Mrs. Gould's Sunbird, Himalayan Cutia, Spotted Laughingthrush, Darjeeling Woodpecker, Himalayan White-browed Rosefinch and a number of Parrotbills
Top Mammals
Yellow-throated Marten, Black Giant Squirrel, Large-eared Pika, chance for Himalayan Black Bear, Musk Deer.
Habitats Covered
High elevation forests (Passes like Docula, Pelala)  to lower  elevation forests (Punakha) including bamboo, coniferous & mixed &Warm  broad-leafed vegetation, pastures, rivers.
Expected Climate
Warm to temperate and cold in winter, some drizzle possible during rainy season
Tour Pace & Walking
Moderate pace, undemanding walks, 5 to 6 hrs drives (Phobjika -Paro)
Number of Species Expected
180-230 Species
Other Attractions
Buddhist culture & Tradition, mountainous Landscape, verdant forests, Dzongs and Monasteries, interaction with people, village and Farm house visit.
Photography Opportunity – Excellent
Around 72% of land is covered with vegetation forming diverse ecosystem enclosing varied strata of climate and geographical zone mainly determined by altitude and topography. These  areas or the zones are the home to various birds. As many as 770 species of birds are recorded and many more are yet to be discovered. Major of it forms the residential birds and 50 are recorded as migratory.
Within the span of distance, places in western Bhutan incorporate varied zone – temperate to sub tropical. And birds indigenous to these zones are more likely to be sighted. Following this itinerary, we will take you to the established birding zone as well as some off the beaten route to get up, close and personal with the elusive birds.
Starting from the Thimphu, 45 minutes drive from town takes to the birding area in Dodena (2575m) Birding amidst the oak and pine forest – mainly Laughing thrush, Fire Capped Tits, etc. In the area around Docula Pass (3130 m), ideally during spring, Fir, Rhododendron oaks, bamboo forest and wild flowers prime up –the most likely birds to be seen are  Satyr Trogopan, Monal pheasant etc. In Punakha warm broad leave forest and along the Mo Chhu River are the habitat for endangered White Bellied Heron, Eurasian Widgeon etc. Phobjika valley is home to endangered and revered Black Neck crane, mainly from November till Mid March. In Paro, the areas along the rivers are the best birding zone. And also whilst hiking to Taktsang Monastery -predominantly brown dipper, spotted laughing thrush etc. Along the way, we will also make regular stops and explore the agricultural areas and some smaller forests.
Besides birding, we will also visit some of the major cultural attractions of respective places. Whilst birding, it also throw open opportunities to visit farmhouses, villages and interaction with local people.   
Outline Itinerary 
Day 1.Arrive and Transfer to Thimphu
Arrive in Paro and transfer to Thimphu. The best birding areas in capital are the suburbs region like upper Motithang area and northern edge of valley –Cheri, Doedena, Begana area. Afteroon, we'll explore upper Motithang area driving past the town. If luck favour we may encounter the regional specialty such as Rufous Fronted Tits. Also you may see Sparrow hawk, Rufous-bellied wood pecker, Hoopoe, Nepal house martin, Hill myna. If time permits, we will visit Takin Reserve, Giant Buddha Statues etc.  Overnight hotel in Thimphu.
Day 2, Thimphu Tours.
Early morning, drive past the town through the rick vegetation of Fir, Pine, rhodedendron and apple orchard. Along the way, Red Billed Chough is seen frequently. Cheri, Dodema and Begana – the northern end of Thimphu valley offer one of best birding spots. We will scan minutely and chances are high to see Ibis bill, Common sandpiper, Crested-pie kingfisher, Redrumped swallow,  Long-tailed minivet, Grey wagtail, Yellow-billed blue Magpie, Spotted nutcracker, White-bellied yuhina, Red-billed chough, Black-browed tit, Upland pipit etc. Later visit prominent attractions like Tashichho Dzong, Painting Academy, Traditional medicine institute, Weekend Markets etc.Overnight in hotel.
Day 3. Thimphu to Punakha
After early breakfast, we drive east, stopping at Docula Pass (3150 m). On a clear day, it offers breathtaking vista of far off eastern Himalayan Mountains. However for the endemic avian, we venture off the road into the scenic Lunteygang trail. It encloses forest of fir, birch and rhododendron, where varied birds species thrives. The most prized sighting would be Ward's Trogon. The other birds that you may see are Spotted Nutcracker, Large Hawk Cuckoo, Darjeeling Woodpecker, Yellow billed Magpie, Chest Tailed Minla, Collard Blackbird, Ultramarine Flycatcher, Brown Bullfinch, etc. In the afternoon, we descend into bird rich subtropical valley of Punakha. Along the way or before reaching Punakha, we will make brief stop to explore edge of forest and the agricultural land in nearby village. Sub tropical species most likely to be seen are Red-headed Trogon; Wedge-tailed Pigeon Fire-capped Tit breeds White-gorgeted Flycatcher, the rare Yellow-vented Warbler. Magpie Robin, Green Magpie, Osprey. Overnight in Punakha
Day 4 Birding in Punakha
Punakha has warmer climate – typical sub tropical one. That denotes conducive climate for certain species of avian. During winter, you will also find migrant from alpine region. Following an old trail along the bank of river Mo Chhu, we will explore minutely its bank and surrounding vegetation. This area is renowned for spotting critically endangered white- bellied Heron. Further, this route will take us past impressive Punakha Dzong, which we will visit in later part of afternoon. Ahead upstream, we will sidetrack into the cultivation patch of the scattered houses and into the broad Leaves forest in upper Punakha area. Thereby possibilities are immense to spot along the bank and in village area the birds like Bay Woodpecker, Red-headed Trogon, Wedge-tailed Pigeon Fire-capped Tit breeds White-gorgeted Flycatcher, the rare Yellow-vented Warbler. Magpie Robin, Green Magpie, Osprey, River Lapwing, Ruddy Shelduck, Eurasian Wigeon. We'll also search for a variety of skulkers, including Spotted Elachura and Pygmy Wren-babbler, and two of Bhutan's three species of Tesia. Overnight Hotel in Punakha
Day 5. Punakha to Phobjika
Leaving Punakha, past Wangdi Dzong, along the way there are many birding spots so we will make series of brief stops. Explore the edge of river channel, where there are instances of sighting of Pallas's fishing eagle. As well as scan the edge of forests and cultivation land. Flycatcher, wedge Tailed green Pigeon are common. Further we will make stop before reaching Phobjika in a large swathe of productive forests, which is home to many avian fauna. You may find
carlet Finch, Black Drongo, Chestnut bellied Nuthatch, Slaty backed Forktail, Gorgeted Flycatcher, White throated Laughing thrust, Eurasian Jay, Wedge Tailed Green Pigeon, Mountain Imperial Pigeon, Verditer Flycatcher, etc. If your travel period falls between Oct to March, then famed Black Neck crane sight beckons you. Later half of afternoon we will visit Black neck Crane center and if time permits, a leisurely nature walk in glacial Phobjika valley. The most likely avian that awaits to be discovered are White Throated laughing thrushes, Mountain Imperial Pigeon, slaty backed forktail, Rusty-flanked Tree creeper, White-browed Bush Robin, and White-winged Grosbeak. Overnight Hotel in Gangtey.
Day 6. Phobjika to Paro
Today will be longest driving day. First, drive east to Pele la Pass early in morning. Morning hours are best time to spot the area specialties. The birds that rules the area are Satyrs Tragopan, Blood Pheasant, Khalij Pheasant, Himalayan Monal, Yellow billed Magpie, Chest Tailed Minla, Collard Blackbird, Ultramarine Flycatcher. Although it entails long drive, retracing steps to Paro, we will make succession of stops that offers more birding options. In the same place that we already explored or some new spots. The most prized conquest would be to capture in your lens the most elusive shriek babbler. Overnight in Paro.
Day 7: In Paro
Early morning, examine thoroughly the Po chu river bank and surrounding vegetation till Drukyul Dzong area for varied species of birds like fire capped Tits, Spotted Laughing Thrush, Brown Dipper etc. Later, visit mainstay attractions like Rinpung Dzong, Ta Dzong, Dumtshe and Kichu Lhakhang. Overnight in hotel.
Day 8: Takstang Hike.
This penultimate day, not merely take you to hike to the iconic Taksang Monastery but also if early we can see some avian those are generally found in this trail area. This is one of the most popular hiking trails so it attracts lot of visitors. It tend to get crowded as the day set which  triggers flight reaction of the birds. The birds those are synonymous to this specific area are brown dipper, spotted laughing thrush, Fire capped Tit, etc. In the afternoon we visit the Drukyul Dzong birding area. And also main birding region of Paro, that is along the bank of Paro River. The most common is Ibis bill, which is found throughout the year. The other birds that are likely to be seen are Black faced laughing thrush, brown dipper, spotted laughing thrush, Fire capped Tit etc. If time permits, we 'll visit some of Paro main cultural attractions like Rinpung Dzong, Museum etc.
Overnight in Paro
Day 9. Departure.
After breakfast, transfer to airport for your onward journey
Group SizeAny number of participants.

MealsFull boards including evening tea.

Trip AccommodationIn 2* to 3* accommodation and whenever possible we use 4* like Hotel Druk in Thimphu and Tashi Namgay in Paro

Route1.Arrive Paro and transfer to Thimphu - 55km -1 hour
2. Thimphu to Punakha-71 km 3hr
3. Punakha to Phobjika (Gangtey) - 75 kms (3 hrs)
4. Phobjika - Paro 173 km - 5 - 6 hrs.

Trip TypeBirding Tour

Trip SeasonsWeather is good throughout the years especially for these places of interest. However spring is best time as its mating season for birds, when the birds' call are distinct and it exhibit colour changes to attract the mate.

Best MonthsMarch, April, May, September, October, November

Good MonthsJanuary, February, June, July, August, December
Prices & Dates
Cost depend on number of participant and Travel date.
Please contact us for details.
Included
Bhutan Royalties, tourists fees, Visa fees and taxes.
Accommodations in listed or similar hotels (pleasant hotels 3-4 star type)
All meals,including evening tea/coffee etc through-out the tour in Bhutan.
All land transfers, sightseeing with entrance fees.
Experienced English Speaking Bhutanese Tour Guide.
Bottled water in the vehicle and other comp. services.
Not included
1.Flights into and out of Bhutan
2.Optional Travel/Medical Insurance
3. Personal expenses such as bars, beverages in the hotel, telephone, laundry, trips, and others.
Accommodations
Tourist Standard hotel 2* to 3* and whenever possible we use 4* hotel like Hotel Druk in Thimphu and Tashi Namgay in Paro
---
Hotels in Thimphu
Hotels in Paro
Hotels in Punakha
Hotels in Phobjikha