Window to Bhutan
7 Days
7 days Tour of Western Bhutan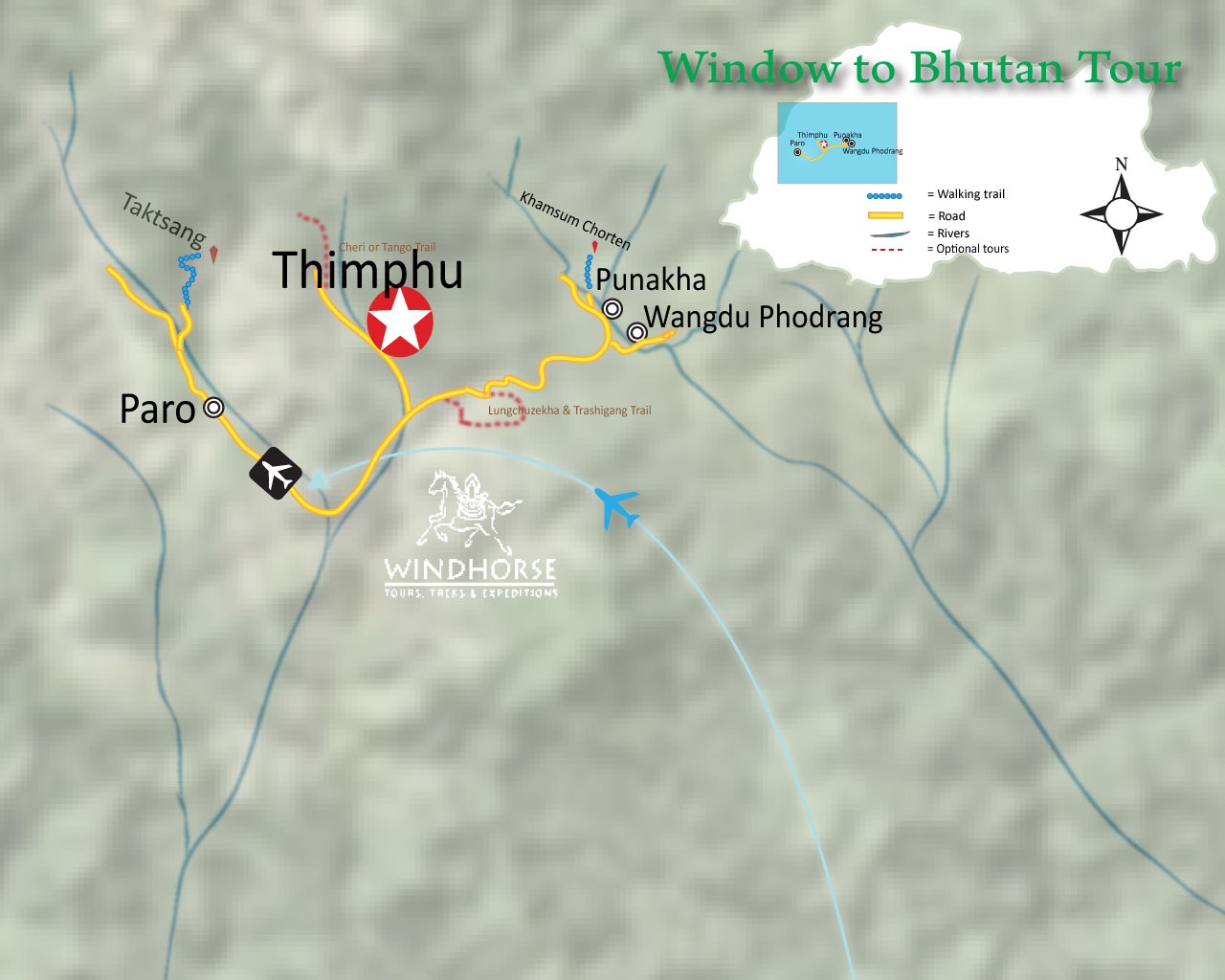 Trip Grade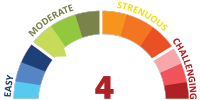 Trip Price From US$ 1250 | See Details
Trip AccommodationBest Tourist Hotels See Details
Group SizeDepending on Group size
MealsAll meals
RouteThimphu-Punakha-Paro
Trip Type Cultural Tour
Trip SeasonsSuitable for all seaseon
Best MonthsJanuary, February, March, April, May, June, July, August, September, October, November, December
The word Bhutan evokes a far reaching reactions to the minds to the outside world. Mostly swinging to the extremes – it is generally perceived as paradise on earth or country isolated and trapped on time wrapped. This 7 days tour widely opens the window that can laid rest to these reactions.. As this tour provide a close encounter with living and unique culture, tradition and religions values along with its spectacular natural beauty, pristine environment ,fabulous architecture. All along the beautiful valley of Thimphu, Punakha and Paro that forms the major portion of western Bhutan.
Starting from capital, Thimphu, which houses some major contemporary attractions as well historical, After visiting Thimphu valley, we drive east, you will cross Docula pass on the crest of a ridge at 3050 m. On clear day, astounding view of snow covered peaks of the eastern Himalayas is conspicuous.Passing through the magnificent group of 108 chortens  at Docula then the road descend steeply to bring to fertile Punakha valley, continuing a little further will reach under renovation Wangdi Dzong, dramatically straddling the ridge. After stopping here for a few night, we retrace our step back via Docula pass into Paro valley, one of most beautiful valley in the country, after visiting major religious  and cultural attractions, we bring the curtain down to the odyssey with hike to famous Tiger's nest (Taktsang) monastery
Outline Itinerary
Day 1: Arrive in Paro – Thimphu (L/D) Upon arrival in Paro, you are met by Wind Horse Guide & driver and transferred to Thimphu, which takes around 1hr from the airport.This afternoon visit attractions of Thimphu according to your interests and available time. This may include Tashicho Dzong, which is the main Govt. center with kings' throne room. Visit Farmer's market, which is more vibrant during the weekends.
Overnight in the hotel in Thimphu.
Day 2: Thimphu Valley Tour (B/L/D) The capital of Bhutan also has most things to see for visitors. A full day tour of Thimphu's cultural sites and monuments may include Memorial Chorten, traditional Art school or Painting school, Indigenous Hospital, Nunnery at Zilukha, a short drive up to a view point for aerial view of the capital and its suburbs. Along the way, visit Takin Sanctuary, the national animal of Bhutan. Also visit giant Buddha statue. There are others like Zangdopelri temple, Changangkha monastery, Simtokha Dzong, Crafts workshop, Textile museum which can be visited as per available time or based on your interests.
Overnight in hotel in Thimphu.
Day 3: Thimphu – Punakha/Wangdue (B/L/D) The drive from Thimphu to Punakha across spectacular Dochula takes about 3hrs. From Thimphu, road climbs up to Dochula pass (3,050m),where you have opportunity to view the peaks of the eastern Himalayas. Descend into Wangdue/Punakha valley. Punakha-Wangdue valley is lower (about 1450m above sea leel) and it enjoys sub-tropical climate. In the afternoon, visit impressive Punakha Dzong at the confluence of the two rivers. Later drive short distance north through the idyllic countryside and walk short distance uphill to Khamsum Chorten on Nyenzangang hill. The views from here of the terraced rice fields, dotted with traditional houses, the river and the valley surrounded by mountains is amazing ! On the way to the hotel, stop to visit the township of Punakha at Khuruthang.
Overnight in hotel.
Day 4: Wangdue /Punakha – Paro (B/L/D) Check-out of the hotel. Take a short walk into the village and visit Chimi Lhakhang temple, dedicated to Lam Drukpa Kuenley, affectionately known as "Divine Madman," for his unconventional ways of teaching using dirty jokes.He is a folk hero and a cultural icon around whom countless yarns of facts and fiction, stories and legends have been spun. Make a brief tour of Wangdue Phodrang; view the ruins of its Dzong, drive through the town area, and return drove to Thimphu recrossing magnificent Dochula pass, with one more opportunity to see the panoramic views of the Eastern Himalayan peaks.
(If you are interested in walking, you can skip Chimi Lakhang & Wangdue this morning and instead take a beautiful hike for about 3hrs from Dochula to Trashigang monastery via Lungchuzekha monastery. The hike is quite easy or moderate. From Trashigang meet the vehicle and drive to Thimphu). After Thimphu, continue 1hr drive to Paro. Along the way, there is a nice small nunnery at Sitsina that you can visit. Upon arrival in Paro, stroll around the town and the check-into you hotel for dinner and overnight.
Overnight in hotel in Paro.
Day 5: Paro Valley Tour (B/L/D) Paro valley is one of the loveliest in Bhutan. The willow trees and apple or chards line many of the roads. Large whitewashed farmhouses and temples complement the terraced fields with forested hills rising on either side to create a beautiful, organic and peaceful whole. Paro is also excellent agricultural land and the people here are better off than many elsewhere in Bhutan. We'll tour by short drives and walks to see its many attractions such the Drugyal Dzong ruins, Ta Dzong (watchtower) which houses the museum, Rinphung Dzong fortress, the beautiful 7th century Kichu Lhakhang temple, local farm house, and also cover Dumtse Lhakhang temple, known to hold some of the finest murals in the kingdom.
Overnight in Paro.
Day 6: Paro Valley (Takstang)(B/L/D) Our journey in Kingdom culminates with a hike to the most famous pilgrimage site in Bhutan: Taktsang Goempa (tiger's nest) monastery (at about 3100m/10,100ft). Visible from afar, this magical monastery clings to a vertical granite cliff 1,000 feet above the valley floor, defying logic, gravity, and reason in the quest for spiritual enlightenment. It is one of the most amazing and important pieces of architecture in Bhutan. (If for some reason, some of the members wish to skip hike to Taktsang, our Guide and driver can arrange other interesting alternatives for them.) You can also hire pony for the uphill part, till the first view point & cafeteria but you must be able to walk back downhill on return. The steep hike to the first view point or cafeteria (at 2940m/9,650ft) takes between 1-2hrs (ascending about 300m/1,000ft) from the starting point. From here it is another half hour or so to higher spectacular lookout point after ascending another 200m/650ft that puts you eyeball to eyeball with the monastery. From this vantage point, Takstang seems close enough to touch but it is on the far side of deep chasm and takes a knee breaking descent and ascending of another 40 minutes or so to the monastery. While some will probably not make it all the way to the monastery, but even to get to the first view point is really worth all the effort. Upon return from the hike, we may have time to visit the ruins of Drugyal Dzong. Farewell dinner.
Overnight in the hotel, in Paro valley.
Day 7: Departure (B) After breakfast, transfer to Paro airport in time for your departure flight.