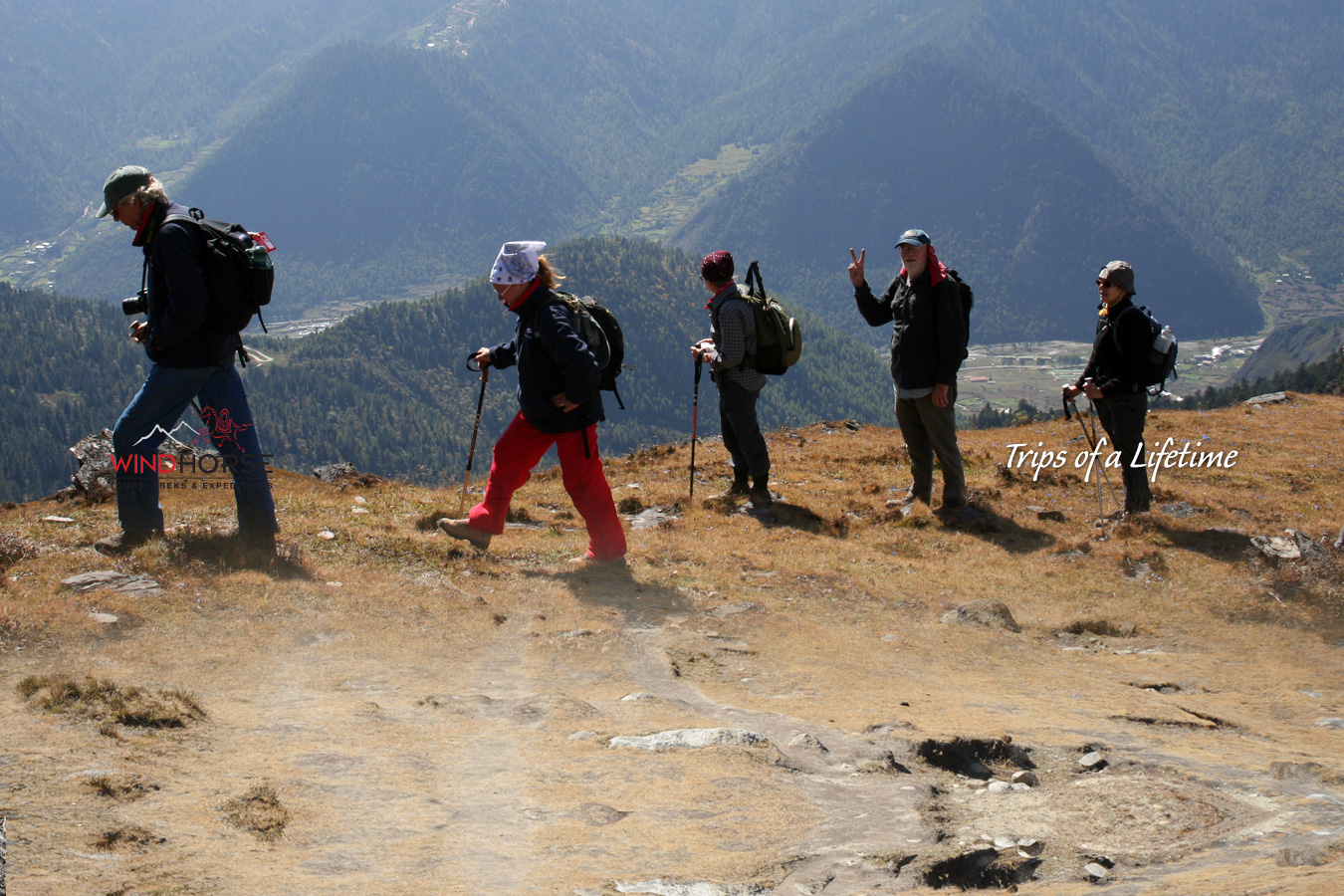 Trip highlights
Visit attractions & sights mainstay of Gangtok and towns in west Sikkim.
Astounding views of eastern Himalayas ranges such as Mt Everest, Lhotshe, Makalu, Kanchenjunga, Koktang, Kabru & Frey.
Alpine delights such as wildlife, birds, temperate foliage  and topographical feature such as valley, Lakes, hills etc.
Interaction with locales by visiting villages and homes and getting insight into their social structure.
Arguably, Yambong Singalila trek is one of the finest treks in eastern Himalayas. It offers breathtaking portrait of primer of grand. The trek unfolds gently and explores remote villages, pristine nature and landscapes such as windswept meadows, brimming alpine lakes, if spring, running riots of color with Rhododendron and wild flower blooms, yak herder camps, myriad forms of wildlife and what add vibrant colors to this natural mosaic is the astounding view of world's five pinnacle mountain peaks. This trek is not merely an introduction to nature's grandeur but also explore into the way of life through village visit, where hands of clock appears to stop, letting nature to take its own courses.
The pre trek trip to Gangtok and Pelling offers prelude to this iconic trek with insights into cultural aspect and also serves as acclimatization process. Gangtok is vibrant capital dotted with various conventional as well as contemporary attractions. Pelling in west Sikkim has rich historical overtone and marked with historical and sacred monasteries and other sites. The post Trek trip further examines breezily some not to miss cultural attractions in south Sikkim and overnight in lesser-known village heritage Bungalow in Turuk. Its interesting village life is not just its only forte but also its closer proximity to the airport taking into consideration notoriously chaotic traffic in Siliguri and airport areas.
This trek is designed on a practical platform after a thorough research and revisit, smoothing out rough edges. You will find it's a departure from conventional one – some areas are omitted and a few added only to add more charm and sense of practicalities to this trip.
Outline itinerary
Day 1:Bagdogra-Gangtok: (1700mts)
Upon arrival at Bagdogra airport meet our representative and transfer to Gangtok. The drive is scenic as it traverses through many small roadside villages following river Teesta upstream until Rangpo. After immigration clearance at Rangpo climb gradually to Gangtok. It's likely that we will have time only to visit iconic pedestrian thoroughfare at MG Marg Street and the Lal Bazar. Overnight in Gangtok.
Day 2. Gangtok – Pelling: (2150m/5-6hrs)
Early breakfast is advised so that it enables us to visit a few sites in Gangtok on the way to Pelling such as Dodrodul Chorten – A massive stupa surrounded by 108 prayer wheels affiliated to Nyingmapa tradition of Himalayan Buddhism and nearby Namgyal Institute of Tibetology – earmarked with finest Tibetan work, iconography and religious works. The drive is relatively long but quite scenic traversing through small roadside villages and towns. On the way, we may also choose to visit the bio organic Tea Factory at Temi Tea Garden – the only tea garden in Sikkim. Upon arrival in Pelling, evening free to rest or relax or take a stroll around. Pelling is a small town in West Sikkim laced with some historical sites, flora, astounding views of mountain peaks make it mainstay tourist destination in West Sikkim.Overnight in Pelling.
Day 3. Pelling-Nambu-Hike to Rambi: (1597m/1.5-2hrs)
Before embarking on the trip to Rambi – base camp for trek. We will do two short hikes to visit Pemayantshe and Sangachoeling monastery in the morning. From hotel, its approx. 3 km to Sangacholing Monastery located at wooded hills and takes around 1 hour. Another one-hour hike from hotel enables to visit historical Pemayantse Monastery (2085 m) it belongs to Nyinmapa order of Vajrayana Buddhism followed by a visit to Rabdetnse ruins. After lunch take a short drive to Nambu. From Nambu it is a short hike of about 6kms to Rambi village, our campsite Rambi, where we rendezvous with the trekking crew.Overnight in camp.
Day 4. Trek to Chongri: (2175m/3-4hrs)
The trek in a real sense starts today. Initially, it traverses through a rough motor able section of road for about 2 hrs passing through local villages. After that we walk through the cardamom fields and then a steep climb to the Bhutia village of Chongri. Our campsite for the night. Overnight in camp.
Day 5.Trek to Naya patal: (3000m/3-4hrs)
Past this village, the trail today is relatively gradual and steady till the next port of call – Naya Patal our campsite for today. The trail passes through the dense forest full of Magnolia, Rhododendron, Birch, Cedar, Pine, Alder trees and run parallel to Sang Khola (river) to a small hilltop of Naya patal. Overnight in camp.
Day 6. Trek to Upper Yambong: (3735m/5-6 hrs)
Most choose to camp in lower Yambong but it will be too short a day hike. After breakfast, the hike is a gradual climb and it also compliments gain in altitude gradually ( 750 m gain). Past lower Yambong, temperate vegetation gives way to alpine and exposes to alpine surreal landscapes. Overnight in camp.
Day 7.Trek to Dafeybhir (Jamle Pokhri): (4350m/4-5hrs)
Today we depart from conventional route to Gomathang, instead we pursue trail to Dafeybhir. The last couple of days trek was moderate in terms of hiking grade and elevation gain, which assist in acclimatization process for a serious altitude gain today and for the trek ahead. Although the hike consist of rough mountain trail but what makes it up is the panoramic view of the mountains of Nepal and Sikkim like Mt. Everest, Mt. Lhotse, Mt. Makalu and the Kanchenjunga ranges. Our camping site will be near Jamle Pokhari meaning twin pond.Overnight in camp.
Day 8.Trek to Yangshep: (3900m/5-6hrs)
Early morning, experience the splendid views of the mighty Everest and other peaks of world like Makalu, Kumbakarna along with the Kanchenjunga range. After breakfast we trek from Jamle Pokhri through the narrow mountain pass to the campsite to Yangshep, the grazing grounds of the yaks.Overnight in camp.
Day 9.Trek to Pangding. (3950m/3-4hrs)
Today is the toughest day on this trip, as we will encounter steeper trails going across high mountain pass. It requires patience and some level of skills and efforts to maneuver these section of trial. Following it, will lead us to Pangding with a final ascent.Overnight in camp.
Day 10.Trek to Dzongri:(4000m/5-6 hrs)
After breakfast we take a short ascent and then a more or less straight trial through beautiful forest of juniper, rhododendron and silver fir. Crossing the river in Bikhbari (Poison Field) region and further hike for few hours exposes to panoramic views of the hilltop of Dzongri from where we can observe the Kanchenjunga from a very close range. Overnight in camp.
Day 11. Dzongri (Rest day):
This morning we'll rise early and hike up to a high overlook to watch the sunrise over Kanchenjunga and the Onglathang Valley. After breakfast we will take a day hike to Gingay Dara with its panoramic views of the Rathong Valley and Rathong Glacier as well as the snowy peaks of Koktang, Kabru, Frey and mountains to the south of the Kanchenjunga. We will also be able to see in the distance the H.M.I. Base Camp, the area designated for high altitude mountain training for students undergoing basic and advanced courses with the Himalayan Mountaineering Institute. Overnight in camp.
Day 12.Trek to Tsokha: (2900m/6-7hrs)
After breakfast, we retrace our steps back, the trek downhill is gradual through the dense Rhododendron forests to the abandoned village of Tshoka.Overnight in camp.
Day 13.Trek to Yuksom: (1850m/5-6hrs)
After breakfast, we take a final descent to the village of Yuksom through narrow mountain trails where this exhilarating trek finally ends. Afternoon free to explore Yuksom and in the evening farewell dinner with the trekking crew.Overnight in Yuksom.
Day 14. Drive to Turuk.
After breakfast proceed towards Turuk via Namchi. En route visit Samdrupse hills (the wish fulfilling hill) where there is a great statue of Guru Rimpoche and the Samdruptse monastery. Visit Ngadak monastery and the Char Dham complex where you can find the replicas of all the four dhams (Hindu pilgrimage sites) of India and continue towards Turuk, a small village near Melli (South Sikkim). Our stay will be in Turuk Kothi - a Heritage Bungalow.Overnight in Turuk.
Day 15. Departure:
After breakfast transfer to Bagdogra airport for your departure flight homewards.
Group SizeMinimum 2 Pax.

MealsFull Board

Trip AccommodationBest available 3-4 star hotels in cultural tour and camping while trekking.

RouteBagdogra-Gangtok-Pelling-Yuksom-Yambong-Dzongri-Tsokha-Turuk-Bagdogra


Trip Type Trekking
Village Tour


Trip SeasonsBest recommended from March to early June and September to early November.

Best MonthsMarch, April, October

Good MonthsMay, September, November

Lean MonthsAugust

Not RecommendJanuary, February, June, July, December
Prices & Dates
Starting from USD$ 1600 per person, however the exact cost can be determined based on group size, travel date etc.Please contact us for cost details.
Included
• Accommodation in listed hotels during the tour and in camps while trekking.
• All meals as specified.
• All land transfers and transportation by exclusive good quality vehicle
• Bottled mineral water in drive.
• All sight seeing and Entrance fees to the monuments.
• Trekking Permits.
• Experienced local English speaking Guide.
• Trekking Equipment's including tents,trek mats, blow pillow, hot water bag, Pack animals (horses or Yaks) to carry luggage, basic medical kit and support staffs.
Not included
• Indian Visa.
• International and domestic flight cost.
• Personal Gears (sleeping bag, clothing, shoes etc).
• Personal expenses such as bar/beverages in the hotels, optional tips/gratuities to staffs, laundry, gifts etc.
• Any additional cost of forced upon by changing itinerary due to your health/medical, political situation, or
inclement weather.
• Travel medical insurance.
Accommodations
---
Hotels in Gangtok
Hotels in Yuksom
Hotels in Pelling
Hotels in Melli
Trip Guide/Leader
---
×

Leading cultural & trekking trips for over 20 years in Nepal & Sikkim & Darjeeling. Karma Lama claims working as free-lancer guide best suit his temperament – the space liberates him to conduct tour with renewed vigor. He has worked with major travel outfitters in the region and has earned many accolades for his inviolate honesty and undiminished competence.
He is integral part of Wind Horse (Sikkim & Darjeeling portion) and has been leading tour for us with his usual flair and panache. Born, brought up and studied in Darjeeling – tourism's Mecca in North East India. Started right after his Bachelor degree, he started as culture guide and over the time he added trekking in his repertoire too.

×

Mountains has its own way to strike bond with individual . For Pasang Wangchu Sherpa, the romance with mountain or Himalayas to be specific started when he was a kid. Growing up in Darjeeling under constant watchful eyes of pious Kanchenjunga and whole gamut of Himalayas ranges, left an indelible imprint that influenced his adolescent. After his graduation in academic  from  Darjeeling college , he renewed his love affair with mountains. He trekked countless times into various ranges in Himalayas such as Sandakphu Trek, Dzongri and Goechela trek, Kanchenjuga Base camp. In 2004, he was part of successful Mt Everest trek expedition in Nepal. Also he has led tour in Kashmir (India) such as Stok Kangri in Ladakh. Its been over 25 years and counting and his love for mountain has hardly diminishes.

×

Dawa Lama hails from queen of hills – Darjeeling. He is well versed in cultural aspects but his love for mountains, wilderness of Trek is more profound. For his love for the trek, he treaded many paths less travelled. He feels at peace and at home in mountains and he believes that being in mountain  is being close to his root and to his very existence. To give wings to  his passion, he enlisted in mountaineering course in H.M.I. Darjeeling and disaster management course and completed in flying colours after one and half years .

Following the tradition, he started as a a cultural guide in 2008, simultaneously, he was pursuing his degree course also and completed in 2004. His early education  was in school run by Jesuits father. He grew up watching the sun rises at far horizon of eastern Himalayas from Tiger hill, which still is one of his favorite place.