Delhi is usually considered to be synonymous with sightseeing. This might be quite true, for any duration of your trip will seem insufficient to completely explore the historical monuments that Delhi has on offer.  Following are the top sightseeing spots in Delhi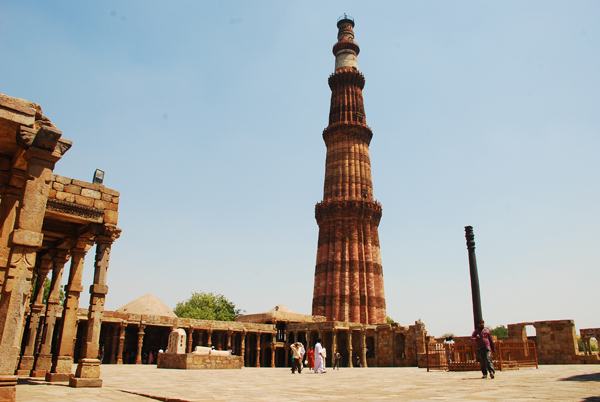 Think Delhi and you're probably thinking about Mughal emperors. However, the pre Mughal dynasties also left behind a mark on the scene of architecture and a theQutub Minar complex stands tall as an evidence of this. The most outstanding structure here is the Qutub Minar, a huge brick minaret, the tallest of its kind in the world. Built by Qutub ud din Aibak and Iltutmish, it's a pity that visitors are not allowed to climb the stairs inside the minaret, which lead right to the top of the structure to a height of some 72 metres. At the base of the minar is the Quwwat-ul-Islam Masjid. Another curiosity-inducing piece of architecture here is the Iron Pillar. This 7 metre high pillar has withstood elements of nature over centuries and has an interesting legend behind it. The legend goes that if you can stand with your back to the pillar and hold both your hands from behind your back, your wish will be granted.
Timings: 6am to 6pm,Address: Mehrauli,New Delhi
Red Fort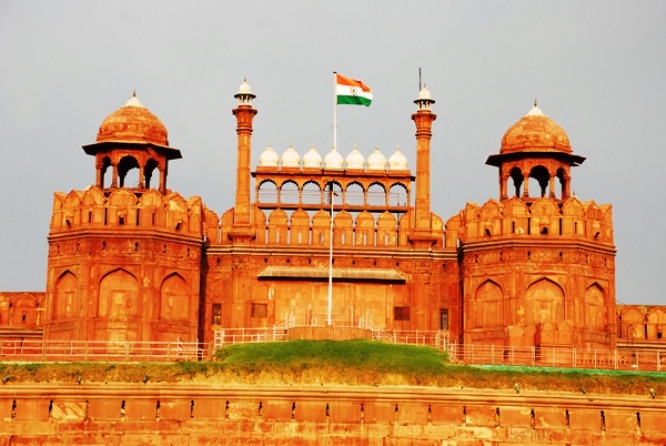 Built way back in the 1638 century by the Mughal emperor Shah Jahan, the Red Fort was the epitome of Mughal pomp in India. The walls of the fort alone are about 2 km long, and at one time, it used to be surrounded by a deep forbidding moat, which could only be crossed by a wooden drawbridge. This grand structure in Red Stone is a UNESCO World Heritage Site in Delhi, from where the Prime Minister addresses the nation every year on Independence Day. The Red Fort, with its beautifully manicured gardens and imposing structures like the Diwan-i-Khasand Diwan-i-Am is nothing short of enthralling. Inside the fort premises, you'll find a whole host of buildings and gardens, including zenanas like Mumtaz Mahal (now a museum) and Hayat Bakhsh Bagh (or "life-bestowing garden"), which are in themselves a sight to behold. Not to be missed is the evening light and sound show, which beautifully re-enacts some of the greatest moments of Indian history.
Timings: 9am to 5pm, Address: Netaji Subhash Marg, New Delhi
Akshardham Temple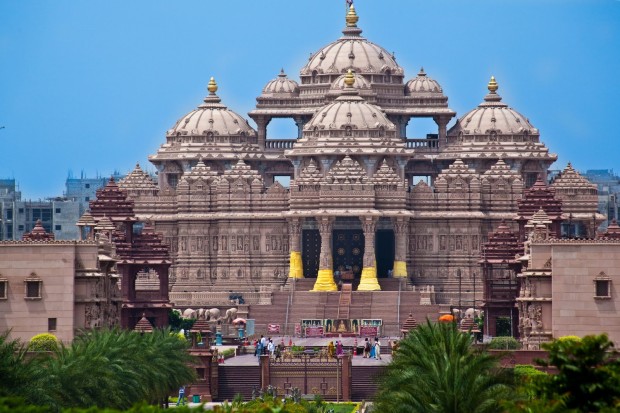 Get mesmerised by the sheer architectural wonder that is this temple, spread over a whopping 30 acres. Dedicated to Lord Swaminarayan, this beauty has been built completely without steel, with ornate pillars, domes and statues of all divine saints and Sadhu's of India. Plan at least a half day trip here to explore it to the extent it deserves. Try their Museum Tour and the Neelkanth Darshan to fully understand the significance of the temple and its deities. You could even do a small picnic in the lawns there. Capture this place in your mind, for photography is prohibited here. Parking is allowed within the complex, for a maximum of 6 hrs, though parking slots are limited. It would be wise to reach earlier if you're taking to the wheel!
Timings: 11am to 8pm (Monday closed), Address: On NH 24, Mayur Vihar, New Delhi India
Baha'i House of Worship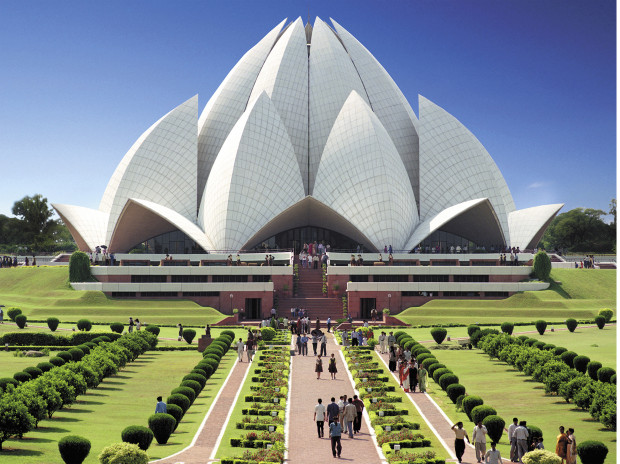 Fondly known as the Lotus Temple by locals and tourists alike, this place of worship of the Baha'i sect is literally constructed in the shape of a large, white lotus flower. An architectural landmark in itself, this beautiful temple is flocked by people from all religion, a living example of the openness and equality promoted by Baha'i laws. Experience calm like never before, for the main temple area prohibits visitors from making any noise. This exemplifies the true nature of Buddhisttraditions, which lays emphasis on meditation as a way to experience divinity. Enjoy the lush green surroundings and maybe even lounge around for a picnic.
Timings: 9am to 7pm (Monday closed), Address: Bahapur, Kalkaji, New Delhi
India Gate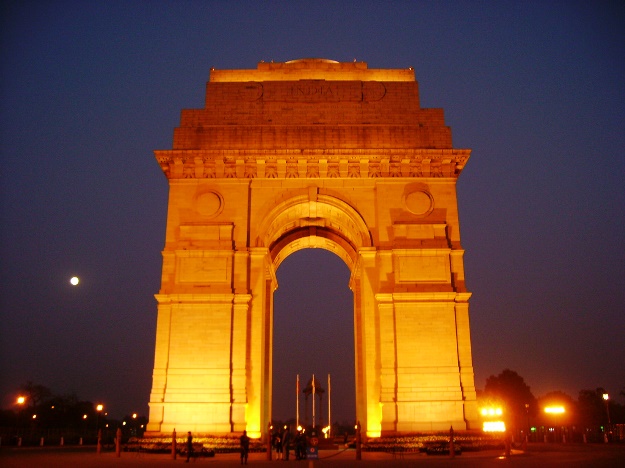 If you're flying to Delhi, you can probably spot this architectural beauty through your flight's window on a clear day, or when it is beautifully lit up during evenings. This Arc-de-Triomphe at the crossroads of Lutyens' Delhi, built in 1931, is a tribute to the 90,000 Indian soldiers who lost their lives in World War 1, fighting for the British. The Amar Jawan Jyoti at the centre here is in tribute of the unknown soldier. The area has a water-stream, an erstwhile boating spot, and sprawling green lawns, ideal for a stroll in the morning or evening. It is also dotted abundantly with ice-cream vendors, hawkers and people who organise camel and elephant rides, making it a favourite spot for Delhiites to go picnicking. India Gate is also renowned for the grand Indian Republic Day Parade, hosted here every year on 26th January.
Timings: Open all day long, Address: India Gate, New Delhi
This list is only indicative of what you could see in Delhi. Depending on the time you have, there's lots more to see in terms of monuments, parks, museums, etc – stuff that will keep making you come back to Delhi for more, and yet, always making you wish you had more time.