Bhutan Travel, Tours & Trek
Bhutan
Travel
Bhutan Office of Wind Horse Tours & Treks is managed by 4 resident Bhutanese partners and to 2 Bhutanese Partners marketing from USA. All of are partners have many years of experience (for some over 25 years), in Bhutan Tourism. Many of us got promoted from the ranks of staffs to Partners over the period of time. In addition to the partners, some of our permanent staff have stakes in the company, which helps to assure high-quality service, and the best staff retention rate of any Bhutan tourism companies. Our field leaders and guides are among the best in Bhutan. In addition to the certification and training they receive from Bhutan Government, they are also trained by us for many months before leading our trips independently. In addition to the training, we keep Guides and staffs with passion in the trade, sincerity, willingness to work hard and at the same time have fun and share the enjoyment. We take these seriously when selecting our team.
Since 1998, Wind Horse Tours and Treks in Bhutan's mission has been to satisfy every individuals and small groups with total satisfaction, providing each with personal, seamless and truly unique experience!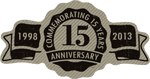 We go above and beyond to make your Bhutan travel effortless, personalized and truly unforgettable experice!
At Wind Horse, we talk a lot about experience. It isn't just talk. For us, travel is about experience – true experience – becoming involved with a place and its people. Great travel is an experience of culture, cuisine, history, people, natural beauty and change
Employee Owned Bhutan Travel Company
Since our inception in 1998 in Bhutan, we have grown into network of small offices, managed by local partners and staffs that own stakes in the company. Our vision has always remained simple, clear and deeply rooted in our initial ideal – breathing life into every trip you takBhutan travel Staffse. In the decade of our operation, we have established ourselves as one of the top small Bhutan tour operators and Destination Management Company for our corner of the world.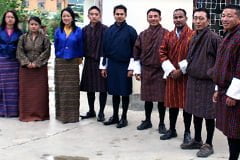 Like our other Offices, Wind Horse Tours, Treks & Expeditions in Thimphu, Bhutan is also managed by four Bhutanese partners, each with many years of experience in Bhutan travel business. All of our permanent staffs also own shares in our Bhutan travel company, which gives them the motivation to serve you with heart. This has also helped us retain best staffs in Bhutan tourism industry. Our field leaders and guides are counted among the best for Bhutan trips. They are well trained and well informed, with vast international exposure and a deep passion for travel.
Transport & Hotels
We own some buses, luxury vans and SUVs, providing you with the safest and most dependable and comfortable transport in the country. Our good reputation with hotels in Bhutan, help us to provide you desired accommodation for your visit. For our scheduled small group trips, we use intimate properties, which have surpassed all expectations.
Bhutan Travel Itineraries – treks, tours or customize
Wind Horse Bhutan ToursEach of our Bhutan travel itineraries (Small group or private trips) have been tried and tested to bring alive the awe-inspiring beauty of Bhutan's unique and vibrantly diverse cultures and ecosystems. We design our Small Group Journeys for people who share our passion for the total experience of Bhutan – the cuisine, the natural beauty, the history, culture and people. Nonetheless, we acknowledge that each of you will have individual dreams and hopes for visiting Bhutan, which requires expertise at arranging individually tailored itineraries. That is what we are here for; with intimate knowledge of Bhutan and the region, being easily accessible and knowing that you will receive the best price, we can come up promptly with suggestion on whatever kind of experience you may be looking for; be it an active vacation such as trekking, gentle walks, biking or home-stays and culture experience, or specialized tours such as bird-watching, botany, Buddhism, or art & textiles, with Wind Horse in Bhutan, your imagination is the only limit.
Guarantee of Price, Safety & Service:
We guarantee that we provide the best prices for our services in Bhutan. Often, you will find our prices much cheaper, and you may be tempted to thinking that our competitors may have better services. You have our promise that we don't cut corners and yet we offer you great value. Reason is simple; we are right at the source. Should you find costs cheaper anywhere at any time in your travels for the same services, we will match and pay the difference.
Our Trip Leaders and support staff take the utmost care with every aspect of your trip; from altitude-related concerns to ensuring hygienic food preparation in camp. However rare emergencies may be, traveling with a company as experienced as Wind Horse adds a strong element of safety and security to your journey.
Giving Back

Our current non-business initiative for Bhutan is to establish libraries in rural communities and find professional volunteers to go to rural areas of Bhutan for extended periods and serve the local communities. There are great many other non-profit organizations we can recommend our guests, if you wish to contribute directly.
---
---
Small Group
Journeys
You can also take up one our small group journeys for your private trip with your own dates. It's a great way to travel, just by your yourself, with your family, celebrate an important birthday, mark an anniversary, or enjoy a reunion with cherished friends!
Private
Journeys
Following are sample itineraries for independent travel. These itineraries can be further customized to meet your requirement with your own dates. If these don't meet your requirement, complete a customize trip form here Also note that any of the "Small Group Journeys" may be arranged for your independent private trip.
Featured
Trips
Please find best trips for this year as featured by Windhorse Team.
Join in
Trips

Join-in Group is a small group trip, that begins when one or two call to set up a tour for themselves according to their wishes and invite others to join. It is a desire to share the enjoyment with like-minded people, and to make the cost cheaper, they request us to find other people in their especially customized trip. When you see a trip with this (Join -In Logo) you know that this trip already has people booked.
There are no trip.
Cannot find the trip you are looking for?
Check out our Private Journeys section to see some of sample itineraries for your independent travel needs. Or send us a request for Custom Trip to Bhutan and beyond.