About Wind Horse Tours
Your Travel Companion In The Himalayas
POWERED BY CARING PEOPLE … POWERED BY SERVICE
With a small group of fervent guides and travel experts, Wind Horse Tours was officially launched in Bhutan in 1998. Since then we have expanded cautiously; with office in Minneapolis, followed by operation office in Delhi and Gangtok, Sikkim.
In 2011, we have added a Sales and Support team in Phuntsholing, at the border of India and Bhutan, which is also conveniently close to Nepal and Sikkim.
Although we have worked for many years in Nepal (even prior to starting in Bhutan), we have  never had own office, instead contracted with other agency using some of our own guides.  Covid gave us plenty of time to think, revisit and and plan well and so officially in 2022, we launched Wind Horse in Nepal with the same principals as our offices in Bhutan and India.
With network of offices, our guests receive round-the -clock fanatical support before and during the trip.
Our commitment to exceptional service means that our CEOs and Top Managers are on standby—24/7. Once you have booked the trip, you will be provided with urgent contact numbers and email addresses of the CEOs and Managers of your trip.
Over 25 years, we have been doing an honest business and in that time, we have seen travelers bridging gaps between faiths and cultures and proving thereby that we live in a small world, a world with both constructive similarities and fascinating differences. For us, travel is about experience; the experience of becoming involved with a place and its people and therefore bringing you closer to cultures, cuisines, traditions, natural beauty and change. It is more than a way to unwind oneself, but to discover new places and on the way to discovering oneself. Our small group journeys are created keeping these in mind. They are escorted by finest local guides who share our passion and values.
As a cost effective measures, we refrain from mass advertising, and instead focus on guest service. We believe in building satisfied customer; that spread word for us. It's the way we do business, and it has been working for us.
At Wind Horse Tours, we are committed to maintaining our inherent belief in the core values that continue to inspire our being and business today. These core values are to provide legendary customer support, to be honest and to provide competitive price without sacrificing the comfort and quality. These values are more than just words on a page; they are ingrained in the culture and daily operation of our offices and field staffs.
We expect our staff to demonstrate the principles of responsible travel – respecting people, cultures and environments; in the good will and cross-cultural sharing; and in contributing to sustainable development.
Since the inception, the mandate of Wind Horse has been to establish a structural and operation values based within the realm of democratic framework. We are owned and managed by local partners, an attempt to devolve and allocate the work to the grassroots level, therefore also getting the best out of person and the region. Many of our employees are share holders or partners in the company. Besides our staffs being well paid, the company also dispenses large portion of proceeds as bonuses which has enabled us to retain and attract the best staffs and guides.
In these years, we have realized that "big is not always beautiful" Nor being too small adds too much of value. Plainly speaking, oscillating between two extremes poses serious structural deficiency and therefore following on the middle path, our guests' highlight that they are glad for the attention to the details and a personalized touch to their trip and at the same time knowing that there are always people on the stand by. One element that cut us above the rest is our zeal to guard our flexibility in order to meet our guests' interests and needs, at the same time embedding an element of fun and joy in what we do without it being perfunctory.
Wind Horse Moments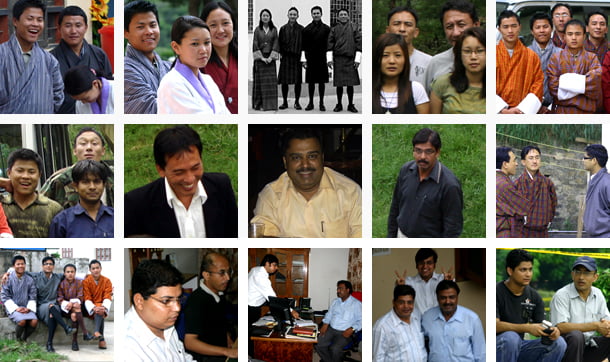 Get to know Wind Horse Tours at  Trade Shows /Events
Wind Horse exhibits and attends number of Trade Shows and events worldwide. We are regularly at WTM in London and ITB in Berlin. In USA, we also attend few shows and you can contact us for details.
Presentation for your group or Office
If you are forming a group to visit Bhutan, Nepal and India and would like to get more information and see our presentation, we will be happy to come over !
Travel agents and Tour Operators who wish get more information or educate your agents with destination knowledge can call us for presentation in your office.