India Nepal & Bhutan Odyssey
17 Days
Cultural Odyssey of North India,Nepal & Bhutan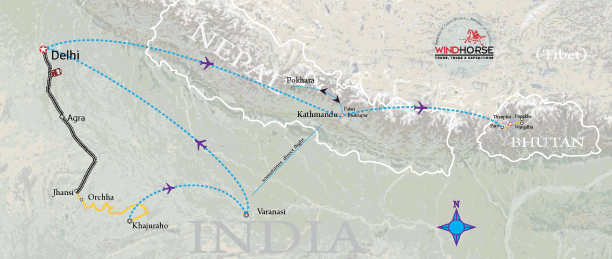 Trip Grade

Trip Price From US$ 3370 | See Details
Trip Accommodation4-5 star hotels and heritage hotels in India and Nepal. 3-4 star mix in Bhutan. See Details
Group Size9 Max. 1 minimum
MealsAll breakfasts & dinners in both India and Nepal. All meals with evening tea while in Bhutan.
RouteDelhi-Agra-Jhansi-Khahuraho-Varansi-Kathmandu-Pokhara-Khaktapur-Paro-Punakha-Thimphu
Trip TypeCultural with optional short walk
Trip SeasonsThis trip is best from October through March but it is also good in April and May.
Best MonthsMarch, October, November
Good MonthsJanuary, February, April, May, December
Lean MonthsJune, July, August, September
Trip highlights
Taj Mahal
Forts, Palaces, Temples & Monasteries
Walking in Colorful Markets
Local Home visit
Try Local cuisines
Off-beaten Path
Indian rail journey experience
Rural village Tour
Boat rides on Ganges & Pokhara
Weaving & textile
Walking tour(option)
Staying in a palace hotels
Only few trips in the world can combine such diversities in a single trip as our 17 days odyssey of India, Nepal & Bhutan. Crafted and marked with such a pace that it carefully examines myriad aspects such as culture, tradition, natural and religious landscapes that defines these countries. Be it India's captivating diversities, Nepal's astounding mountains and Bhutan's pristine environments and quaintness.
Structurally, these countries may offer fascinating contrast in essence and perception but one common yet distinctive feature that bring forth the nuanced and palpable essence of the trip, as a whole is the warmth and congeniality of PEOPLE. In this trip, we centered on this theme (people) by greater interaction with them
Outline Itinerary
Day 1: Arrival in Delhi
Upon arrival in Delhi, meet our representative and transfer to hotel. You can arrive at any time as no activities are planned for today. The rest of the day is for you to relax and adjust to the time change.
Overnight hotel in Delhi.
Day 2:  Agra  -Taj Mahal
After early breakfast at the hotel, transfer to Railway Station to board fast train to Agra.  Visit Agra Fort & Taj Mahal. Optional activities available.
Overnight hotel in Agra.
Day 3: Train to Jhansi – Orchha
Train to Jhansi. Transfer to Orcha. Tour in Orcha
Overnight in Orchha in a former Palace.
Day 4: Drive to Khajuraho
After breakfast, drive around 4hrs. In the afternoon, tour Eastern & Western Group of temple complex that the Chandelas constructed. In the evening, stroll the small market and township of Khajuraho and free to do many other optional activities available. Overnight hotel in Khajuraho.
Day 5: Fly to Varanasi – India's Religious Capital
Towards the evening, we'll walk through the old city to the bathing ghats located alongside the sacred River Ganges. Feel the timelessness of Varanasi as the sun sets and as the temple priests perform aarti, the sacred light ceremony, on the river bank for Mother Ganga. Overnight in Varanasi.
Day 6: In Varanasi. (Sunrise Cruise, Heritage Walk & Silk Weaving Community)
At sunrise, when the temples are bathed in soft light, board small boat for a cruise on the Ganges. Witness the everyday life in this holy city, as the people arrive at the ghats at dawn to take a ritual dip, perform yoga asanas, wash clothes and offer flowers and incense to the river.
Return to hotel for breakfast. Later head for a heritage walk in old part of Varanasi. Stroll in the narrow lanes with local expert who will weave the charming story of this ancient city, as you pass Ashrams, temples, flower shops, eateries and so forth.
After lunch at a local restaurant, we will pay a visit to Silk weaving community, who still adhere to an age old practice to make famous "Varanasi Sari". Watch the weaver in action.  Taking a closer look, we can find social fabric interwoven with thread of silk that help to make their living. Return to hotel in Varanasi.
Day 7:   Varanasi to Kathmandu
Some days, you can fly to Kathmandu from Varanasi directly in the afternoon. However, in general we need to plan a morning flight from Varanasi to Delhi and connect with a noon flight from there to Kathmandu. Upon arrival in Kathmandu, meet and transfer to hotel. This evening, as per available time, we'll explore the Kathmandu Durbar (royal) Square area. Dinner with cultural show at a typical cultural performance.
Overnight in Kathmandu.
Day 8: Kathmandu Tour & fly to Pokhara
After breakfast begin a half day tour in Kathmandu valley. Then fly to Pokhara and wander around the market.
Overnight in Pokhara.
Day 9:  Full Day in Pokhara
Before dawn, travel to Sarangkot hill top to watch the color of changing hues catch the peaks of the Annapurna range. On the way back, visit Bindesbani temple. After breakfast at the hotel, take a short rest before beginning the tour of Pokhara including short boat ride and walk to the Peace Pagoda for sunset views.
Overnight in Pokhara.
Day 10:  Fly Kathmandu (Bhaktapur)
After breakfast, transfer to the airport in time for your 20-minutes flight to Kathmandu.
Upon arrival, drive short distance in the suburbs to visit Nepal's medieval capital city of Bhaktapur, a spectacular World Heritage Site founded in the ninth century. Much of the city is pedestrianized, so we'll explore this open-air living museum on foot, walking from square to square and pagoda to pagoda.
Overnight in hotel in Kathmandu
Day 11:  Fly to Paro, Bhutan
Transfer to the airport in time for flight to Paro. (Generally, the flights tend to be in the morning but some days the flights could be in early afternoon if the flight is in the afternoon, you have a free morning to yourself in Kathmandu.)
A spectacular 40-minutes mountain flight (with views of many of the highest peaks of world including Everest) brings us to emerald-green Paro Valley at 7,500 feet.
Visit Paro Rinphung Dzong, an imposing fortress originally built in 17th century, which is the administrative seat of the Paro district, and also houses a state monastic community.  Walk across the ancient cantilevered bridge and stroll in small and charming Paro township. As per available time, we will tour other sights in Paro.
Overnight in Paro.
Day 12: Paro – Punakha
Following a short tour in Paro, drive through the countryside for about an hour to Thimphu, then continue drve uphill for another forty-five minutes to spectacular Dochula pass (10,200ft), which offers astounding panoramic views of the Eastern Himalayan range.  After lunch, the roads descend through ever changing vegetation with good views into relatively low altitude of Punakha & Wangdue valley located at about 1350m (4500ft) with semi tropical climate, where oranges, mangoes, bananas and even cactuses can be seen. Upon arrival, enjoy a half-hour walk through fields and villages to Chimi Lhakhang monastery and fertility temple dedicated to Lama Drukpa Kuenley, a Tibetan Buddhist saint known popularly as "the divine madman" Overnight hotel in Punakha/Wangdue valley.
Day 13: In Punakha & Wangdue valley
Punakha was a winter capital of Bhutan until 1950s, the tradition that is still upheld by the state monastic body who move here from Thimphu in the winter months.
Drive north through the idyllic countryside and take a 40min uphill hike (optional) to visit Khamsum Yuelley Chorten. Upon return, visit the impressive Punakha Dzong, built in 1637 at the confluence of the
Mo Chu and Po Chu (the male & female rivers). Punakha Dzong is an architectural wonder and seat of the head abbot of Bhutan. Later, visit the Nunnery built in 2009  for young nuns to train and study Buddhist text and meditation. Towards the south east corner of valley is located Wangdue Phodrang with larger township. Visit the town, then view the ruins of Wangdue Dzong, which is undergoing reconstruction, after being destroyed by the fire in 2012. As per available time, we will also visit Richengang village, unique for cluster of houses connected together.
Overnight hotel in Punakha/Wangdue valley.
Day 14: Punakha – Thimphu
Retrace our drive back across Dochula pass, offering one more opportunity to see the peaks of  Bhutanese Himalayas (3+hrs) drive.
We offer opportunity to take 3hr gradual walk to Lungchuzekha & Trashigang hill-tops starting from Dochula pass. You will see some remote temples, monasteries and walk through high altitude forests filled with rhododendrons, spruce, firs and giant cedars, all with good views in pristine nature.
Upon arrival in capital Thimphu, visit the courtyard of great Tashicho Dzong, seat of government, the stroll in farmer's market, which is more vibrant during the weekends (from Fridays). As per available time and interest, you will be taken around see other sights. Overnight hotel in Thimphu.
Day 15: Thimphu  & Paro Valley
As a capital of Bhutan, Thimphu has many attractions to see or shop around. Based on your interests, we will take you to places of your interests first and cover others as per available time. Among others, visit the Giant Buddha statue located atop a Kuensel Phodrang ridge, circumambulate around the memorial Chorten in clockwise direction with local as they say the prayers. See the weird looking Takin, the national animal of Bhutan. Take photographs from the ridge top, visit School of traditional Arts (also called Painting school) and more as per your interest. Towards evening, drive 1hr to Paro, where we visit local farm house and tour a local village.
Overnight hotel in Paro.
Day 16: Paro (Hike to Takstang)
Hike to legendary Takstang (Tiger's nest) monastery and visit other sights in Paro as per available time Horse (mountain ponies) are available for hire at the start of the hike that can take you till the view-point. Your guide can arrange this and if you are not able to make it or decide to opt out, an interesting alternative will be arranged while you here. In the evening, gather for farewell dinner.
Overnight in Paro.
Day 17: Departure
Departure transfer to the airport in time for your flight out of Bhutan. End of Services!
You can choose to fly to Delhi, Kathmandu, Bangkok or other cities covered by Druk Air or Bhutan Airlines (Tashi Air).
The cost of this flight is listed separately. One should be able to connect from these cities on the same day.