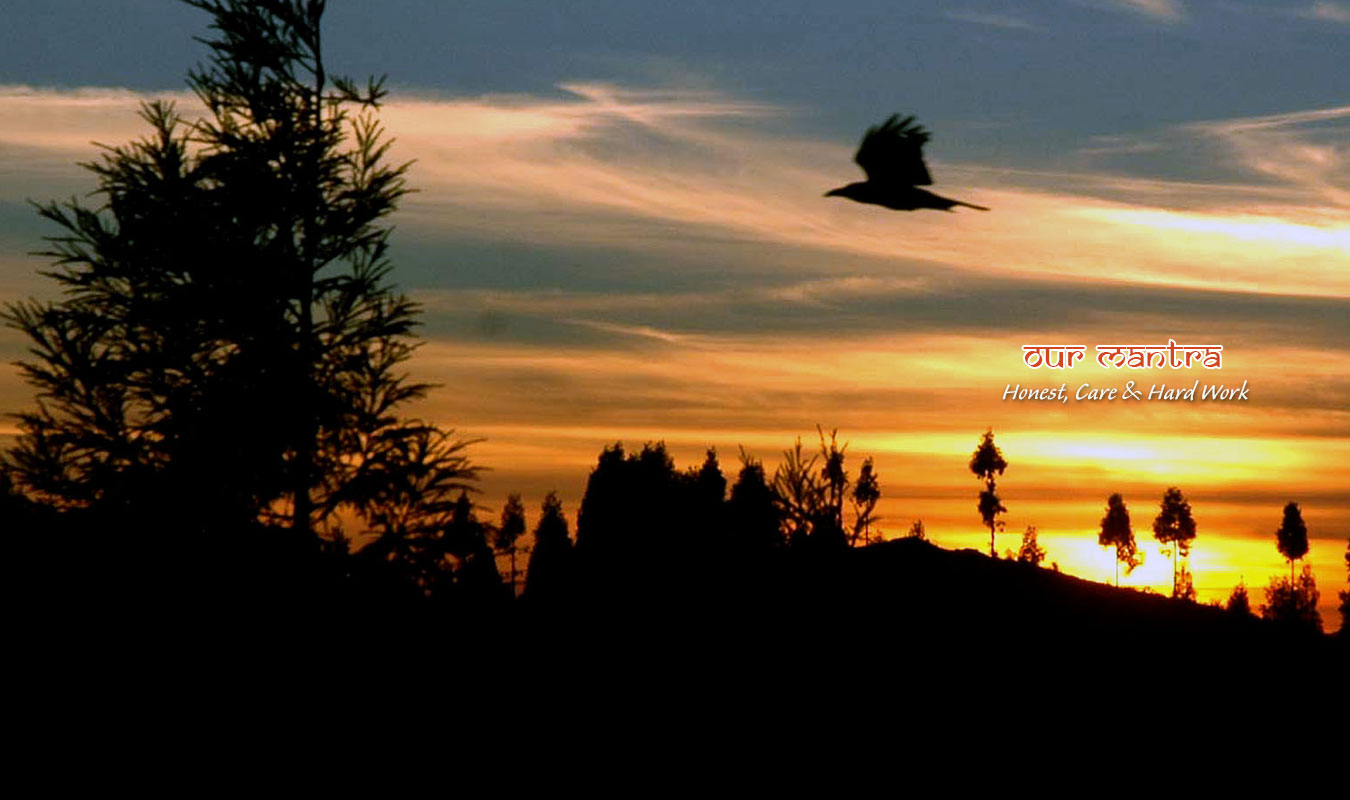 Sandakphu Singalila Trek
Gentle trek in Darjeeling on Singalila ridge
9 Days
Trekking
Sandakphu Trek is quintessential trek in the Eastern Himalayas and hardly any trek in the world can boast of impeccable views of world's 5 highest mountains and other Himalayan ranges in a single canvass. Its versatility are its forte in term of different routes one can pursue to the summit the pinnacle of Singalila range– Sandakphu (3636 m). Besides its unparalleled view from summit, the trek is adorned with other natural landmarks. Its rich foliage pulsates with varied form of wildlife so are the villages vibrant with tradition, culture and people's congeniality. Over the year, if natural trails outgrown into paved road yet air is crisp and fresh smell of flowers in spring is as before. When one treads upon the forest trail, its either the birds chirping or disturbed fallen leaves in ground that breaks the silence. A rendezvous of these elements such as balanced blend of forest trail hikes and over paved road, traditional villages, friendly locales, unparalleled mountain views, vegetation, wild life etc make it a classic trek.
The trek unraveled leisurely from Dhotrey – relatively new trailhead that grows progressively in terms of trek gradation and other advantages but before that visit to historical Darjeeling, it sets the tone with mixture of cultural attractions visit combined with short hikes. The trek traverses on its own pace a few villages, a view from Sandkhaphu that opens up grand vista of Himalayan ranges on a clear day, scenic ridge hike on the way to Molley and forest hikes through Ramman and Sirikhola. Finally bringing the curtain down on the trip in Siliguri – a commercial hub and gateway to Northeast India.
Outline Itinerary
Day 1: Arrival-Drive to Darjeeling.(2042m/67kms/3-4hrs)
On arrival at Bagdogra airport, meet our representative and drive to Darjeeling. The road climbs up the hill with various curves till Kurseong, from here its a gentle drive till Darjeeling. In the evening we can take a walk through Chowrastra the mall road. Overnight in Darjeeling.
Day 2: In Darjeeling
Today we have a full day in Darjeeling, take a short walk to visit Padmaja Naidu Zoological Park and the Himalayan Mountaineering Institute, further visit Tibetan Refugee Center – a rehabilitation center for Tibetan refugees. After lunch take a short hike from Chowrastra to Jorebungalow, it traverses through Tungsung village followed by Alubari(8kms/2hrs). Subsequently, drive to Ghoom and visit oldest monastery in Darjeeling. Later we can take a joy ride on the UNESCO World Heritage toy train which makes en-route stop at the Batasia Loop. Overnight in Darjeeling.
Day 3: Drive to Dhotrey(2600m/43km/2-3hrs)-Trek to Tumling. (2926m/8kms/3-4hrs)
Early morning drive to Dhotrey passing through narrow road with thickets of conifer and pine vegetation and begin our trek from Dhotrey. The trail follows a gentle gradient through rhododendron forest till Tonglu (3088 m), which requires 6 km to cover. Followed by 2 km hike over mostly gradual and descending trail until Tumling, a small Sherpa village, on a clear day it provides a magnificent views of the Kanchenjunga range. Overnight in Trekkers lodge.
Day 4: Trek to Kalipokhari.(3169m/15kms/5 hrs)
After breakfast we trek through the Singalila National Park to Kalipokhari via Gairibas. The trail goes through bamboo glades and farmlands. From Gairibas the ascent is gradual until Kalipokhari. Overnight in trekkers lodge.
Day 5: Trek to Sandakphu. (3,636m/7kms/3-4hrs)
Today the trail ascends gradually until Bikhey Bhanjyang, from here an steep ascent lands us to Sandakphu. Sandakphu, the highest point (3636m) in the Singalila range that provides uninterrupted 180o views of the entire Himalayan range including Mt Everest, Makalu, Kanchenjunga, Lhotse, Chomolhari, Pandim, Three Sisters, Kumbhakarna etc. Rest of the day is free to explore around. Overnight in trekkers lodge.
Day 6: Trek to Molley.(3150m/18kms/6-7hrs/Descent-800m)
Wake up early to experience the sunrise over the Himalayan peaks. Climb up to the viewpoint, a small hillock nearby and look at the entire Himalayan range open up before you. After breakfast we hit the trail once again towards Molley. Today the hike is the longest, with a few ascent and descent across meadows and rhododendron forest and stunning mountain views all along the way. Overnight in trekkers lodge.
Day 7: Trek to Rammam. (2453m/15kms/6hrs/ Descent-320m approx.)
After breakfast we continue our journey towards Rammam our next destination. The trek is a steep descent through the Singalila National Park with dense pine, rhododendron forests and thick bamboo bushes where you have the chances of sighting the rare Red Panda among the bamboo groves. Overnight in trekkers lodge
Day 8: Trek to Sirikhola (12 km/2 hours)-Drive to Siliguri (126 km/ 4 hours)
Today the trek portion is relatively easy, the first part of the trek is almost level and then descends to the bridge at Sirikhola. At Sirikhola, board on to the waiting vehicle and drive to Siliguri via Mirik. Overnight in Siliguri.
Day 9. Departure.
After breakfast drive to the airport for your departure flight homewards.
In general, Sandakphu Trek is quite versatile, it can be maneuvered in different versions. Below is sample outline itinerary, starting in reverse
Day 1: Arrive in Bagdogra and transfer to Darjeeling.
Day 2: Darjeeling sightseeing.
Day 3: Drive to Rimbik, and hike for 2 hours to Sirikhola.
Day 4. Sirikhola – Rammam
Day 5: Rammam – Molley
Day 6: Molley – Sandakphu
Day 7: Hike downhill till Kalipokri for 2hours, further 2-3 hrs to Tumling and Dhotrey and drive to Siliguri.
Day 8: Departure -transfer to airport/Train Station for onward journey.
Even for the beginner, doing the trek in reverse shouldn't pose any acclimatisation and altitude related issues as this itinerary gradually builds up for the summit – Sandakphu (3636m).
Save
Save
Trip Highlights
Trekking along the ridge in Singalila National Park
Stupendous views of Kanchenjunga in the east and Everest range in the west.
Birds, and other fauna and rich flora.
Remote villages along the border of Nepal, Darjeeling and Sikkim
Gangtok, the capital of Sikkim
Historical Darjeeling and its colorful streets markets
Departure Dates
Start Date
End Date
Status
Remarks
Cost Information
From US$1000 Per Person (Land)  based on the group size, hotel, travel date.
Included
Accommodations in listed hotels and in lodge/home stay/tents during the trek
Dinner & Breakfast included while on tour and all meals during the trek.
 All transportation by good quality private vehicle.
 Entrance fees to the monuments
English Speaking guide.
Travel permits etc
During the trek: Accommodation will be arranged at simple lodge/home stay with all meals and beverages. Pack animals to carry luggage, Basic Medical Kit. Trekking staffs include Guide and horseman.
Not included
International flights.
Sleeping Bags (optional but recommended).
Travel / Medical Insurance (recommended).
All personal expenses including optional tips/gratuities, bar/beverages, telephone, laundry, gifts and other personal expenses.
Any additional cost of changing a confirmed itinerary by our own choice or due to your own health/medical reasons, or forced upon by Inclement weather, flight delays, political situation or other conditions beyond our control.
All other cost not listed in "included" section.
Traveller Review
Following the touring we completed the six day Sandakphu trek along the border of Nepal and Darjeeling, India. Unlike the treks in Bhutan, which are wilderness treks where you have to camp each night, the Sandakphu trek was a cultural tea house based trek. While the terrain for the Sandakphu trek was much easier than the trekking terrain in Bhutan, the Sandakphu trek was really enjoyable because of all the interaction with the local people along the way. Our very experienced guide, Dawa, seemed to know someone in every village and we were welcomed into people's houses wherever we went, which was very special. This experience was all the more heightened as we trekked during the Diwali festival period and got to participate in the different traditions on each night of the festivities. The views over the Nepali, Indian and Bhutanese Himalaya were amazing and the sunset and sunrise walks when staying at Sandakphu were stunningly beautiful.
After a good clean up at the terrific hotel in Darjeeling we spent the remaining few days of the journey touring Darjeeling and surrounding areas, which was really interesting and great to experience a place written about by so many. Knowing that the journey was over, the transfer to the airport in West Bengal was perhaps the worst part of the adventure.
The Wind Horse team in Sikkim and Darjeeling was as supportive as the Wind Horse team in Bhutan. It was great to meet Sonam, the local manager, during our time in Gangtok. Our guide during this stage of the journey, Dawa, is an extremely well experienced mountain and culture guide who had an enormous amount of knowledge of the areas we travelled to. He is a wonderfully funny and compassionate person who continuously went out his way to make sure that we had a wonderful experience.
Rebekah Bell
Nov 06 - 18, 2015
TID 8529 (31 Oct to Nov 15) 2014 – Blondel Group -Sandakphu trek (Guide Anthony)
After a former trip in the Annapurnas in Nepal, our group of 6 friends wanted to spend some time in discovering the Indian Himalaya. We have been travelling for a little more than a fortnight with your company, and we have achieved a nice trip at the nepalese boarder, nearby the majestuous Kanchenjunga.
Two parts had been pointed in the program we had dealt with you: one as trekking on Singalila range, the other as visiting the old buddhist temples of the former Sikkim kingdom. Actually we have travelled within this global feature and we have been spending a nice time in West Bengal and Sikkim, since we wanted first to be secure and in good health with your help.
8 months before our holidays, we had spent a few weeks in building with you, by e-mails, a specific program, that included the spots we intended to look at and the way we wanted to perform it. It's because of your awareness of our wishes that we had chosen to deal with Windhorse. And we got a good satisfaction when regarding your attention.
As we feared for the cold of this period of November, we had ordered for the trek time a guide and a lot of twin rooms in lodges, that you had confirmed to be hired in your different mails and finally on March 17th (attached file). Every member of the group had prepared his equipment as for a semi cold trail, avoiding to carry too heavy bags.
We have been astonished as discovering on arrival in Darjeeling that we had to sleep under tents, and we have even thought of breaking our contract…
I must say that you have taken in charge two nights in lodges, in Sandakphu, the highest point of the trek and one very cosy in Rumbick. We have appreciated too the ability we have had to stay in lodges nearby our tents and have dinners inside in the evenings…and the last but not the least, to get footwarmers every night outside.
I must say that your guide and the whole team have taken care of us as friendly as possible, and we keep a real gratitude for their good and smart service. The very tasty and miscellaneous cooking has been really appreciated.
On the way to Sikkim (Pelling and Yuksom) and back to Bagdogra, all has been perfectly achieved, for the organization of the journey and for the hotels as well.
As things have occurred in the best manner, we still recommend you to keep in mind the agreements taken on their lodging…We have had the chance that everyone had a good experience of mountaining treks and kept smiling all over these holidays.
A special thank for Anthony who has been in charge of our group in these indian holidays, and stood friendly at our sides.
Greetings from France…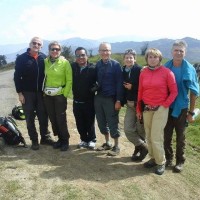 Micheal Blondel & Group
Oct 31-Nov 15, 2014
Facebook Review
Guides