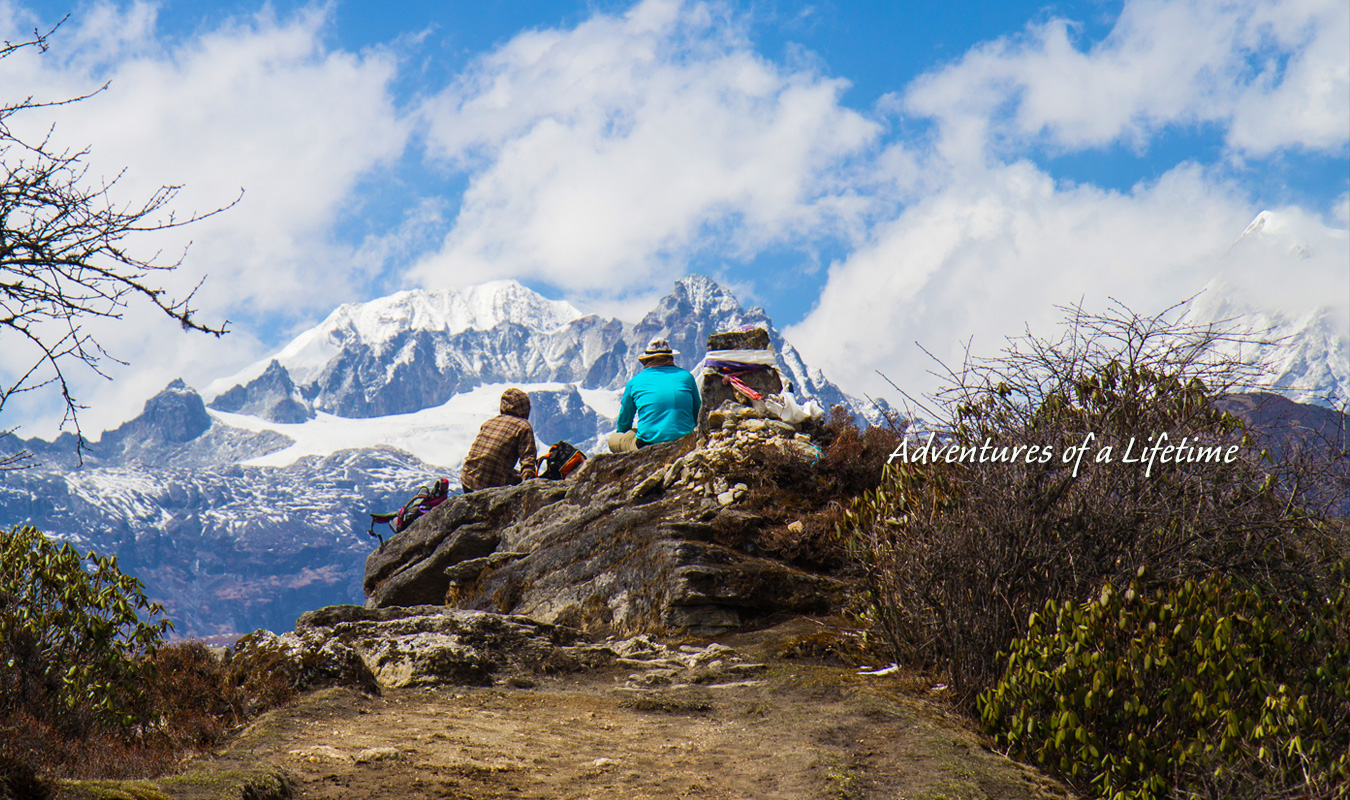 Dzongri & Goecha La Trek Sikkim
Trekking in Sikkim to the South East Part of Mt. Khanchendzonga
11 Days
Trekking
Sikkim Dzongri and Goecha La is highly rated trek for its conventional beauty in eastern Himalayas. The combination of its rugged terrains and trail at some stretches that challenges and test your dexterity as a trekker and eventually exposure to surreal alpine landscapes ring in a sense of completeness as a trek. A tryst in particular as you will be greeted with spectacular view of the mighty Kanchenjunga (south-east face), amidst a majestic panorama of Mt. Pandim, Kabru, Simvo and great many other peaks of the Eastern Himalayas all along the way. Complimented by enchanting walk through the Tshoka Rhododendron forests, then through vast alpine meadow past Dzongri and Thansing, climb to see the dazzling blue waters of Samiti Lake, ultimately, a spell binding view from Goechala pass (4940m).
Also some of the cultural attractions that defines spiritual Sikkim, prior and post trek in Namchi, Yuksom and Pelling respectively.
Itinerary
Day 1. Bagdogra – Namchi
Approx. 95 Km/4-5hrs drive . Altitude 1675m in Namchi.
On arrival at the airport, meet our representative and drive to Namchi, a small town with the Kanchenjunga range at the backdrop. The road passes through the foothills, along the bank of the Teesta River and enter Sikkim at Melli. On arrival if time permit, pay a visit to the chardham complex. Overnight in Namchi.
Day 2: Namchi – Yuksom
Around 85kms/4-5hrs drive. Alt. 1850m.
Early morning visit Ngadak monastery. Subsequently after breakfast proceed towards Yuksom. On the way we take a break at Ravangla in order to visit the Buddha Park. After the visit continue our journey to Yuksom, the first capital of erstwhile kingdom of Sikkim and the main trail head towards Mt. Khangchendzonga. We rendezvous with our trekking staffs in Yuksom. Overnight in Yuksom.
Day 3: Yuksom – Tshoka
Approximately : 16kms/5-7 hrs trek. Ascent 1500m & descent 620m. Tsokha 2950m.
Today we begin our trek; the gradient is moderate to slightly difficult. The trail passes through a sub tropical forest comprising of oaks, chest nuts, magnolias and orchids and cross over Paha Khola and climb up to Sachen. From here the trek until Prekchu river is relatively gradual , after crossing the river it is a steep climb with noticeable gain in altitude until Bakhim (2625m). The views of Mt. Pandim and Mt. Tenzinkay is astounding along with the view of Yuksom valley below. After a short break we continue with steep descent and ascent to Tsokha. Overnight in Tsokha
Day 4: Tshoka – Dzongri Approximate: 10kms/ 5-6 hours. Ascent 1100m/descent 200mts. Dzongri 4000m.
From here on the trek starts to get serious with rapid altitude gain and rough trail conditions. The trail goes through rich vegetated forest of rhododendrons, following rocky terrain until Phedang (3200 m). After a break at Phedang, we continue gaining more altitude with a change in vegetation from temperate to alpine. The trail climbs up along the ridge and descends down to the verdant meadows of Dzongri surrounded by mountains on all sides, offering surreal alpine landscapes and vista of Peaks such as Koktang 6,147m, Ratong, Kabru 7,338m, Kangchenjunga 8,586m, Simvo 6,815m and Pandim 6,691m. Overnight in Dzongri.
Day 5: In Dzongri (acclimatization day)
Early morning hike up the ridge till Dzongri peak for Sun rise view of Khanchendzonga range and the Onglathang valley on the back drop (1hour). After breakfast, you can also hike to Gingay Dara with its panoramic views of the Rathong Valley and Rathong Glacier as well as the snowy peaks of Koktang, Kabru, Frey and mountains to the south of the Kanchenjunga. We will also be able to see in the distance the H.M.I. Base Camp, the area designated for high altitude mountain training. The hike to Gingay Dara is moderate, about four hours round trip. Overnight in Dzongri.
Day 6: Dzongri – Lamuney Approx: 9 kms/6 to 7hrs. Ascent 480m & descent 260m.
Today the hike is relatively moderate with a mixture of gentle descent and ascent in some stretches. The hike traverses through lush green meadows and dense Rhododendron forest. After crossing the Prekchu river it is a gentle ascent to the meadows of Thangsing. From here the hike is on a gradual gradient through meadows with grazing yaks. The ascent becomes more steep and the terrain becomes more rocky as we near Lamune campsite. If time permits we can hike further to visit Samiti lake or we can visit the next day on our return journey to Thangsing. Overnight in Lamuney.
Day 7: Lamuney-Goechela-Thangsing 4948m/7-8hrs.
An early departure (before dawn – sometimes as early as 3AM) is strongly advised to reach the view point to see the first ray of the sun striking the Kanchenjunga range and moreover we will have more time to spend at Samiti lake on return.
The trail goes thrugh the glacial moraine with views of Mt Pandim all the time and descend to Zemathang. A tough scramble over rocks and boulders will finally bring us to the view point with the view of Mt. Kanchenjunga and the smaller peaks of Rathong and Kabru. After enjoying the sunrise view, return downhill to Lamune for lunch. After lunch walk down to Samiti lake and spend some time around the lake, before continuing back to Thangsing for overnight.
Day 8: Thansing – Tshoka via Phedang Approx. 16 kms/ 5-6hrs/ 1000m descent
From here on we will start losing altitude as it's largely downhill. Instead of returning to Dzongri, we will use a more direct route, skipping Dzongri by following the trail to the left. The trail goes through Rhododendron forest all along the way with Mt Pandim and other peak to the left till Phedang. After resting in Phedang the trail to Tshoka is steep descent. Overnight in Tsokha (2895m)
Day 9:Tshoka – Yuksom 16kms 5hrs
Today the trek is much easier as it is almost downhill walk until Sachen. From Sachen the trail goes up and down generally losing altitude. With a few ups and downs finally we reach the comfort of our hotel in Yuksom.
Overnight in Yuksom.
Day 10: Yuksom-Turuk
After breakfast, drive to Turuk. En route stop at the small town of Pelling, and also visit Pemayangtse monastery located nearby. Then drive to the ruins of Rabdentse, the 1st capital of the erstwhile kingdom of Sikkim. Later we continue our journey to Turuk Heritage Home, located in charming village with good views.You will stay in Turuk Kothi, a Heritage Home Stay.
Day 11: Departure
After breakfast, transfer to the airport for your departure flight.
Note: Our small group journeys are organised with our own private camping equipment's, tents, guide, cooks and other support staffs.
Save
Trip Highlights
Departure Dates
Start Date
End Date
Status
Remarks
Cost Information
Cost is tiered based on number of participants. At the time of signing, cost will be calculated based on two participants (minimum). Before the final payment due date, we will send you revised invoice based on sign-up. Should additional sign-up take place after the final payment, we will refund the difference accordingly.
Cost from $1600 Per Person (Request detailed Information)
Included
Accommodation in hotels during the tour and in camps during the trek
All meals, including some evening tea
All land transfers and transportation by private vehicle
Entrance fees to the monuments
Trekking Permits
English speaking Guide
Fully organised trek with all meals and beverages. Trekking Equipment's including tents, trek mats, blow pillow, hot water bag, Pack animals (horses or Yaks) to carry luggage, basic medical kit and support staffs (Guide, Cook, assistants and porter/horseman)
Not included
International/domestic flights.
Personal Gears (sleeping bag, clothing, shoes etc)
Personal expenses such as bar/beverages in the hotels, optional tips/gratuities to staffs, laundry, gifts etc
Any additional cost of forced upon by changing itinerary due to your health/medical, political situation, or inclement weather.
Travel medical insurance.
Traveller Review
Five of us was on custom trip that included Goeha La trek in Sikkim and 5 days in Bhutan.
From the moment guides met us in airport to the last day of our trip everything was perfectly organized with every little detail taken care of.Food on trek was exquisite! Our cook managed to cook 3-4 different dishes every evening. Good comfortable accommodations in Bhutan.
We learned a lot about Buddhism, and Bhutanese culture and history. Had so much to see in just a few days it's unbelievable.
I would like to say big thank you to the whole Wind horse team from all of us for that amazing experience we had. I absolutely recommend Wind horse to anyone visiting Sikkim or Bhutan.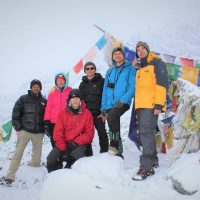 Albert Umyarov
April 26 - May 13, 2018
Hello Pankaj,
We had a little discussion, and the only complain that we could come up with is probably too much food on trek
But, to be serious, there is absolutely nothing to complain about. Everything was well organized. The whole trip felt smooth and well though-through.
We would like to say big Thank you to you, Ugen and everybody in Wind Horse for this experience.
I posted few pictures on my Facebook page. If you'd like to share some of them on Wind Horse page you are welcome to do that.
Thank you again !
Albert.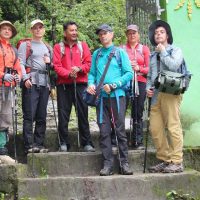 Albert Umyarov
28 April - 7 May, 2018
TID -8559 (Oct 12-25,2014) Guide Karma Lama
Thank you. My wife Carol wrote a "review" of the trip and I am sending that. Our Goecha La trek was the trip of a lifetime. My husband, David Robinson and I had a fabulous time. Since you requested feedback, I will offer some below. Karma, our leader, was an excellent guide. From the moment he met us at the Bagdogra airport, he was polite, personable and professional. Throughout the trip, he gave us the history and background of every place we visited. His knowledge added color and context. Our driver (Lokpa) was very good. He drove safely and I never felt nervous like I would had I been in one of the jeep-taxis. There were significant inconveniences the morning of the trek, specifically not enough yaks and porters to carry gear and food. To begin we had only a cook, cook's helper, yak man and two yaks. As a result some food was left behind and gear including thick sleeping mats.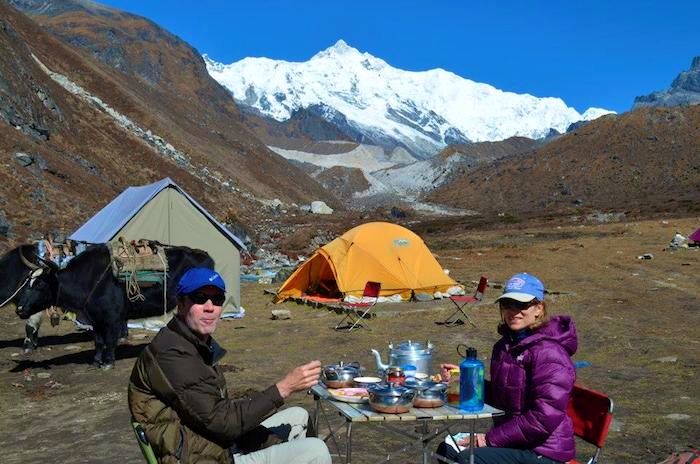 My husband and I had brought our thin blow up mats, but wanted the thick mats too. It wasn't possible to bring them given the lack of yaks/porters. A day into the trek, two more porters arrived carrying more gear and food. It appeared the porters were overloaded with too much weight. I was glad to see we had chairs but there was no table. Karma worked with other groups, borrowing a table when we needed one. The food provided on the trek was delicious.
Our cook was a genius. We had omelettes, momos, apple fritters and even a cake with icing on the final night. The cook's helper (Roheet) was always ready with a smile and worked tirelessly to serve us tea and food. We loved the hotel in Darjeeling — the Mayfair. It was true luxury after sleeping in a tent for so many nights. The afternoon ride on the toy train while interesting, offered no mountain views. Maybe if we had tickets for an early morning ride, it would have been better. But it was Diwali and perhaps morning tickets were not available. All in all, it was a grand adventure. I would recommend this trek to anyone, as long as Wind Horse ensured enough yaks and porters. Best Wishes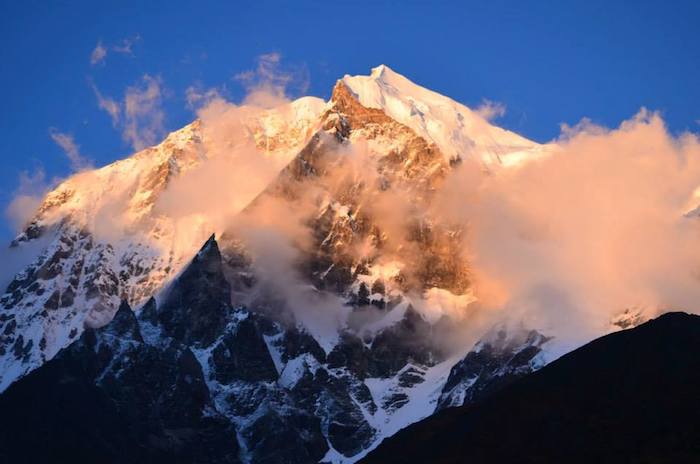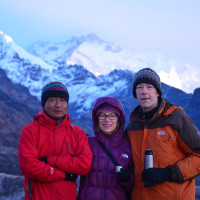 David R & Carol
Oct 12-25,2014
Facebook Review
Guides
Trip Photos